These crisp, colorful pizzas with tomatoes, prosciutto and fresh arugula take only 10 minutes for a healthy lunch or dinner!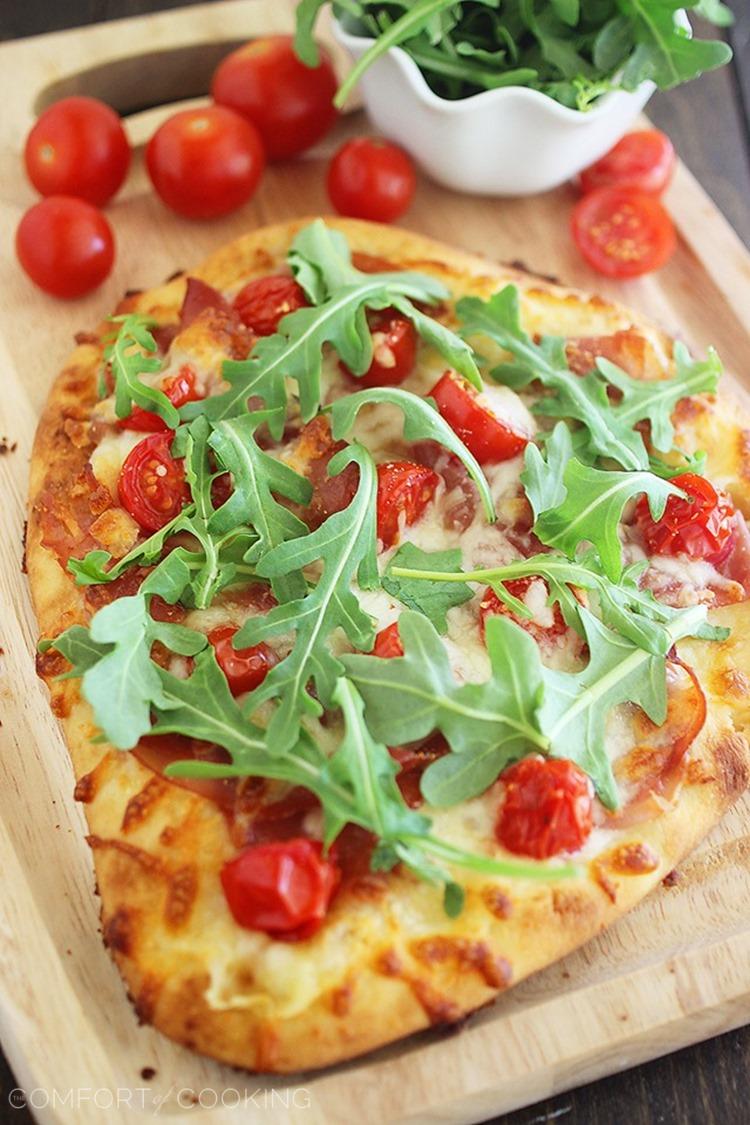 As much as I love cooking, fast, no-fuss and easy meals are still the name of the game on weekdays. Especially these days. So much "doing" is packed into every day that by the end of it, I'm zonked and left with little energy.
The only thing I want to do? Order a pizza. But, what do I do instead? I actually get around to brushing my hair, pulling on something other than maternity leggings, and thinking about dinner. And then I grab a frozen flatbread (love these) and whatever's hanging out in my fridge.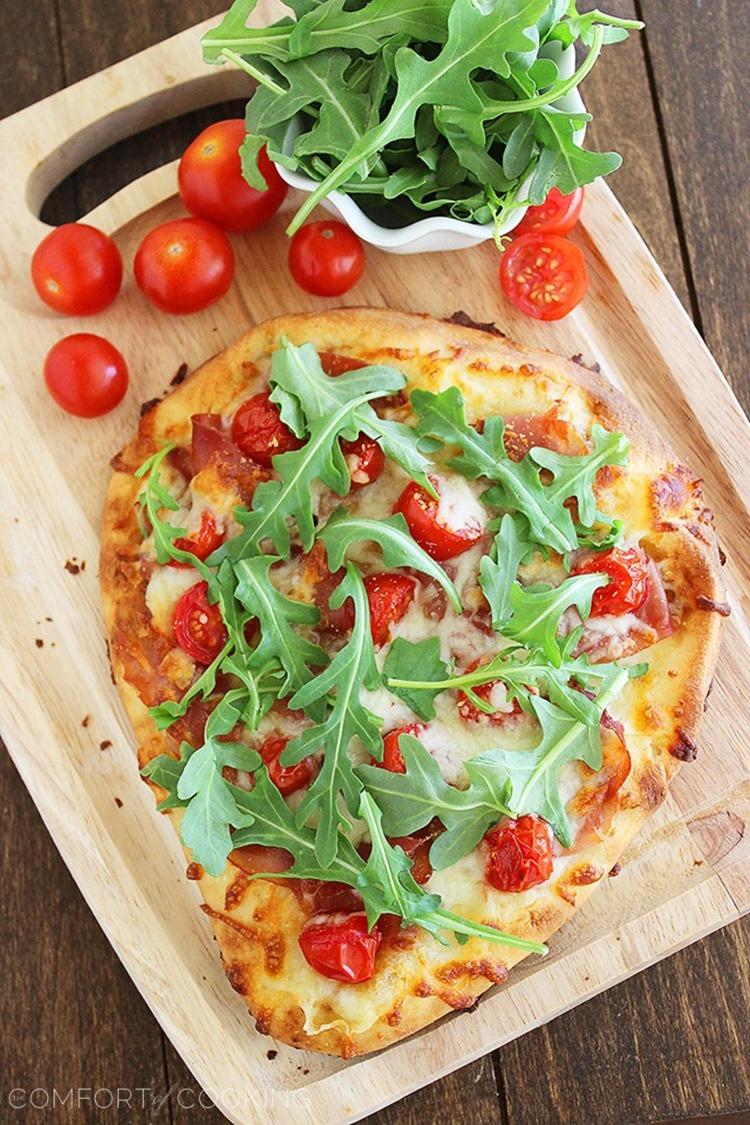 Often, it's nothing amazing. A little deli meat, some jarred red peppers, and sliced olives top my usual pizzas. When we've got more good stuff lying around, I make this mouthwatering Tex-Mex Chicken Taco Flatbread (just as easy, with a lil' Southwestern kick).
But last week, my wandering hand grabbed heaps of fresh arugula, salty proscuitto and some tomatoes leftover from making the best bruschetta ever. A little mozzarella (okay, a lot) to top it off, and dinner was decided!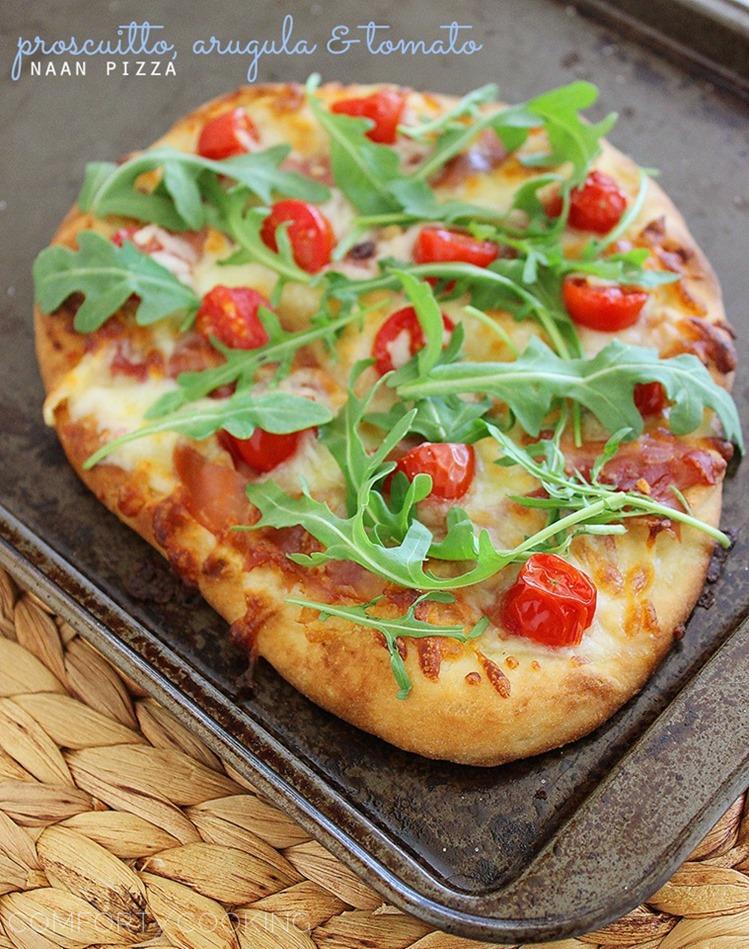 Not only are these proscuitto-arugula pizzas delicious, colorful and quick, but the recipe makes two! Which, evidently, is enough to last a whole half hour in my house of one obsessive pizza lover and one carb-crazy cheese-a-holic. Really, the same person. But I'll let you guess who is who.
For the normal crowd, however, two pizzas go pretty far! Cut up one into 4 hearty slices, or 6-8 if you're serving them as party appetizers. They're crispy, salty, gooey and gorgeous served on a big wood cutting board. Slices of this scrumptious pizza don't tend to make it all the way to plates, anyway!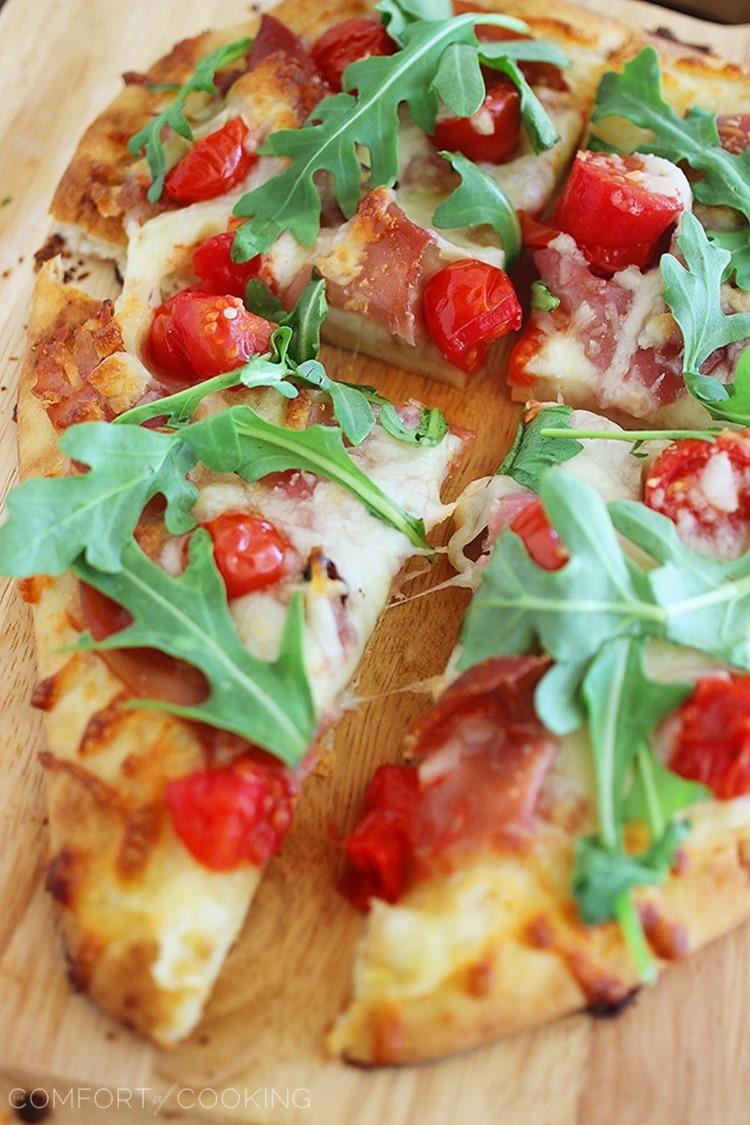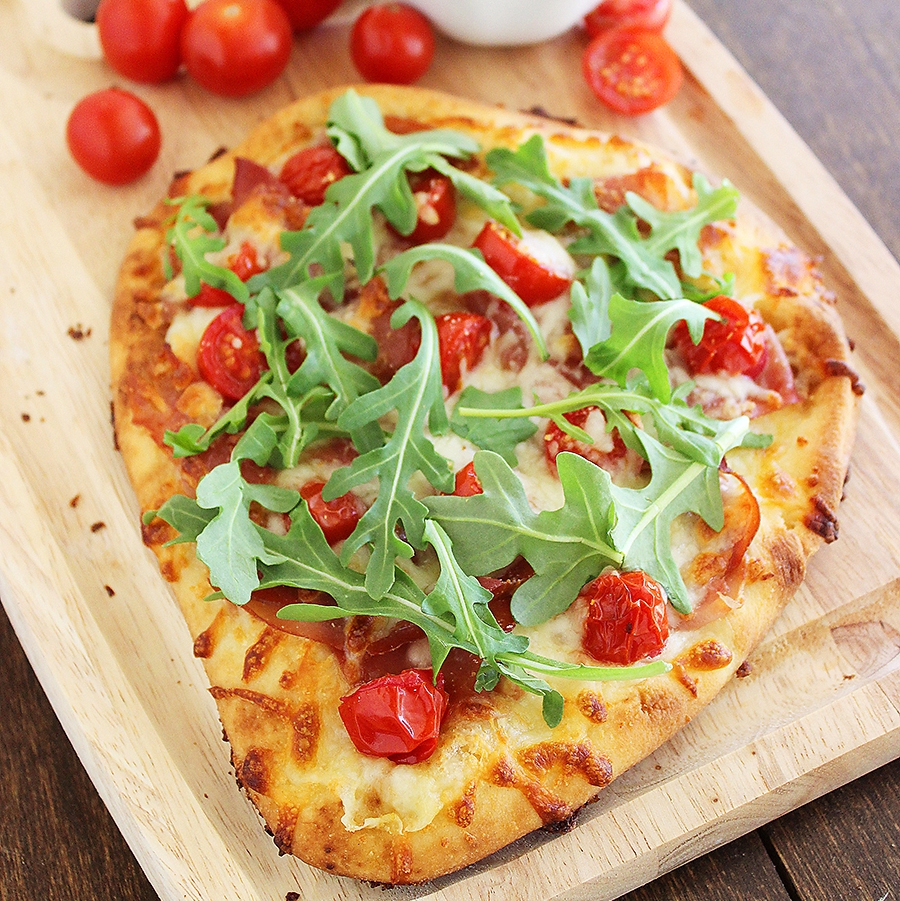 Prosciutto, Arugula & Tomato Naan Pizza
Yield:
2 pizzas / 8 slices
Ingredients
1 8.8 oz. package Stonefire Naan (2 pieces)
2 Tablespoons olive oil
1 cup shredded mozzarella
10 thin slices prosciutto, torn into smaller pieces
1 cup grape or cherry tomatoes, halved
1 cup fresh arugula
Instructions
Preheat oven to 400 degrees F.
Place naan on a large greased baking sheet and brush tops with olive oil (1 Tbsp. each). Sprinkle each with 1/4 cup mozzarella. Top with prosciutto, tomatoes and remaining cheese.
Bake for 10 minutes, or until crust is golden and cheese is melted. Sprinkle fresh arugula over top of each pizza. Slice and serve.
Enjoy!