This super soft, moist and delicious "three milks" cake is easily made from scratch. 🍓 Amazing vanilla flavor and melt-in-your-mouth texture in every bite, with a fresh strawberry topping. Perfect for year round celebrating!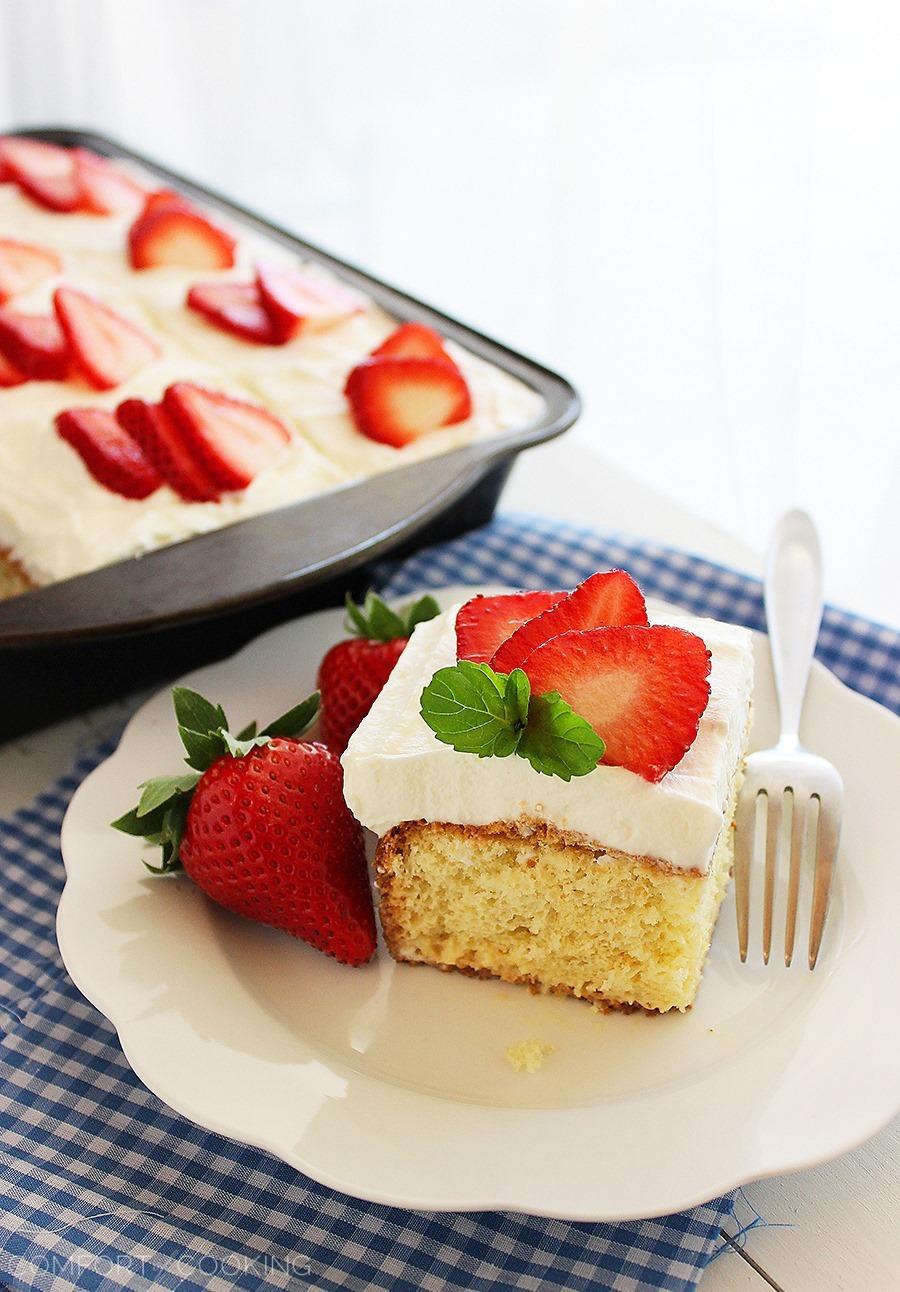 There are just some foods you never forget after one bite. For me, that was a pillowy soft, super moist slice of tres leches cake piled high with whipped cream and berries. I've been intent on recreating it ever since!
Now, I'm no cake baker extraordinaire. I cook a killer roast and mashed potatoes, but baking? Not my strongest suit. However, eating baked treats? I've won medals. (That's not true.) I looked for every possible shortcut in baking this cake from scratch. But, they all seemed like cheats. And they were.
I like my homemade sweets to have a little heart and soul after all, so it was decided. Time to tackle tres leches and banish the boxed mix!
I just had no idea it would be so. friggin. easy.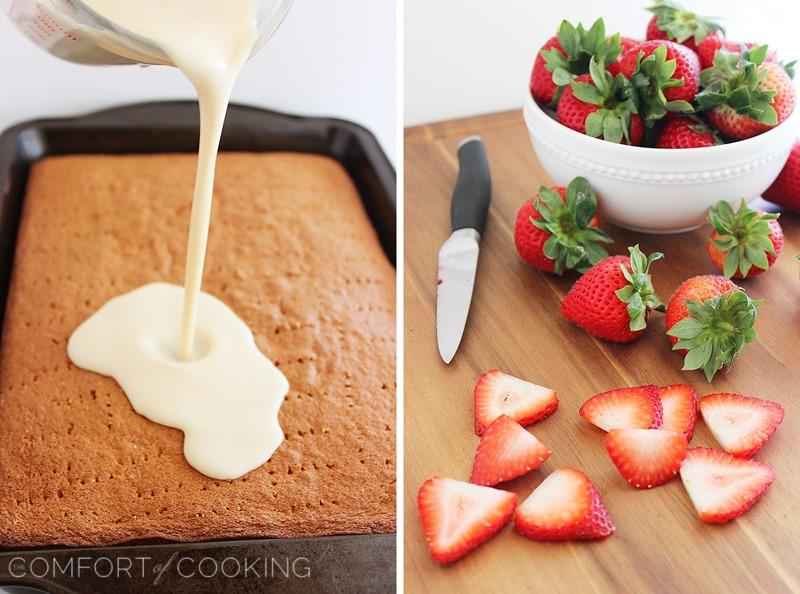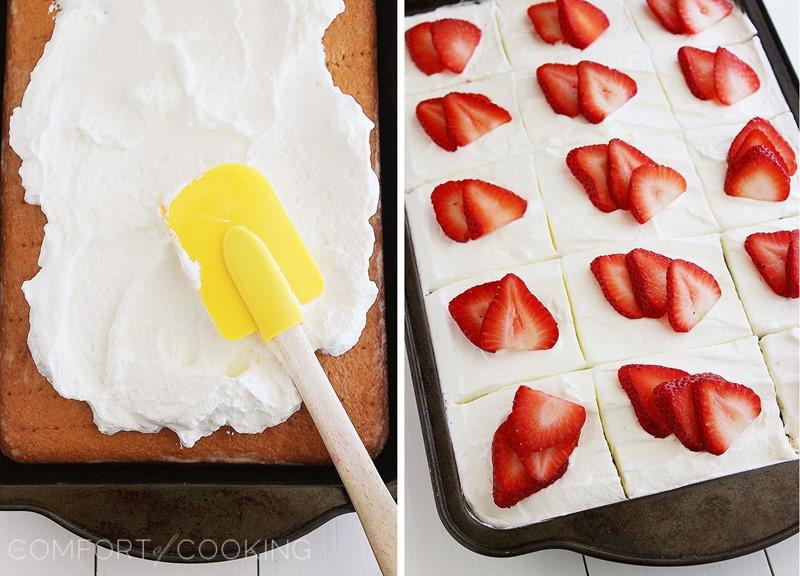 The deeper I delved into the recipe as I made it, the more I learned. Tres leches is just a simple sponge cake (similar to angel food) – egg whites, flour, milk, vanilla. The usual suspects. But, what makes it special?
I bet you'll never guess.
It's the tres leches! Which, translated, literally means "three milks" – a mixture of heavy cream, sweetened condensed milk and evaporated milk that soaks into every luscious little crumb. Just poke the heck out of your cake, pour it over top, and set that baby to soak in the fridge.
Now, are you ready for the fun part? Let's smother that sucker in whipped cream and fresh berries! Is there any better topping for a springtime dessert, after all?
That's not a question.
What results is a cake so moist and mouthwateringly good, you won't even believe you made it. But you did, and it's delicious. And now all you have to do is try to not eat all 15 slices. Easier said than done, people. Easier said than done.
For Cinco de Mayo, or any occasion that calls for something elegant yet easy, a super soft homemade tres leches cake will hit the spot! You're just gonna love it – and whoever is lucky enough to share it with you will, too!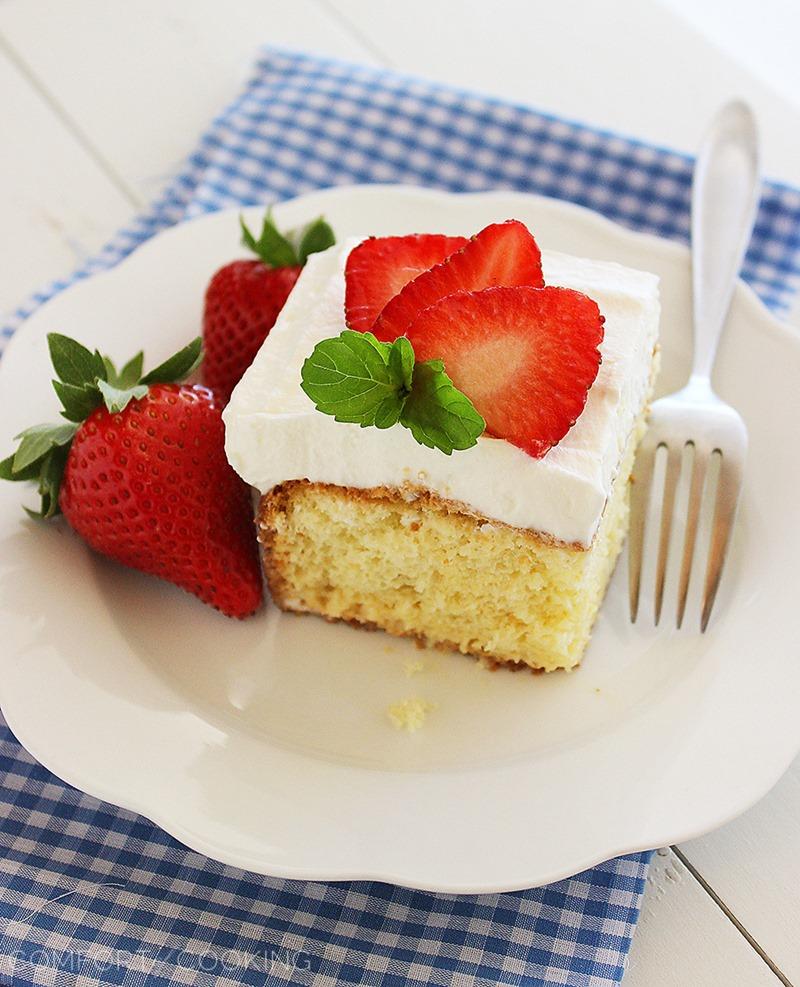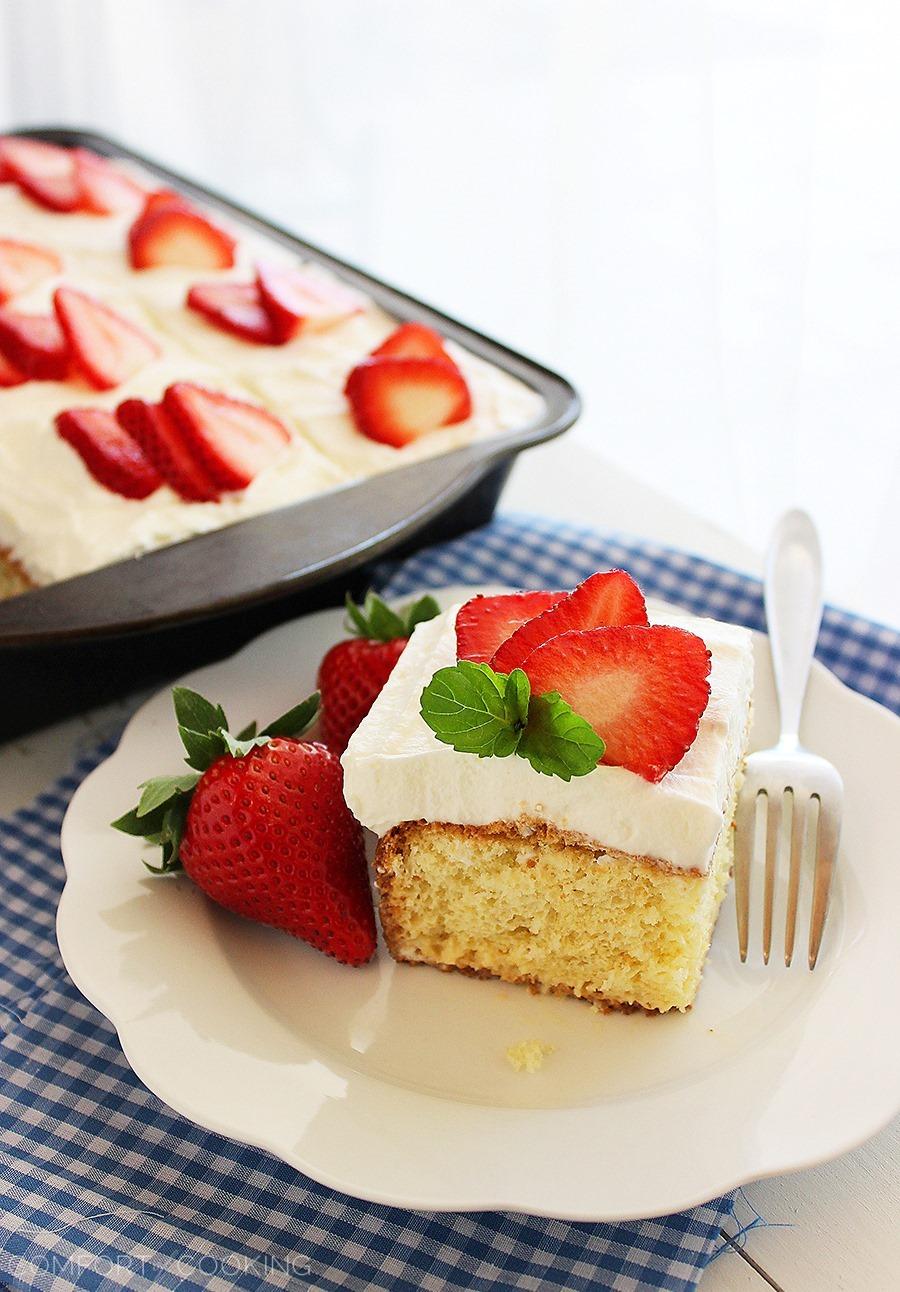 Tres Leches Cake
Yield:
1 (13 x 9-inch) cake // 15 servings
Ingredients
For the Cake:
1 cup all-purpose flour
1 1/2 teaspoon baking powder
1/4 teaspoon salt
5 large eggs, separated
1 cup granulated sugar, divided
1/3 cup milk
1 teaspoon vanilla extract
For the Milk Mixture:
1 (5 oz.) can evaporated milk
1 (14 oz.) can sweetened condensed milk
1/4 cup heavy cream
For the Topping:
1 3/4 cup heavy cream
3 Tablespoons powdered sugar
1 cup sliced strawberries
Instructions
For the Cake: Preheat your oven to 350 degrees F. Coat a 13 x 9-inch pan liberally with nonstick cooking spray.
In a large bowl, combine flour, baking powder and salt.
Separate eggs into two bowls. Pour egg yolks into a large bowl and add 3/4 cup sugar. Beat with an electric mixer on high speed until yolks are pale yellow. Stir in milk and vanilla. Gently fold egg yolk mixture into flour mixture until combined.
In a large bowl, beat egg whites on high speed until soft peaks form. With mixer running, add remaining 1/4 cup sugar and beat until egg whites are stiff but glossy. Gently fold egg white mixture into batter, just until combined and no white streaks remain. Pour batter into prepared pan and spread evenly.
Bake for 30-35 minutes, or until a toothpick inserted in the center comes out clean. Allow cake to cool in pan, or carefully invert whole cake onto a large serving plate.
For the Milk Mixture: Whisk all ingredients in a medium bowl. Discard 1/2 cup of milk mixture (Using the full amount would result in a too-soggy cake). Once cake is cool, pierce the surface with a fork several times. Drizzle milk mixture over top and edges of cake. Allow cake to absorb mixture for 30 minutes in the refrigerator.
For the Topping: Whip heavy cream with sugar until thick and spreadable. Spread over the top and sides of the cake. Cut into squares and top with sliced strawberries. Serve.
Enjoy!