Soft and chewy pumpkin spiced, crunchy treats with a white chocolate drizzle. Just like you grew up with, but better. SO buttery soft and delicious. Perfect for fall festivities and after school snacking!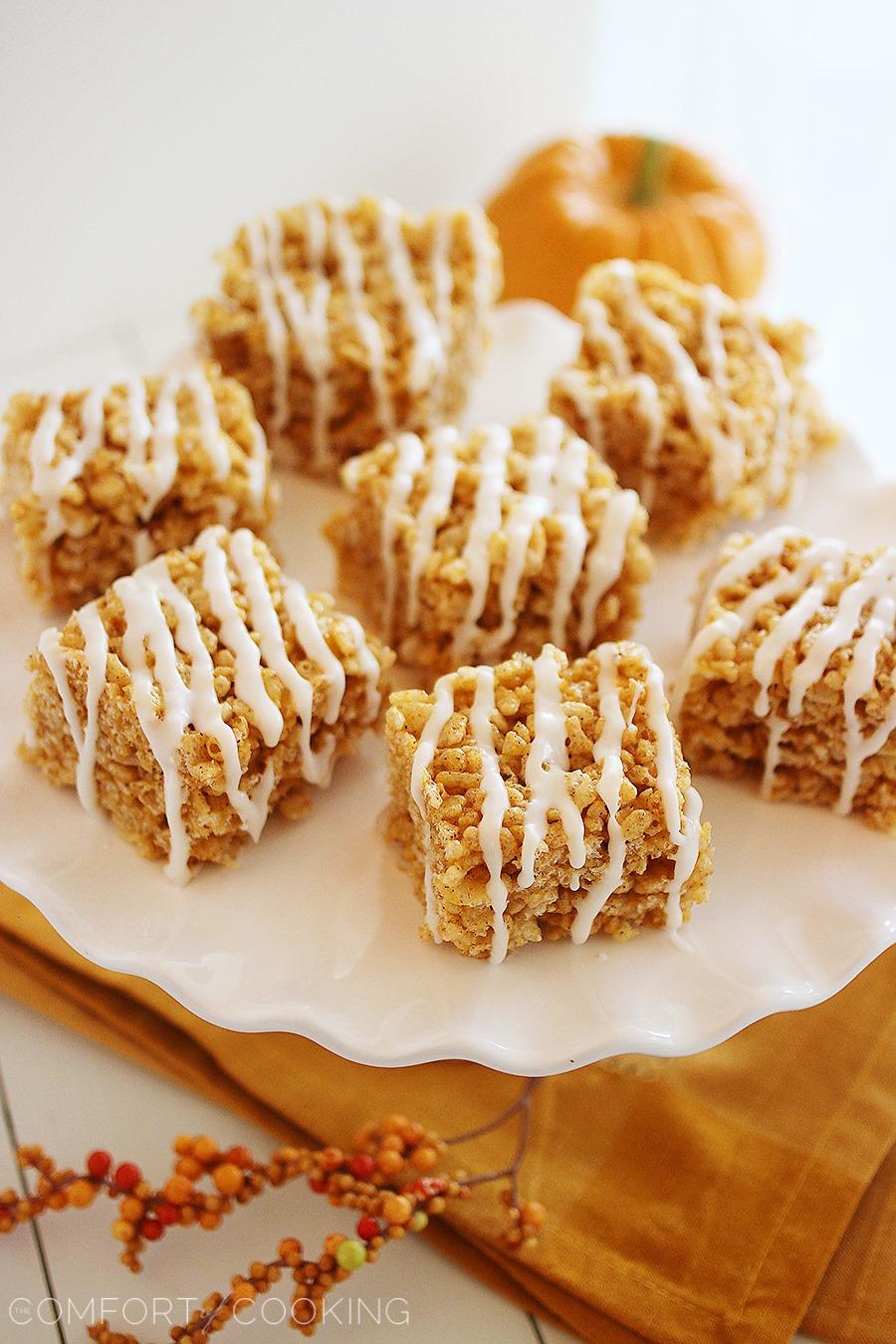 In the fall, the fields surrounding my childhood home were surrounded by big, bright orange pumpkins grown by the farmstand next door. They were heavy as hell, but perfect for picking and hauling into a rickety wooden cart if you didn't fall over from the weight. Pulling on my boots, getting muddy, and trumping through those fields is one of my favorite fall season memories, but though baking with cans of pumpkin isn't quite the same experience, it always reminds me of those damp days spent picking our way through the pumpkin patch!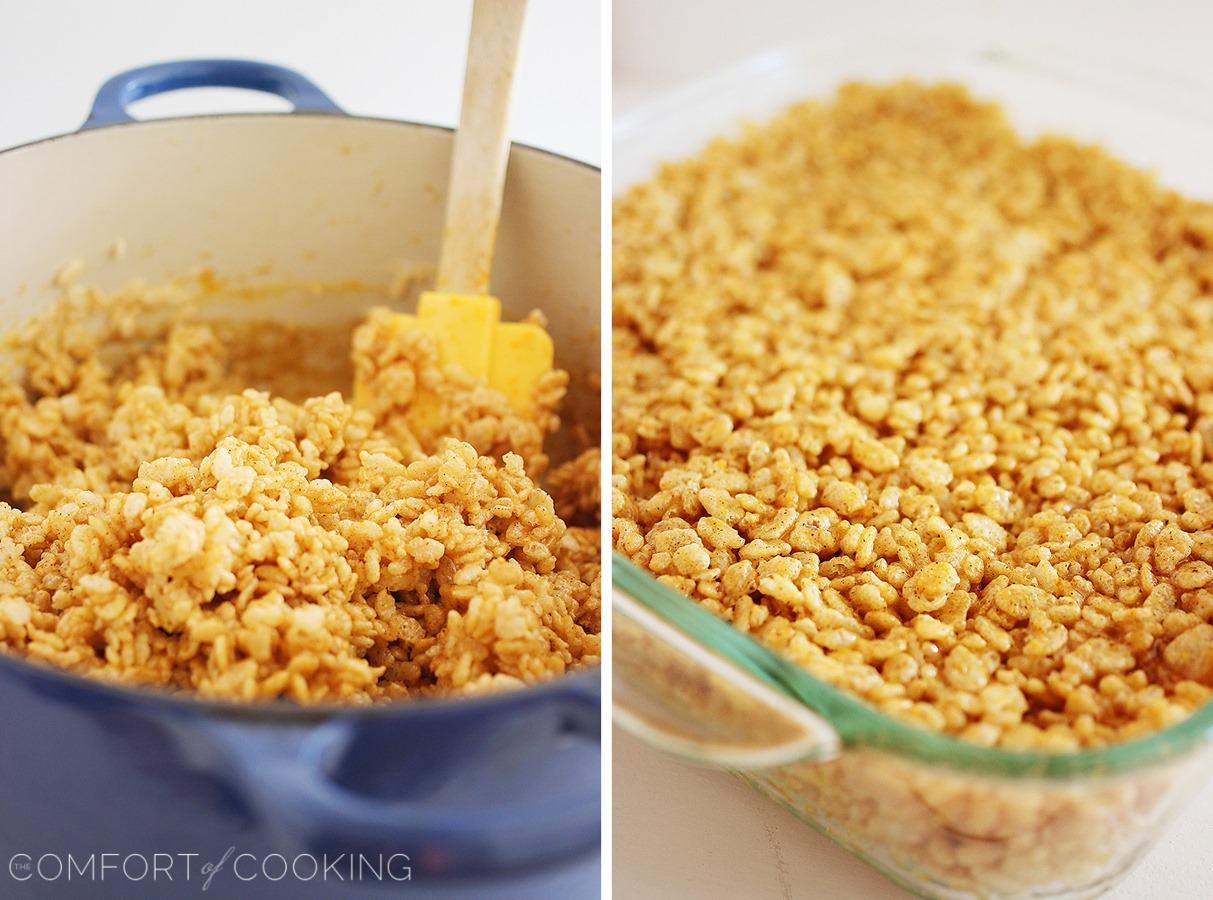 With Austin's weather still clocking in 90 degrees and higher, it's tough to get in that cozy, fall-sweater-and-mug-of-cocoa frame of mind, but with these spiced pumpkin Rice Krispie treats, I definitely managed. Somehow, someway I've gotta get that fall feeling before November, when it finally turns frigid!
After all, we can always turn the air conditioning colder and pretend it's a brisk autumn day…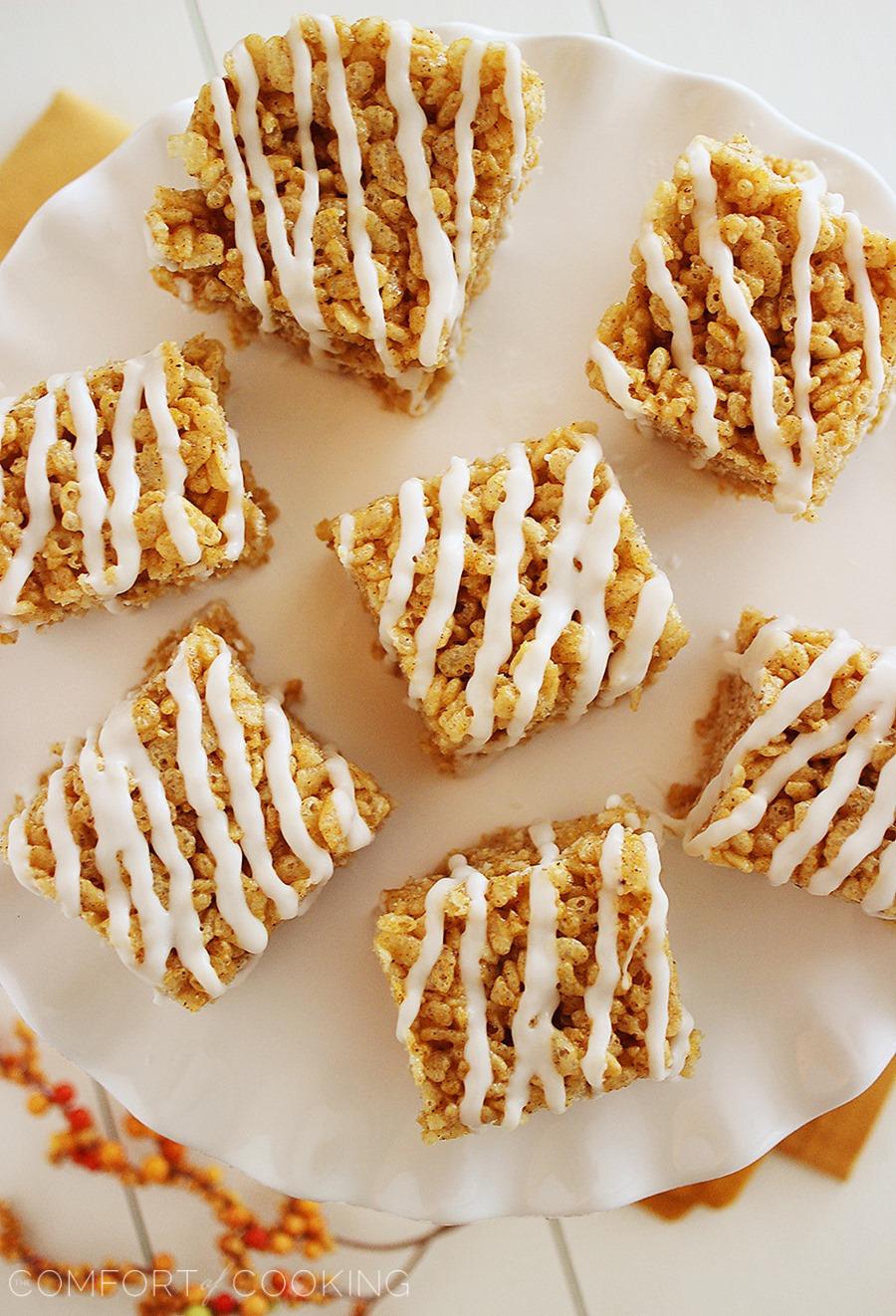 These treats, inspired by my adorable and super-talented pal Sally, are terrific fun to make and totally irresistible with a drizzle of white chocolate icing. I like mine nice and thick, so I used a 9- x 9-inch baking pan, but you can use a larger pan if you want more treats, less bulk. Cut into small squares, I think these are just perfect for sharing! Or… you know, not sharing.
Cereal is, like, good for you anyway, RIGHT?! Let's go with that.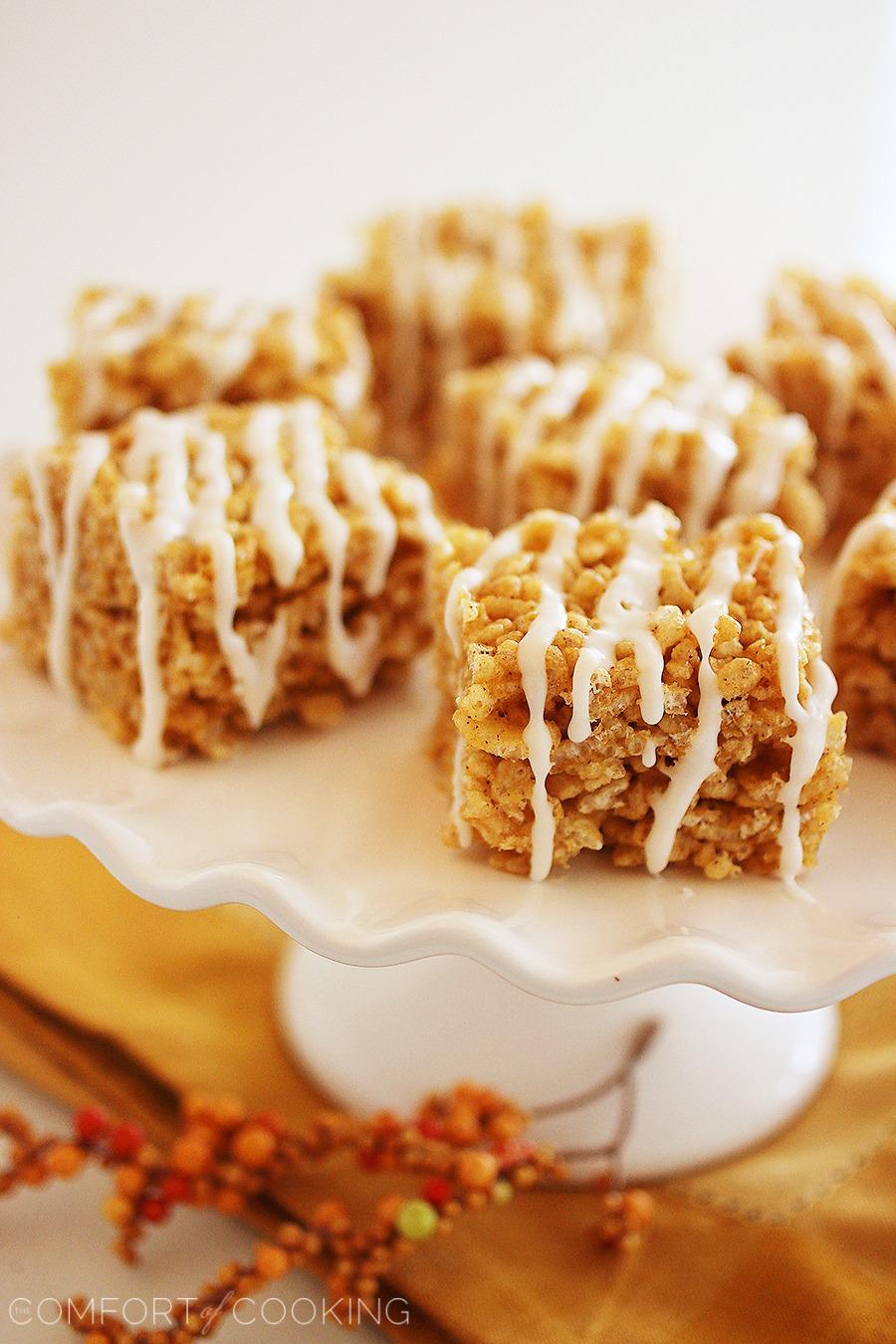 For fall parties, snacks and school functions, or just to have a sweet treat for dessert, these Pumpkin Spice Rice Krispie Treats are a big hit… even with the guys! I served 'em up at our poker night with friends, snagged one for myself, and the plate was clean before they even finished playing cards. Guys like pumpkin goodies, so single girls take note!
I know you'll love these tasty treats as much as (we all) did, so get in the fall spirit and try them for yourself some day soon!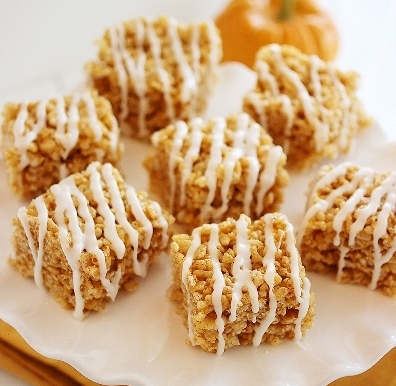 Pumpkin Spice Rice Krispie Treats
Yield:
12 to 15 treats (using a 9 x 9 inch pan)
Ingredients
Nonstick cooking spray
3 Tablespoons unsalted butter
1/4 cup pumpkin puree
1 10 oz. bag mini marshmallows
1/4 teaspoon vanilla extract
1/2 teaspoon ground cinnamon
1/4 teaspoon ground nutmeg
1/8 teaspoon ground cloves
1/8 teaspoon salt
6 cups crispy rice cereal
2 oz. pure white chocolate, white chocolate candy melts, melted, optional
Instructions
Choose your desired size baking pan (I used a 9x9, but for thinner treats use 11x7 or 13x9) and spray generously with nonstick cooking spray. Set aside.
In a large saucepan (I used a 5.5 qt. Dutch oven), melt butter over medium heat. Stir in pumpkin puree and cook until warmed through. Fold in marshmallows, stirring frequently until melted. Remove from heat and stir in vanilla, cinnamon, nutmeg, cloves and salt.
Let marshmallow mixture cool at room temperature for 20 minutes (cooling helps avoid soggy treats). Add the crispy rice cereal and stir until combined.
Pour mixture into prepared baking pan, spread out evenly and gently press down with a rubber spatula. Refrigerate to set for at least 1 hour. Cut into squares and drizzle with melted white chocolate, if desired.
Store in an airtight container up to one week.
Enjoy!