Loaded with fresh avocado, salsa and cilantro, this easy and healthy slow cooker chicken verde can be ready when you walk in the door from work!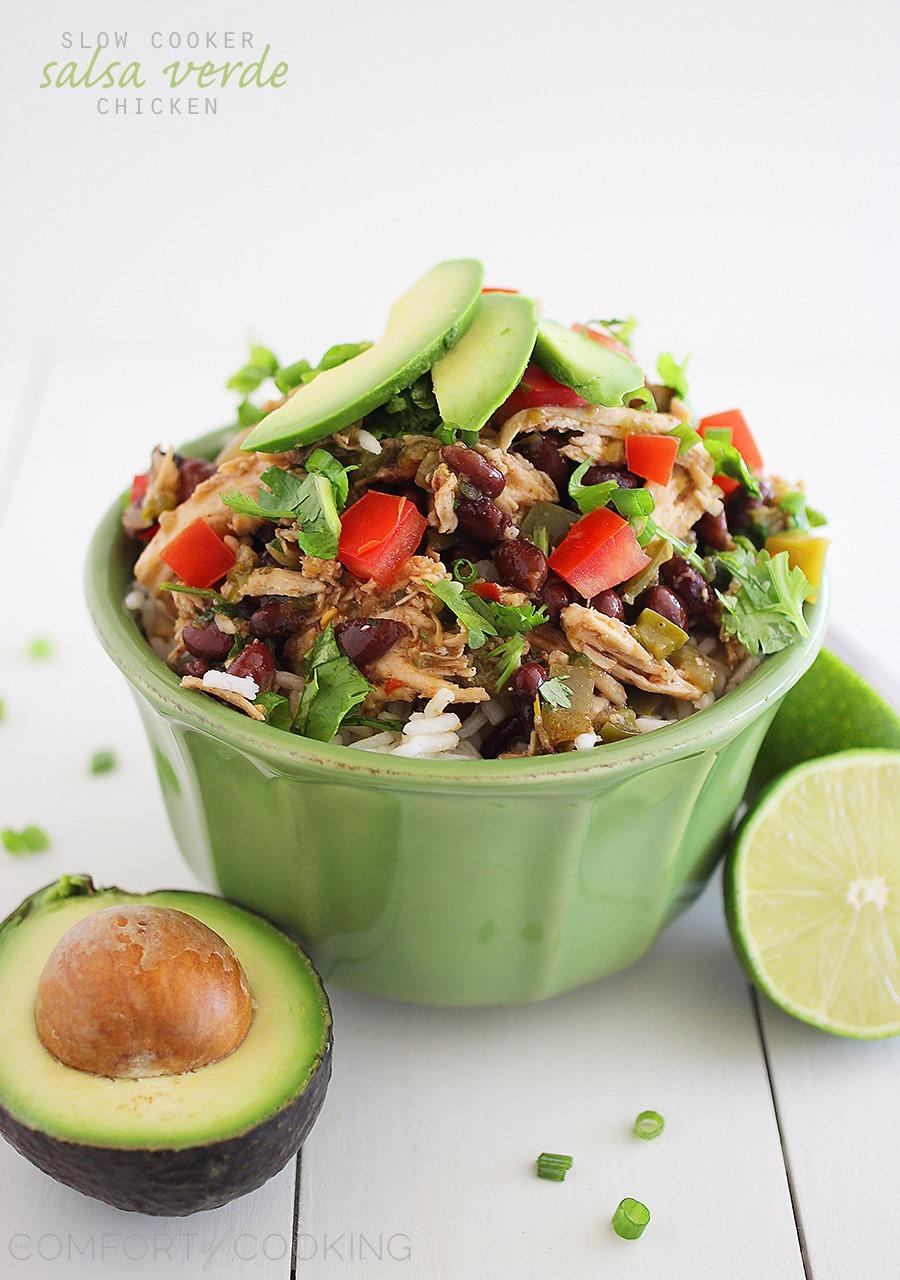 Right around early spring, my affinity for big, heaping pots of things dissipates in favor of delicious grilled dinners and scrumptious stovetop meals. Everything gets squeezed with lemon, marinated in hot sauce and charred on those fiery hot grates. We mix our meats with piles of fresh vegetables, nudge a soft dinner roll alongside, and clink "cheers" with a frosty brew. But sometimes, that's just too much dang work.
So then, I remember my workhorse of a CrockPot and fall in love all over again with how EASY it makes everything. And summer's all about ease, am I right?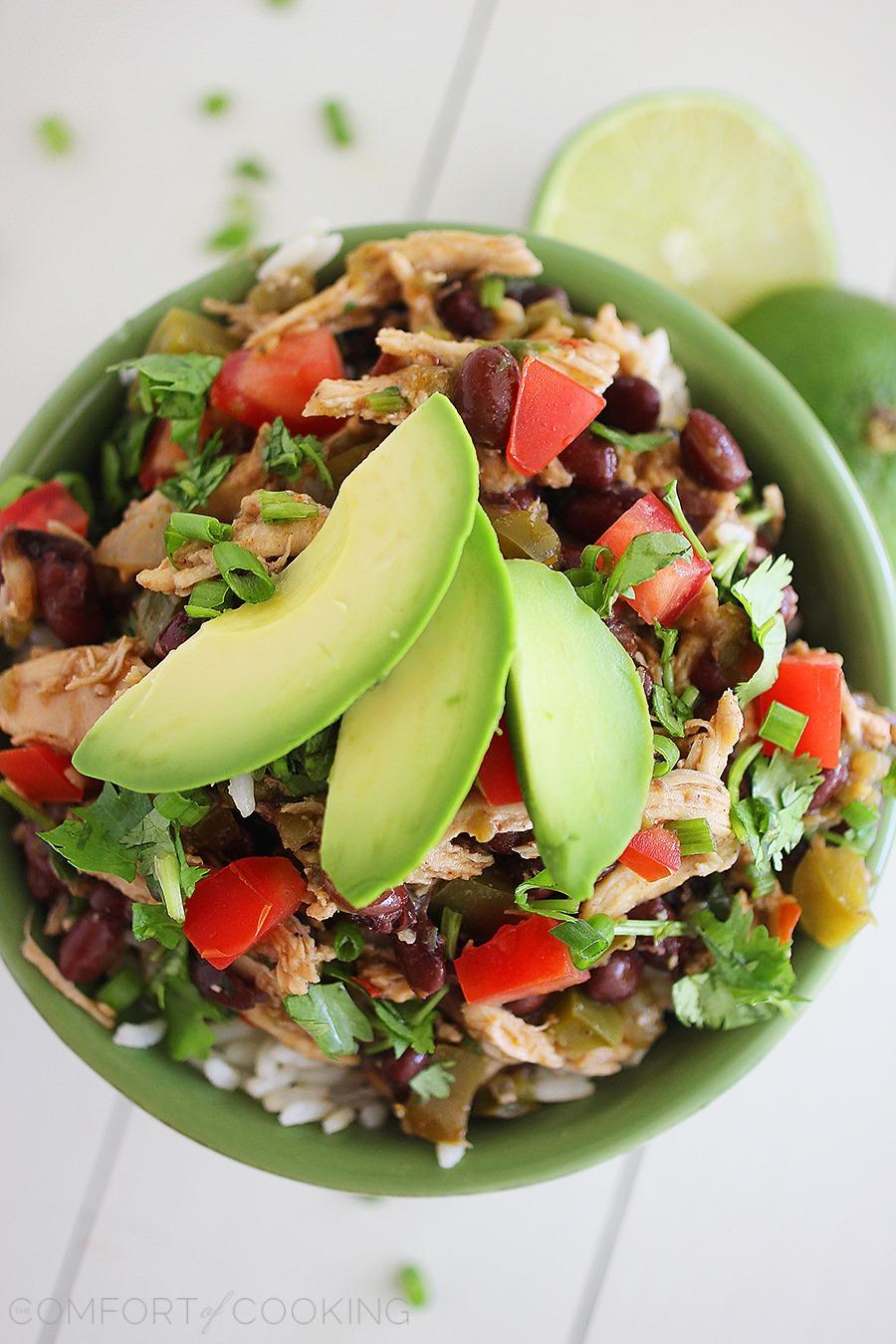 This spicy, simple and delicious salsa verde chicken has become one of our new favorite weeknight meals! Just toss it all in your slow cooker, set it and forget it. The onions and garlic make it incredibly fragrant, the jalapeno and salsa verde add a spicy kick, and a splash of lime juice keeps the flavors fresh and vibrant.
Use whatever salsa verde you can find, but if you have access to an H-E-B grocery store, grab a jar of their Hatch chile salsa verde! It's been one of my favorites since I moved to Austin – spicy, salty and perfect for chip dippin' – but it's only available for a short time since Hatch chiles go in and out of season quicker than winter in Texas! And if ya don't already know, that's quick.
Just in time, I was sent a box of spicy goodies as a member of H-E-B's Primo Picks program – perfect for this Hatch-hungry girl! Included was a jar of their incredible salsa verde. Not only is it great in this chili, but you can also top grilled meats with it or add it to burritos, enchiladas or quesdillas!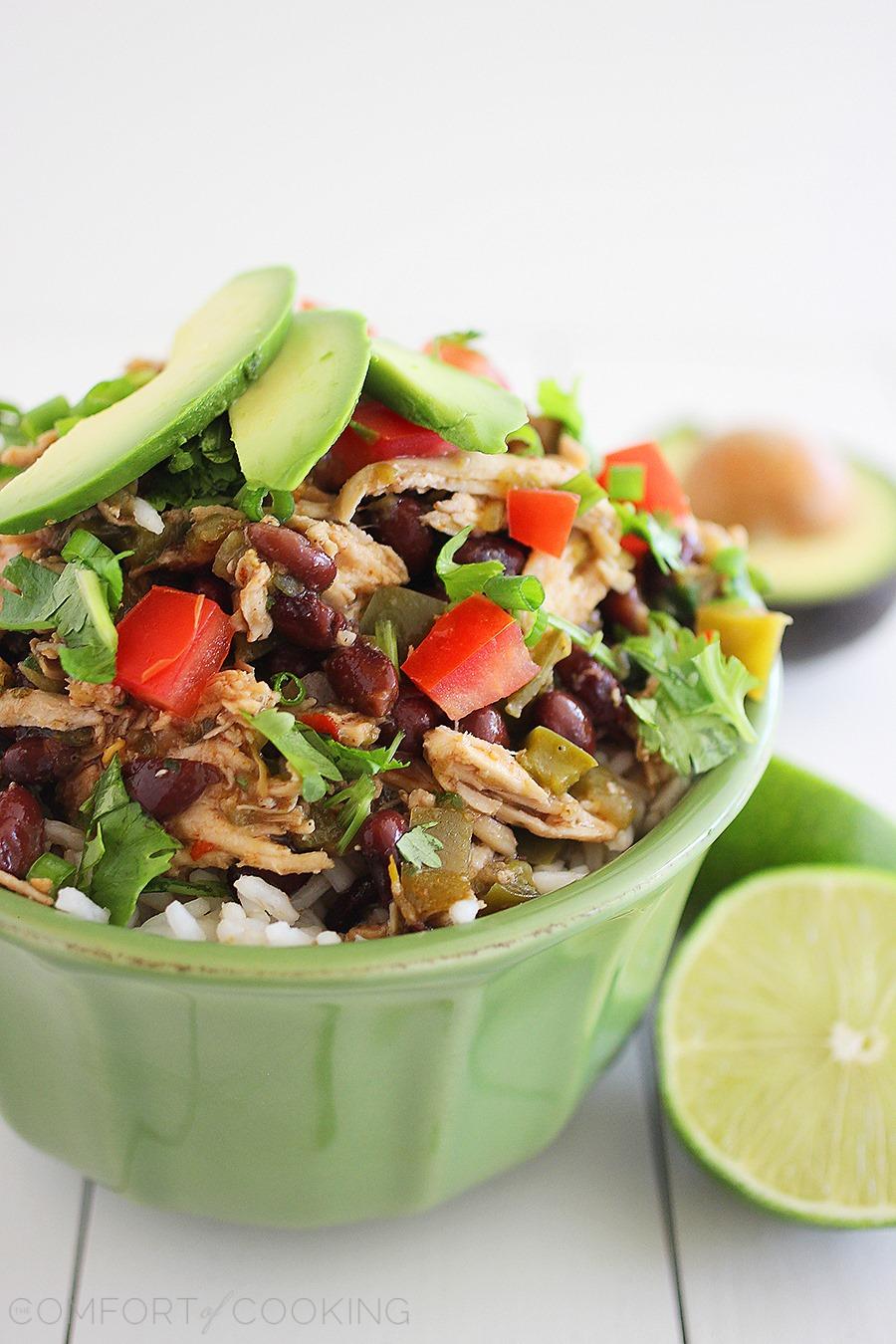 Mix up this mouthwatering, super easy slow cooker meal some weekday, set off for work, and walk in the door to delicious goodness in one pot! The best parts? Impossibly easy clean-up, lots of ways to dish it up, and plenty of toppings to serve it to your taste!
We like to top cooked brown rice with scoopfuls of this salsa verde chicken, wrap it in a multigrain tortilla, or just eat a big bowlful as is for a low-carb, high-protein meal. I love mine with sliced avocado, chopped tomatoes and a sprinkle of fresh cilantro. Cheese and sour cream make it even better, but any way you serve this scrumptious meal, you're gonna love it!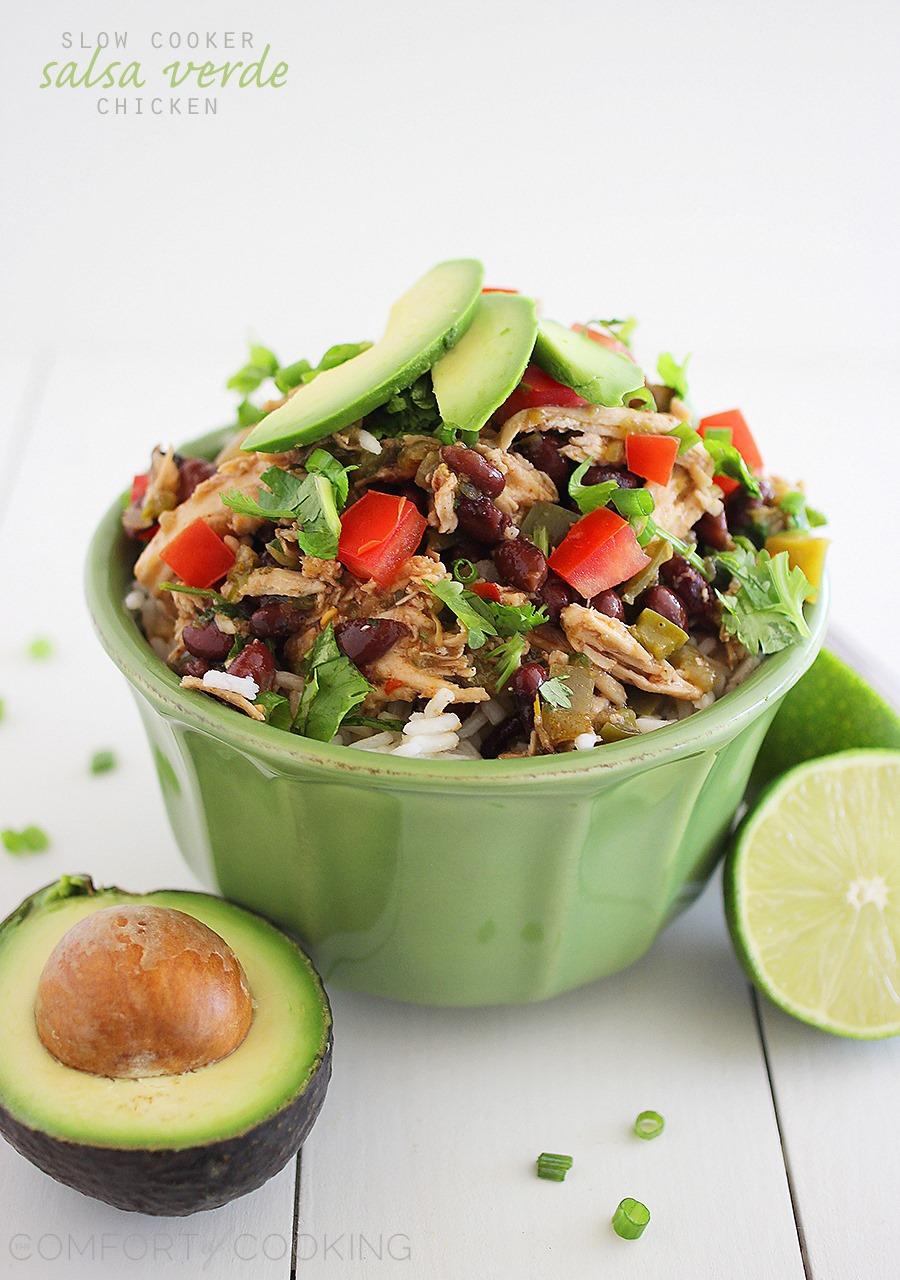 Slow Cooker Salsa Verde Chicken
Ingredients
2 boneless skinless chicken breasts, thawed
2 15 oz. cans black beans, drained and rinsed
2 cups low-sodium chicken broth
1 large bell pepper, chopped into 1/2-inch pieces
1/2 yellow onion, diced
1 clove garlic, minced
1 jalapeno, minced
1 16 oz. jar salsa verde
1 1/2 teaspoons chili powder
1 teaspoon ground cumin
1 teaspoon kosher salt
1/4 teaspoon freshly cracked black pepper
Juice of 1 lime
For serving (optional):
Cooked brown or white rice
Warm tortillas
For topping (optional):
Chopped tomatoes
Sliced avocado
Chopped scallions
Chopped cilantro
Shredded Mexican cheese
Light sour cream or plain yogurt
Instructions
Combine all ingredients (besides serving and topping ingredients) in a slow cooker. Stir to combine. Cook on high for 3-4 hours or low for 6-8 hours.
Once chicken is fully cooked, remove from slow cooker and shred with two forks. Place shredded chicken back into the slow cooker with sauce, stir and cook on low for 15 more minutes.
Serve heaping spoonfuls over cooked rice or warm tortillas.
Top with desired toppings (see ideas above).
Enjoy!