Crispy tater tots wrapped in sticky, salty applewood smoked bacon and coated with a tangy homemade barbecue sauce. Incredibly easy and addictive. The ultimate party finger food!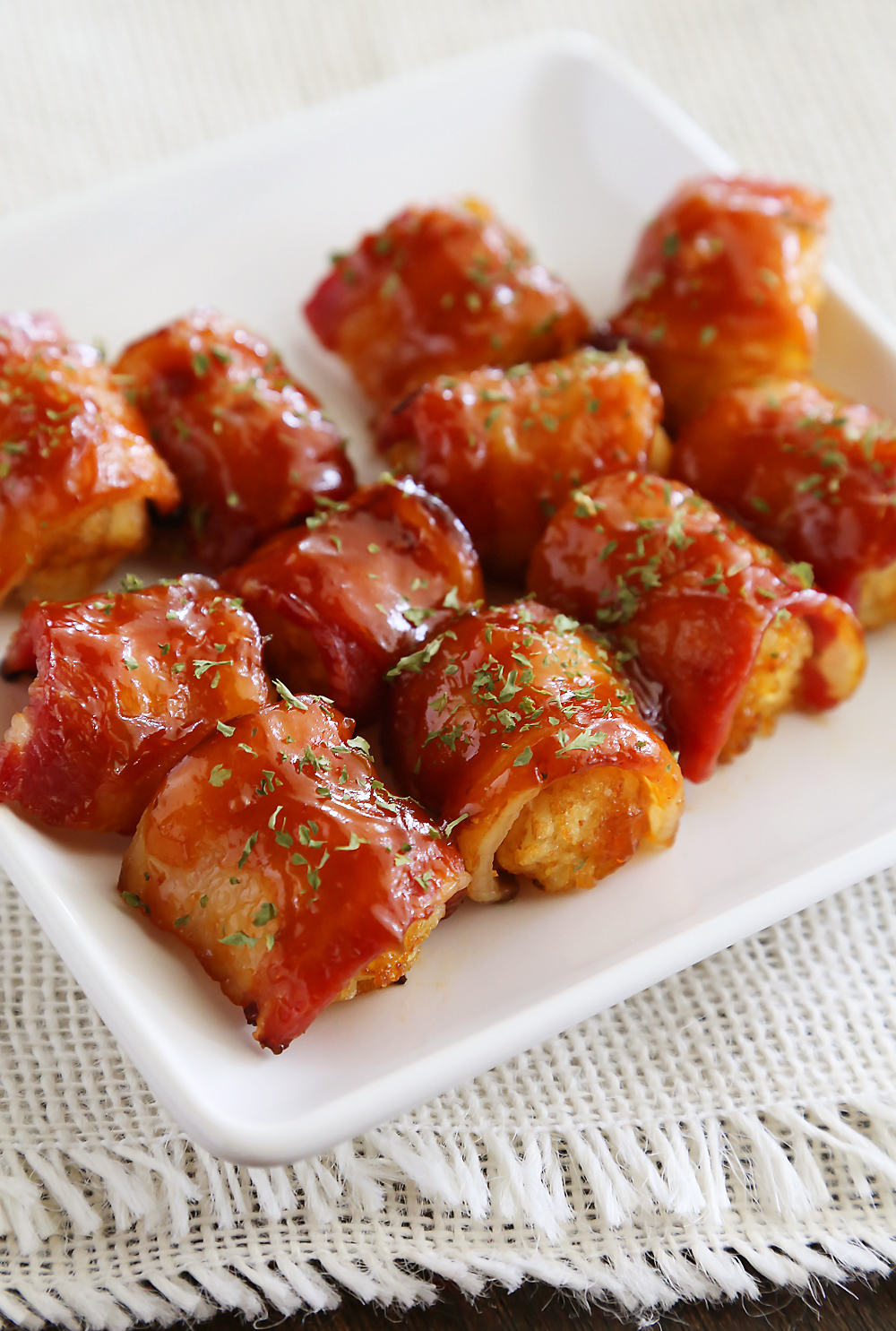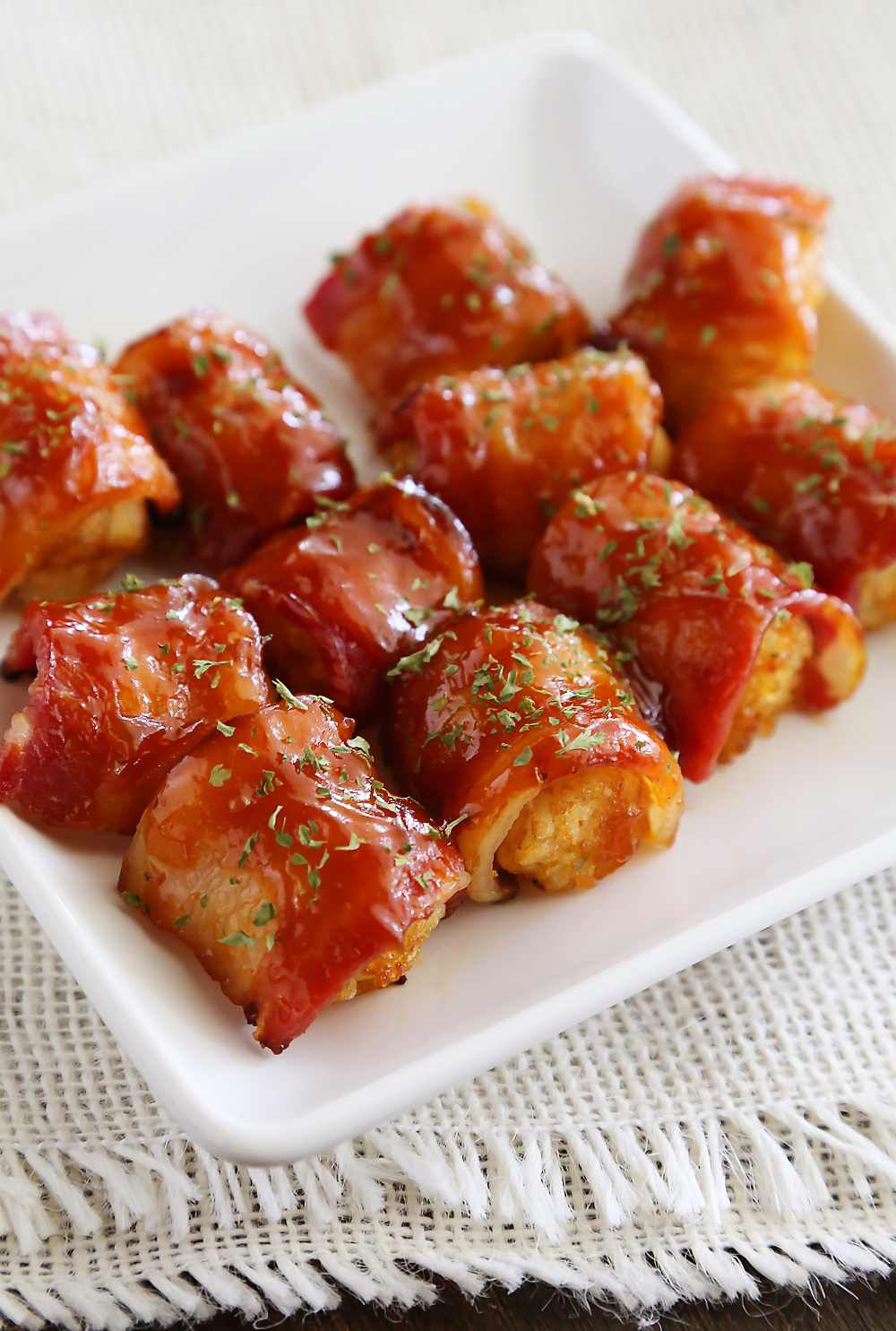 I like to think bite-sized appetizers have the potential to hold a lot of pizzazz. It's always fun to surprise your friends with something outrageously scrumptious, so good it's worthy of an eye-roll, and SMALL. Without a doubt, every time I have brought little bites (of anything) to a party, they fly off the platter. Because everyone thinks they're eating less. But they're just fooling themselves.
In this case, a savory finger food that will be the hit of every party! These super crispy tater tots are wrapped in a blanket of thick cut applewood smoked bacon (but any good bacon will do). Brushed with a sticky, sweet homemade barbecue sauce, tucked onto a large baking sheet, and baked 'til golden and gooey?
Heaven in one bite.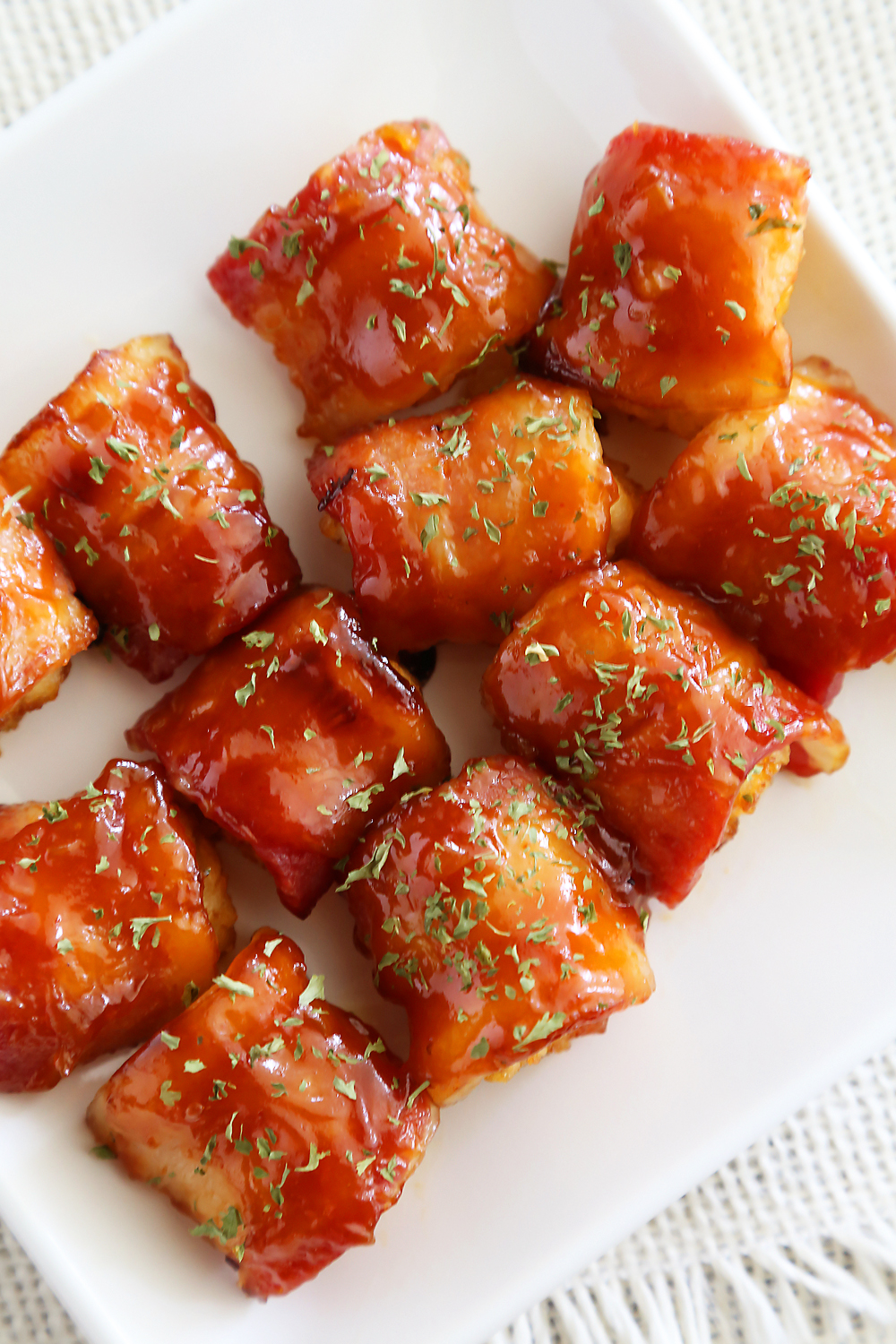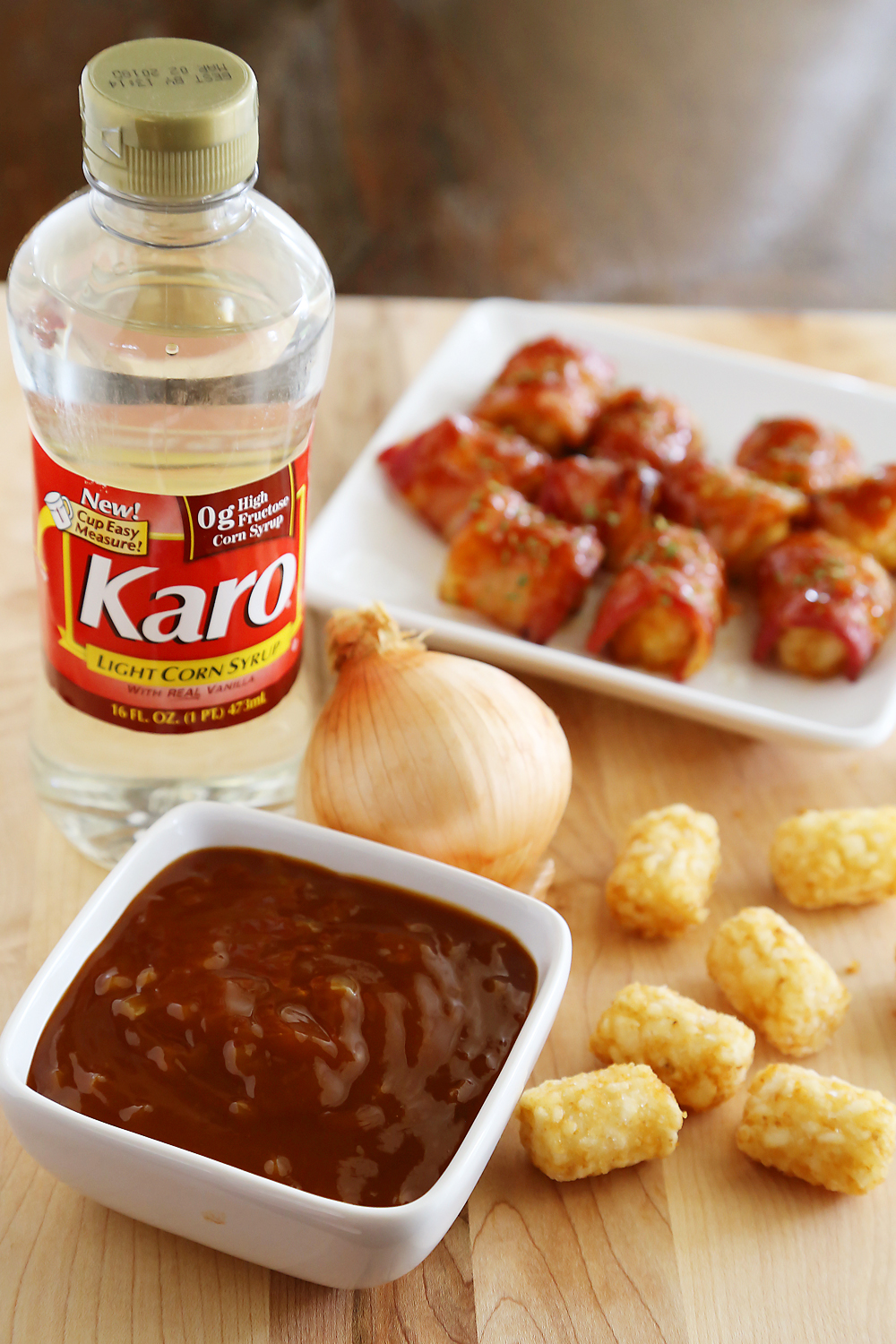 So, let's start with the first thing you need to do. Make this amazing barbecue sauce! It has the BEST balance of brown-sugary sweet and vinegary tang, with fragrant onions and a smooth texture that begs it to be slathered all over your grilled summer favorites! It's mixed up with Karo Syrup (which gives it that perfect sweetness and velvety texture), ketchup, mustard, Worcestershire sauce, vinegar, brown sugar and diced onions. Bubble it on your stovetop, then give the bacon a nice brushing before popping the bites into the oven.
I have often had bad luck with homemade barbecue sauce making. Too runny, too sweet, too syrupy. This recipe is going to be my go-to this summer, though! I just poured the leftovers into a Mason jar and will keep it chilled until my next excuse for barbecue goodness comes up. (Probably tomorrow.) Don't just stop with these tots – the barbecue sauce can be used on anything you can dream of!
I know you'll love these adorable, delicious bacon and tater tot bites. Get the recipe and make them for your next party or casual get together, or even for Father's Day. They were a huge hit in my household!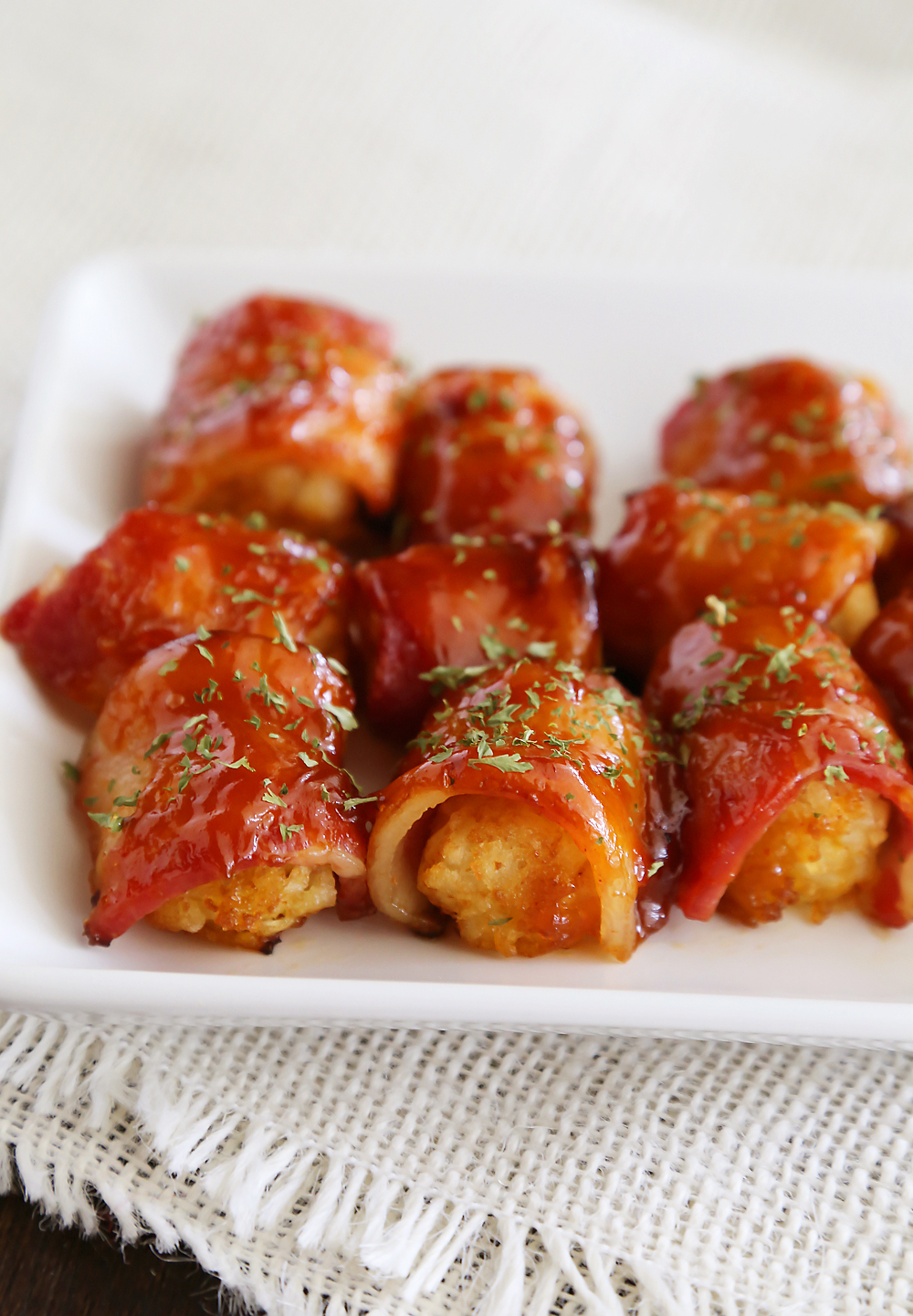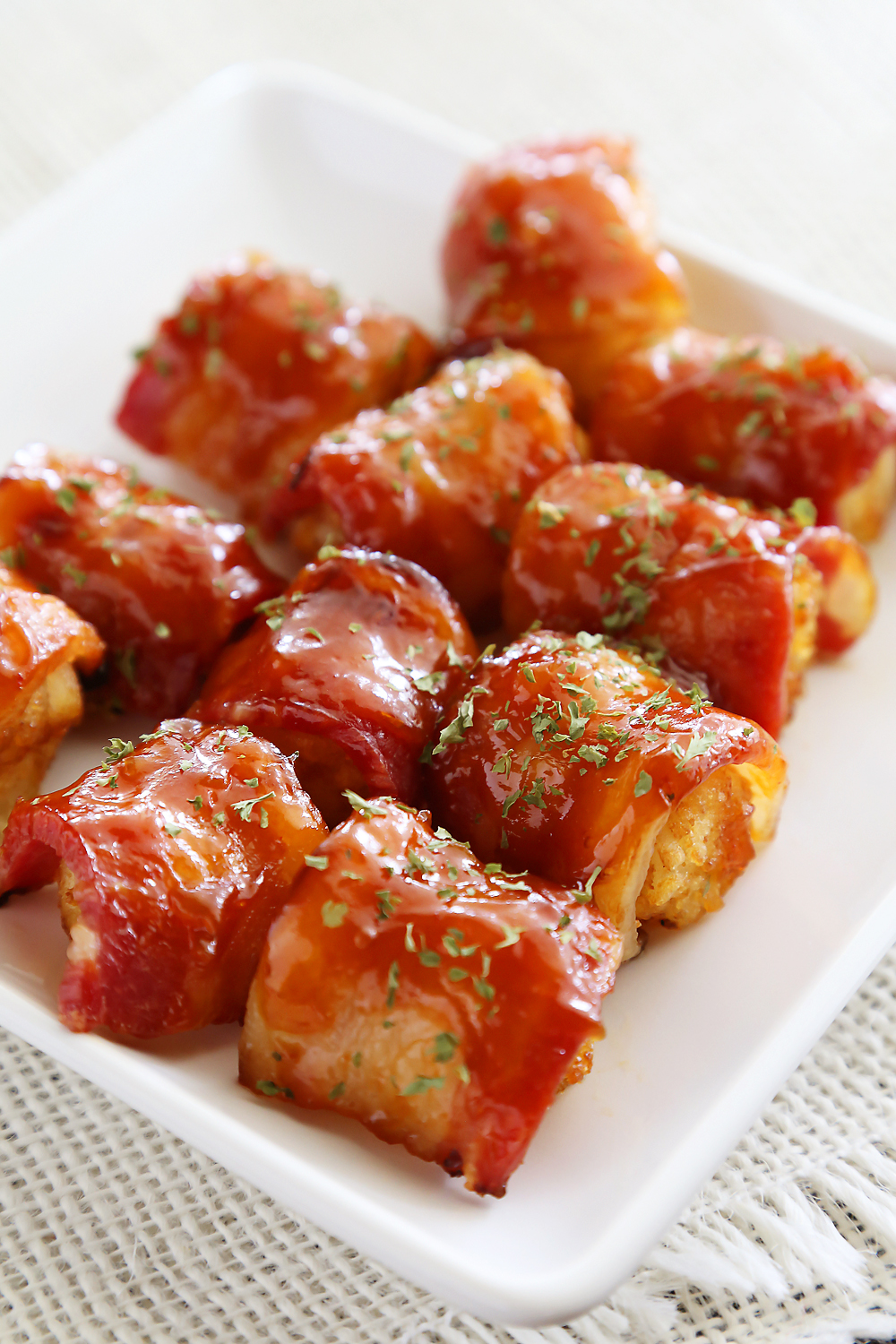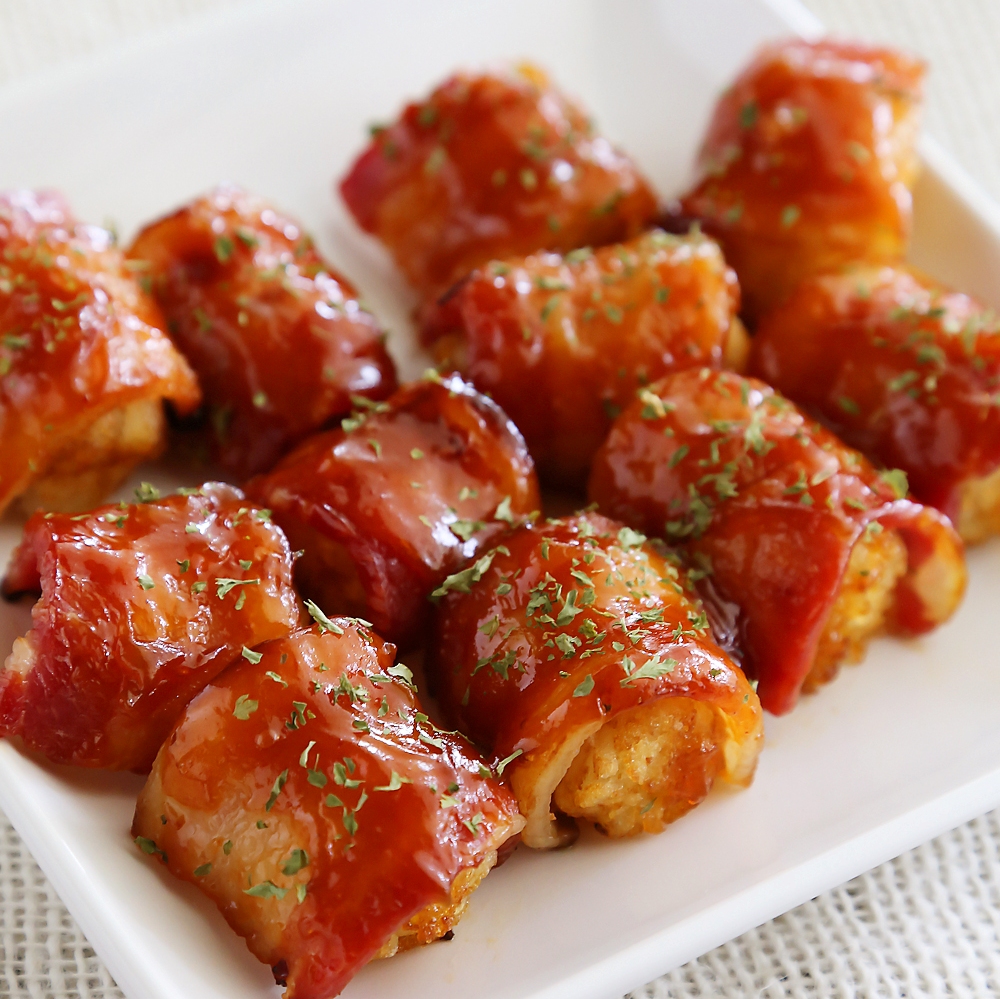 BBQ Bacon Wrapped Tater Tot Bites
Ingredients
For bites:
16 frozen tater tots
4 slices bacon, quartered
3/4 cup barbecue sauce (recipe below)
1/2 teaspoon dried parsley flakes, optional
For bbq sauce (makes 2 cups):
1/2 cup Karo® Light OR Dark Corn Syrup
1/2 cup finely chopped onion
1/2 cup ketchup
1/4 cup white vinegar
1/4 cup prepared mustard
1/4 cup Worcestershire sauce
1/4 cup brown sugar
Instructions
Preheat oven to 400 degrees F. Line a large baking sheet with parchment paper; set aside.
Working one at a time, roll each tater tot in a bacon strip. Place tots on the baking sheet, seam side down. Brush with barbecue sauce.
Bake for 20 minutes, or until bacon and tots are fully cooked. Brush with additional barbecue sauce.
Sprinkle with parsley, if desired. Serve immediately.
Enjoy!