Crispy, golden calzones filled with our favorite pizza toppings! This recipe has been a longtime family favorite, and is easily adaptable to ingredients you have on hand. Switch out the veggies, make 'em meatless, or use homemade or frozen pizza dough. So delicious dunked in marinara sauce!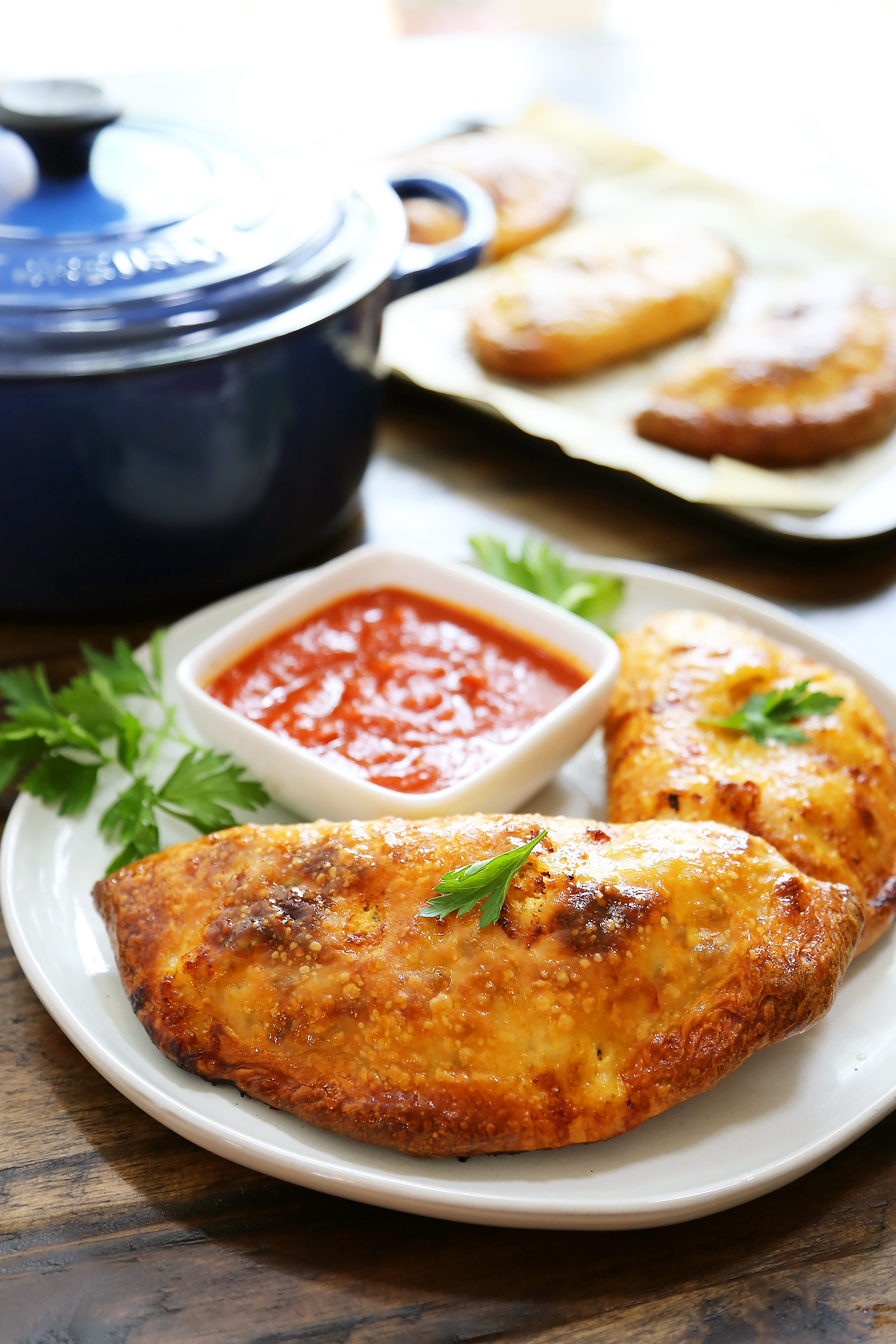 We are big time pizza lovers in this house, but since we don't have a 600-degree oven to get that perfectly blistered crust, I prefer going out for a pie from the pros! Here in the Northeast, we have our favorite pizza spots, so are never hurting for options. However, when the pizza craving strikes and we also feel like staying in, I love to cook up a batch of hot, super crispy calzones made from scratch. It's like a pocket pizza, and I can freeze a big batch for those "what's for dinner?" nights. Which is, let's be honest, most nights with a family to feed.
Since I keep frozen pizza dough on hand (you can buy dough balls from the freezer section or deli of most grocery stores), half the work is already done. Then I just root around and see what meat and veggies I already have. Usually, our favorite ingredients are Italian sausage, spinach and bell peppers, which I sizzle in a skillet and mix with ricotta, mozzarella and Parmesan cheese. However, you can really adapt this recipe to your favorite veggies and meat, or make 'em veggie!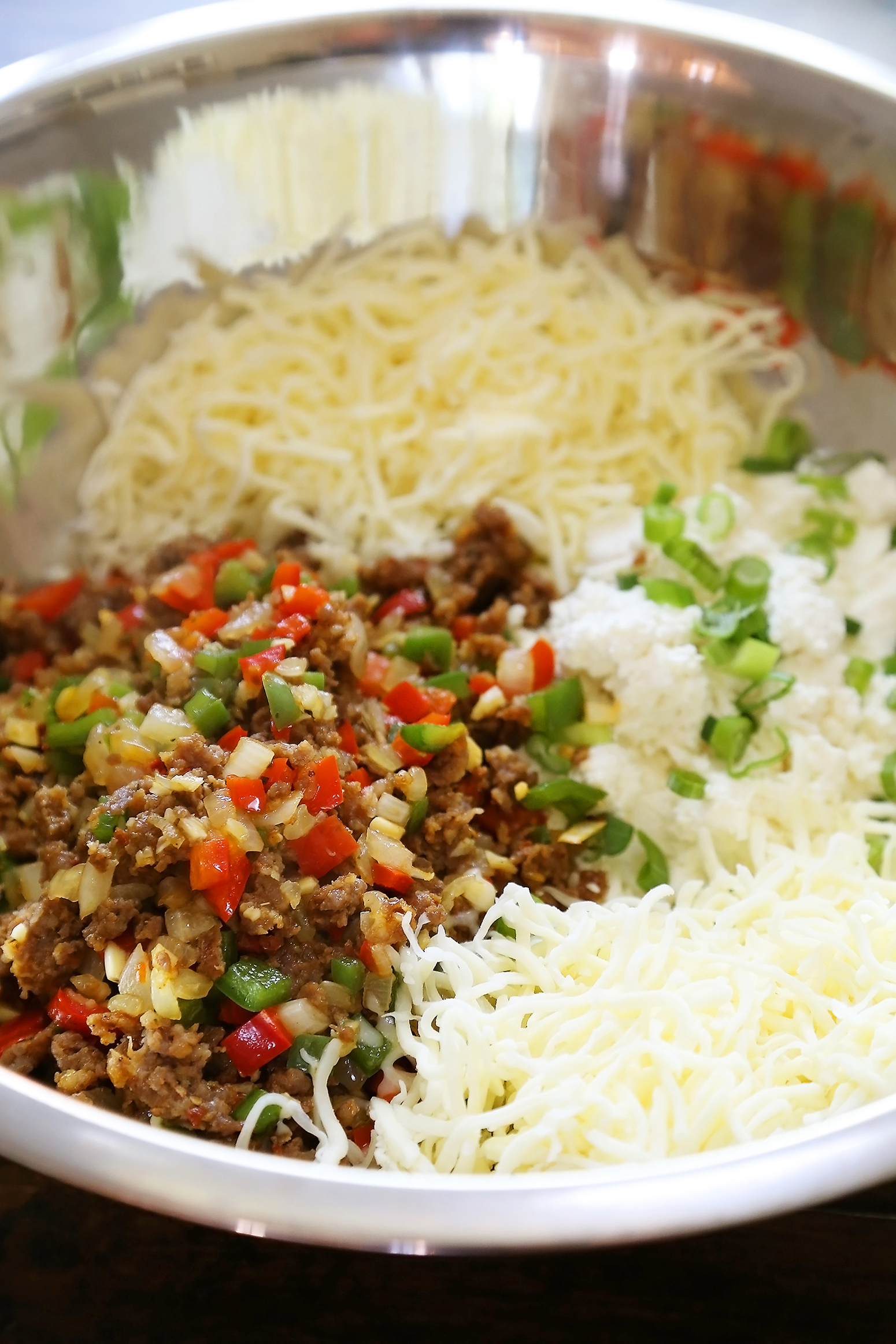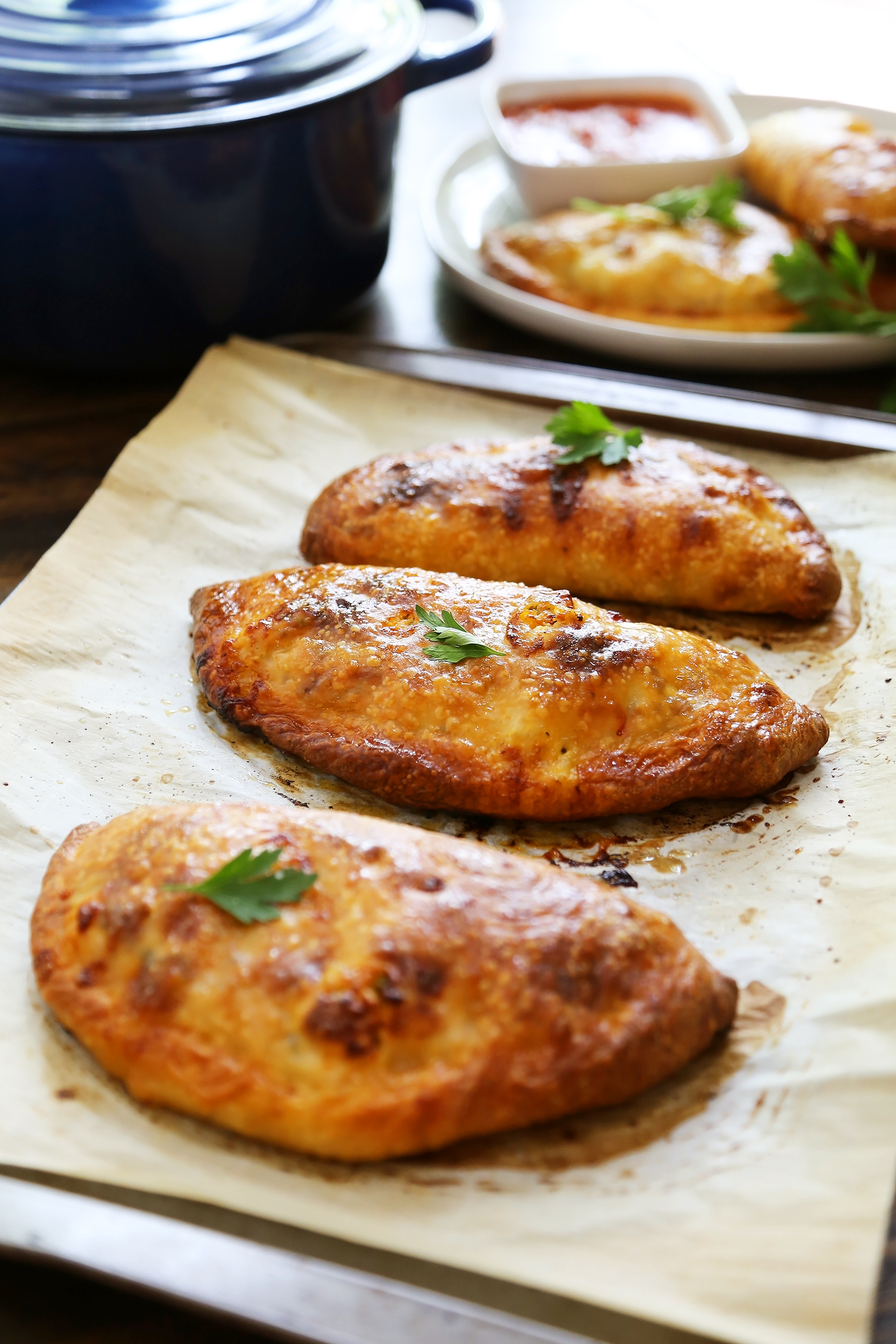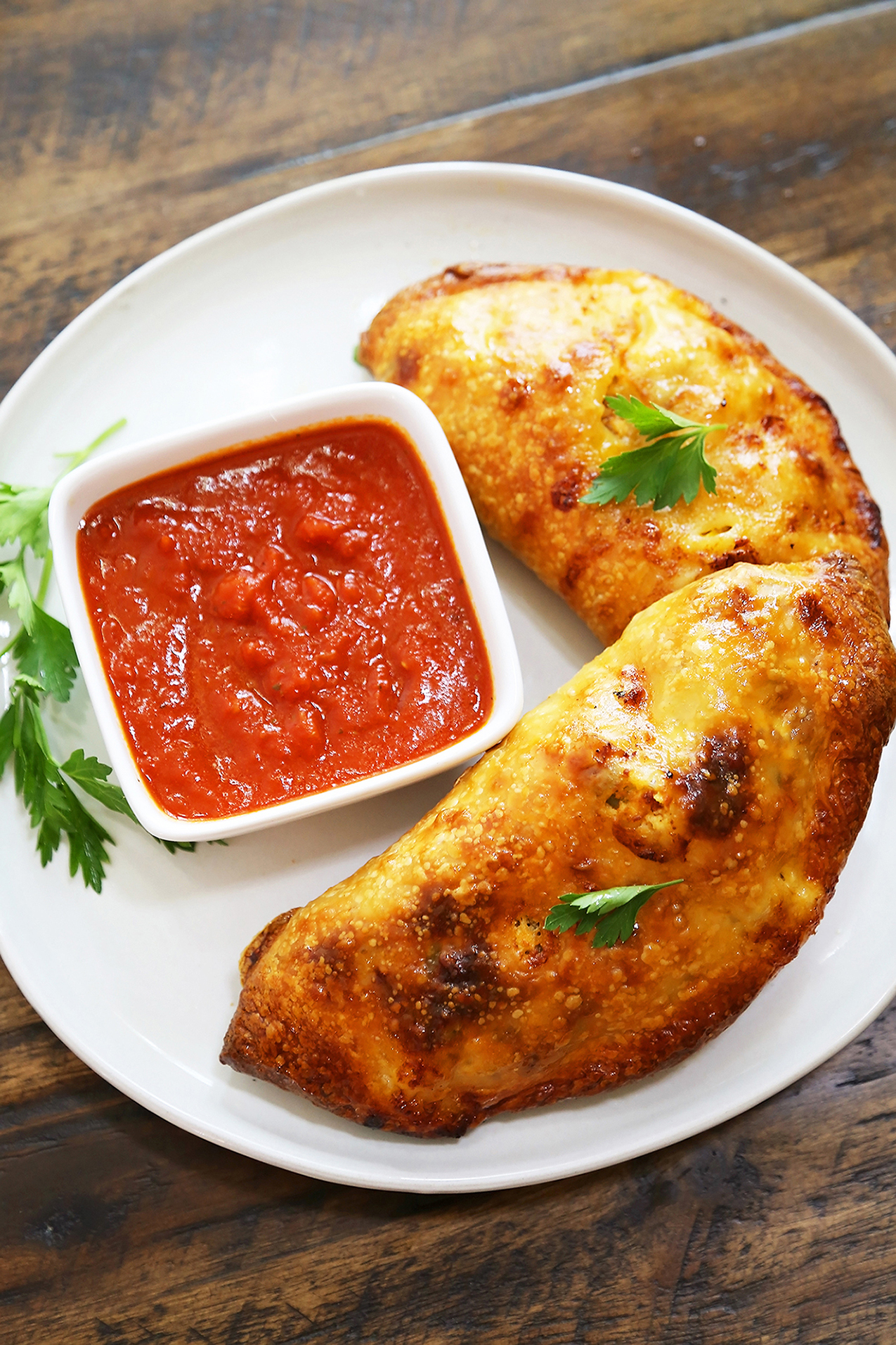 This recipe makes a large batch of 8 calzones, which you can freeze in a resealable bag for up to 6 months. I love being able to pull out a ready-to-go dinner from the freezer… You know, so it's still made with love and wholesome ingredients, with none of the work!
Once you pull your calzones hot out of the oven, resist temptation to dip and devour those beauties. You will suffer a brain-searing burn (ever had a HotPocket, amiright?). Instead, warm up some marinara sauce on your stovetop for delicious dipping. Store bought keeps it simple. We love to serve this with a leafy green salad and, when I'm feeling ambitious, a homemade sauce. So scrumptious!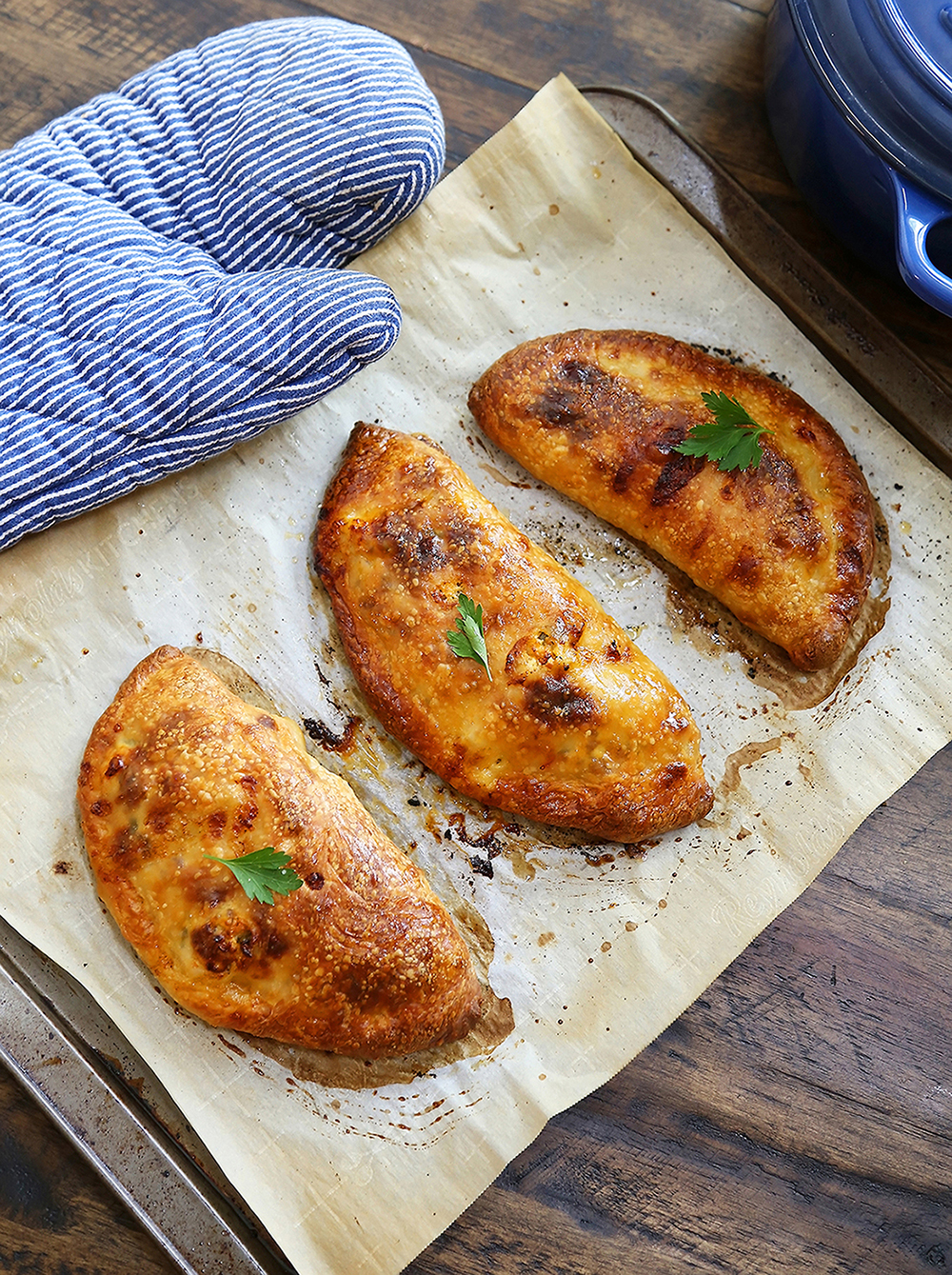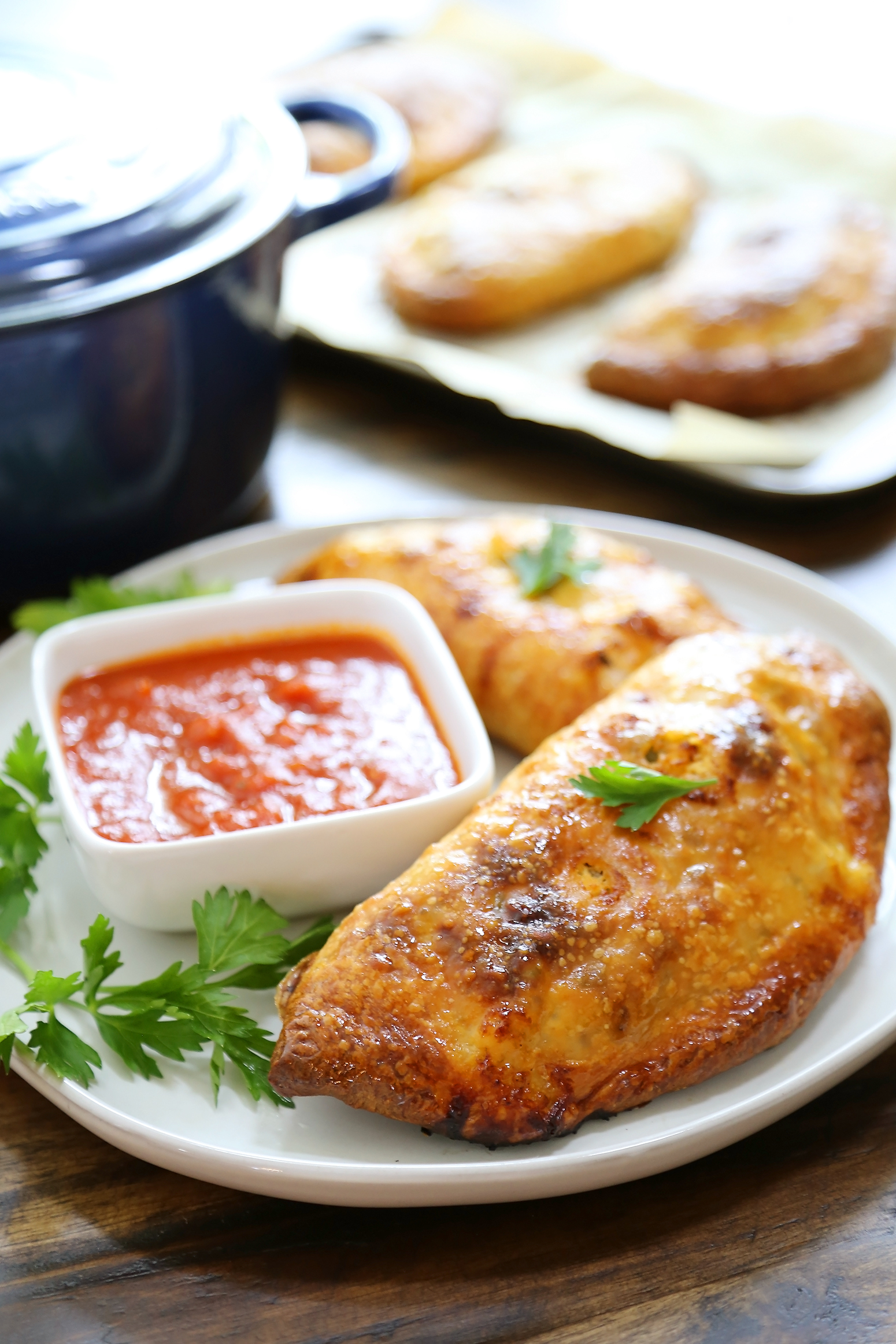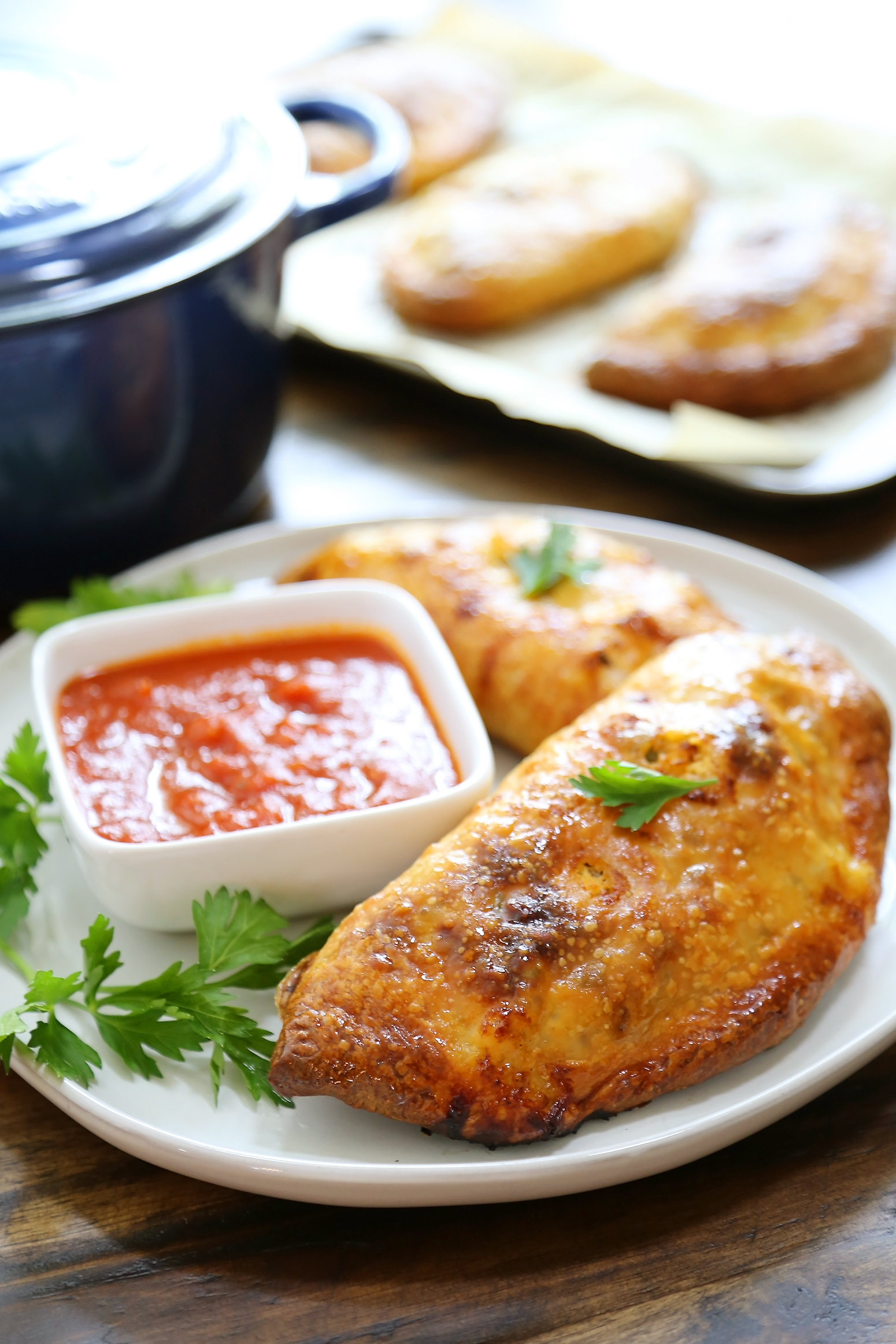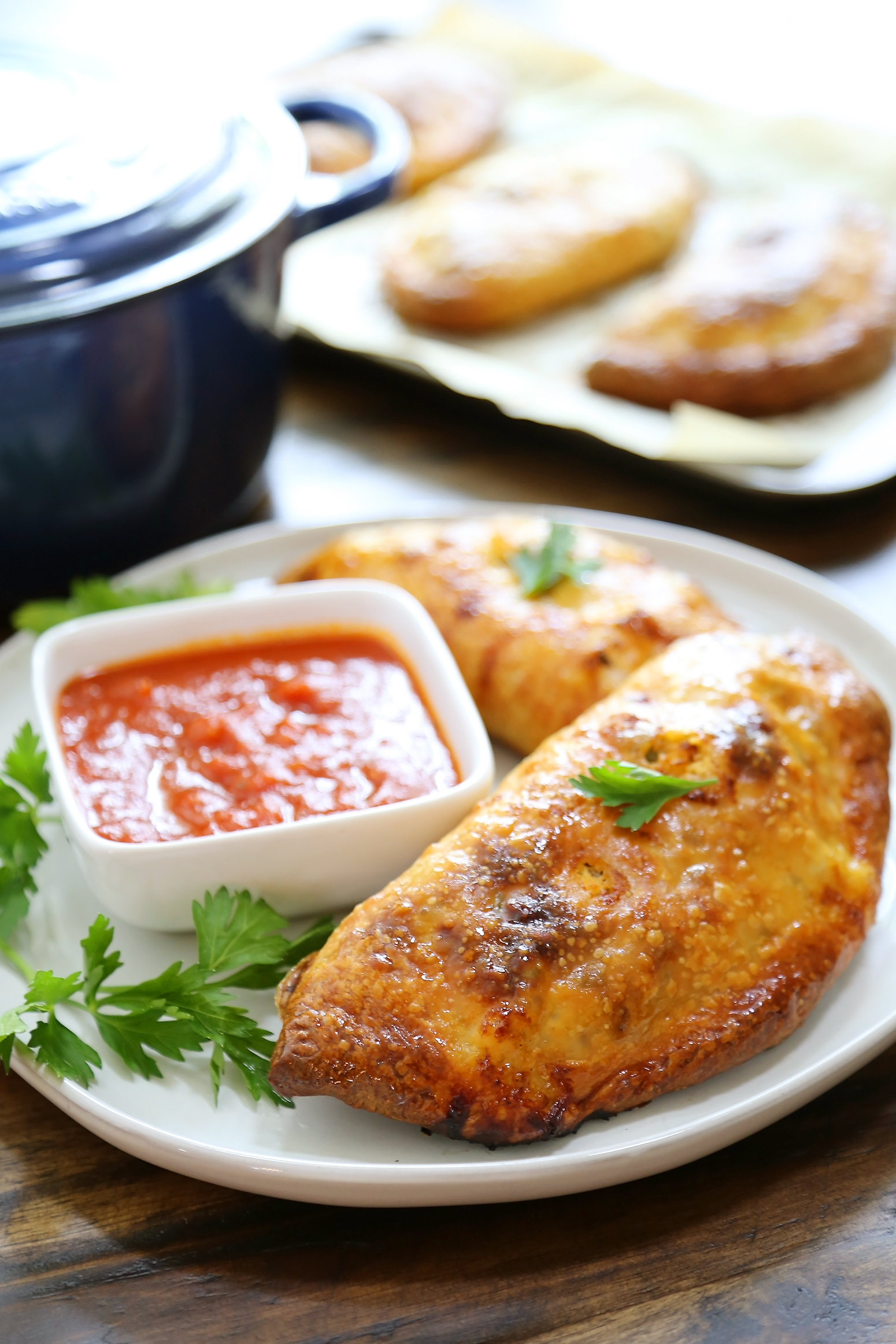 Sausage, Ricotta and Veggie Calzones
Ingredients
1 Tbsp. olive oil
1 lb. ground Italian sausage
1 green pepper, small chopped
1 red pepper, small chopped
1 medium onion, small chopped
3 cloves garlic, minced
4 cups baby spinach, rinsed
2 cups (16 oz.) ricotta
2 cups shredded part-skim mozzarella
2 Tbsp. grated Parmesan
Kosher salt and freshly cracked pepper, to taste
2 (1 lb.) balls pizza dough, divided into 4 portions each
1 large egg
Instructions
Preheat oven to 450 degrees F. Line a large baking sheet with parchment paper.
Set a large skillet to medium heat; add oil. Once hot, add Italian sausage and crumble with a wooden spoon. Add onion, bell peppers, onions and garlic. Sauté until sausage is browned and veggies are softened, about 10 minutes. Reduce heat to low. Add spinach and cover skillet. Sauté for 3 minutes, until spinach has wilted, stirring occasionally.
In a large bowl, combine ricotta, mozzarella, Parmesan, salt, pepper, and sausage-veggie mixture. Stir well to combine ingredients.
Roll out pizza dough portions into 8-inch rounds on a well-floured surface. Scoop 3/4 cup filling onto one side of each dough round. Fold dough over to enclose filling; press to seal edges. Pinch and roll dough up and over to form a decorative edge. Place on prepared baking sheet.
Whisk egg with 1 tsp. water. Brush tops of calzones with egg wash. Using a paring knife, slice 3 small vents in each unbaked calzone.
Bake until calzones are golden and crisp, 15 to 20 minutes. Serve with marinara sauce for dipping, if desired.
Enjoy!