These soft, chewy snickerdoodle bars taste like a cinnamon roll, cookie and blondie all in one! Decadently delicious and perfect for fall indulging. Get to baking and you won't believe how good (and easy) they are!
When it comes to cooking and baking, most of us don't have hours to spend whipping up dinners, desserts and other goodies from scratch. While some may picture me spinning around the kitchen in an apron, whisk in hand, dreaming up delicious new recipes all day… well, let me just tell you this. It's a good day if I've brushed my hair by noon, folks. Extra points if we've actually made it out to the store. As a new mom, I can relate to keeping it real!
I've always been a fan of quick-fix food, but since our little one made her big arrival, my recipes have become even quicker and easier. Without skimping on flavor! These 6-ingredient Snickerdoodle Cinnamon Roll Bars are my favorite indulgence lately.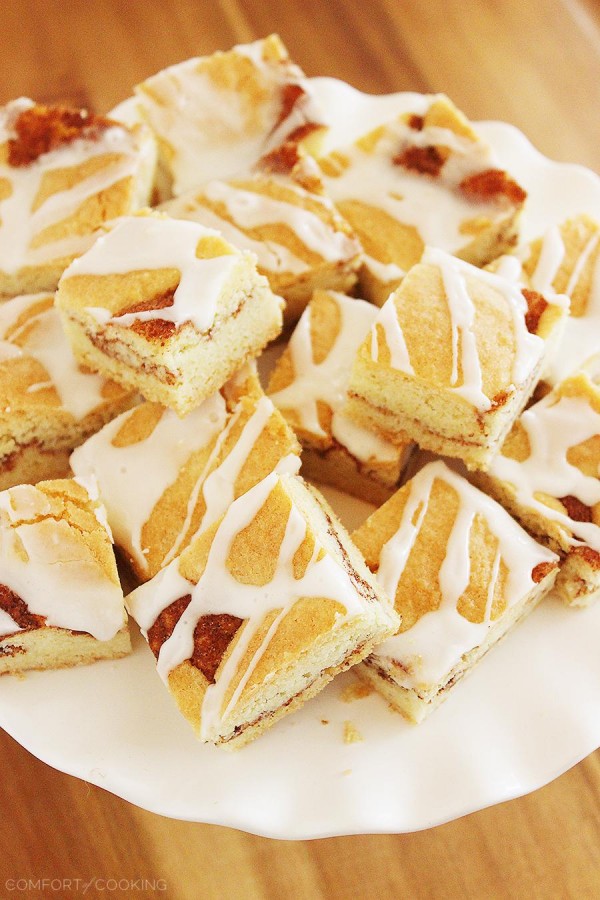 These fall-inspired bars are super soft and chewy, and totally hit the spot for a variety of cravings… It's like eating a cookie, cinnamon roll and blondie all in one! Without the guilt of eating them all separately.
Just grab a snickerdoodle cookie mix and add eggs, oil and water as called for on the box. Pat half the mixture into a square baking dish, and sprinkle cinnamon-sugar over top. A dozen or so dollops of the remaining cookie dough go on top of that. Then, into the oven your easiest (and new favorite) fall dessert goes to get golden and delicious. Drizzle with a quick 3-ingredient glaze, let it set and slice into bars. Simple as that!
These bars disappeared so quickly at a play date I brought them to – and I think it was a mix of moms and kids who went crazy for them! They are just so good, easier to make than cookies, and a little something unique. Bake a batch soon and you'll see what I mean!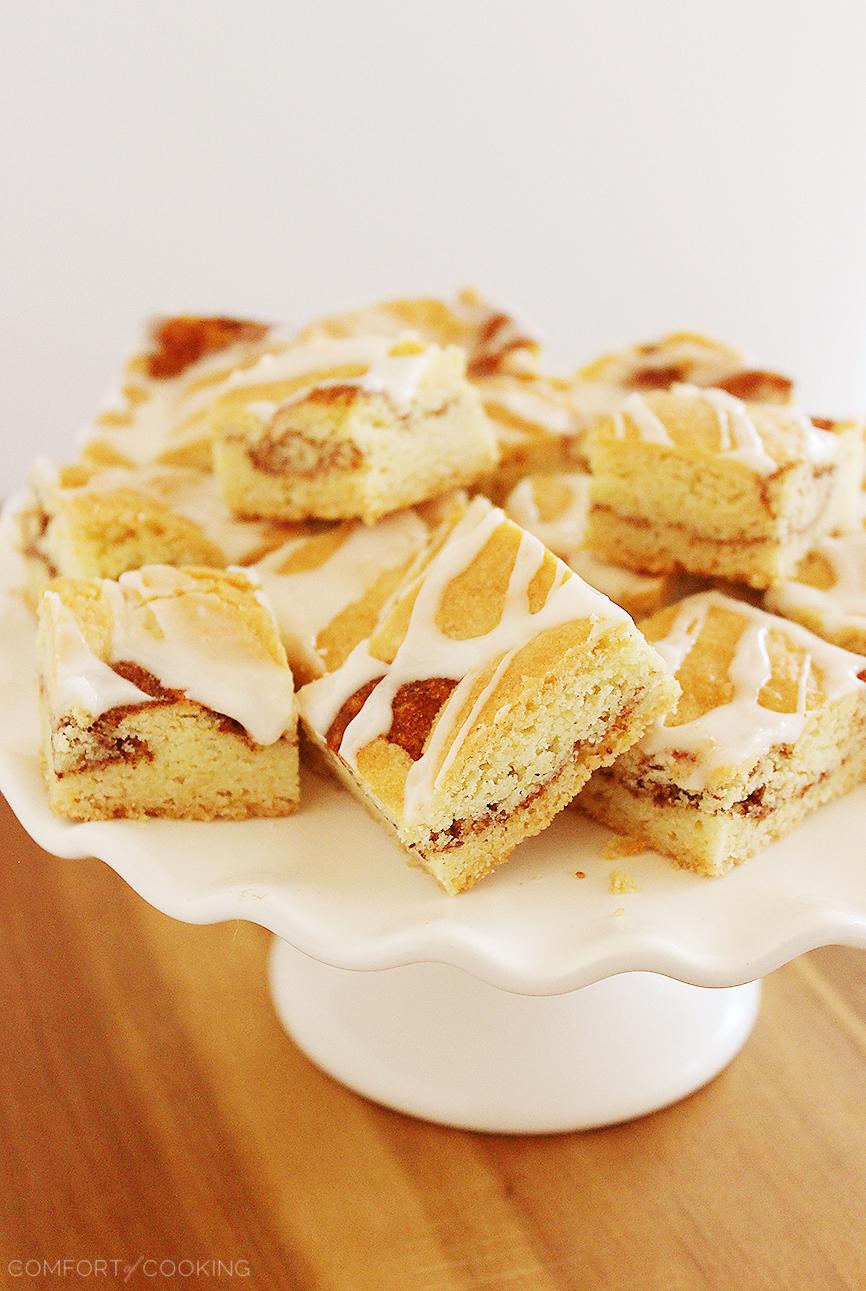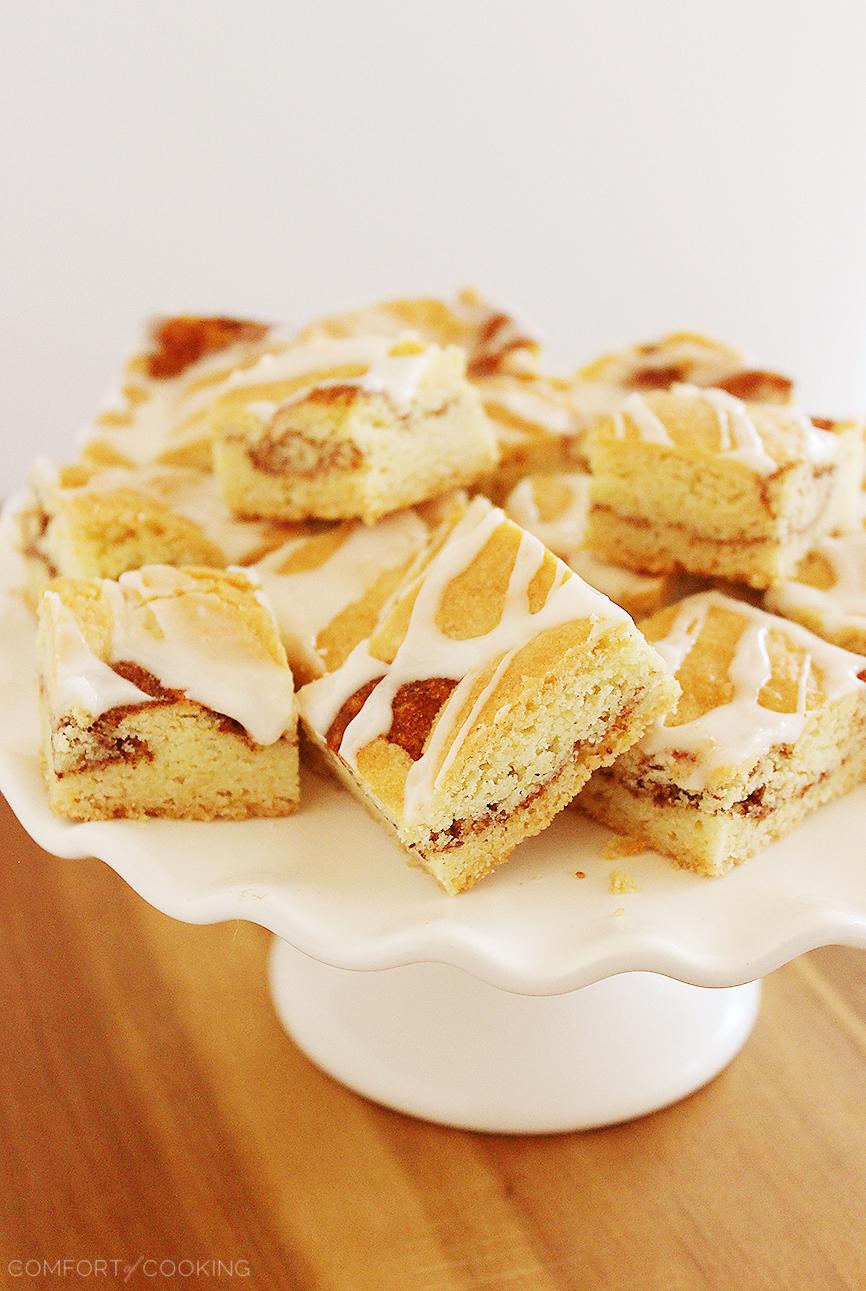 Snickerdoodle Cinnamon Roll Bars
Ingredients
For the bars:
1 17.9 oz. package snickerdoodle cookie mix
Eggs, oil and water for mix, as called for on package
1 Tablespoon granulated sugar
1 Tablespoon ground cinnamon
For the glaze:
1 cup powdered sugar
1 to 2 Tablespoons milk
1/4 teaspoon vanilla extract
Instructions
For the bars:
Preheat oven to 350 degrees F. Line an 8 x 8-inch baking dish with aluminum foil or parchment paper (for easy removal of bars). Coat lightly with nonstick cooking spray.
In a large bowl, combine cookie mix with eggs, oil and water. Mix ingredients until well combined.
Spread half the batter evenly in the pan. Sprinkle cinnamon-sugar mixture evenly over batter. Dollop teaspoonfuls of remaining batter evenly over top.
Bake 25 to 30 minutes, or until golden brown and toothpick inserted in center comes out clean. Cool completely, about 1 hour, before glazing.
For the glaze:
In a small bowl, combine powdered sugar, milk and vanilla. Stir until smooth. If you'd like a thinner glaze, add more milk. For a thicker glaze, add more powdered sugar. Drizzle over bars. Let glaze set before cutting into bars.
Enjoy!