I love pancakes. I love when people make them for me, I love having something so warm and fluffy for breakfast, I love that you can doll 'em up with fruit and other fixings, or eat them plain. Pancakes are just so comforting and fun to eat. But, until about a year ago, I was pretty terrible at making them. Somehow, I could make vanilla crêpes, but I couldn't produce a pancake without a bit of… okay, a lot of burn.
See, for the past seven years or so, my husband Mark has manned the breakfast making. Start to finish, he does it all and it's divine! After years of me trying to help and get in his way, though, I've picked up a few pointers and I can make a pretty darn good pancake. Hallelujah, rejoice, hooray!
So, here I present to you my favorite fluffy pancake recipe and flavor: Banana and blueberry, with a touch of vanilla and a sprinkle of cinnamon. Topped with a little powdered sugar, maple syrup and cinnamon-vanilla butter (made with my homemade vanilla extract), they are total pancake ecstasy!
Whether you make the breakfast at home or rely on someone else, I urge one of you to cook up these easy, delicious banana and blueberry pancakes. They're moist, subtly sweet and full of juicy blueberries and mashed bananas, and every bite melts in your mouth. I'd say that's a good way to start the day!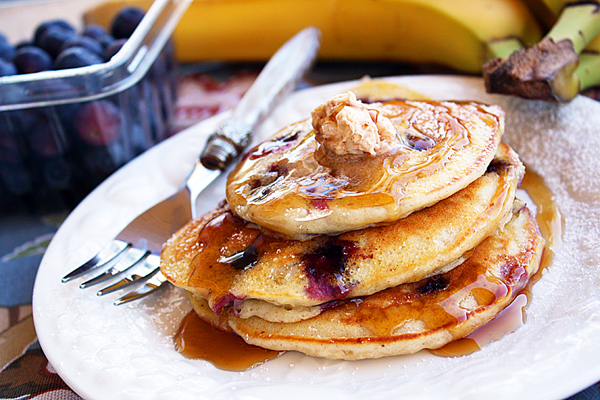 Banana and Blueberry Pancakes with Cinnamon-Vanilla Butter
Yield:
7 servings (14 pancakes)
Ingredients
Banana and Blueberry Pancakes
1-1/2 cups all-purpose flour
2 tablespoons sugar
2 teaspoons baking powder
1/2 teaspoon salt
1 egg, lightly beaten
1-1/4 cups fat-free milk
3 medium ripe bananas, mashed
1 teaspoon vanilla extract
1-1/2 cups fresh or frozen blueberries, If using frozen blueberries, do not thaw
Maple syrup, optional
Powdered sugar, optional
Cinnamon-Vanilla Butter
1/4 cup unsalted butter, softened
1/2 teaspoon cinnamon
1/4 teaspoon vanilla extract
Instructions
For cinnamon-vanilla butter: Combine softened unsalted butter, cinnamon and vanilla extract in a bowl. Mix until well combined. Set aside.
For pancakes: In a large bowl, combine the flour, sugar, baking powder and salt. In another bowl, combine the egg, milk, bananas and vanilla; stir into dry ingredients just until moistened. Gently stir in blueberries.
Coat a large flat pan with cooking spray. Turn pan to low heat. Pour pancake batter by 1/4 cupfuls onto the pan. Turn when bubbles form on top; cook until second side is golden brown.
Serve with maple syrup, sifted powdered sugar and/or cinnamon-vanilla butter, if desired.
Enjoy!