Treat the furry friend in your life to these wholesome, all-natural dog treats with peanut butter, oats, bacon and carrots!
Someone has been distracting me lately. He's furry, handsome and full o' love. His name's Bob Barker (yep, that's right) and we absolutely adore him!
We adore him so much that we made him dog treats. Wholesome, all-natural treats that are delicious for even human snacking! I may or may not have had these on my list even before we adopted the guy. Never telling.
It's been a whirlwind of two weeks, but our beloved Bob has made our happy life in Texas even happier – and slightly more chaotic! We have a whole new set of responsibilities and daily to-do's but it's plenty fun to parent a pup. With more responsibilities also comes more laughs! … Especially when watching him bounce around the room chasing after the laser pointer. Ha!
Try these tasty treats for your own pup, or as a gift to someone else's, and you're sure to make the day of man's best friend! Our happy boy's tail hasn't stopped wagging since he smelled the aroma of these scrumptious doggie snacks!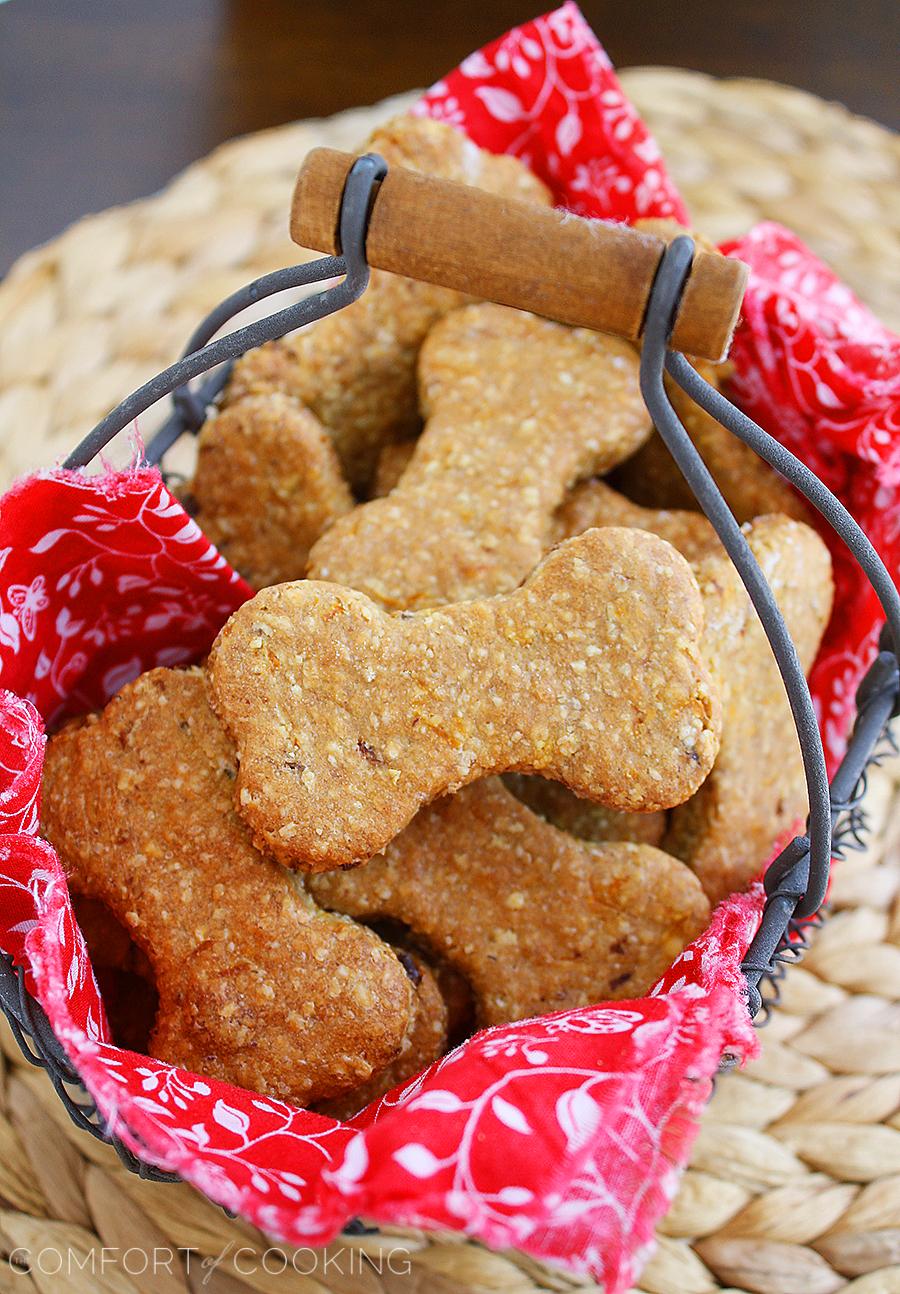 Homemade Peanut Butter & Bacon Dog Treats
Ingredients
1/2 cup creamy peanut butter
1 tablespoon honey
1 large egg
1/2 cup water
1 carrot, shredded
2-3 pieces cooked bacon, chopped
1 cup oat flour or 1 1/2 cups rolled oats, processed until floury
1 cup all-purpose or whole wheat flour
Instructions
Preheat oven to 350°F. In a medium bowl, combine peanut butter, honey, egg, water, carrot and bacon and stir until well blended. Add both flours to wet mixture to form dough.
Roll out dough between two pieces of plastic wrap or lightly floured work surface to 1/4 inch thick.
Cut out with a dog bone shaped cookie cutter, or your desired shape. Place treats 1 inch apart on a parchment lined baking sheet.
Bake for 20-25 minutes. Transfer to a wire rack to cool completely.
Store in a sealed container or re-sealable plastic bag for up to one week, or freeze.
Enjoy!