Did you know that Pillsbury​ now makes Girl Scout Cookies​ Baking Mixes? That irresistible caramel-coconut Samoa cookie can now be enjoyed as fluffy cupcakes with chocolate ganache and chewy, buttery blondies! Sprinkle on some toasted coconut and you have a scrumptious semi-homemade treat for weeknights or parties!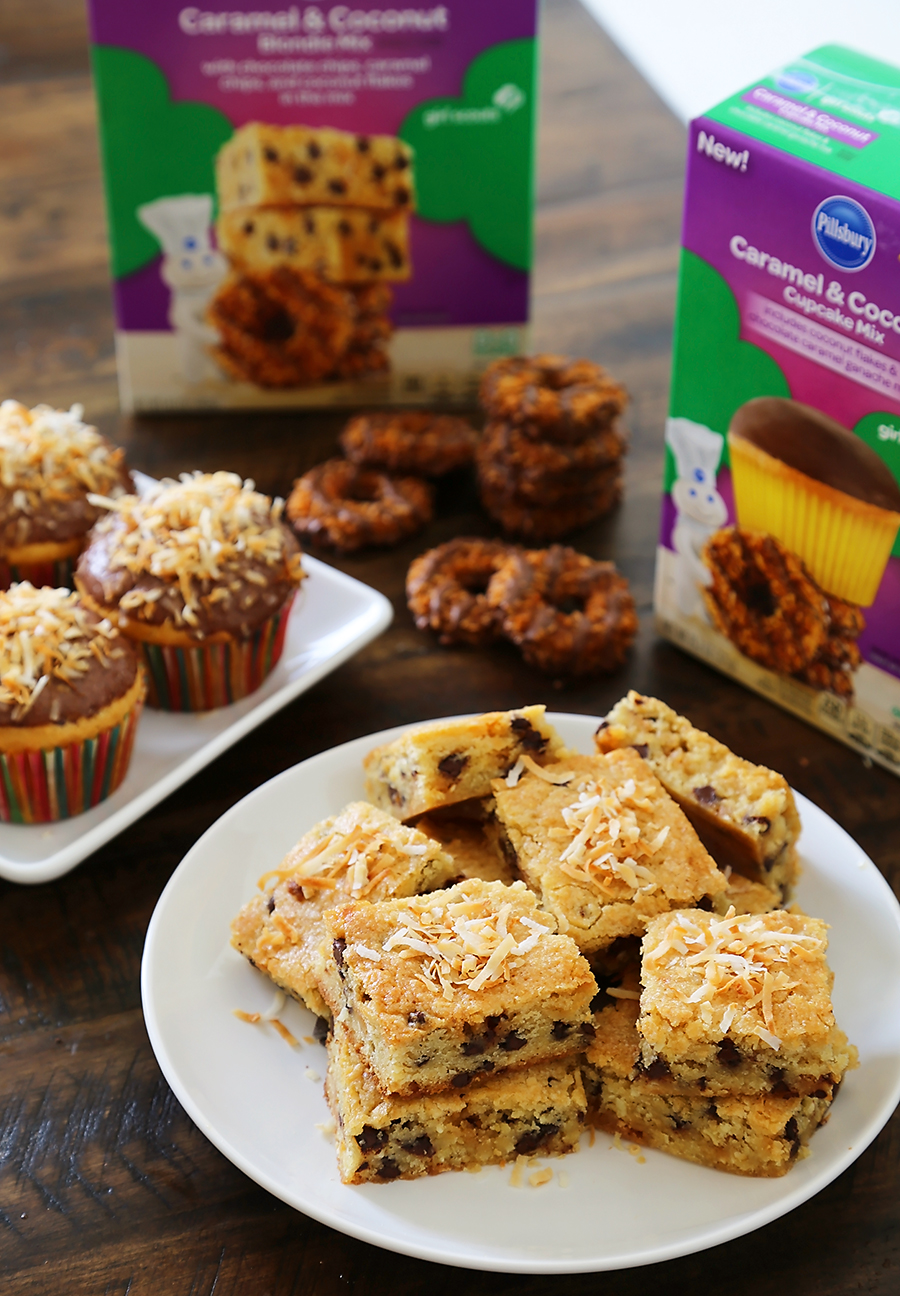 This past spring and summer, I have become coconut crazy. I crave that creamy, sweet tropical treat in everything from cakes to cocktails, and credit most of my obsession to my guy's equal affinity for coconut. As you can imagine, the glorious debut of Girl Scout Samoas cookies is one of the highlights of my year. That irresistible combination of coconut, caramel and chocolate – chewy, gooey and chocolaty! Let's just say, I have tried to hide them from myself before. (Which makes zero sense, I realize now.)
So, you can only imagine my delight when Pillsbury reached out, asking me to test these new Girl Scout blondie and cupcake mixes, based on my beloved Samoa cookies. I am no stranger to from-scratch baking, but I also really like to keep things easy by whipping up boxed mix cakes and brownies. Being a coconut lover, I was eager to try these easy treats at home, and was absolutely bowled over by the results!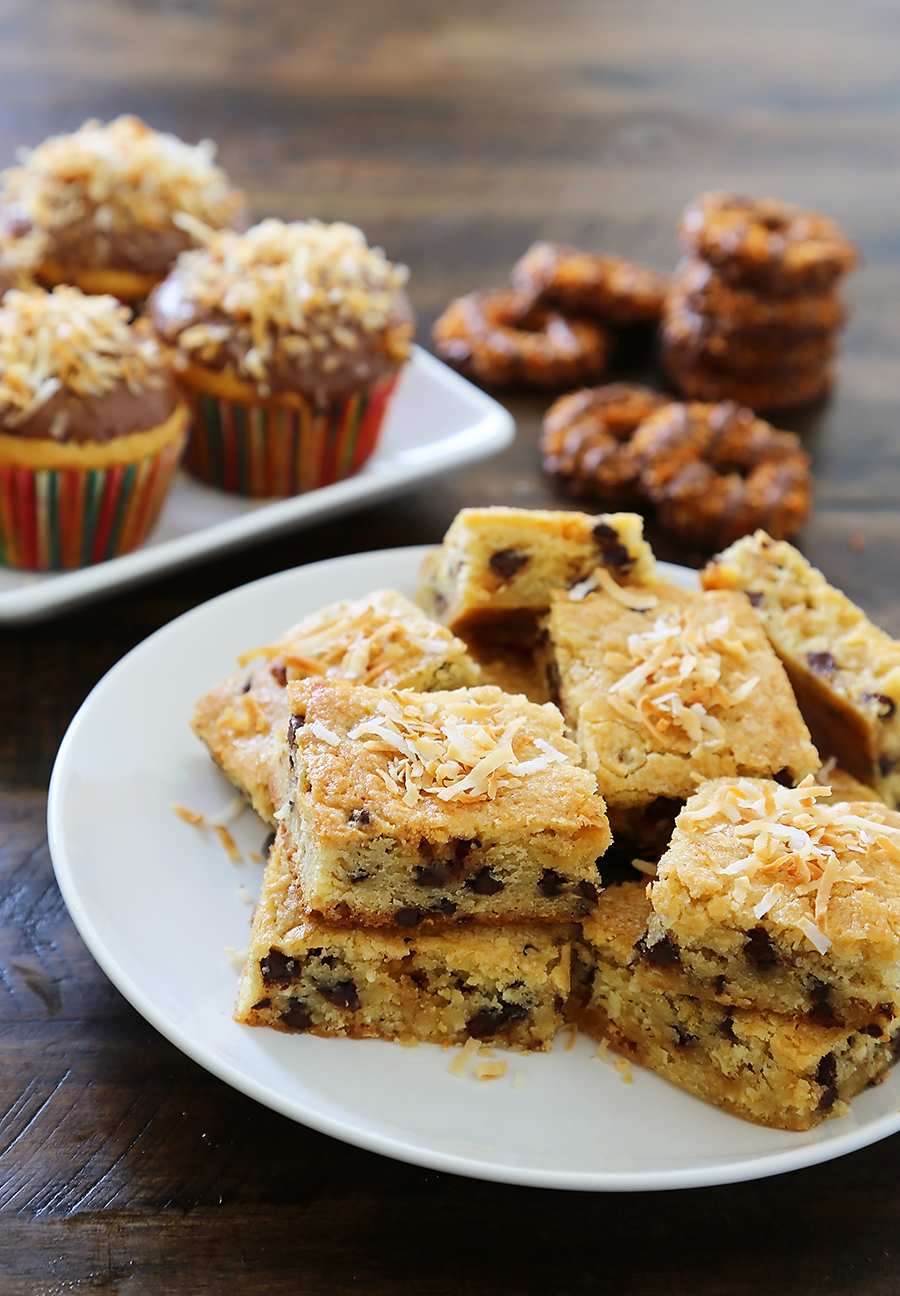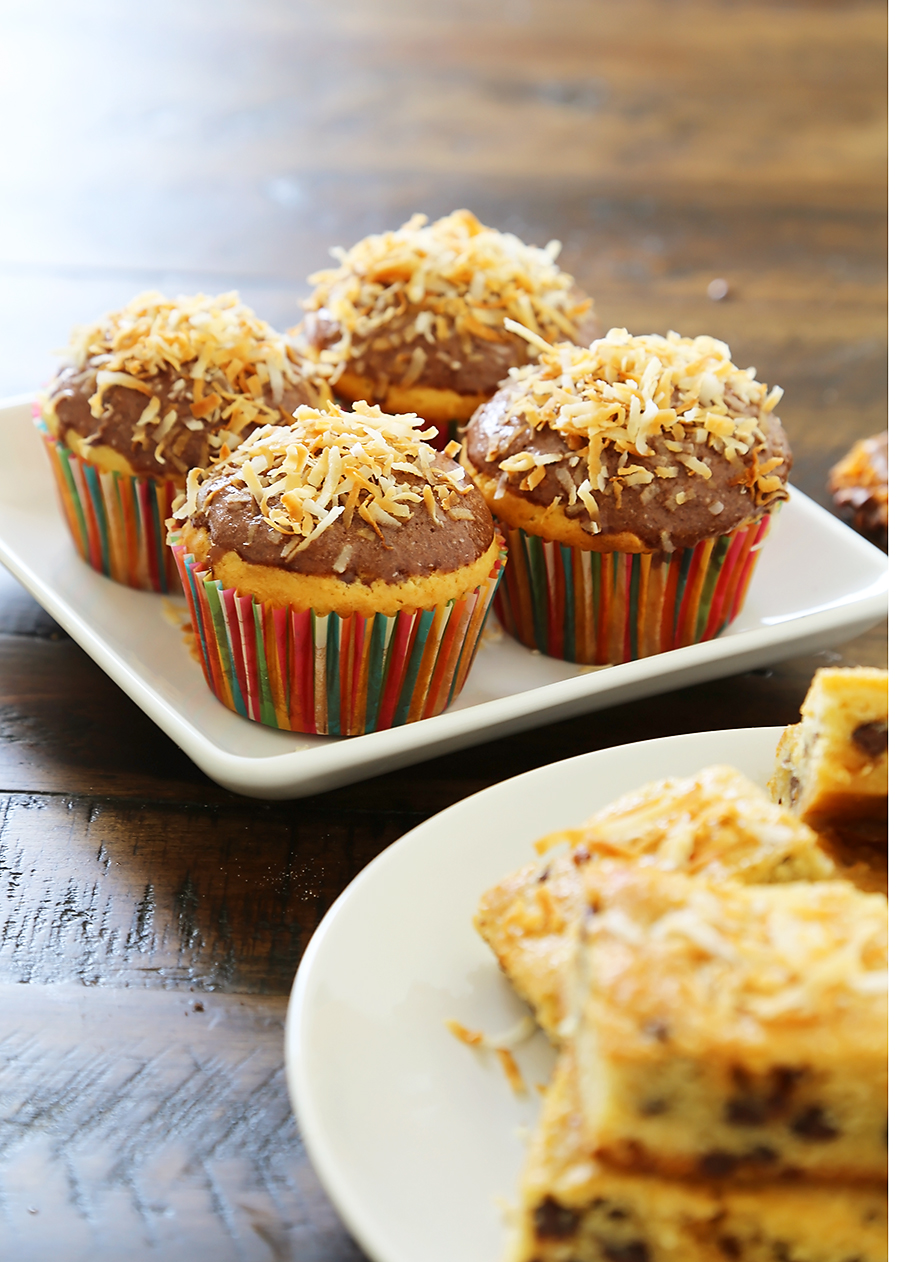 Both the cupcakes and blondies are full of real coconut flakes and natural flavors, which gives them a very home-baked taste! They couldn't be simpler to prepare, too. All they require are a few standard pantry staples, and under 5 minutes to whip up and pour into your pans.
Of the two mixes, the coconut caramel cupcakes were the winners in my book. The texture was perfectly light and fluffy, and the subtly sweet cake nicely complimented the sweeter chocolate ganache (which comes in an powdery mix packet in each box). These can be so fun for kids to decorate, too! Just pop your cupcake tops upside down in the ganache mixture, give them a swirl to coat, and set on a surface to let the ganache set. Sprinkle some toasted coconut flakes on top, an optional but pretty extra, and enjoy!
The coconut blondies definitely were not a far-behind favorite. They were so buttery and chewy tasting, and I under-baked mine slightly for a softer middle texture. Think of a cross between a sugar cookie and coconut cake, with chocolate chips thrown in. That's right, you cannot have just one. They're heaven in bar form!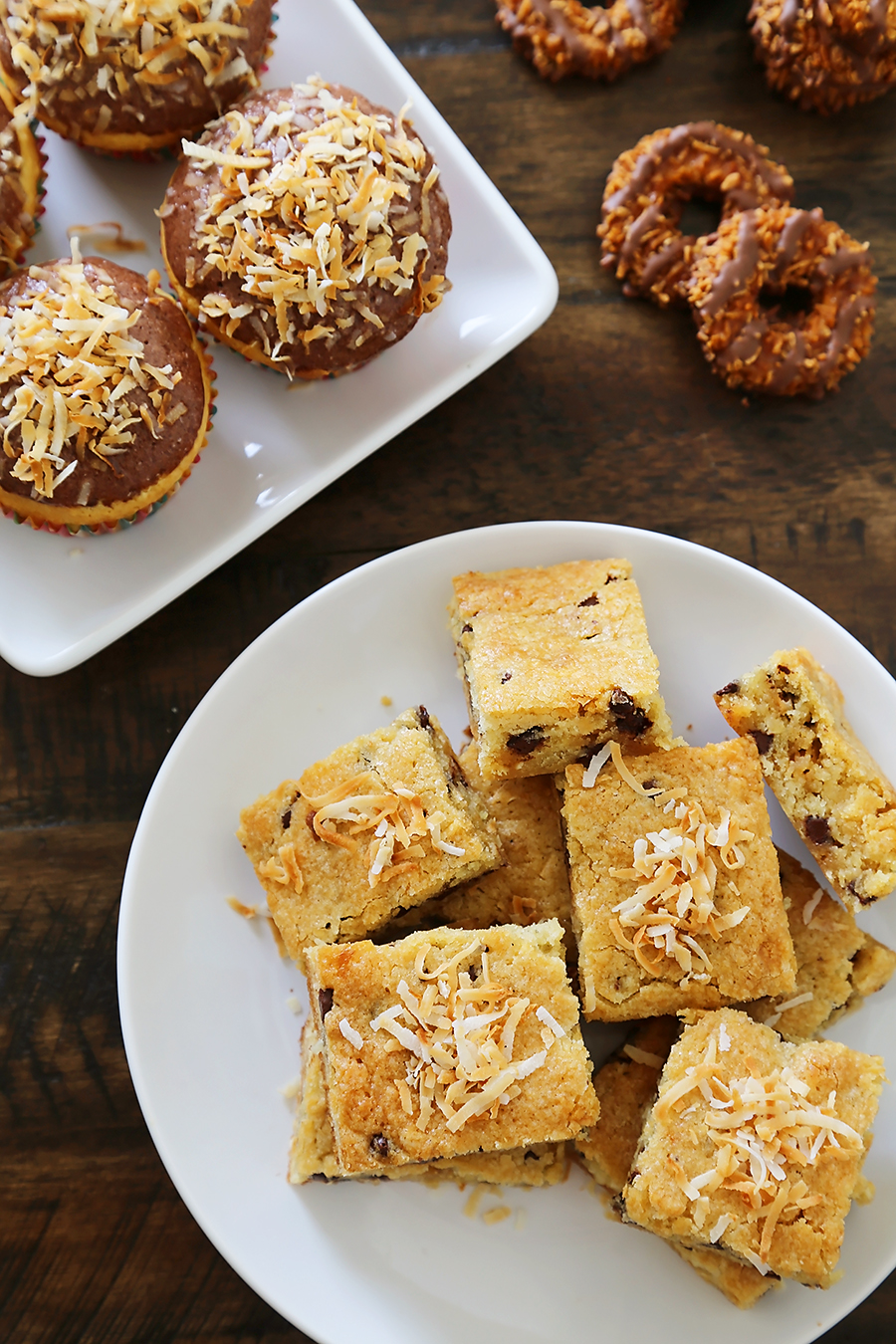 I guarantee you will love these baking mixes, so pick one up today and try it for yourself! They are a must for any Girl Scout cookie lover, and a fun way to keep dessert simple and scrumptious.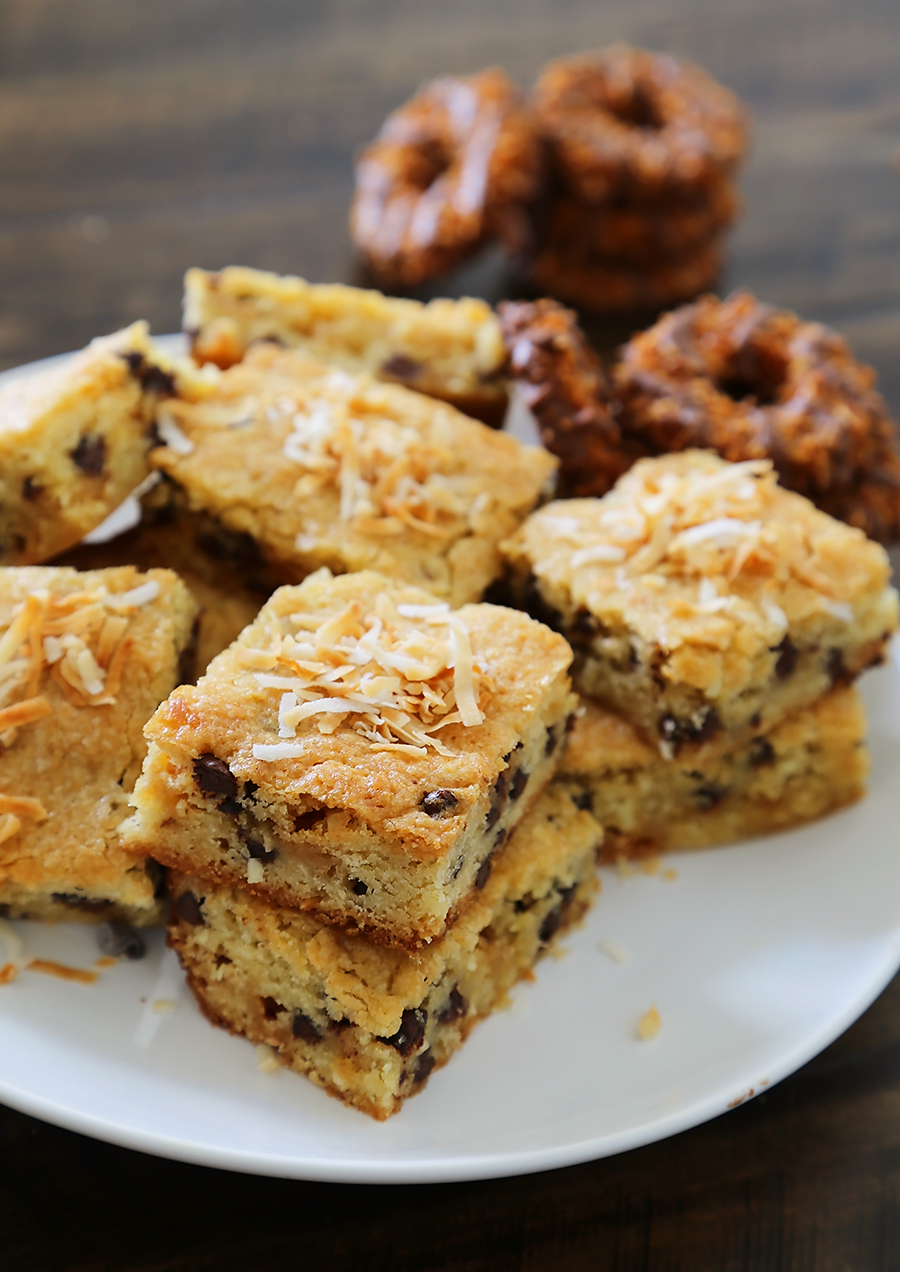 Click here to find where you can find the Caramel & Coconut Pillsbury Baking Mixes!
This is a sponsored post in partnership with The J.M. Smucker Company. All opinions are my own.