After being together for almost nine years, I've heard most of my husband's stories. After the twelfth telling of an old family joke, even the good storyteller in him begins to lose me. However, I do have ones I can hear over and over again. One of my favorite stories of his is about raspberries.
When Mark was a little boy he visited the home of his grandparents, Florence and Frank, and trumped through their garden ripe with blossoming roses and a big raspberry bush bursting with berries. One of his favorite memories is of picking raspberries off of that bush and popping them in his mouth, tasting that they were still warm from the sun. Later, when his mom bought raspberries from the store, he tried one and spat it out. "These are cold!", he said.
As an adult, my "picky" husband still loves raspberries but only if they're room temperature or baked into a homemade dessert. Fine with me!
So, that's why I made him this raspberry cobbler. Because I love that story. Because we both love juicy, melt-in-your-mouth raspberries. And because there is nothing better in the springtime than a dessert made with fresh fruit and lots of love.
This raspberry cobbler is sweet but slightly tart, which makes for a delicious combination with the soft, cakey top crust. These single-serving desserts are sensationally easy to make, and lots of fun when served in individual ramekins with a dollop of freshly whipped cream.
Garnish them with a berry, serve with a couple of spoons and treat your sweetheart to a super delicious, simple and fruity dessert that's full of love this spring!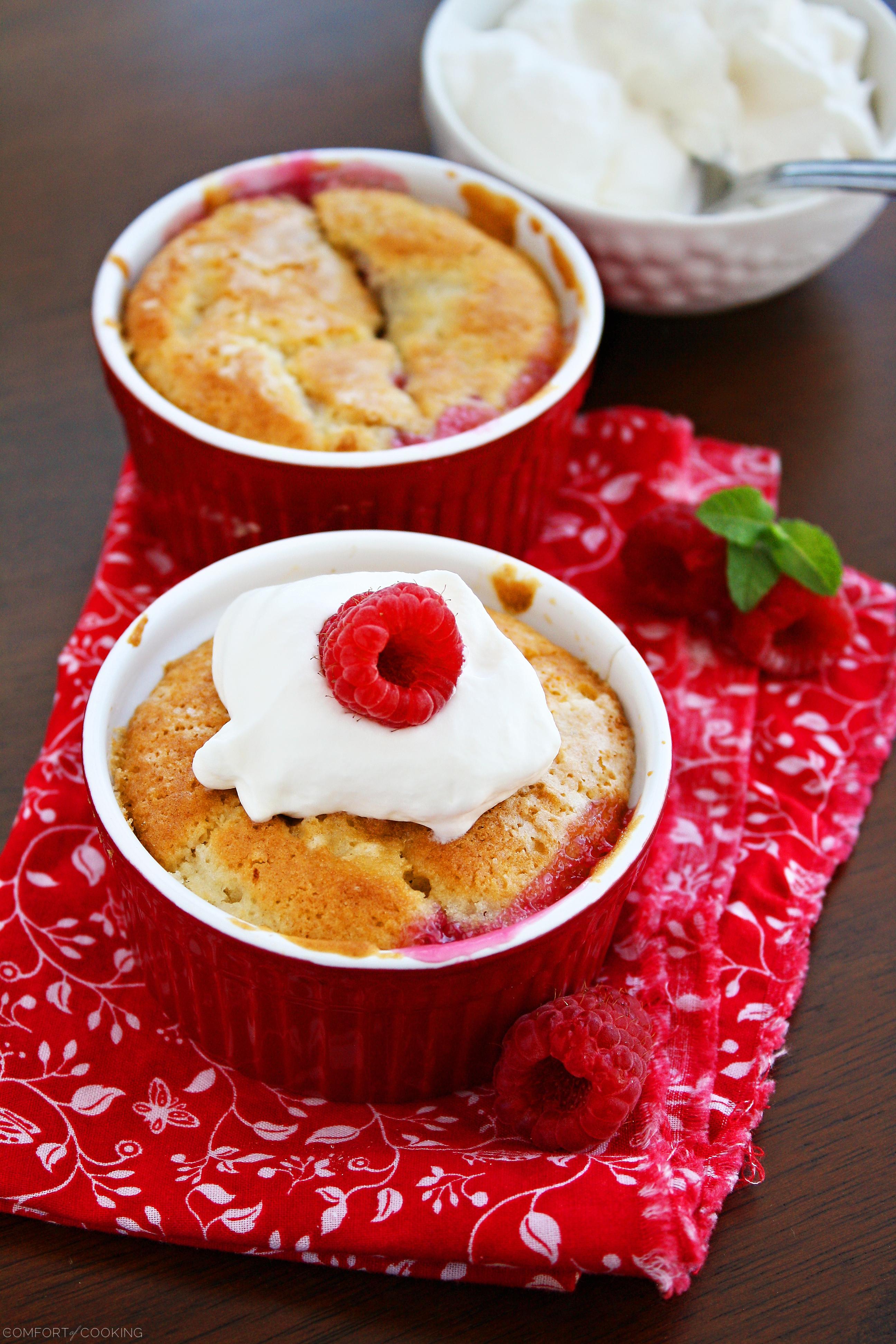 Mini Raspberry Cobblers
Ingredients
1 cup fresh raspberries
2 Tablespoons unsalted butter, room temperature
4 Tablespoons 1/4 cup sugar, divided
1/2 cup flour
1/4 cup milk
1 teaspoon baking powder
1/4 teaspoon table salt
1/2 teaspoon vanilla extract
1/4 cup warm water
Instructions
Preheat oven to 350 degrees F. Line 4 ramekins with raspberries (about 9 each) and place on a lined baking sheet.
In a medium bowl, mix butter, 2 Tablespoons sugar, flour, milk, baking powder, salt and vanilla with a wooden spoon. Spoon a heaping tablespoon of batter over fruit and spread evenly.
Mix remaining 2 Tablespoons sugar and 1/4 cup warm water. Pour evenly over each ramekin.
Bake for 28-30 minutes, until topping is golden brown and fruit is bubbling.
Serve warm with whipped cream or vanilla ice cream.