Sweet cinnamon apples bubbling with buttery oats and vanilla? Sign me up! All the flavors of an apple pie, in a nutritious and comforting breakfast. This 15-minute oatmeal makes for a delicious way to start your day.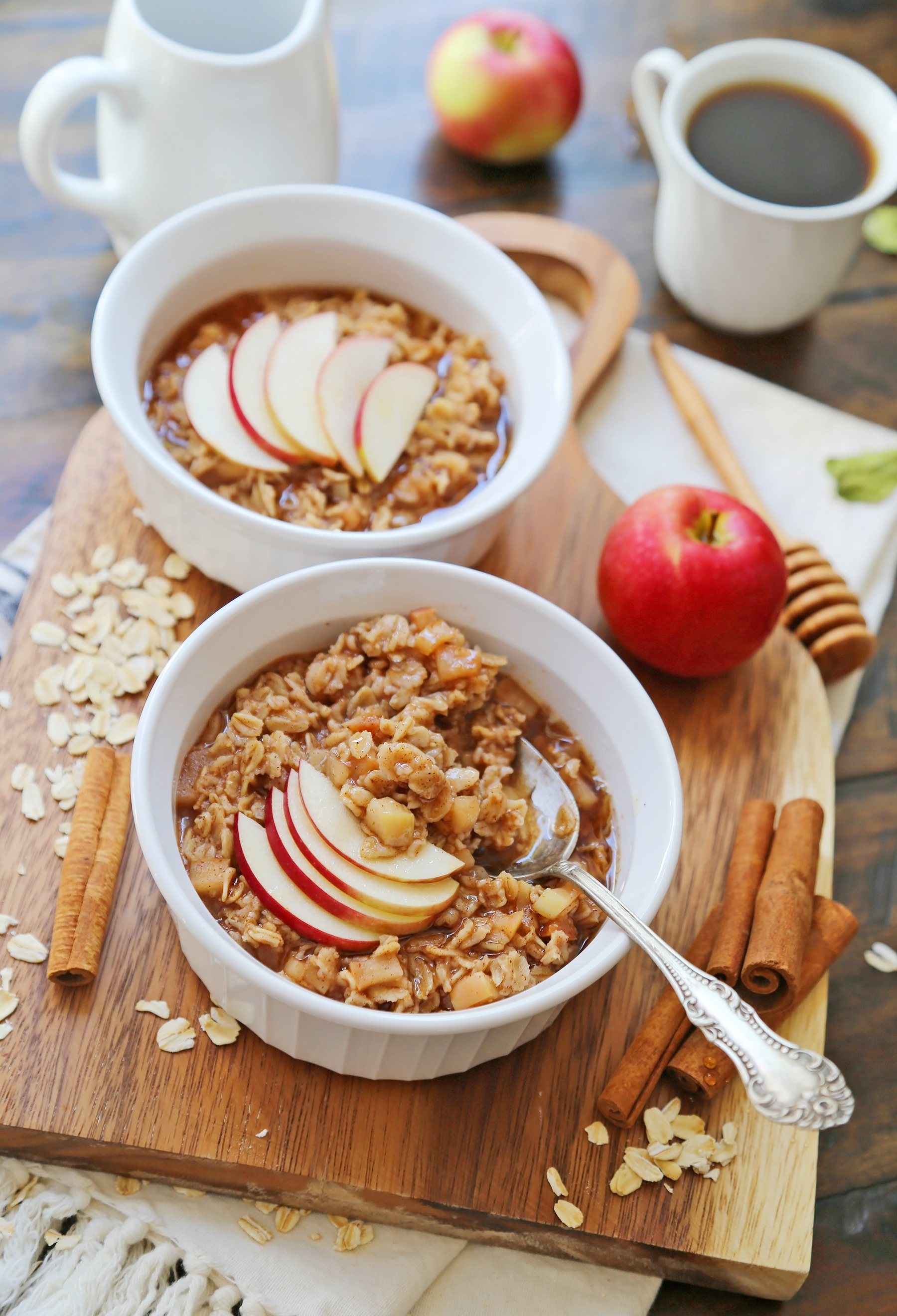 Mornings lately have called for a cozy, quick breakfast that comforts and fuels us for the day. I love that this 6-ingredient oatmeal only takes 15 minutes to make!
With fresh apples, warm cinnamon, vanilla and spices, this oatmeal has all the flavor of familiar fall desserts. But, in a convenient and no-fuss recipe that you can enjoy for a make-ahead breakfast. We love warming up with this simple stovetop oatmeal with a cup of coffee.
The steps are simple, and you can easily substitute some ingredients for whatever you have on hand. Prefer a creamier oatmeal? Add milk instead of water. Want a little more spice? Add nutmeg, allspice and ginger. Need a bit of crunch? Chopped walnuts and pecans make a delicious, healthy topping.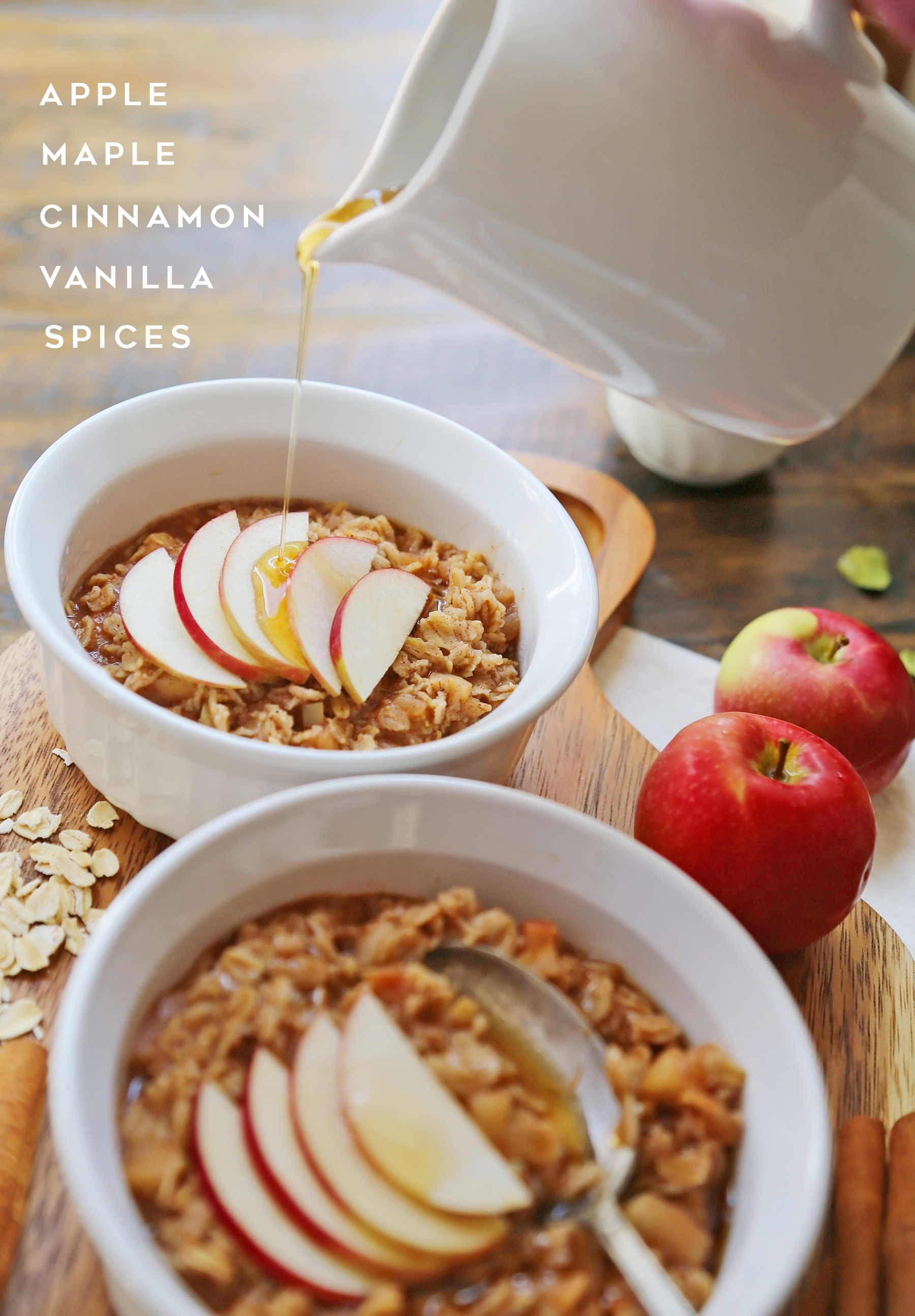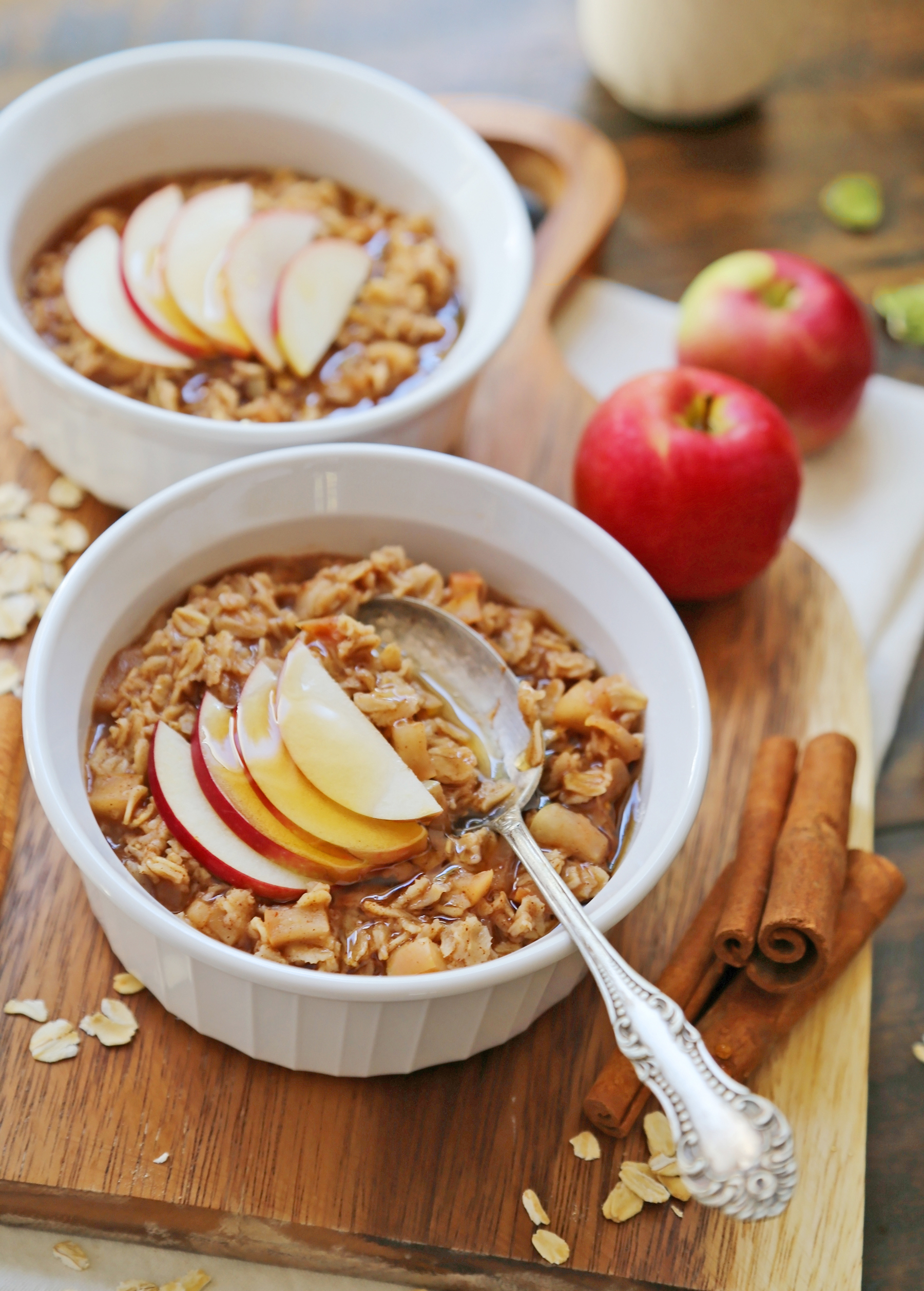 Want the steps to your own scrumptious apple cinnamon oatmeal? It's simple!
This recipe makes a small batch, perfect for a lazy Sunday breakfast for two. Or, enough for you to make-ahead for those busy work days. Bubble together a mixture of maple syrup (or honey), cinnamon, vanilla and fresh chopped apples. Once the apples are soft and fragrant, add your water and bring the mixture to a steady boil. Add your oats and butter, then simmer until you have a deliciously golden, comforting bowl of oatmeal goodness. Wonderful, simple and impressively homemade.
Toss the packet and cook a batch of this irresistible apple-cinnamon oatmeal. It's like a hug in a bowl!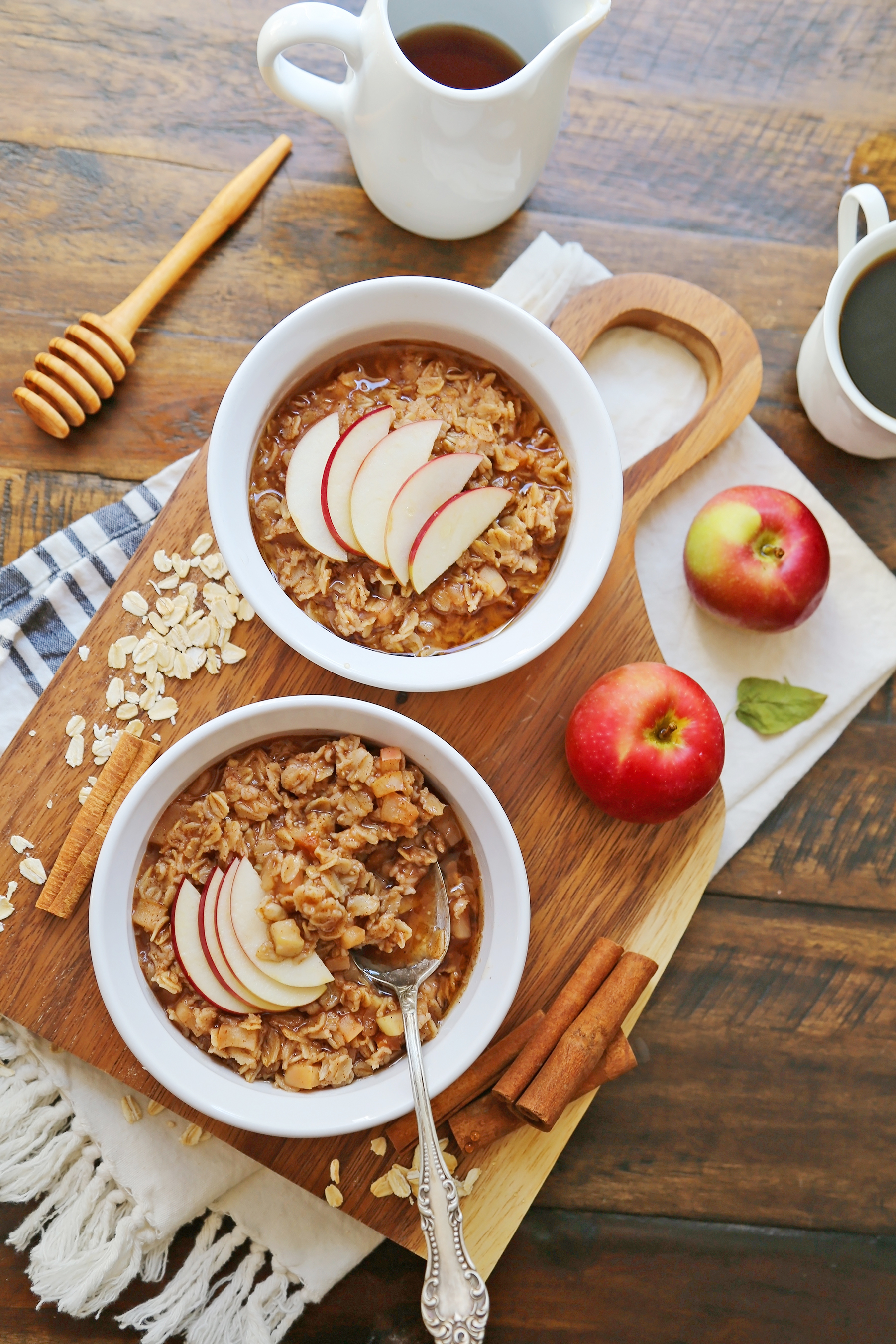 Craving more oatmeal recipes? Try these!
Old Fashioned Soft and Chewy Oatmeal Cookies
Oatmeal Buttercream Pies
Whole Wheat Honey Oatmeal Bread
Chocolate Chip Peanut Butter Granola Bites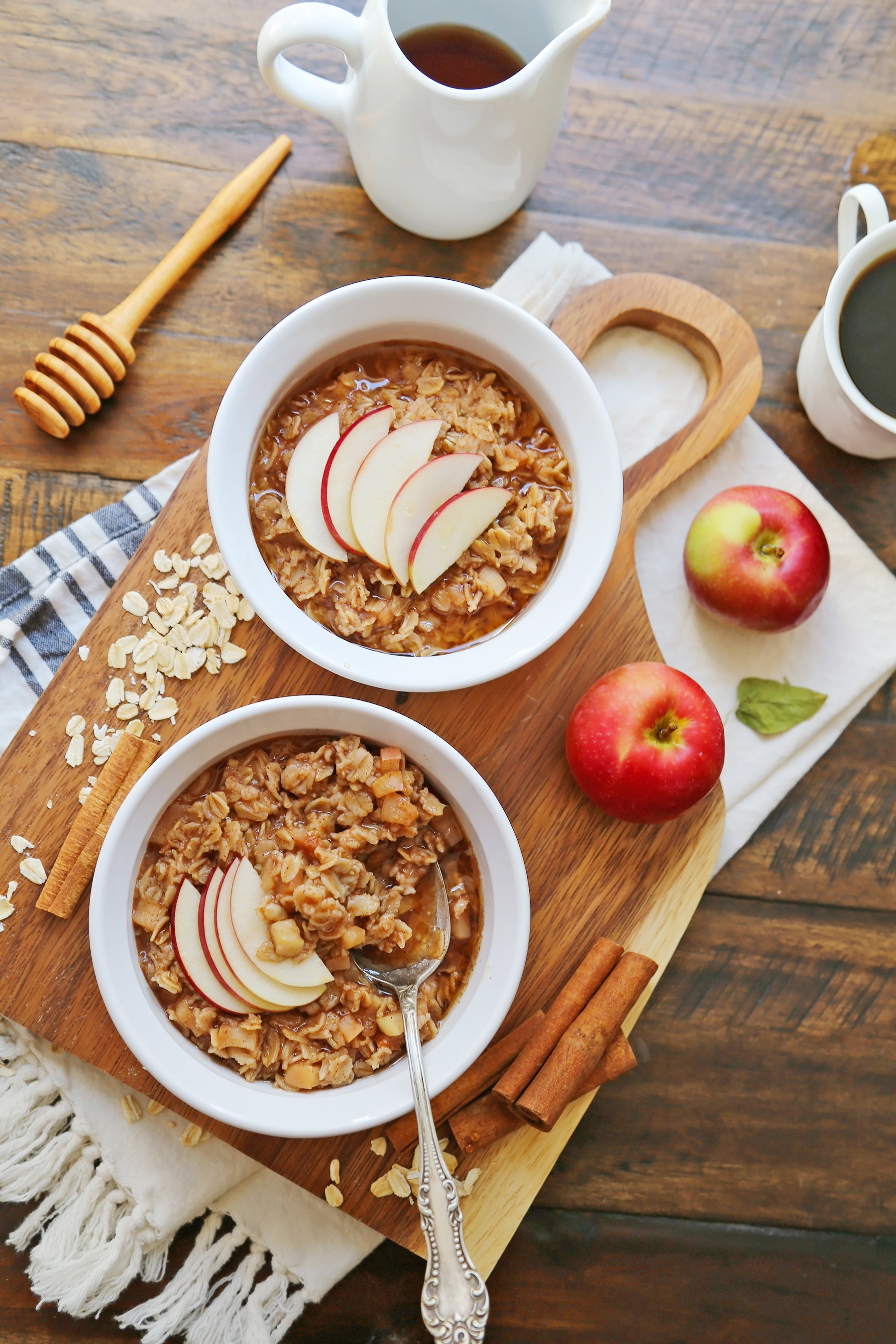 Apple Cinnamon Stovetop Oatmeal
Ingredients
1 medium apple, small diced, peeled or unpeeled
3 Tablespoons pure maple syrup, or honey
1 teaspoon ground cinnamon, or pie spice
1 teaspoon vanilla extract
1 cup old fashioned oats
1 Tablespoon butter
For serving
Additional maple syrup, apple slices and cinnamon, optional
Instructions
Place apples, maple syrup, cinnamon and vanilla in a medium saucepan. Cook over medium heat, stirring occasionally, until apples are tender (3-5 minutes).
Pour in 2 cups water (or milk) and bring mixture to a simmer. Stir in oats and butter. Cook, stirring frequently, until the oats are tender and creamy, about 5 minutes. If the mixture seems too thick, add water or milk while cooking.
Serve warm, topped with additional maple syrup, cinnamon and/or sliced apples.
Enjoy!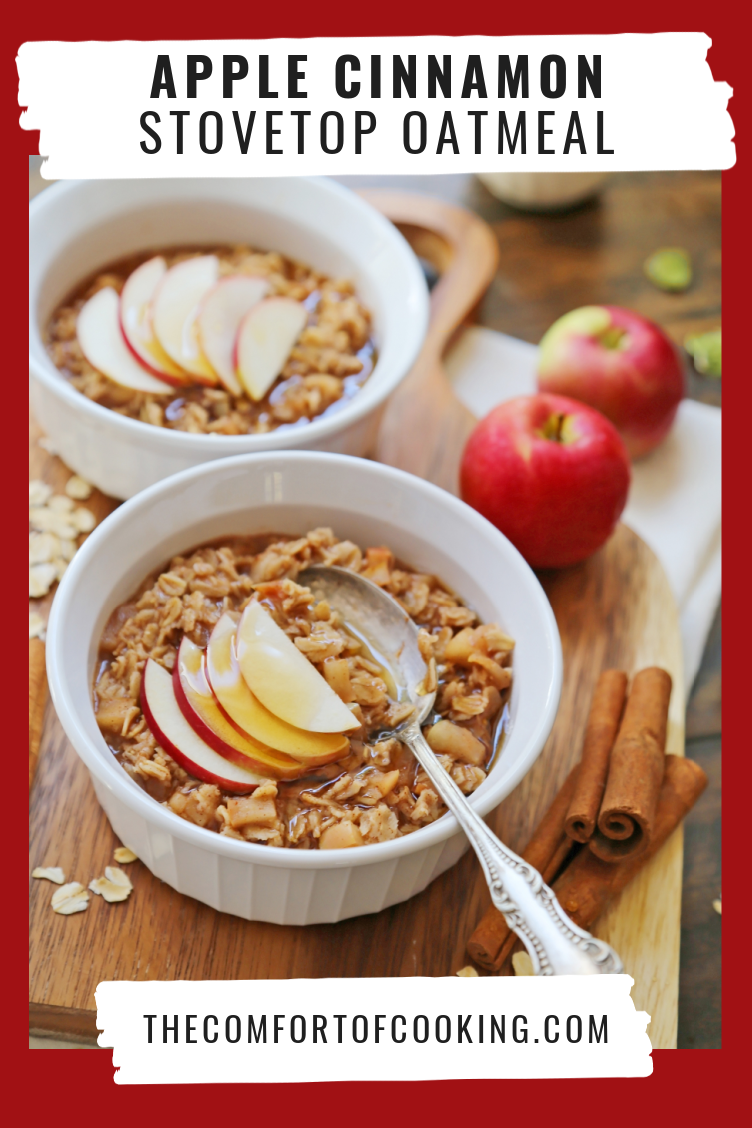 Want to receive our latest recipes straight to your email inbox? Click here to subscribe!