Just 4 ingredients! Try these no-bake sweet and salty bites for cozy nights in and holiday parties. Kids love to make them, too! So easy and irresistibly addictive.
It's a been a busy week. To cap it off, yesterday, I had the pleasure of presenting a few light and tasty comfort foods on Austin's KXAN news channel! It was the most thrilling 3 minutes of my week.
I'll post the video as soon as I get my hands on it, but first things first! Today I'm sharing with you one of my favorite two-bite treats for holiday parties and selfish snacking… muahaha.
If you're a little sweet, a little salty, and a bit nutty (for chocolate that is), then these are for you! Crunchy pretzel squares topped with Rolos soften up in a hot oven for just a few minutes. Top them with a pecan (or walnut, almonds or even some dried fruit), press down on 'em, then drizzle each with a bit of melted chocolate.
… You sure you want to bring these to that party after all?
Take 10 minutes to try these simple, sinfully good treats for yourself… and mayyyybee other people too, if they're lucky! I bet you could convince even the non-chocolate lover in your life to gobble up a couple!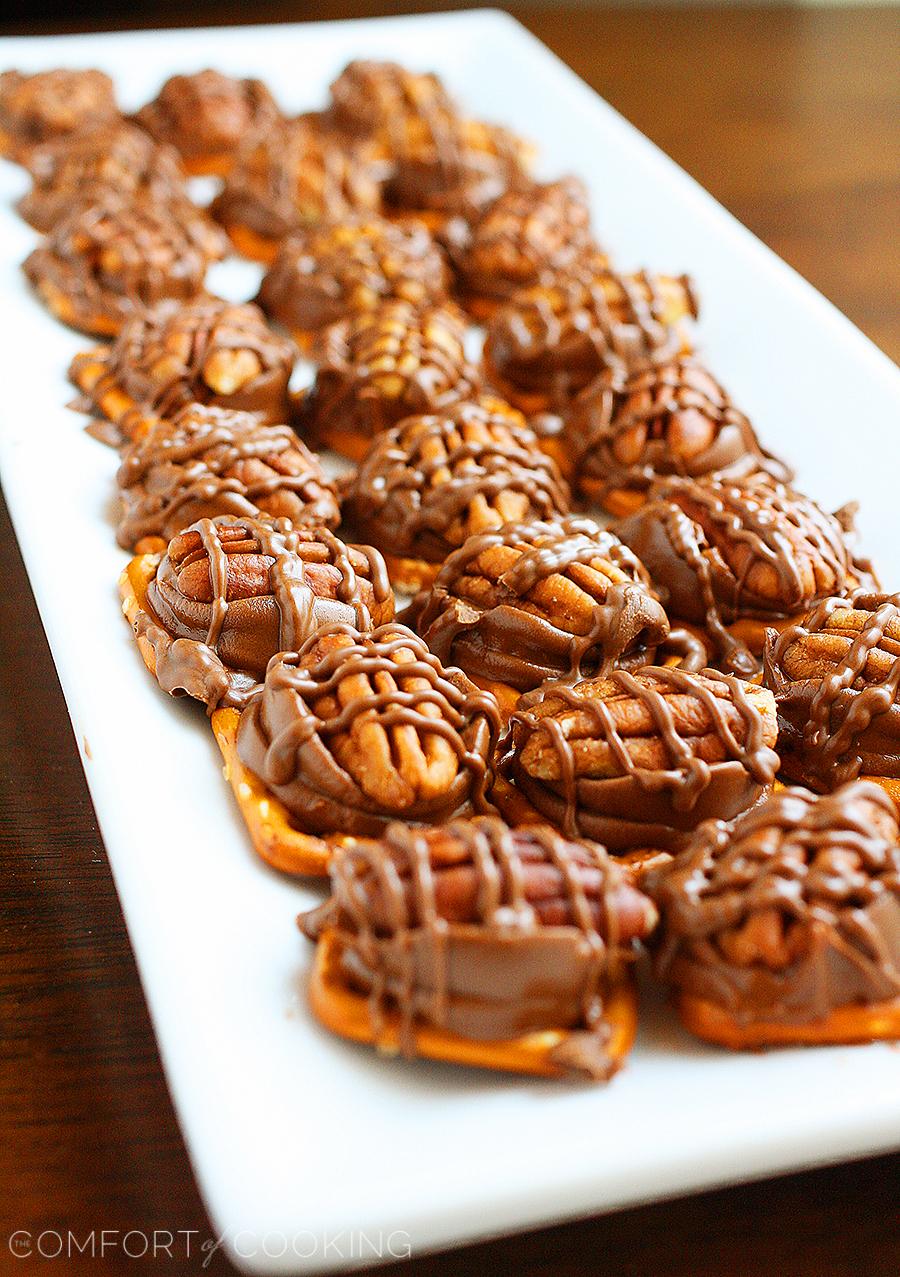 Chocolate Caramel Pecan Pretzel Bites
Ingredients
24 small square grid pretzels
3 packages Rolo candies, 8 candies each
24 pecan halves
6 oz. semisweet or white chocolate chips, optional
Instructions
Preheat oven to 350 degrees F.
Line a baking sheet with aluminum foil. Place pretzel squares on baking sheet; top each with a Rolo. Bake for 2 minutes. Remove from oven and press a pecan half on top of each one, compressing the Rolo slightly.
Place pan in refrigerator to cool candies, at least 5 minutes and up to 1 day. In a small bowl, microwave chocolate chips to melt, and drizzle with a fork for garnish.
Enjoy!