After a too-fun-for-words trip to Austin, Texas spent noshing on BBQ and tacos, tubing down the San Marcos river, and sampling the beers from a variety of outdoor bars, I am officially relieved that I don't have to squeeze into an swimsuit for the rest of the year. Summer, you had your moment. I think it's about time you go.
Now that that's out of the way, let's welcome fall: Apples, cinnamon, brown sugar, flaky pastry, and warm, delicious decadence. Oh, how I have longed for you.
This pastry, just like the lovely Pioneer Woman promises, is really both quick and easy. And it ain't half bad to look at either, huh?
All it calls for is one sheet of puffed pastry, a couple of apples, brown sugar, a dash of salt and my two best friends come fall: cinnamon and nutmeg. When you've stopped drooling over the picture and are ready to bake… Slice the apples, toss 'em with the sugar and spices, eat a few, and then lay them out on the thawed pastry all fancy-like, if you want. (Has it been scientifically proven yet that pretty, layered dishes always taste better, or is it just my opinion?) Then, stick 'er in the oven for 18-20 minutes, and you've got a gorgeous dessert.
This apple tart is casual enough to enjoy with someone special or by yourself wrapped up in your Snuggie, but it's also good lookin' enough to serve to guests. It's delicate, decadent and absolutely delicious, and I know you, or anyone lucky enough to enjoy it, will agree!
Craving more? Keep in touch on Facebook, Twitter, Pinterest and Instagram for new post updates and more. You can also check out my FAQ page, or contact me with any questions or inquiries!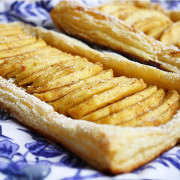 Quick & Easy Apple Tart
Ingredients:
1 whole sheet puffed pastry, cut into half or thirds
2 whole apples
1/3 cup brown sugar
1/2 tsp. cinnamon
1/4 tsp. nutmeg
¼ teaspoons salt
Directions:
Preheat oven to 415 degrees.
Peel, core, halve and slice apples. Place puffed pastry rectangles onto a baking pan that's been sprayed with nonstick spray. Add brown sugar, cinnamon, nutmeg and salt to a medium bowl. Add apples and toss to combine. Allow to sit for a few minutes.
Arrange apple slices on the pastry rectangles in a straight line, overlapping as you go. Bake for 18 to 20 minutes, or until pastry is puffed and golden brown.
Remove from pan immediately and place on a serving platter. Serve plain, with caramel topping, whipped cream, or a sprinkling of powdered sugar.
Enjoy!