Buttery soft and simple as they come. Dig into these dinner rolls with your next delicious soup, stew and other dinnertime faves!
When fall hits around here, so do a whole mess of soups, stews and slow roasted, melt-in-your-mouth meats with hearty vegetables. But along with a brown sugar glazed pork loin or broccoli-cheddar soup, you can bet your buns there will be dinner rolls on the table, too!
These tasty rolls are simple to make, with no kneading necessary. Just mix up the dough, chill it, form the rolls, let them rise, then bake 'em up to a beautiful golden brown!
Soft, fluffy and fabulous on the side of any flavorful fall meal. No to mention out of this world with a pat of butter or drizzle of honey!
Mix them up for your own special occasion this fall, or just for the fun of trying something new! You'll absolutely love these rolls to munch on and mop up all the good stuff. You can also use them as slider buns, too!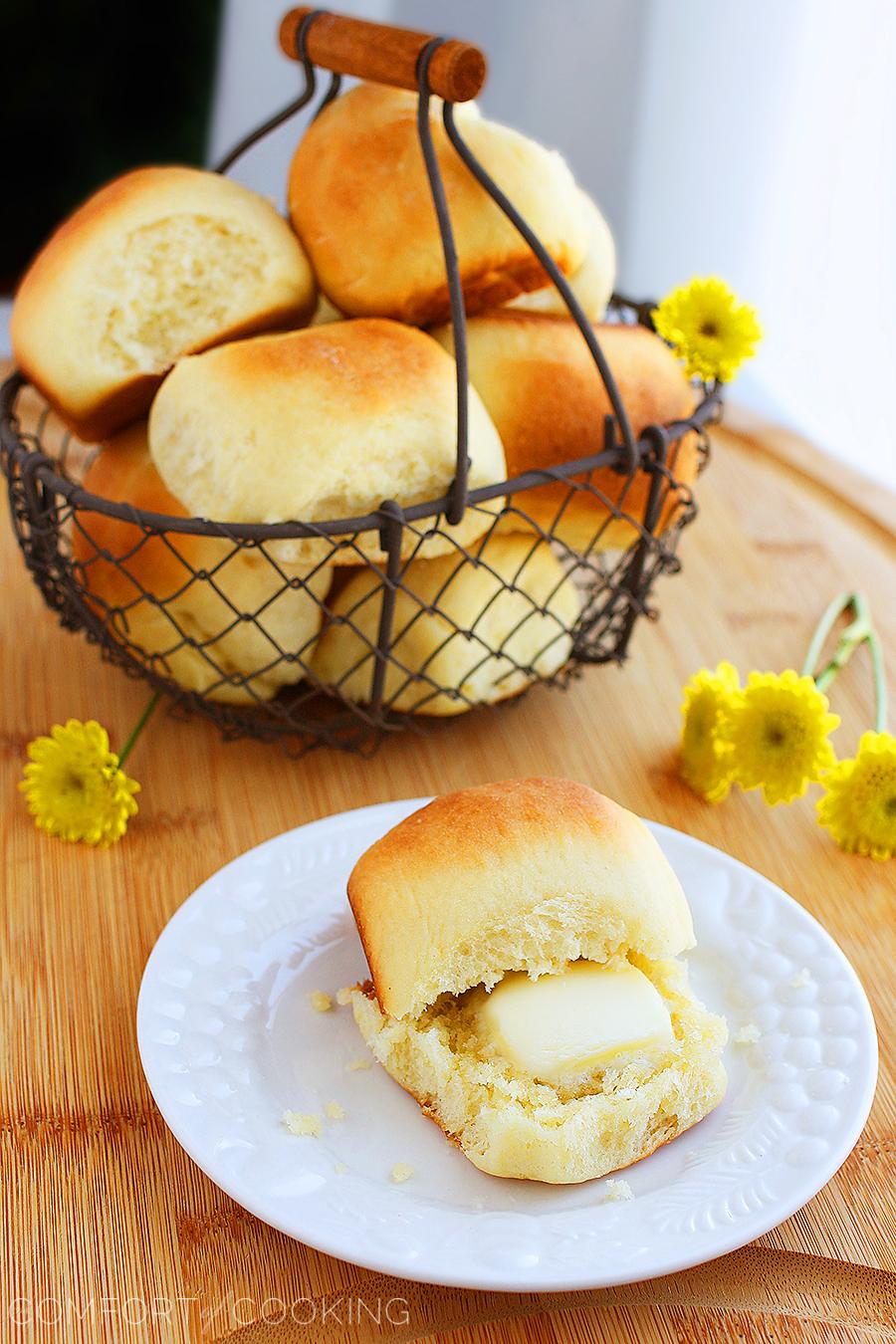 Easy Dinner Rolls
Ingredients
1 package (1/4 oz.) active dry yeast
1/2 cup warm water
1/4 cup butter, melted
1/4 cup granulated sugar
2 large eggs
1/2 teaspoon salt
1 teaspoon olive oil
2 to 2 1/2 cups all-purpose flour
Additional melted butter, optional
Instructions
In a large bowl or the bowl of a stand mixer, combine yeast and warm water. Let stand until yeast is foamy, about 5 minutes. Stir in butter, sugar, eggs and salt. Beat in flour, 1 cup at a time, until dough is stiff and not sticky. With your hands, gently form a smooth, round ball of dough.
Lightly coat a large bowl with olive oil. Place dough into the bowl. Cover with a clean, dry towel or plastic wrap; refrigerate 2 hours or up to 3 days.
When ready to bake, grease a 13 x 9-inch pan. Turn dough out onto a lightly floured surface and divide into 24 equal-sized pieces (a pastry cutter can help with this). Form each piece into a smooth round ball; place balls in even rows (6 rows by 4 rows) in the prepared pan. Cover with a dish towel and let dough balls rise until doubled in volume, about 1 hour.
Preheat oven to 375° F. Bake until rolls are golden brown, 15-20 minutes. If the tops are browning too fast, cover rolls with aluminum foil until finished baking. Brush warm rolls with melted butter, if desired, and serve.
Enjoy!