Healthy and refreshing flavors combine in this colorful, super simple Mediterranean tuna salad. Feel free to use any cooked protein in place of the tuna, if you like. It's the perfect light lunch!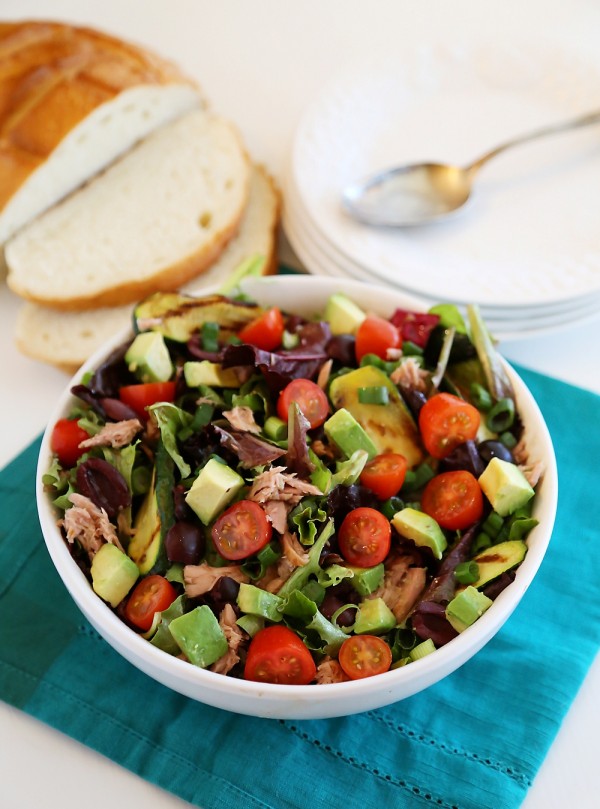 The winter months tend to be full of heavy, carb-loaded dishes that fill your belly and warm your home. That's all delightful, but we do need to TRY and keep things light! And lunch is just the time of day to try. To ready our appetites for the last meal of the day, of course.
Instead of a hearty sandwich or creamy soup, I love to throw together light, refreshing salads with a Mediterranean kick for my midday meal. This tangy, colorful tuna salad with fresh mixed greens, tomatoes and avocado totally hit the spot. And even remained delicious as next-day leftovers!
Not a fan of fish? Fear not! Any cooked lean protein will do just peachy.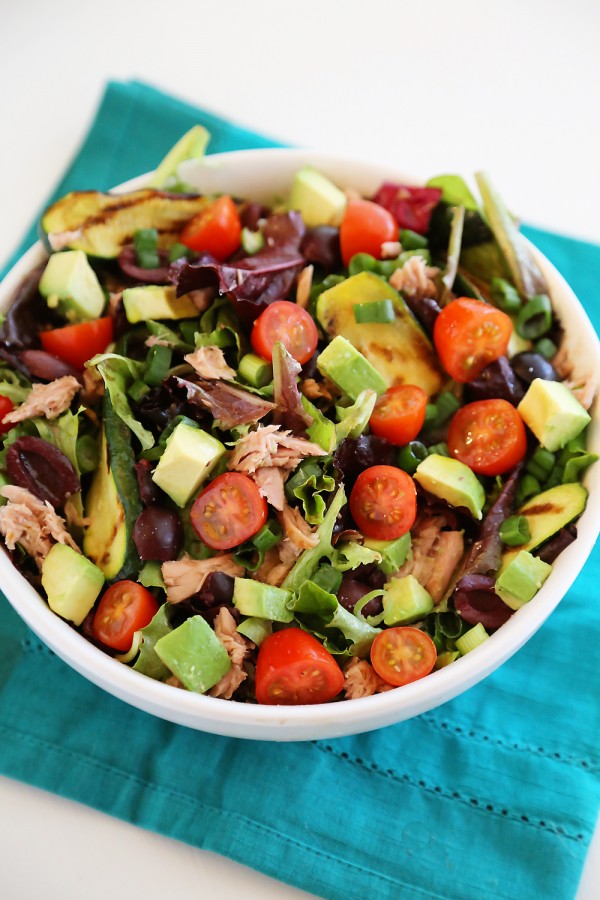 I'm not the biggest fan of a bowl of greens, unless they're piled with the good stuff… juicy sweet tomatoes, creamy avocado and heaps of salty olives. (The perfect pair with tuna, but omit if you like – personally, olive'em!). Add a light olive oil and Dijon dressing, and now you're speaking my language. So delish!
With a slice of my soft, crisp No-Knead Crusty Artisan Bread, this salad lunch made me want to go back for seconds! It also makes a healthy and super-speedy dinner option, too. Feel free to sub leftover chopped chicken, turkey or steak for the tuna. Use whatever veggies you like, and toss them in raw. No need to be a recipe robot, folks!
Whatever way you dish it, this delicious salad is sure to please. Try it today!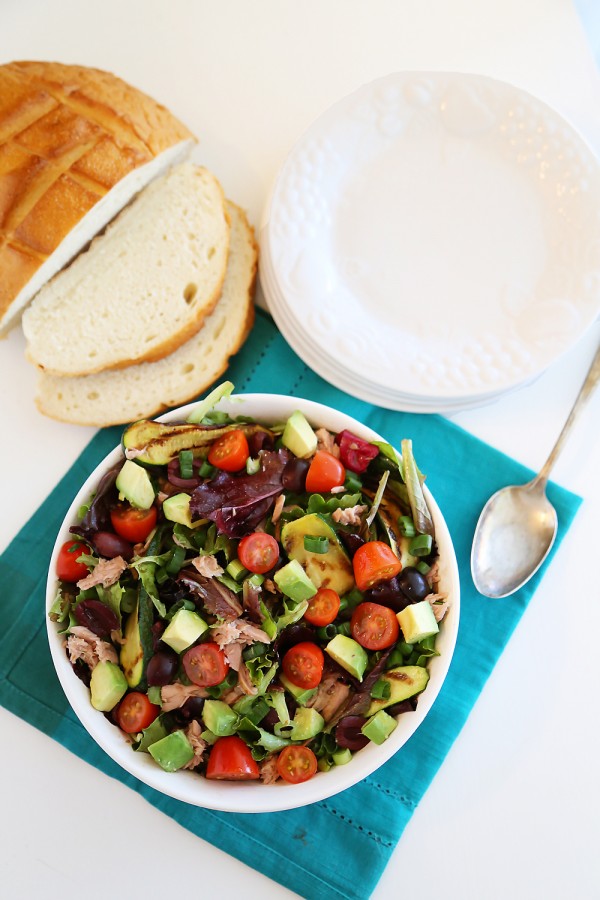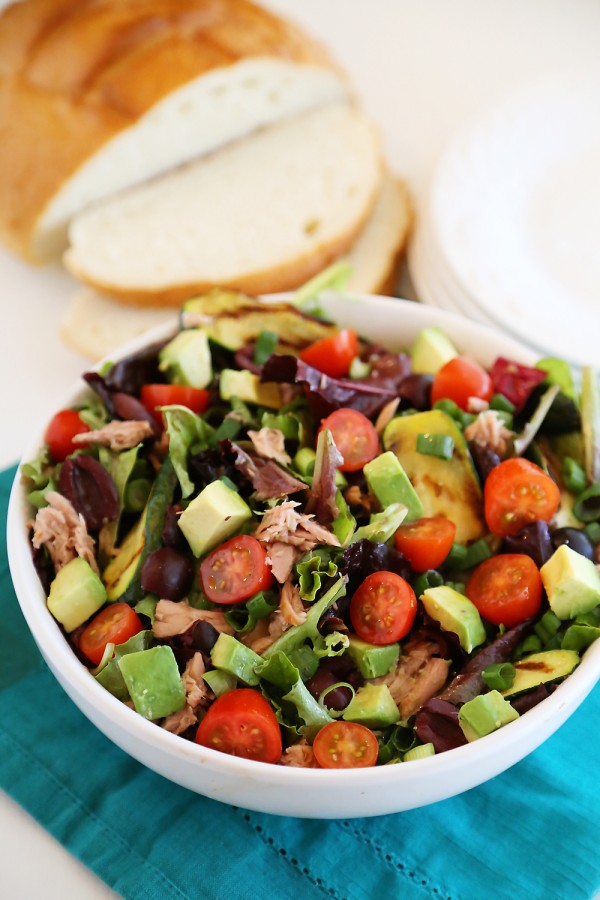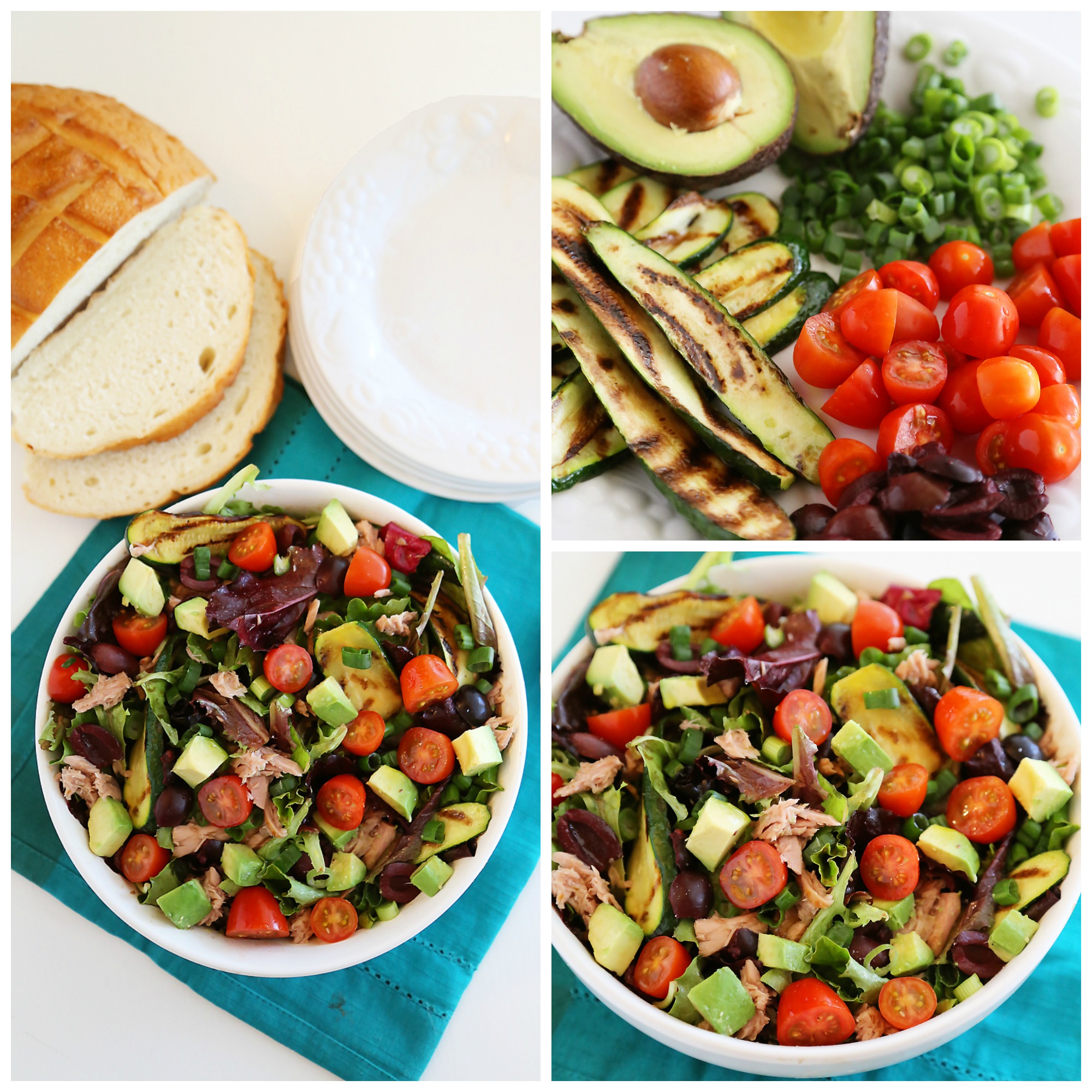 Quick & Healthy Mediterranean Tuna Fish Salad
Ingredients
1 small zucchini, sliced lengthwise
3 cups mixed greens
1 cup grape or cherry tomatoes, halved
10 large kalamata olives, pitted and halved
1 green onion, sliced
1/2 avocado, diced
1 5-7 oz. can chunk light tuna in water, drained well
2 Tablespoons fresh parsley, chopped
For the dressing:
1 Tablespoon extra-virgin olive oil
1 Tablespoon balsamic vinegar
1/2 teaspoon Dijon mustard
1/4 teaspoon granulated sugar
1/4 teaspoon kosher salt
Instructions
Whisk all dressing ingredients in a small bowl. Set aside.
In a hot pan drizzled with a little olive oil, grill or sauté zucchini slices on both sides. Remove from pan and let cool for a few minutes. Cut into bite size pieces.
Combine all salad ingredients in a large mixing bowl. Drizzle in dressing. Toss gently by hand until well combined.
Enjoy!