You know when someone asks you what your favorite food is, and you sometimes stumble on your answer? There are so many delicious dishes and sweets and snacks you love, so how can you be expected to pick just one as your favorite?!
Well, unfortunately, I don't have a solution for you, but I will tell you this: If someone asked me right now what my favorite food is, the one food I would eat endlessly if left on a deserted island for days/weeks/years, I would confidently answer "barbecued chicken." This has pretty much always been the case, and I'm sure it seems like a safe choice, but I didn't always know it.
This barbecued chicken recipe, a take on the ever-popular pulled pork sandwich, was so unbelievably tender, you would think I used dark meat or slow-cooked the chicken in a CrockPot all day, but that's not the case. Just get two boneless, skinless breasts, marinade them in spices for half an hour, grill, shred with two forks and throw it all into a saucepan full of bubbling, sweet and tangy barbecue sauce!
Mark and I grabbed some mini, slider-style buns and piled them high with the shredded chicken, a little more sauce (because you can never have enough), added a dill pickle, and had a scrumptious dinner outside last week… plus many leftovers! This take on barbecued chicken has become an absolute favorite of mine, and a much more healthy, far less fatty option than pulled pork.
Whether you make these for dinner at home, as a casual meal for guests, or as bite-sized sliders or full-sized sandwiches for a summer shindig, I know you'll love these sandwiches too!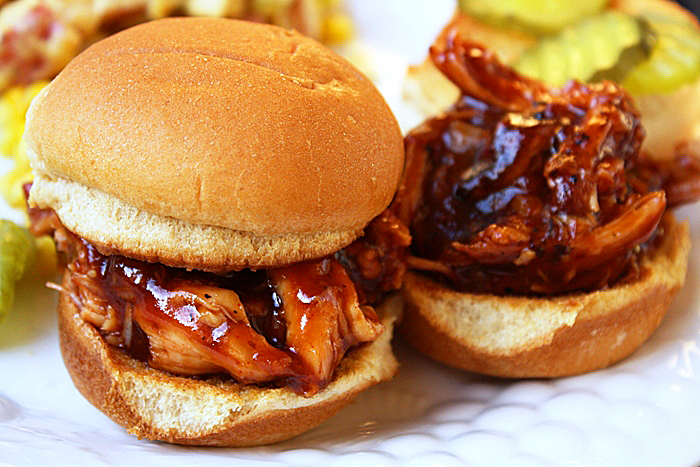 BBQ Pulled Chicken Sandwiches
Ingredients
MARINADE:
3 tablespoons olive oil
2 tablespoons dark brown sugar
1 teaspoon paprika
1 teaspoon chili powder
3/4 teaspoon ground cumin
1/2 teaspoon salt
1/2 teaspoon freshly ground pepper
1/4 teaspoon ground ginger
1 pound about 2 portions skinless, boneless chicken breasts
Cooking spray
SAUCE:
2 teaspoons vegetable oil
1/2 cup finely chopped onion
2 tablespoons dark brown sugar
1 teaspoon chili powder
1/2 teaspoon garlic powder
1/2 teaspoon dry mustard
1/2 teaspoon ground allspice
1/2 teaspoon crushed red pepper flakes
1 cup ketchup
2 tablespoons cider vinegar
Salt and pepper, to taste
FOR SANDWICH:
4 sandwich rolls or 8 mini slider buns, or halved dinner rolls, toasted lightly
Dill pickle chips
Instructions
Combine the oil and spices for the marinade in a large bowl. Add chicken to the bowl and rub spice mixture evenly over chicken. Marinade for at least 30 minutes, or overnight in the refrigerator. When ready, heat grill to medium-high heat. Cover and grill chicken for 15 minutes, or until a thermometer registers 180°, turning occasionally. Let stand for 5 minutes. Place chicken on a cutting board and shred with 2 forks.
To prepare sauce, heat canola oil in a medium saucepan over medium heat. Add onion; cook for 5 minutes or until tender, stirring occasionally. Stir in brown sugar and all spices; cook 30 seconds. Stir in ketchup and vinegar; bring to a boil. Reduce heat and simmer 10 minutes, or until slightly thickened, stirring occasionally. Stir in shredded chicken. Cook 2 minutes, or until thoroughly heated.
Place desired amount of chicken mixture on bottom halves of sandwich rolls and a few tablespoons of sauce. Top each serving with 2 pickle chips and top roll half.
Enjoy!