Creamy, comforting 30-minute corn chowder, made easily in one pot! Every spoonful is a scrumptious blend of corn, potatoes, herbs, bacon and cream. Serves a hungry crowd and makes delicious leftovers for lunch!
This post is sponsored by the Crock-Pot® brand.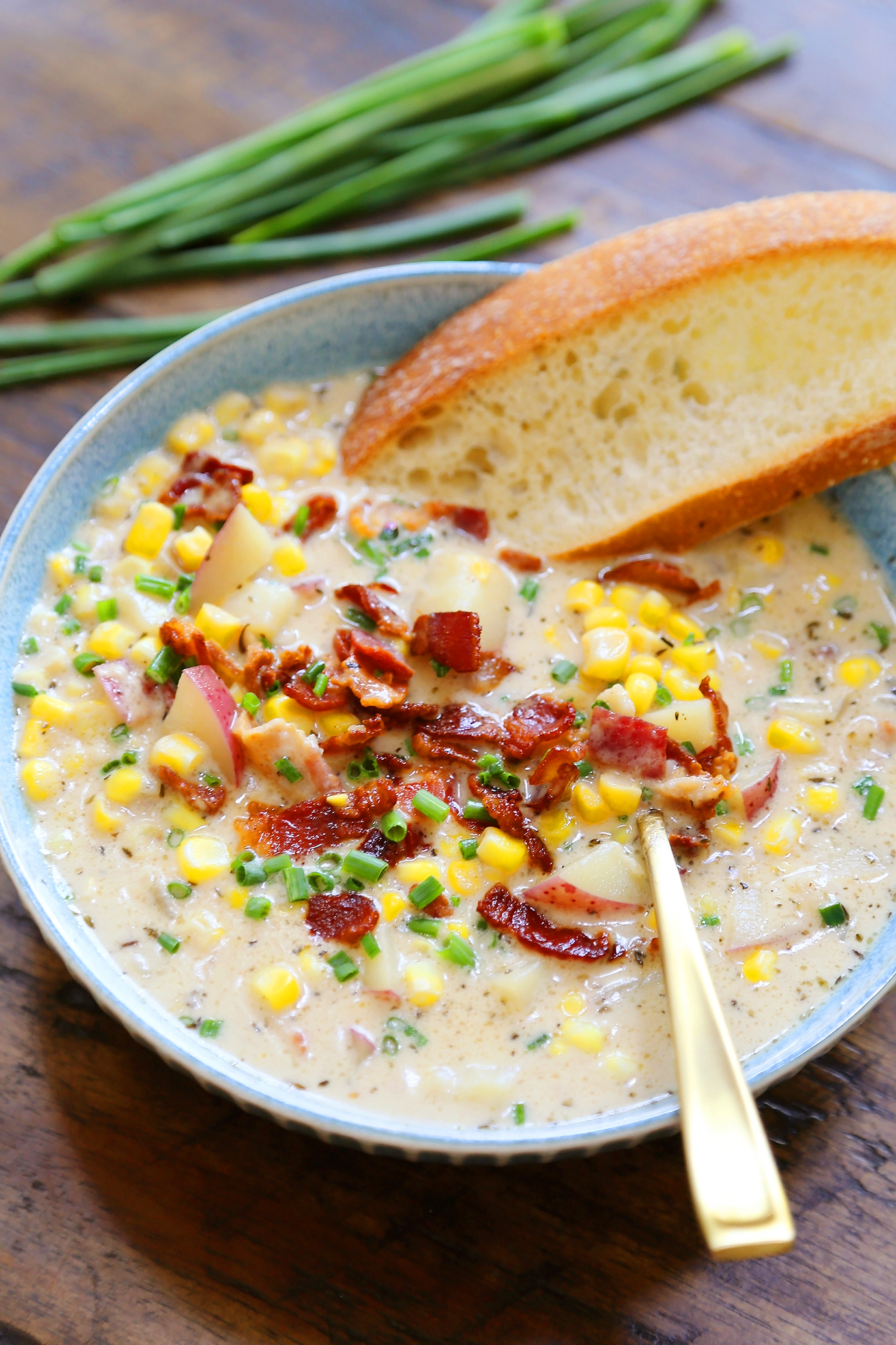 As much as I love a hearty, slow cooked meal simmering away for hours, I often wish I could speed things up for weeknights! This busy mama doesn't have time to whip up dinner at the crack of dawn, then set it and forget it for the day.
It would be a dream come true to have dinner done in a snap, right?
Enter the Crock-Pot® 6-Quart Express Crock Multi-Cooker. This do-it-all kitchen appliance is my new secret weapon!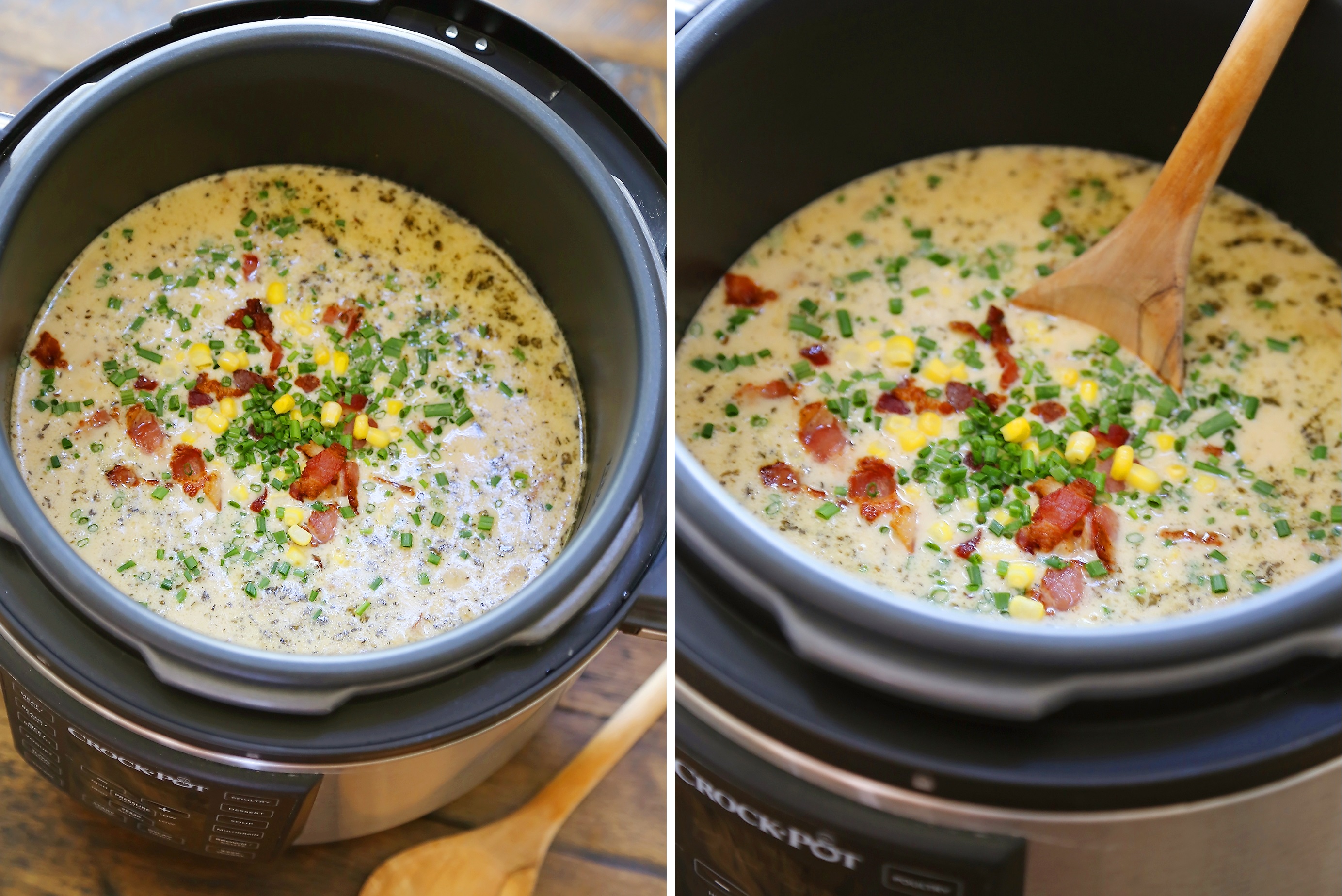 My family and I could hardly believe how quick and easy this recipe was to create in the pressure cooker. A creamy, belly-warming bowl of chowder fit the bill perfectly for a frosty fall night. As an added bonus, clean up was a breeze!
We love to serve this quick, comforting chowder with chunks of No-Knead Artisan Bread and a leafy green salad on the side.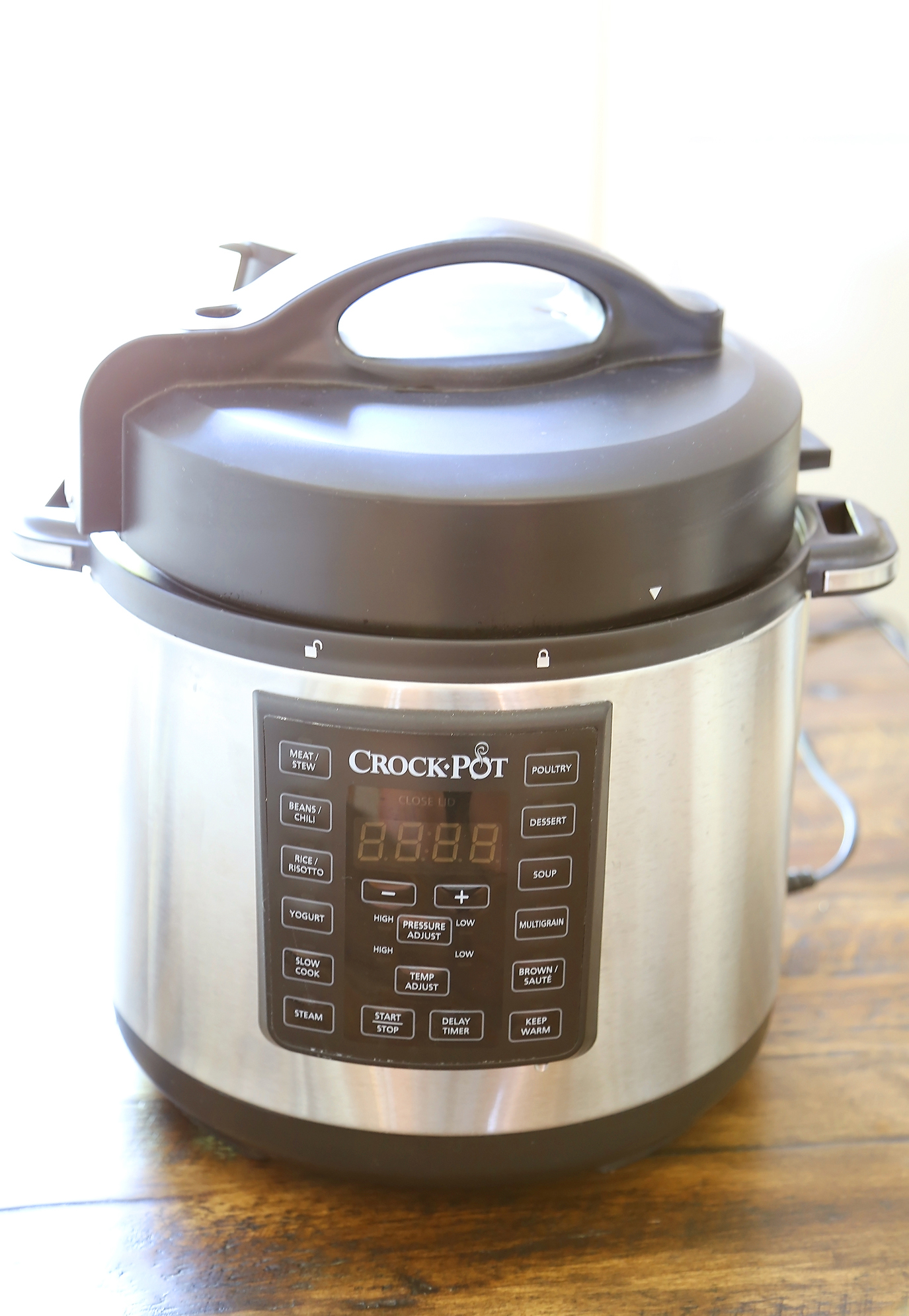 In addition to the pressure cooker setting, our Crock-Pot® Express Crock Multi-Cooker has 8 pre-set cooking settings! I cannot tell you how long I've been waiting for this feature in a single appliance. Who wants to juggle skillets, pots, pans, and an oven to keep it all warm at the same time? Simply madness. Which is not this mama's style – not on weeknights, not ever.
This cooker solves the pesky all-pots-on-deck weeknight, since you can do it all with one appliance – pressure cook, slow cook, sauté, steam, soups, rice and much more. It can even tackle yogurt making and dessert baking!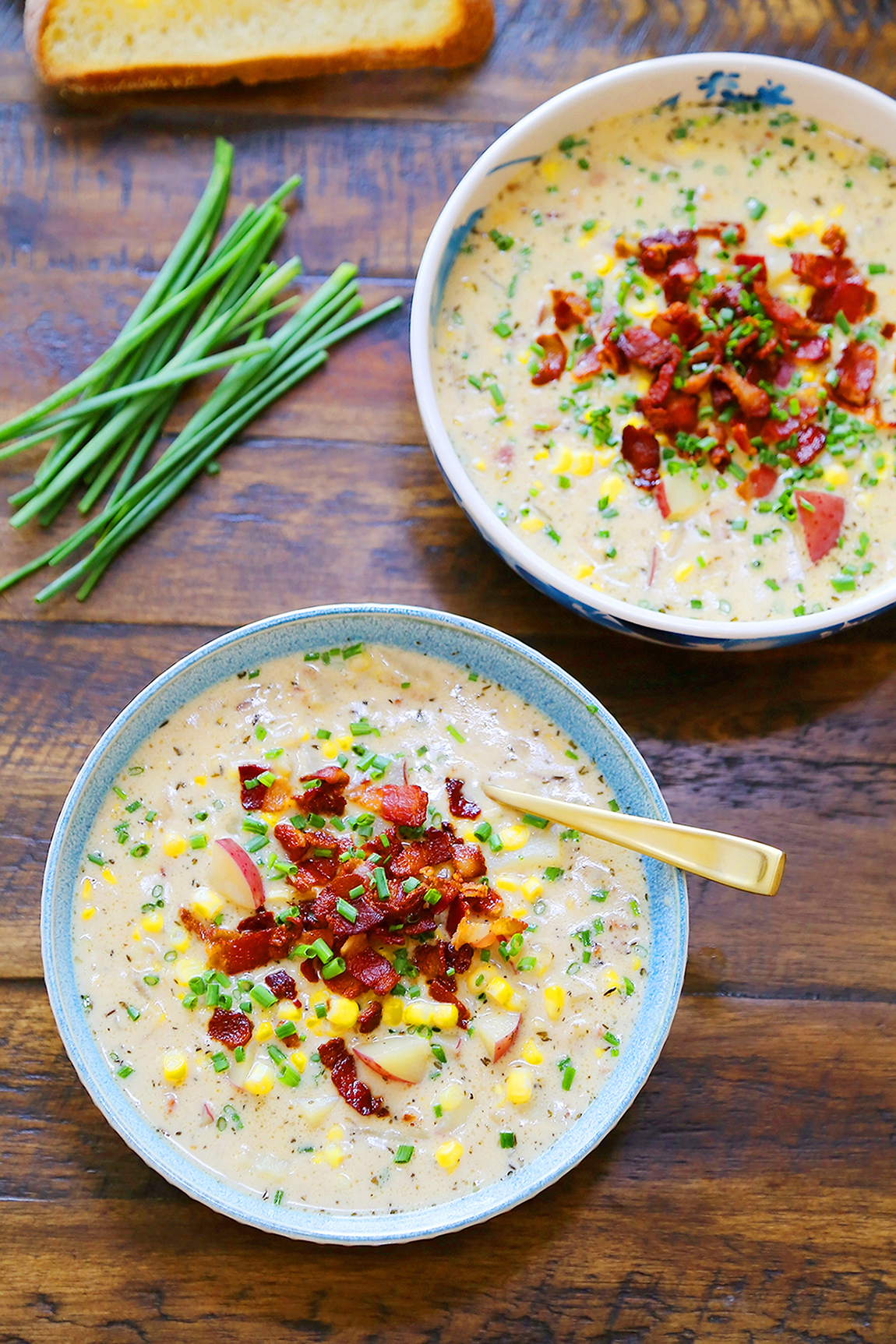 Need to prep your oatmeal for the week? Set a big batch of soup to slow cook for your workday lunches? Feed the family a hearty, healthy all-in-one meal?
Leave it to your Crock-Pot Express Crock Multi-Cooker to cook it all up to 70% faster than traditional cooking. All you have to do it push a button!
Additionally, Crock-Pot offers the Express Crock in NEW 4-Quart and 8-Quart sizes as well. Both the regular 6-Quart model and new 8-Quart model are available now on the Crock-Pot.com.! If you're cooking weeknight meals and small-batch desserts and lunches, go for the 6-Quart. Want to feed a large family or party crowd? Pick up the 8-Quart, which can cook a variety of meals for up to 10 people.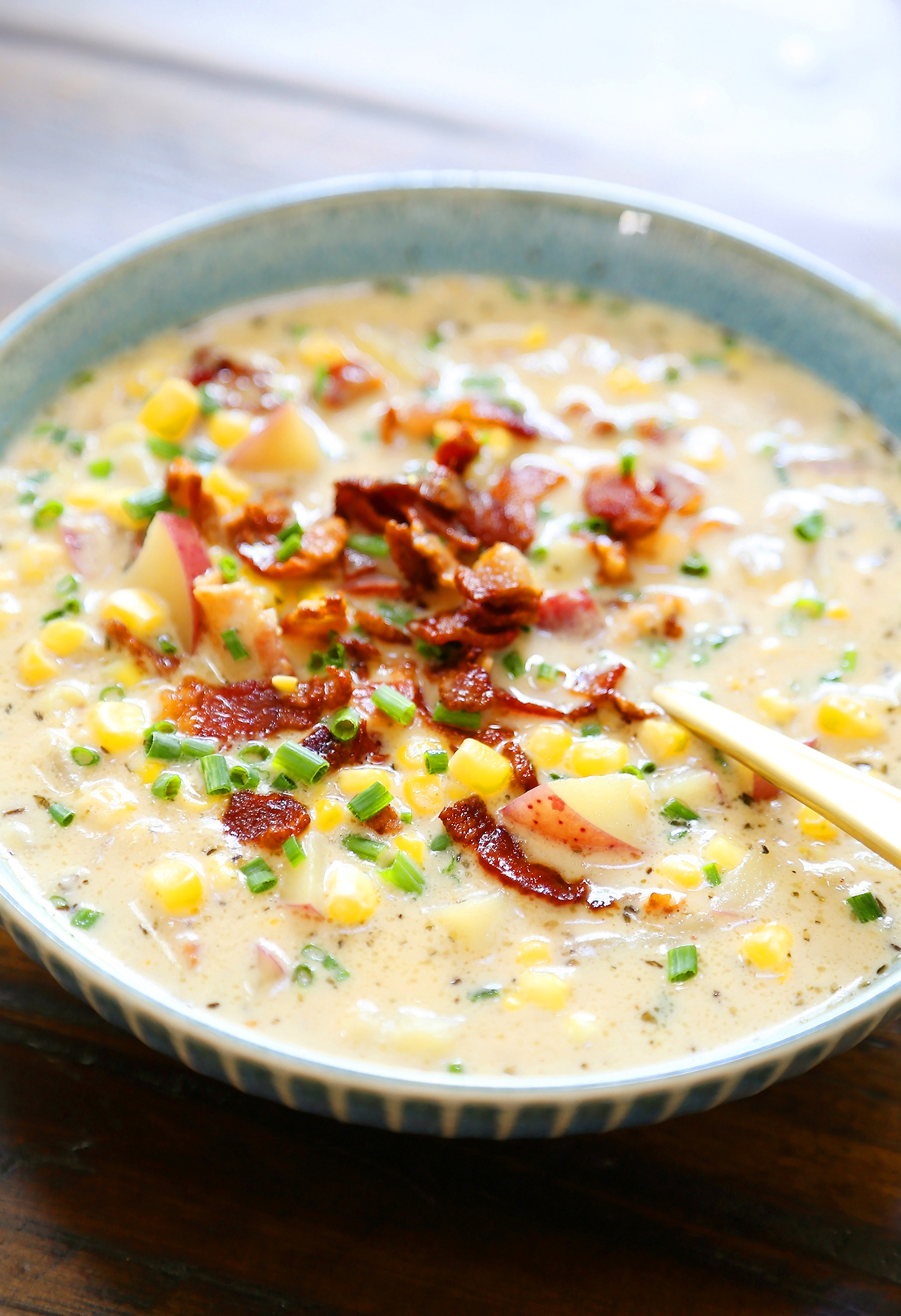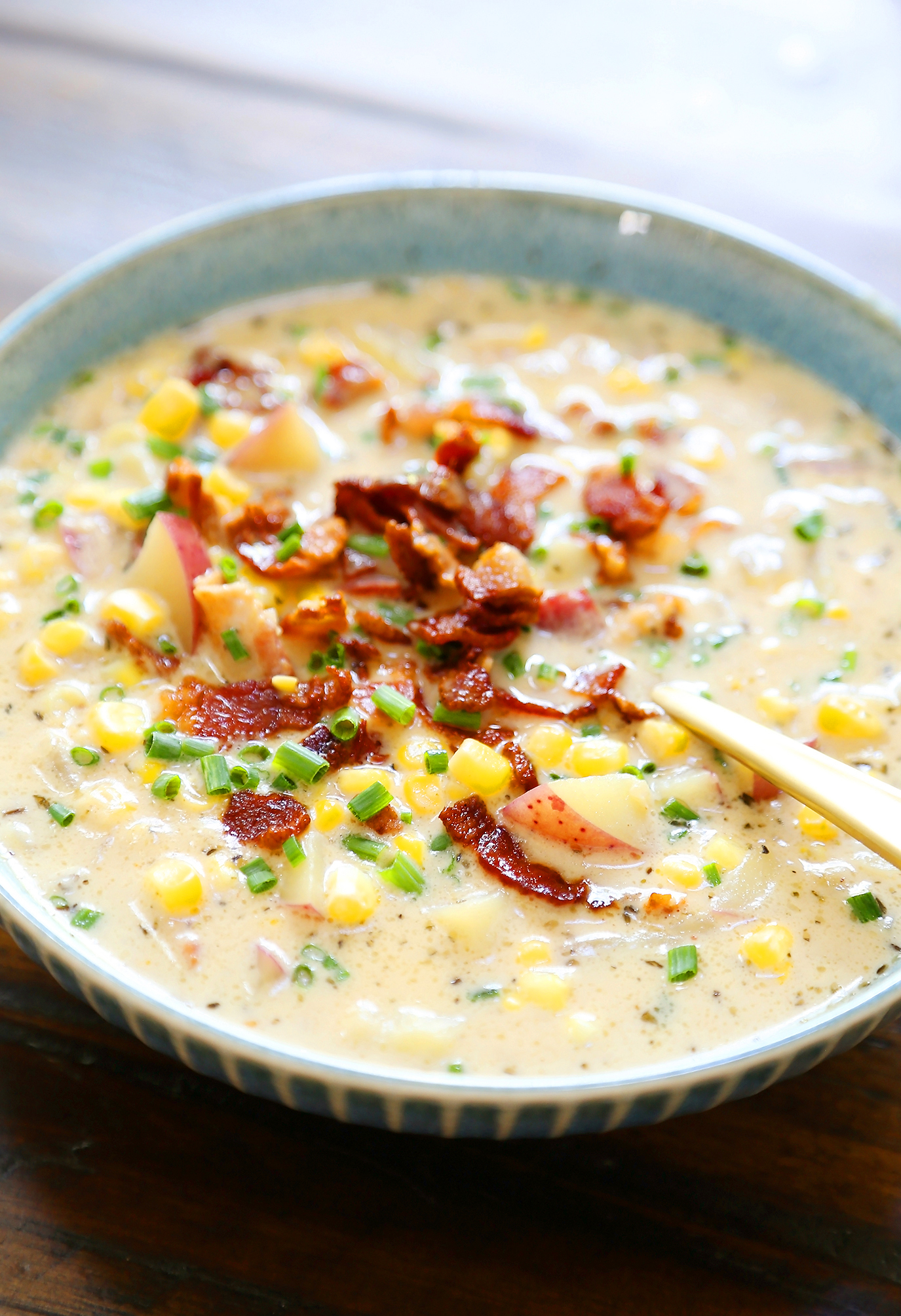 In any size, I know you will agree this pressure cooker will become your new go-to gadget. It is the perfect new addition for creating hearty, nutritious meals for your family in no time. We love ours and have been using it on repeat for all manner of meals – chili, soup, chicken and rice dishes, steamed veggies, and soon, dessert!
I hope you love this recipe as much as we have. Give it a try and please tell me if you enjoyed it or made any changes that worked deliciously!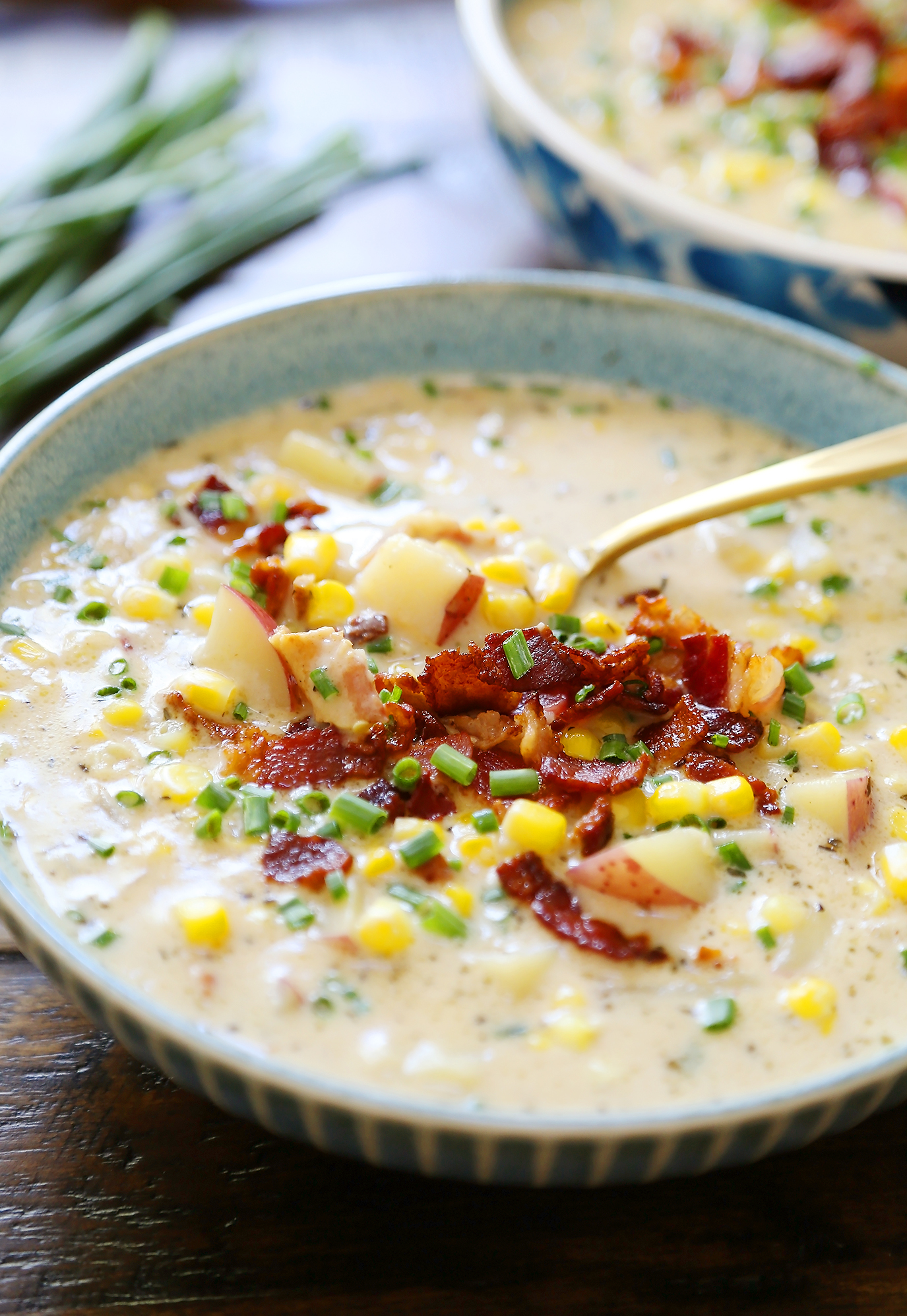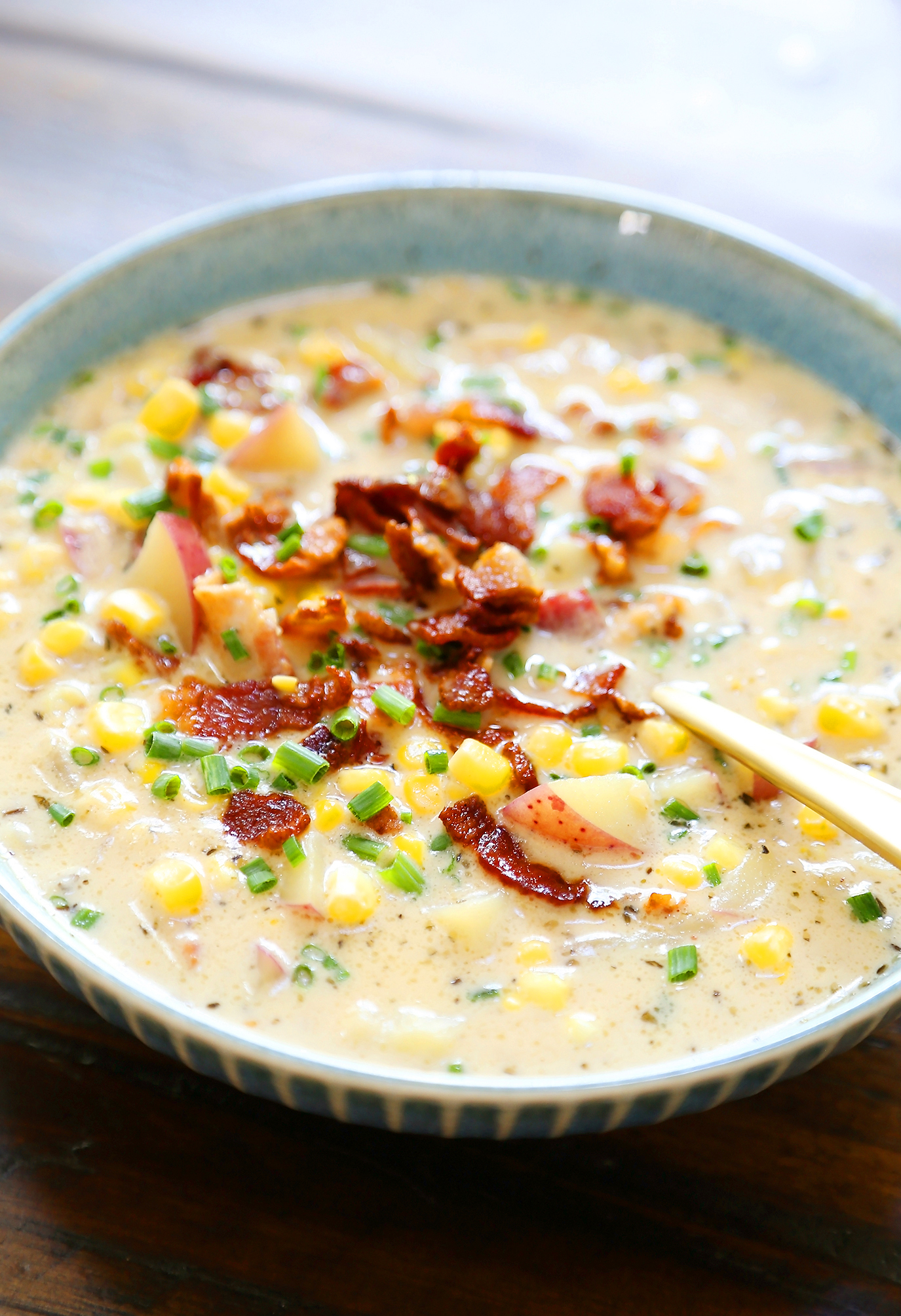 Creamy Corn Chowder with Bacon
Ingredients
4 slices bacon, chopped
1 onion, small diced
3 cloves garlic, minced
4 red potatoes, small diced
1 (16 oz.) package frozen corn
4 cups vegetable broth
1 tsp. dried thyme
Kosher salt and ground black pepper, to taste
3/4 cup heavy cream
2 Tbsp. flour
2 Tbsp. chopped fresh chives
Instructions
Set Crock-Pot® 6-Quart Express Crock Multi-Cooker to the Brown/Sauté setting.
Once hot, add bacon and cook 'til crisp, about 6 minutes. Transfer to a paper towel-lined plate.
Add onion to pot and cook until soft, about 3-4 minutes. Add garlic and cook for 1 more minute. Stir in bacon, potatoes, corn, broth, thyme, salt and pepper.
Adjust pressure to high and twist cover to lock. Set time for 10 minutes.
Once cooked, remove cover. Stir in heavy cream and flour.
Ladle into serving bowls and top with fresh chives.
Notes
This recipe was created in partnership with Crock-Pot®. All opinions are my own.