Spice up dinnertime with this easy, scrumptious chicken chili mac made in one skillet in just 30 minutes!
You know when a recipe comes along and it just knocks you on your buns? Yea, well, strap in. I just found a new one for you!
This colorful, spicy and crazy flavorful chicken chili mac is out-ray-JUS! It's saucy and cheesy and a just a whole lotta love in one big bowl. Taking a twist on the traditional beef chili mac using chicken, whole grain pasta and a chicken broth base, it's only packing around 300 calories per serving, too.
… In other words, you can have another Christmas cookie. Hooray!
This delicious dish also packs a bunch of basic ingredients that you probably already have!
Heaps of spices, beans, pasta and tomatoes combined with lean chicken breasts makes for one sinless, scrumptious meal! Spoon yourself a bowl full, grab your favorite toppings along with some Sargento Shredded Reduced Fat Mexican Cheese, and dig in!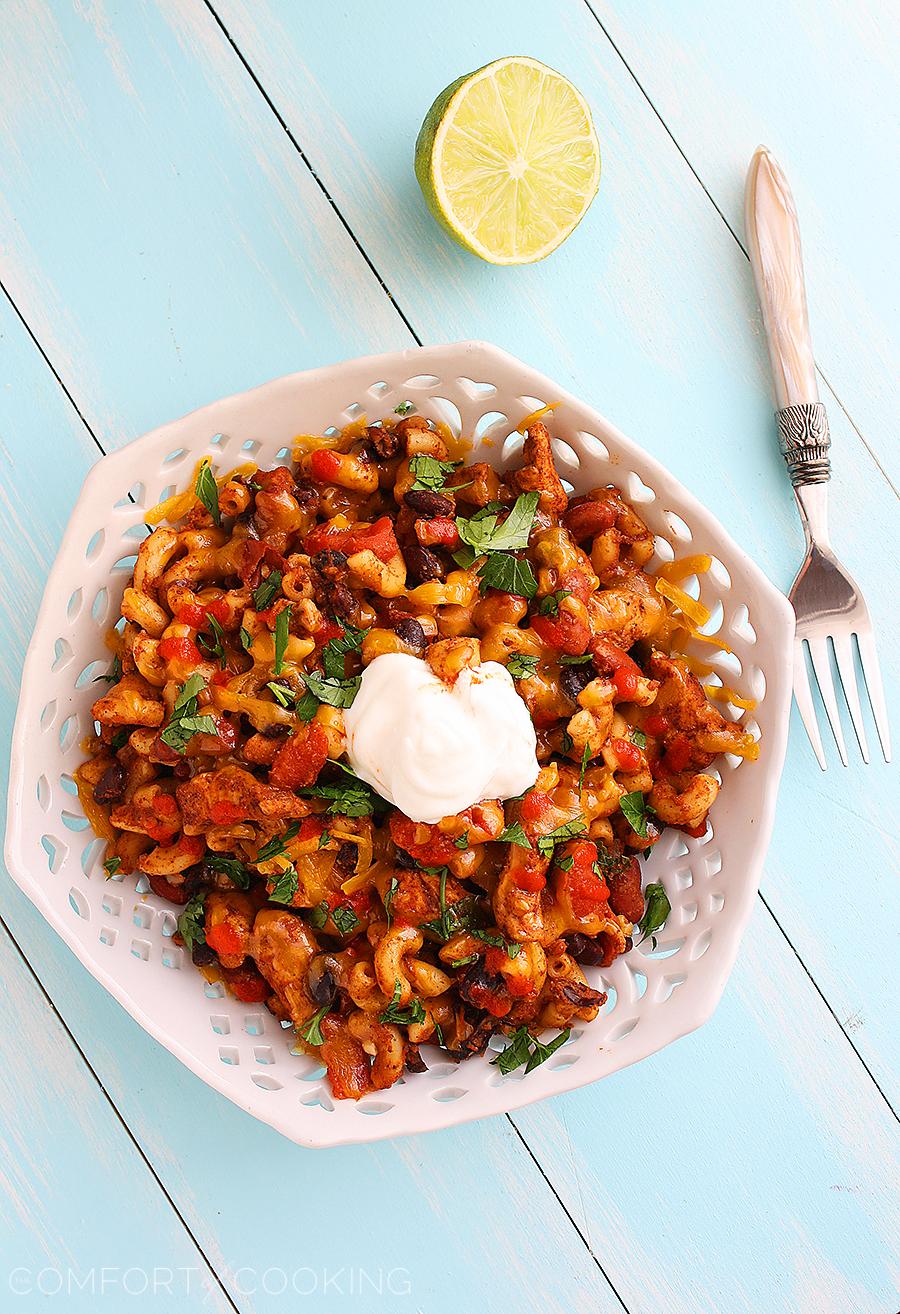 Skillet Chicken Chili Mac
Ingredients
1 Tbsp. vegetable oil
1 Tablespoon chili powder
1/2 teaspoon garlic powder
2 teaspoons cumin
1/2 teaspoon salt
1 lb. 2 boneless skinless chicken breasts, cut into chunks
1/2 yellow onion, diced
2 cloves garlic, minced
1 15 oz. can diced tomatoes, slightly drained
1 Tbsp. tomato paste
1 15 oz. can kidney beans, drained
1 15 oz. can black beans, drained
4 cups 32 oz. low-sodium chicken broth
2 cups whole grain elbow pasta, or your choice
Toppings
Shredded cheese, Sargento® Shredded Reduced Fat Mexican Cheese
Chopped cilantro
Green onions
Sour cream/Plain yogurt
Hot sauce
Instructions
In a medium bowl, combine oil, chili powder, garlic powder, cumin, salt and pepper. Add raw chicken chunks and toss to coat.
Heat a large skillet to medium-high. Once hot, add chicken and onion. Cook until chicken is no longer pink. Add garlic and cook 1 more minute.
Add diced tomatoes, tomato paste, both beans and chicken broth. Bring to a boil. Add pasta and cover pot, stirring occasionally. Cook for about 7 minutes, or until pasta is al dente. Serve in bowls and top with desired toppings.
Enjoy!