During holidays and special occasions, I rarely remember squirting a fat dollop of Reddi-Whip onto my mother's delicious strawberry shortcakes and fruit pies. Why commit store-bought injustice against your own prized pie? Come on, now. You already know that freshly whipped cream tastes WORLDS better, so get out your beaters and get at it!
Making your own whipped cream involves three ingredients – heavy whipping cream, vanilla extract and powdered sugar. Those three things and ten minutes is all you need to make a big difference in your next dessert!
Craving more? Keep in touch on Facebook, Twitter, Pinterest and Instagram for new post updates and more. You can also check out my FAQ page, or contact me with any questions or inquiries!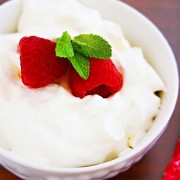 Homemade Whipped Cream
Ingredients:
1 cup heavy whipping cream
1/2 tsp vanilla extract
1/4 cup powdered sugar
Directions:
In a chilled, medium-sized bowl and using chilled beaters, beat cream until it begins to thicken. Add powdered sugar and vanilla, and beat until soft peaks form. Store in the refrigerator.
That is all there is to it! There are hundreds of variations that you can make for this basic recipe (add chocolate, orange flavor, lemon flavor, almond, mint… ), so feel free to get creative.
Enjoy!