These sweet and salty BBQ chicken burgers with pineapple guacamole are irresistibly good, healthy and easy to make. They're the perfect anytime meal!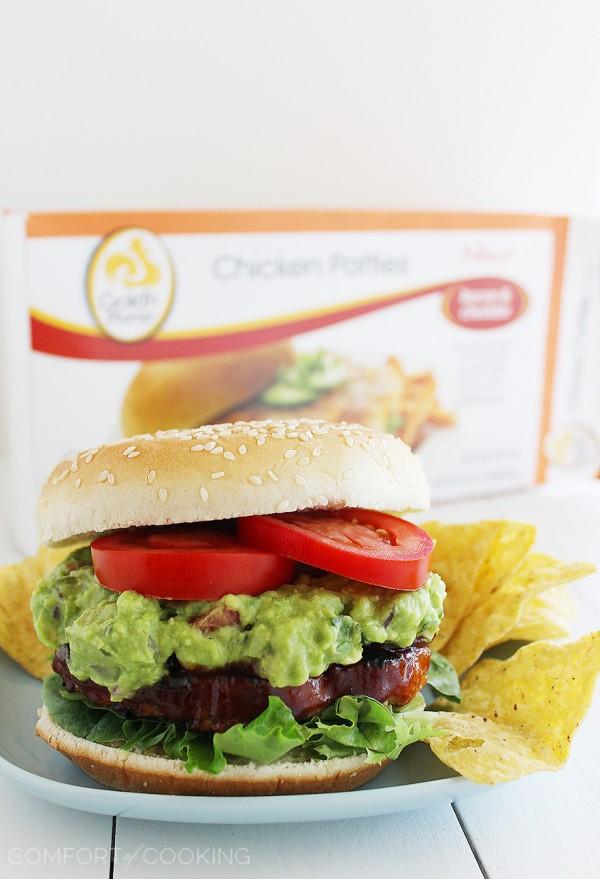 This summer has undoubtedly been a little different for us. Though we still clock in our work time on weekdays, weekends were all about staying cool in pools with frosty cocktails. Slap a good read down on my sun-toasted beach towel, and you've just described my perfect afternoon!
With a wee one to protect from the toasty Texas sun, our pool-lounging days have been pocketed for now. But, one of our favorite summer night traditions hasn't been – cooking up a delicious and healthy dinner on the grill!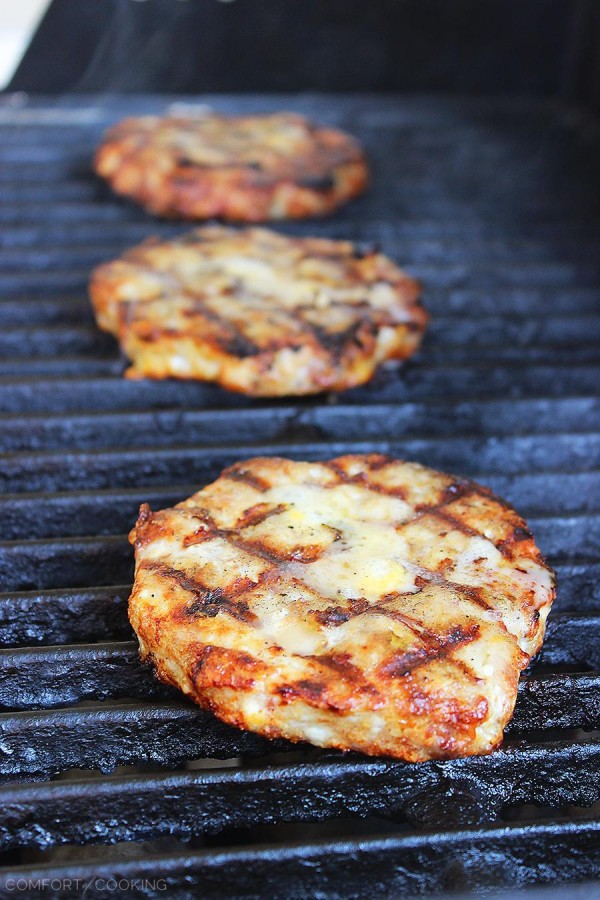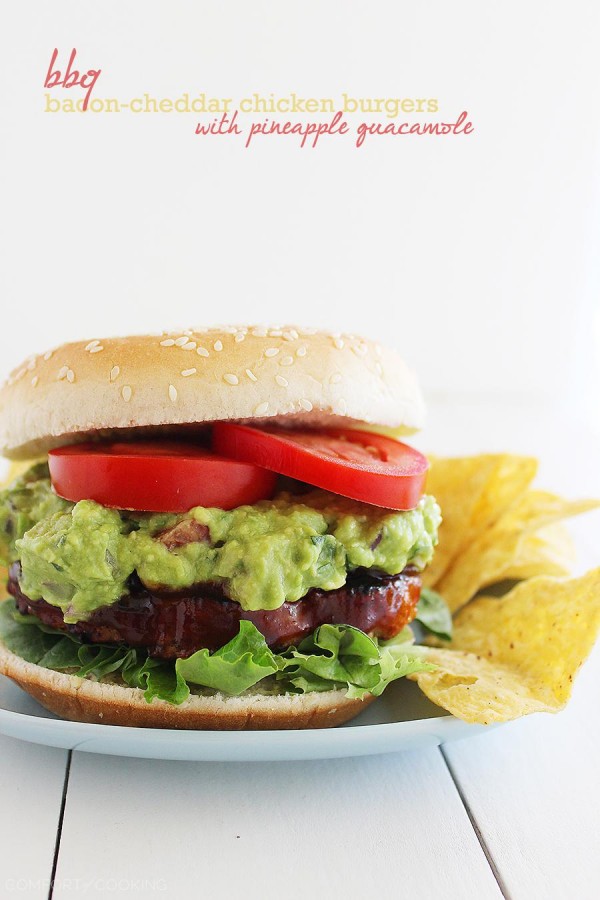 Before Gold'n Plump created these perfectly juicy, flavorful Chicken Patties, I didn't know how good a chicken burger could be. The answer? Mouthwatering! Made with premium quality, all natural boneless skinless chicken thighs, you can find the patties (in three flavors: Original, Bacon & Cheddar and Mushroom & Swiss) in your grocery store's freezer section.
Each of the 1/3-lb. Chicken Patties is carefully crafted using real ingredients like bacon, cheddar and mushrooms. The six patties in each box are vacuum sealed to lock in freshness, and separated by parchment paper so you can conveniently cook one or two for a quick, nutritious meal!
Instead of grabbing beef burgers for our summer grilling, these Gold'n Plump Chicken Patties are our new favorite. No need to thaw them either – just toss the frozen patties right on your grill. The Original Chicken Patties have 56 percent less fat than ground beef, making them a healthy option that will keep you swimsuit-ready this summer!
A sticky-sweet BBQ sauce, buttery toasted bun and creamy-spicy pineapple guacamole make these Chicken Patties irresistibly good. This is a fun flavor combination that you've just got to try!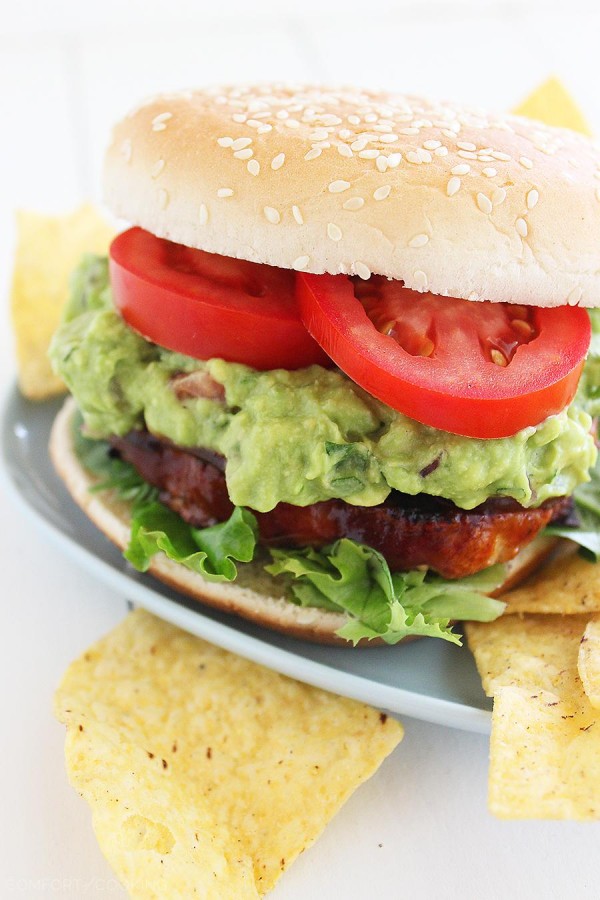 In partnership with Gold'n Plump, I'm also hosting a Summer Grilling Giveaway valued at nearly $75! There's nothing like a few fun gifts to get your zest for creative cooking going, after all.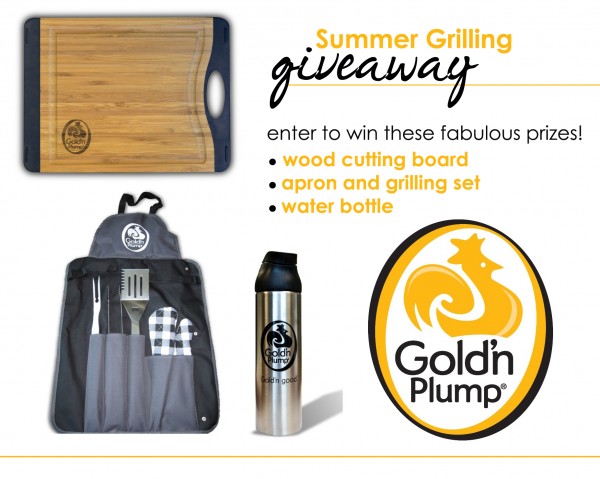 So, what are you waiting for? Enter the giveaway for a chance to grill, chop and sip in style!

• • • • • • • • • • • • • • • • •
THIS GIVEAWAY IS NOW CLOSED.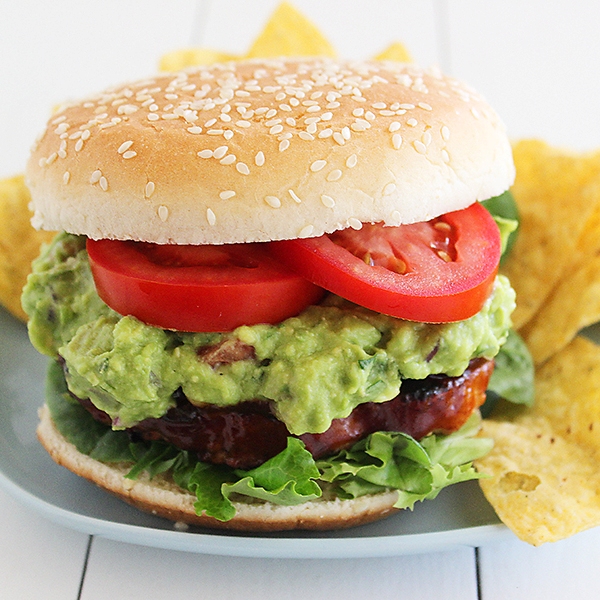 BBQ Bacon-Cheddar Chicken Burgers with Pineapple Guacamole
Ingredients
For the pineapple guacamole:
2 large avocados, pitted
Half of 1, 20 oz. can pineapple chunks
1 Roma tomato, diced
1/2 red onion, finely diced
1 jalapeno pepper, seeded and finely diced
1/4 cup chopped cilantro
2 Tbsp. fresh lime juice, from 1 lime
Kosher salt and pepper
For the chicken burgers:
4 Gold'n Plump Bacon & Cheddar Chicken Patties, frozen
4 hamburger buns
1/4 cup BBQ sauce
8 lettuce leafs
1 large tomato, sliced
Instructions
For the guacamole:
Remove avocado flesh from shell and mash with a fork or potato masher. Mix in remaining ingredients and set aside.
For the burgers:
Coat grill or grill pan with nonstick cooking spray. Cook Chicken Patties according to package directions, about 9-11 minutes, turning once. About 1 minute before removing from grill, brush patties with BBQ sauce (about 1 Tbsp. each).
Layer hamburger buns with lettuce, Chicken Patties, pineapple guacamole and tomato.
Serve and enjoy!