After a busy week, my favorite treat to enjoy with my husband on a slow Saturday morning is a batch of homemade pancakes. However, we haven't had pancakes in weeks since omelets, egg sandwiches and more savory morning meals use the leftovers we need gone before our move next week!
Once we're unpacked and unwound in Texas, though, I know it won't be long before I bust out the pancake mix and make a big batch in our new home. In fact, maybe my craving will be so intense that I'll make them for every meal! Breakfast for dinner, anyone?
Unlike most store bought mixes, this pancake mix is all-natural and easy to make in your own kitchen. It also makes the lightest, fluffiest pancakes you'll ever taste! Just combine white flour, whole wheat flour, sugar, baking powder and baking soda, and you're done. Store the mix in an airtight container and scoop out a cup at a time; if you make pancakes every weekend, the mix will last you about a month. I have included recipes below for vanilla pancakes and banana-blueberry pancakes, using this mix, that you're sure to love!
Here are some of my favorite pancake recipes:
Banana and Blueberry Pancakes with Cinnamon-Vanilla Butter
Strawberry Buttermilk Pancakes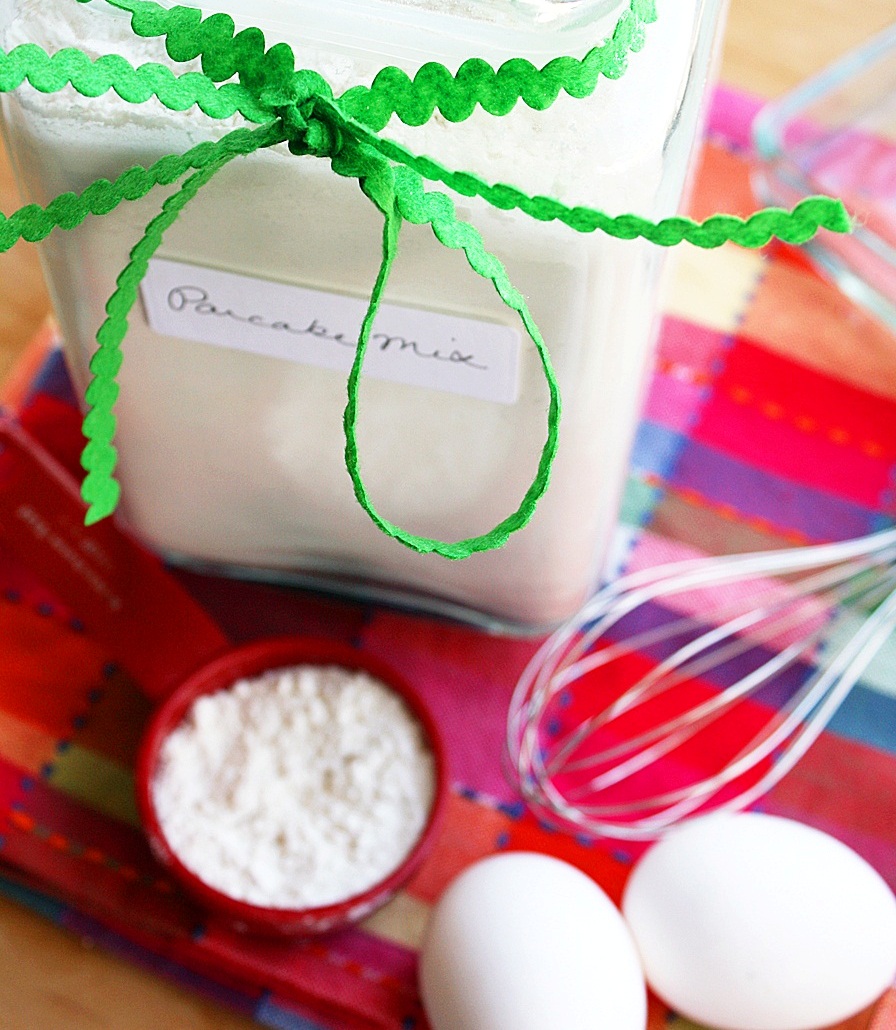 Homemade Pancake Mix
Yield:
12 to 14 servings total
Ingredients
4 cups all-purpose flour
2 cups whole wheat flour
2/3 cup sugar
2 tablespoons baking powder
1 tablespoon baking soda
additional ingredients for pancakes:
1 egg
3/4 cup milk
1 tsp. vanilla extract
additional ingredients for banana-blueberry pancakes:
1 egg
3/4 cup milk
1 tsp. vanilla extract
1 medium ripe banana, mashed
3/4 cup blueberries
Instructions
In a large bowl, combine the first five ingredients. Store in an airtight container in a cool dry place for up to 6 months. This mix makes 6-7 batches of pancakes (about 6-3/4 cups total).
To prepare pancakes: In a small bowl, whisk egg, milk and vanilla. Whisk in 1 cup pancake mix.
Pour batter by 1/4 cupfuls onto a lightly greased pan. Set to low heat. Turn when bubbles form on top of pancakes. Cook until second side is golden brown. Makes about 6 pancakes per batch.
To prepare blueberry banana pancakes: In a large bowl, combine the egg, milk, extract and banana. Whisk in 1 cup pancake mix. Fold in blueberries. Cook as directed above. Makes about 8 pancakes per batch.
Enjoy!