In the world of pancakes, I am inexperienced. I've only made them maybe 10 times in my life, and had fewer flavors than I can count on my hand. But, boy, do I love them.
Usually, I stick with strawberry, blueberry and plain old… well… plain, but these amazing pumpkin spice pancakes from Nikki at Pennies on a Platter had me curious and craving something different.
Fluffy and full of flavorful cinnamon, nutmeg, brown sugar and ginger, these pancakes were a cinch to whip up, and surprisingly tasty. I don't like a thick pancake, so these were just the right consistency for me – On the thinner side, but soft, doughy and delicious with a drizzle of real Vermont maple syrup.
Plus, they also win points for passing the ultimate test – Three tiers of buttery-soft, delicious pancake on one fork. It's essential.
Also, head on over to Be At Home, a wonderful site focused mainly on home decor, where I contributed a "Quick and Easy Recipes" feature, highlighting some of my best tips and tricks. Who knows – You might learn something useful!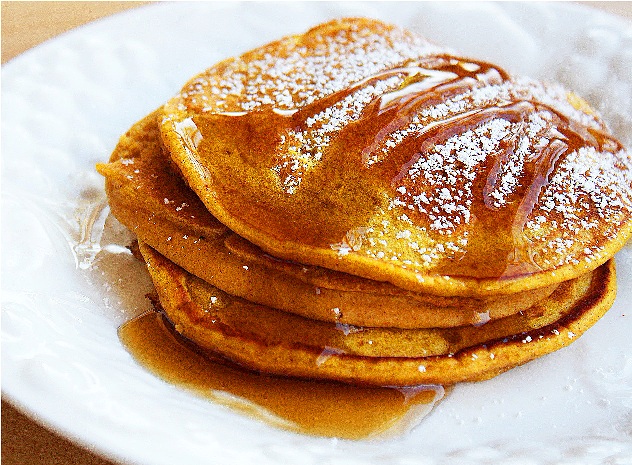 Pumpkin Spice Pancakes
Ingredients
1¼

cups

all-purpose flour

2

tbsp.

brown sugar

2

tsp.

baking powder

¼

tsp.

salt

¾

tsp.

ground cinnamon

¼

tsp.

ground nutmeg

Dash of ground ginger

Dash of ground cloves

1

cup

milk

½

cup

pumpkin puree

1

large egg

2

tbsp.

vegetable oil or melted butter
Instructions
Preheat the oven to 200˚F. Set aside a baking sheet or oven-safe serving platter.

Whisk together the flour, sugar, baking powder, salt and spices in a medium bowl. Make sure to blot out any chunks of brown sugar. In a separate small bowl, combine the milk, pumpkin, egg and oil or butter. Stir into the dry ingredients and mix until just combined. The batter may still be lumpy.

Heat a greased skillet or griddle over medium heat (325˚F for the griddle). Pour the batter on the griddle or skillet in 1/3 cup portions. Use the back of the spoon or measuring cup to smooth the batter into desired circle shape. When bubbles start forming on the top, carefully use a spatula to flip to the other side. Let cook for a few more minutes, until golden brown.

Transfer the pancakes to the baking sheet or oven-safe platter; place in the oven to keep warm until serving. Repeat with the rest of the batter until it has all been cooked, regreasing the pan as needed. Serve with cinnamon sugar, maple syrup, and/or whipped cream.

Enjoy!