Garlic butter mushrooms are a steakhouse classic, made even more flavorful at home! Quick and easy sautéed mushrooms only take 5 minutes. So versatile and delicious, you can serve them with anything.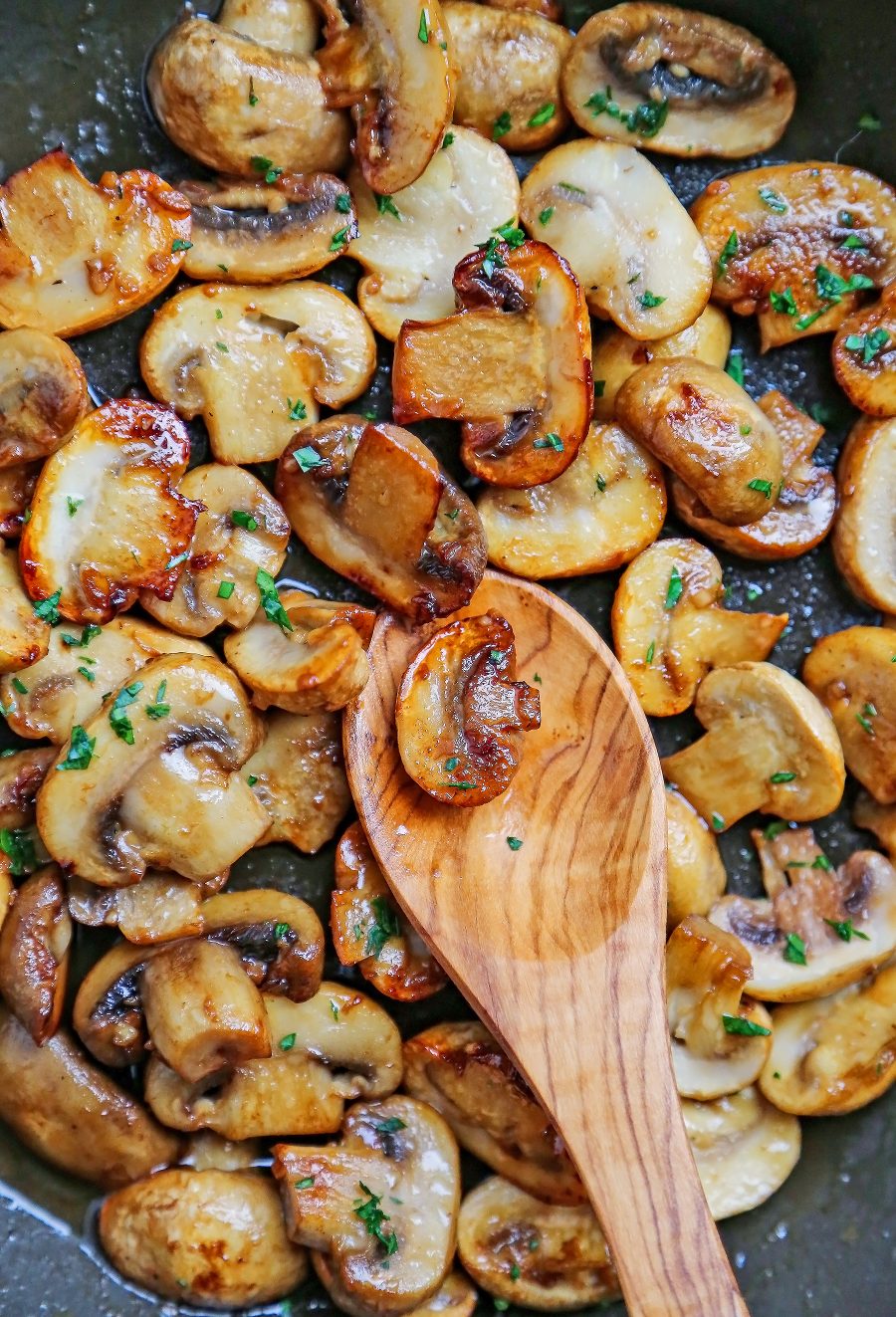 5-Minute Garlic Butter Mushrooms
When taking time to perfect a grilled steak, roasted chicken or pork tenderloin, we wanna keep our side dishes easy!
Enter: five-minute mushrooms with a mouthwatering garlic-butter skillet sauce. Hellooo, beautiful!
These delicious, skillet-sizzled mushrooms only take a few minutes to prep. Simply wash and slice your mushrooms, pop them in a hot pan with butter, and saute them down until soft. Flick in some minced garlic, give it all a good stir, and sprinkle in a bit of fresh parsley. Easy, elegant and oh-so scrumptious!
We love to serve these tender mushrooms with beef tenderloin and a green salad for special occasions. Garlic butter mushrooms are so simple, they only need 4 ingredients (plus a dash of salt and pepper). We've served this exact recipe to guests many times, who have all raved about our restaurant quality mushrooms!
Let's get into the recipe, shall we?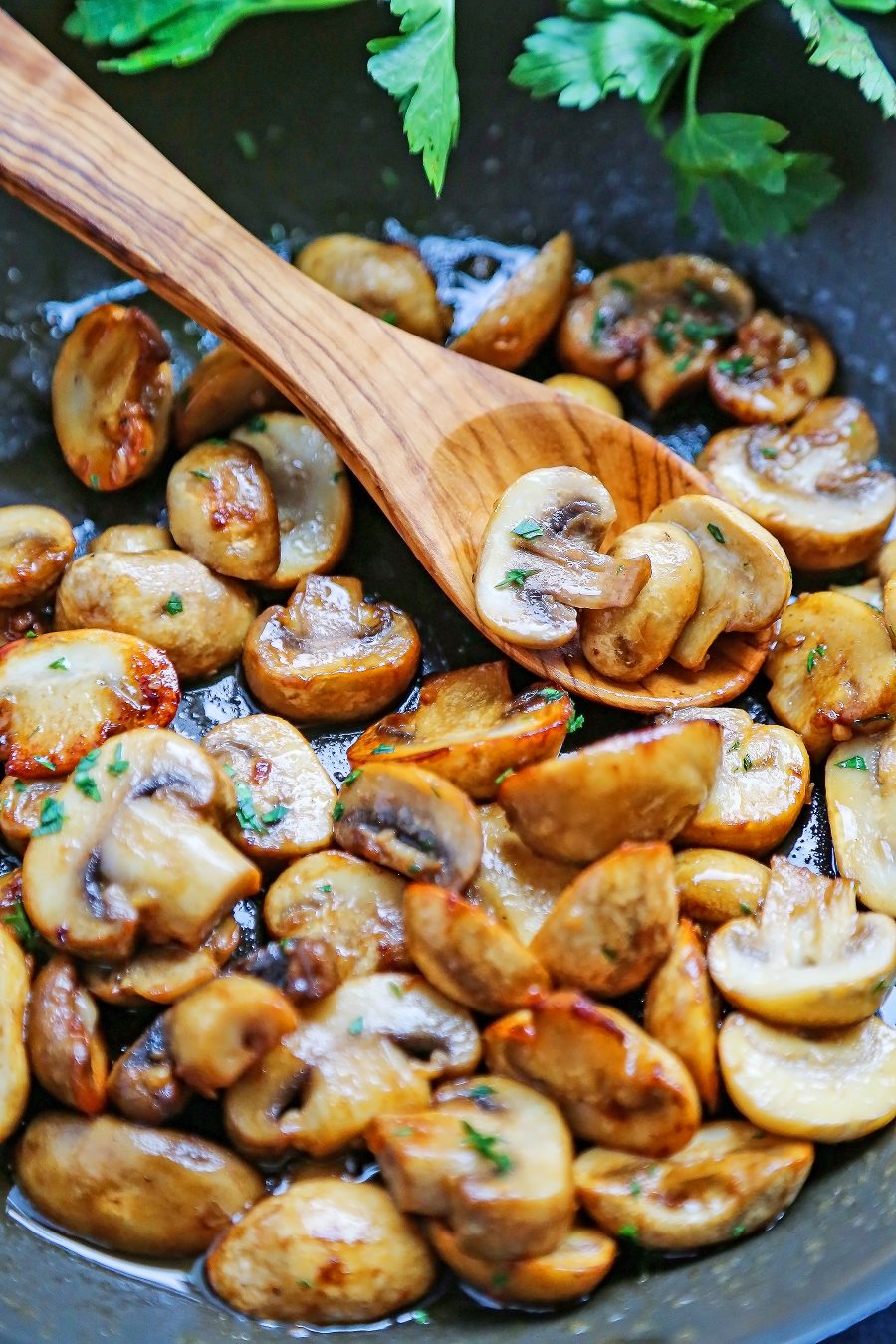 Want more easy Side Dishes? Try these!
• Parmesan Hasselback Potatoes
• Creamy Mashed Potatoes with Bacon
• Creamy Confetti Corn with Bacon
• Crispy Salt and Vinegar Smashed Potatoes
• Cheesy Pull-Apart Garlic Bread
• Butternut Squash Mac and Cheese
What to serve with Garlic Butter Mushrooms:
• Roasted Beef Tenderloin with Creamy Horseradish Sauce
• Herb and Citrus Oven Roasted Chicken
• Roasted Pork Loin with Bacon and Brown Sugar Glaze
• Brussels Sprout Winter Salad with Lemon Champagne Vinaigrette
• Skillet Steaks with Gorgonzola Herb Butter
---
I hope you enjoy these easy, mouthwatering Garlic Butter Mushrooms with your next dinner. We love them with sizzled steaks, buttery mashed potatoes and a glass of red wine. The perfect special occasion dinner!
Please feel free to leave a comment and a star rating, if you try the recipe. I would love to hear from you!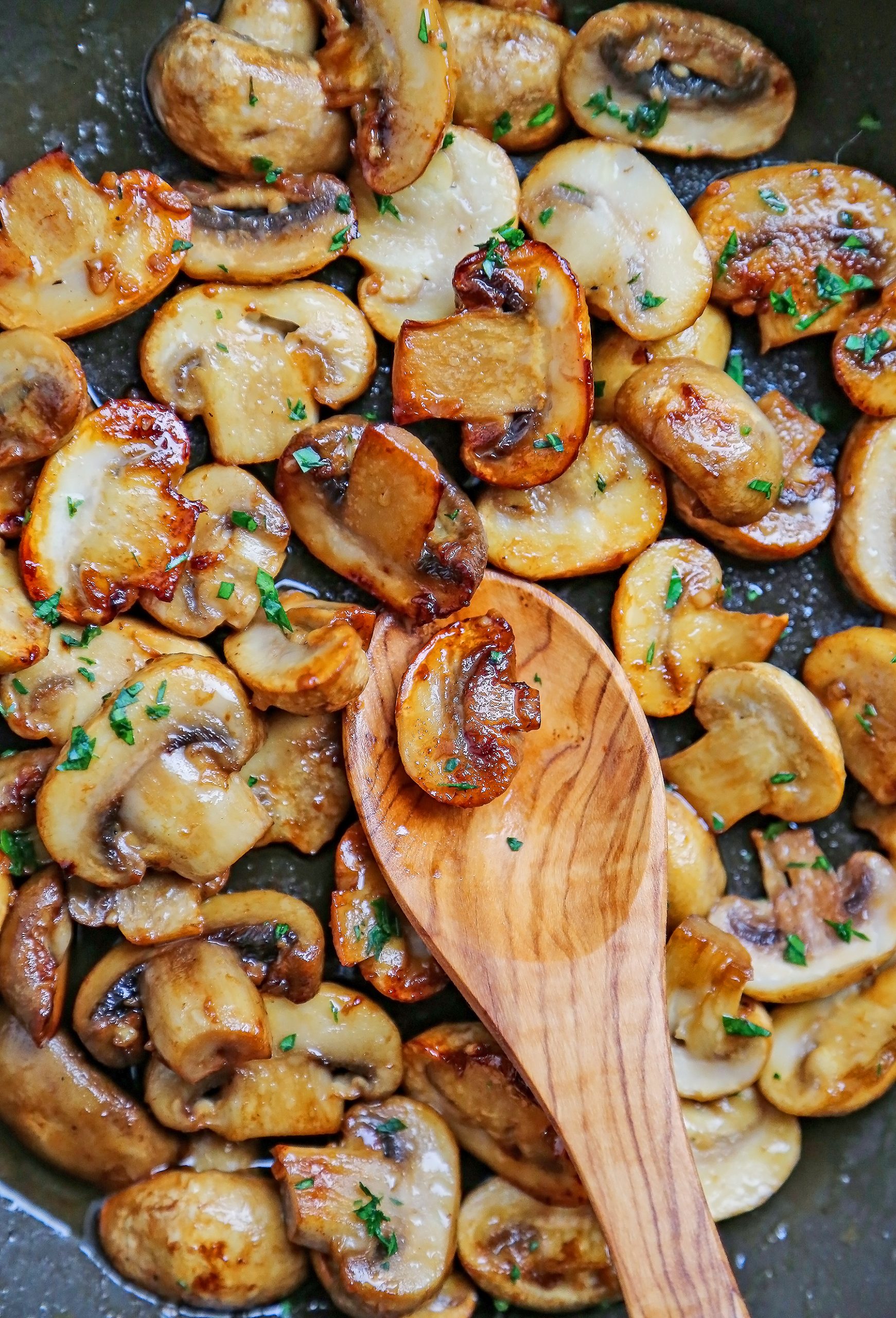 5-Minute Garlic Butter Mushrooms
Ingredients
3 Tablespoons unsalted butter
1 pint (16 oz.) white mushrooms, washed and sliced
1/2 teaspoon kosher salt
1/4 teaspoon ground black pepper
2 cloves garlic, minced
1 teaspoon fresh parsley, chopped
Instructions
In a large sauté pan set to medium heat, add butter. Once melted, add mushrooms. Season with salt and pepper.
Cook for 4 minutes, stirring occasionally to coat evenly in butter.
Reduce heat to medium-low. Add garlic. Cook for 1 more minute, stirring frequently, until mushrooms are fully cooked and garlic is fragrant.
Remove from heat and stir in parsley.
Serve hot and enjoy!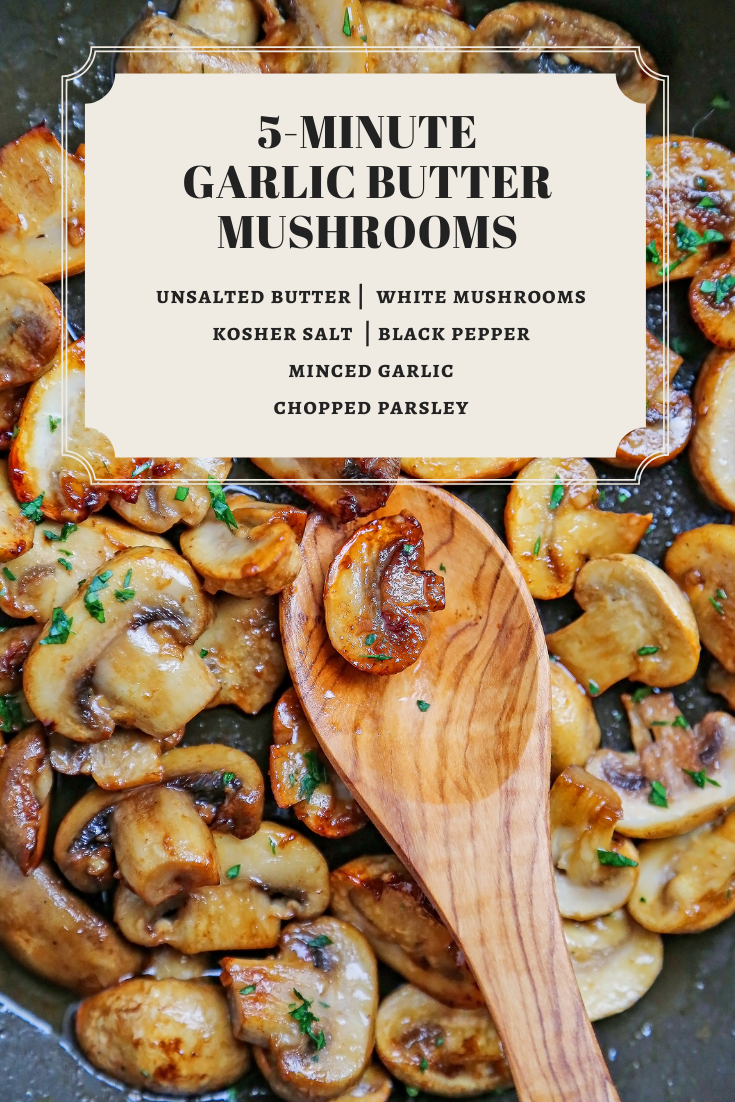 Want to receive our latest recipes straight to your email inbox? Click here to subscribe!