I have been wanting to try a frittata for SO long, but for some reason I always had a good excuse not to make one. Like, say, who has the energy to get up at 7 a.m. on a Saturday and start preparing it in time for breakfast? Or, if my husband hates it, who in the world is going to eat the whole thing with me? And of course, there were the ongoing questions of "is a frittata really a dinner dish?" and "it's like a quiche, right?" that I was both being asked and asking myself.
Still having no answers to these questions, I threw caution to the wind and decided to just go for it. And boy, am I glad I did! After spending a lazy Saturday afternoon whipping up Joy the Baker's amazing Potato Frittata for dinner, I sliced into the steamy pile of potatoes, fresh parsley and chives, caramelized onions and bacon, took a bite and promptly melted into a puddle on the floor.
This potato frittata was so delicious, and surprisingly simple! Just thinly slice a few russet potatoes, toss 'em with a little oil, butter, salt and pepper, and bake. Meanwhile, whip up a nice little medley of heavy cream, eggs and herbs, and then wash it over the cooked potatoes in a nice big, straight-sided pan (I used a cast iron pot, but a large casserole dish would also be fine). You can leave out the bacon if you'd like, but I'd highly recommend you keep it for extra "mmm"!
Yes, it's a little time-consuming for a casual morning breakfast, but this delicious dish is just the ticket to ooh's and ahh's if you're having a nice brunch or a big meal that needs to feed a crowd. It can even be served as an impressive little side dish!
As delicious as it was, my pictures of the frittata didn't look as appetizing as it was, so Debbie from the beautiful blog Squirrel Bakes gave me permission to use her lovely frittata photo. It looks a lot like my frittata did… just more put-together! Thanks, Debbie – I owe you one!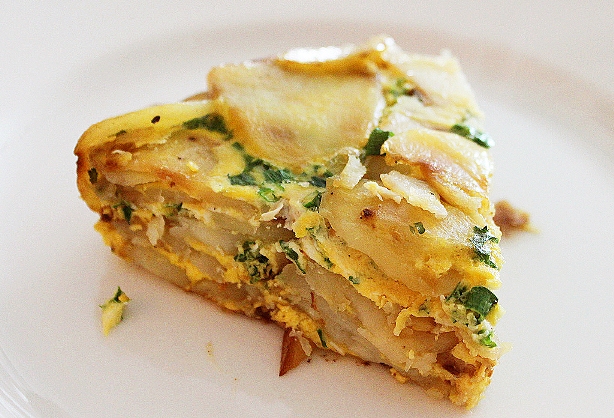 Potato Frittata
Ingredients
5 Tablespoons canola oil, divided
1 large yellow onion, sliced
3 large russet potatoes, peeled and cut into 1/8-inch thick slices
3 Tablespoons unsalted butter
Kosher salt
Freshly ground pepper
7 large eggs
2 Tablespoons minced flat-leaf parsley
2 Tablespoons minced chives
2 Tablespoons heavy cream
4 strips raw bacon, optional, diced
Instructions
Adjust the oven rack to the middle position and preheat oven to 400 degrees F.
Heat a medium saute pan over medium high heat and drizzle with 2 Tablespoons of the canola oil. Add the onions and cook until caramelized, about 8 to 10 minutes. Deglaze the pan with 1/4 cup of water, scraping any brown bits from the bottom with a wooden spoon. Cook until the water evaporates and the onions take on a uniform brown color, about 5 minutes.
Transfer the onions to the roasting pan and toss with the raw sliced potatoes. Add 1 tablespoon of butter and the remaining 3 Tablespoons of oil. Toss with your hands. Season generously with salt and pepper. Cover the pan with foil and bake for 25 to 30 minutes, or until the potatoes are tender.
Set the potatoes aside to cool for 15 minutes. Reduce the oven heat to 350 degrees F.
Meanwhile, whisk the eggs, herbs and cream together. Season with salt and pepper.
(optional) Saute bacon in medium saute pan, about 5 minutes, or until golden brown. Mop up excess grease with a handful of paper towels. Lay cooked bacon on a plate topped with a paper towel.
Heat a 10-inch cast-iron skillet over medium high heat. Melt the remaining 2 Tablespoons butter in the skillet, making sure that melted butter greases the side of the cast iron as well. Add the cooked potatoes to the pan. Top with the egg mixture. Cover the skillet with foil and bake for 30 minutes. Remove the foil and bake for 10 minutes more.
Slice and serve directly from the skillet, warm or at room temperature.
Enjoy!