Crunchy, tangy, cool and delicious! This healthy, refreshing pasta salad is full of color and Mediterranean flavor! You will love how easy it is to prepare for parties, potlucks and simple weeknights in. No cooking, no fuss, and nothing but yummy goodness!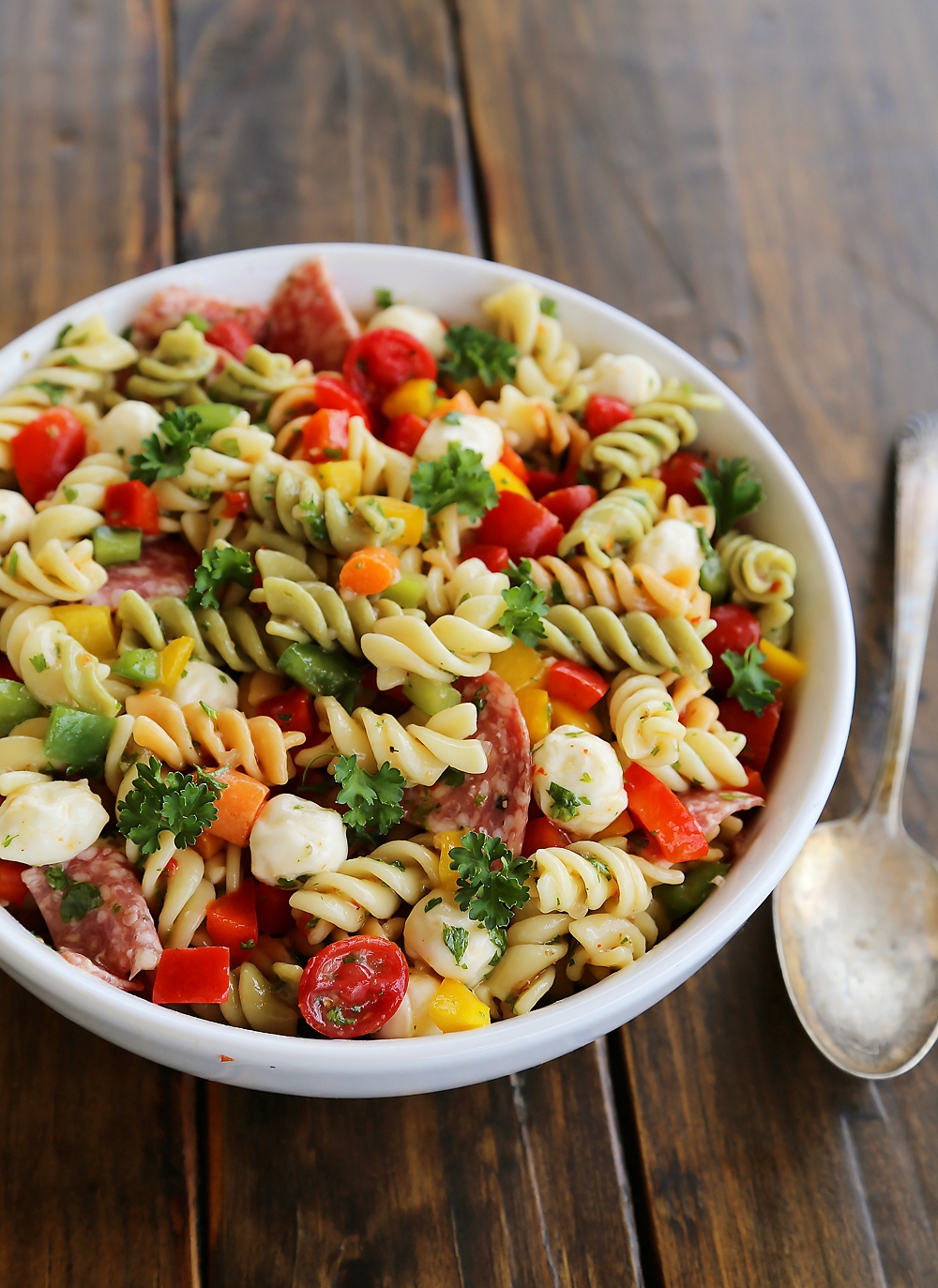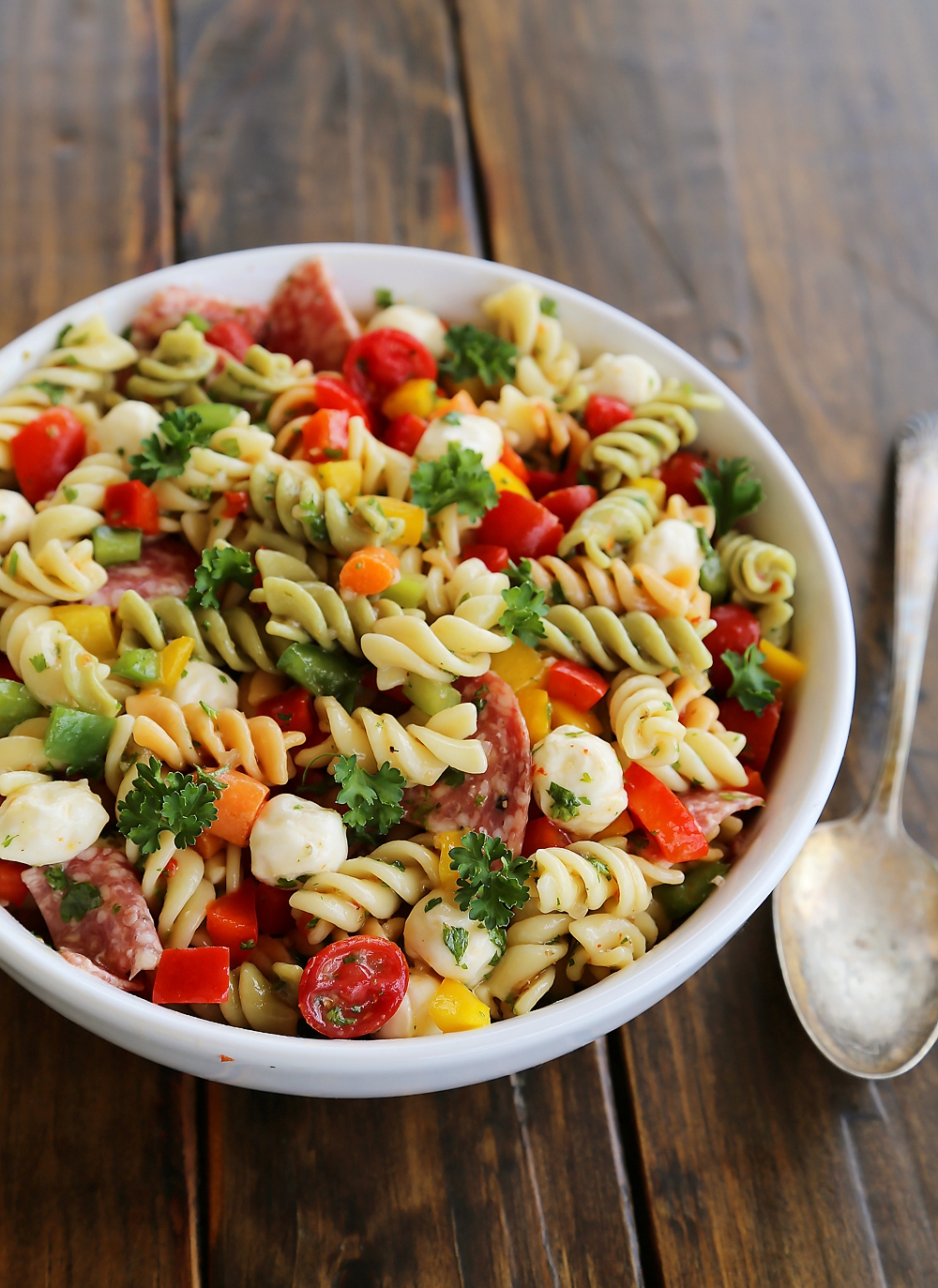 Oh, HOW have I not shared this pasta salad until now?! I suppose I thought it was such a simple recipe that it didn't warrant sharing. And also because it has gone through umpteen variations over the years, and I could never pin down exactly how much of this or that I used. But, I finally got it down just the way I (and my friends and family) like it, and it's here today, from me to you. And it is so. damn. good.
This is one of my all-time favorite side dishes, super easy for potlucks, parties and even weeknight meals. It has the perfect blend of salty, sweet, tangy and fragrant… not to mention those colors! Tricolor rotini mixed with bell peppers, carrots, tomatoes, parsley and melt-in-your-mouth mozzarella make this one irresistible side, or even as a stand alone lunch… like I've been having the past week! It keeps well for about 5 days, and gets even more scrumptious as the flavors marinade in your refrigerator.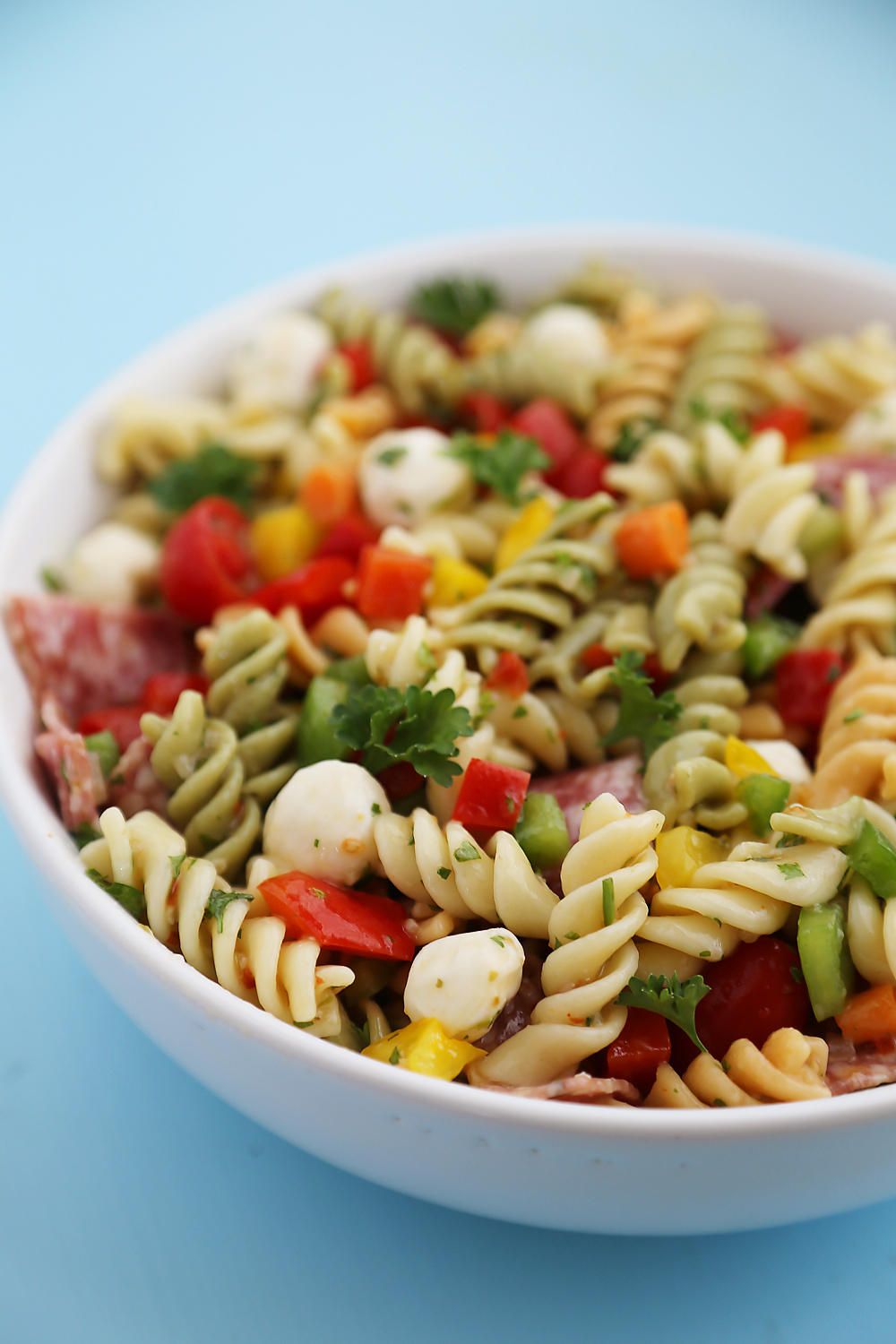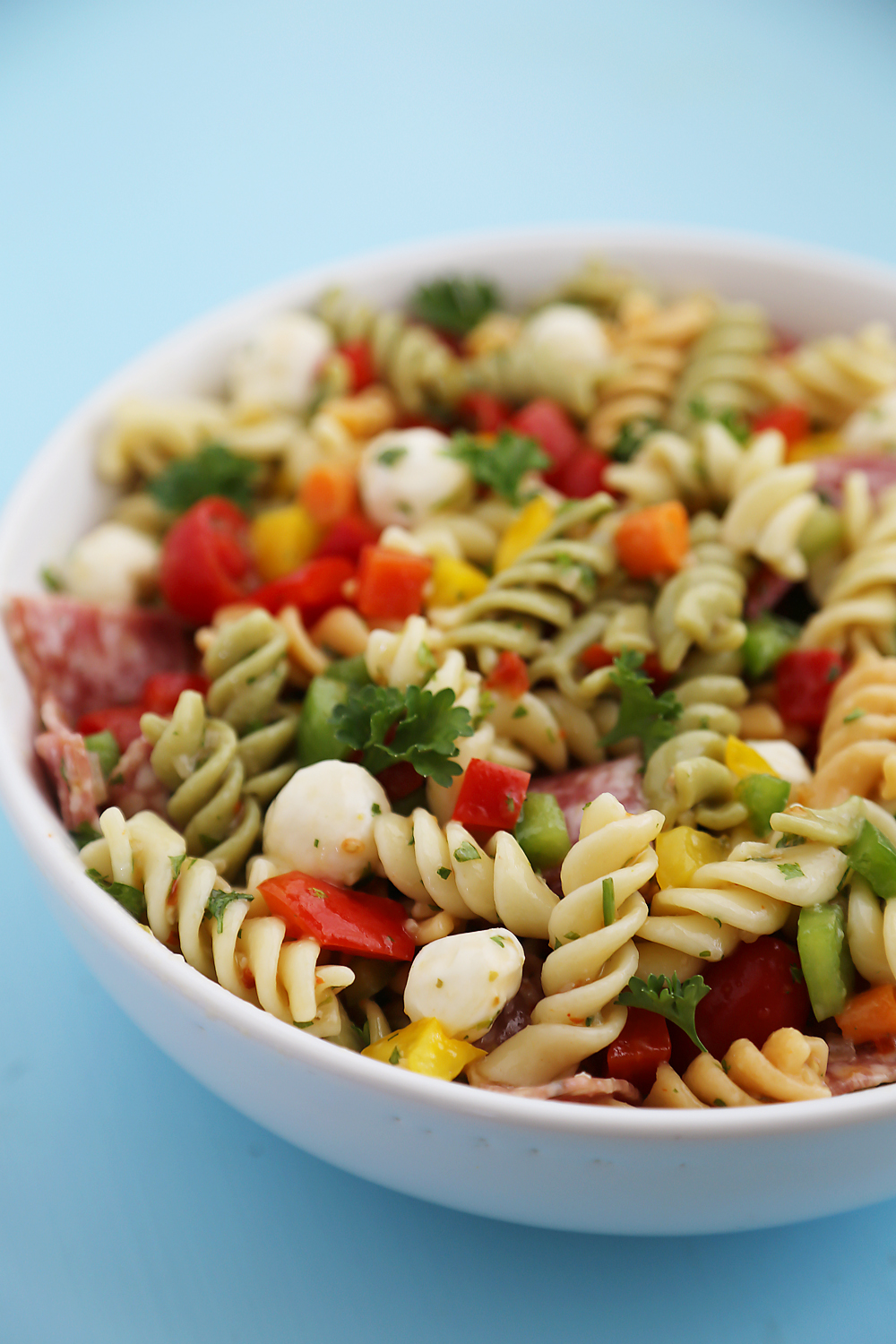 This recipe makes about 8 servings, but you can halve or double the ingredients to your taste. You can also swap out the vegetables for anything you prefer, such as broccoli, zucchini, cucumber, radish, eggplant, and squash. Add onions, olives or artichokes for a bit more Mediterranean flavor. I think banana peppers would be particularly delish in this pasta salad, too… and would add even more eye-popping color! Don't like salami? Add some pepperoni, cooked bacon, chicken, smoked sausage, or any protein you have on hand. Just remember, if you're feeding a crowd, keep their tastes and preferences in mind, too.
You will love this satisfying and super easy side dish for feeding friends, family, and picky kiddos. It's gorgeously colorful, full of flavor and only gets better after a day or two. When everyone asks for the recipe, you know where to send them!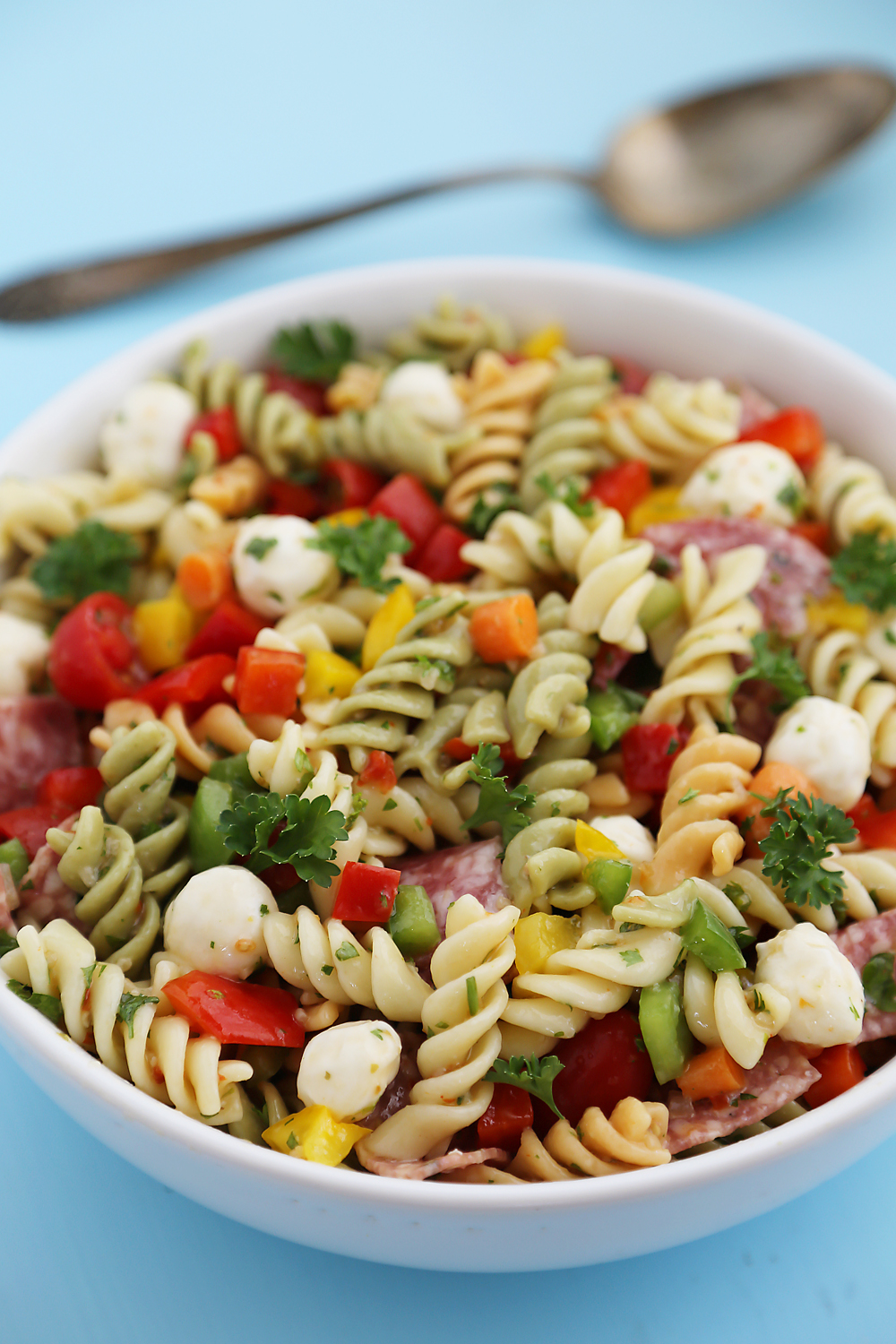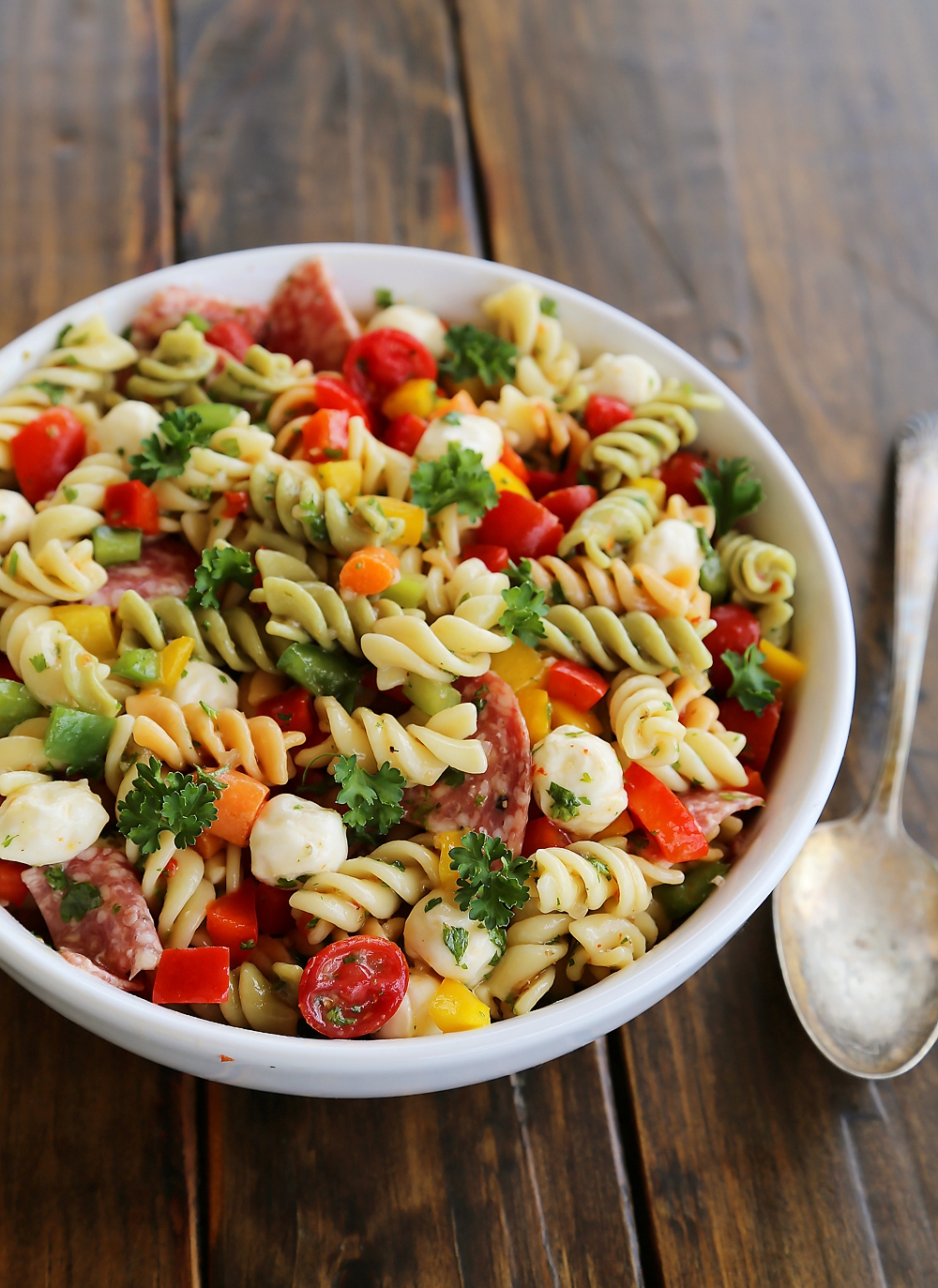 Italian Pasta Salad
Ingredients
1 12 oz. box tricolor rotini (or your desired pasta)
1 16 oz. bottle Zesty Italian Dressing
1 4-6 oz. package Genoa salami, quartered
1 red bell pepper, small diced
1 green bell pepper, small diced
1 yellow bell pepper, small diced
1 cup baby carrots, sliced into small pieces
1 cup cherry or grape tomatoes, halved
1 8 oz. container mozzarella pearls (found in deli; or small-diced fresh mozzarella)
1 cup fresh curly or flat-leaf parsley, finely chopped
Instructions
Set a large pot of water to boil. Cook pasta according to package directions, usually 7-8 minutes for rotini. Drain and rinse under cold water. Return pasta to pot, away from heat.
Pour in entire bottle of zesty Italian dressing (it may seem like too much at first, but the pasta will soak up a lot of the dressing as it cools). Add remaining ingredients and toss gently to combine.
Cover and refrigerate until ready to serve, giving it a good stir before serving to blend ingredients and dressing thoroughly.
Enjoy!