Comfort food at its best! Fresh peas, carrots, and a savory homemade gravy combine to make a classic shepherd's pie you're sure to love. It's my family's favorite-ever dish!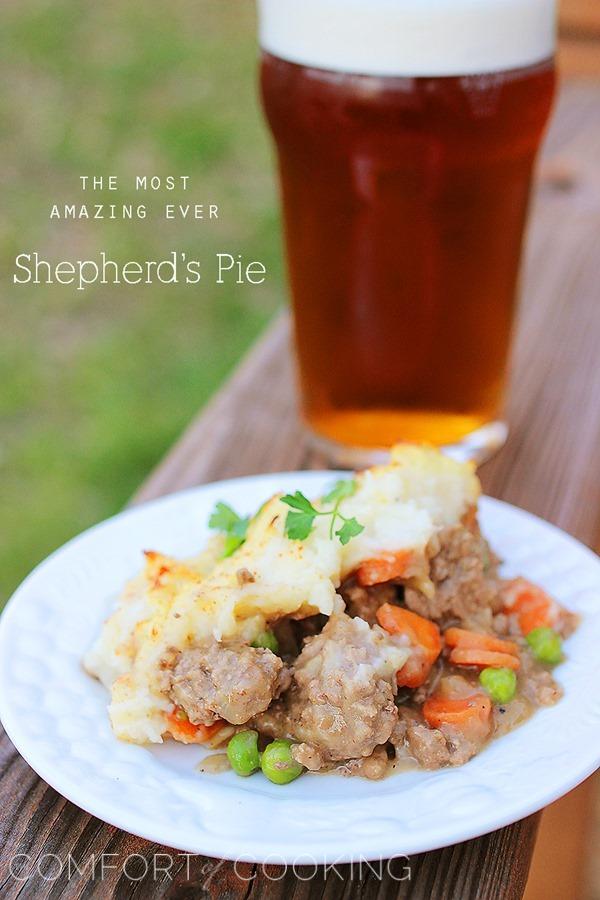 Yeah, okay. I totally should have made this before St. Patrick's Day, but you know something? We enjoy this delicious Shepherd's Pie year-round, and with fresh spring peas, carrots and parsley in abundance, I'd say now's a better time than ever!
With a cold pint of beer, this meal is pretty much bliss in a baking dish. So, go have a salad for lunch. Then make this for dinner. Your salad-eatin' self deserves it, so just savor it why dontcha!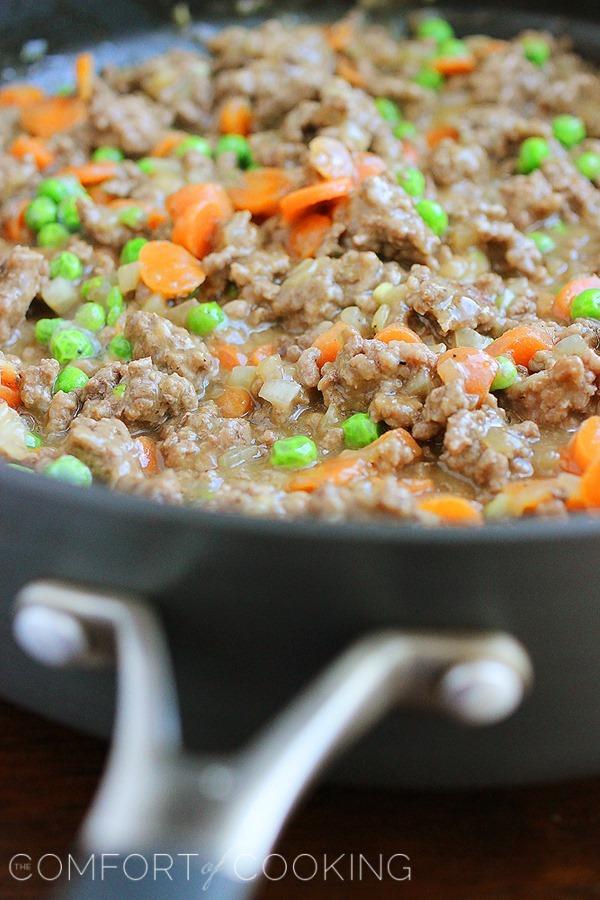 In a big hot pan, browned ground beef is combined with tender veggies and a savory homemade gravy. Slather on a thick layer of dreamy, creamy mashed potatoes, toss it under the broiler, and dinner is served! I like a little paprika and fresh parsley sprinkled on top, but if there's no time for such nonsense in your kitchen, I understand. I do.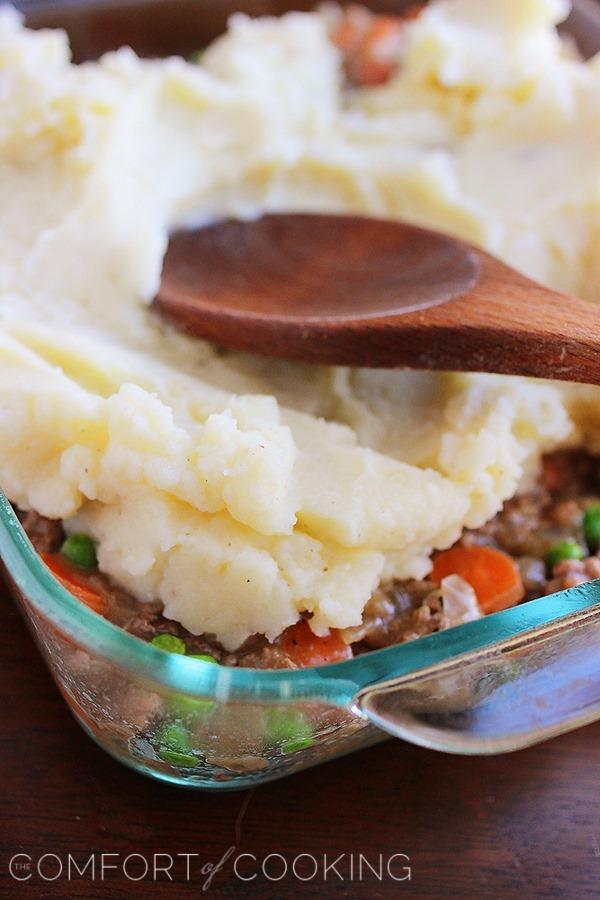 Just make sure you're cooking this alone or with someone who doesn't mind a mashed potato spoon-licker.
… What? Don't pretend like you don't do it. It's a must.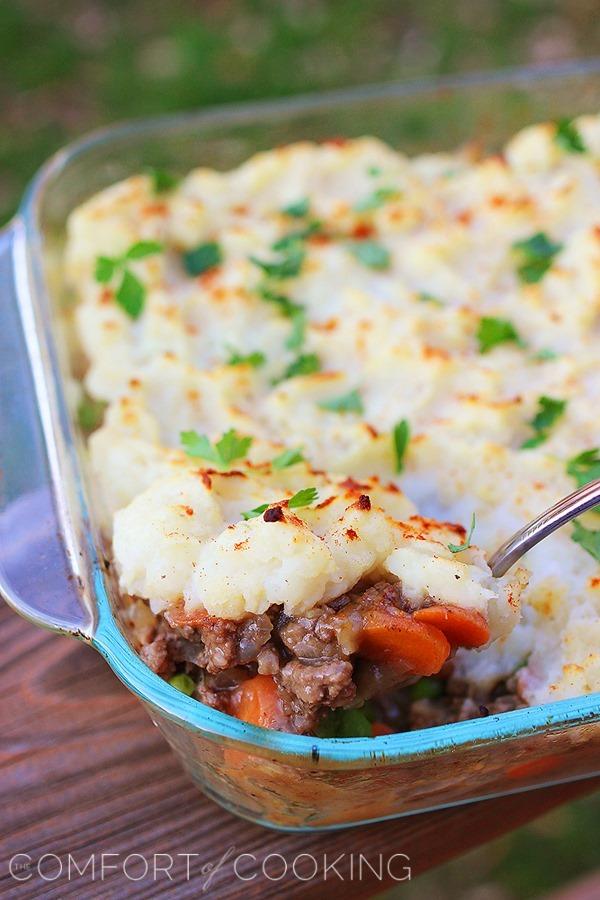 This delicious Shepherd's Pie (what some may also call "cottage pie") is so good, my husband always asks for it on his birthday, Pi Day! While I have visions of cherry lattice and chocolate cream, his mind is stuck on this scrumptious savory pie brimming with hearty beef and potatoes.
I can't exactly blame the man!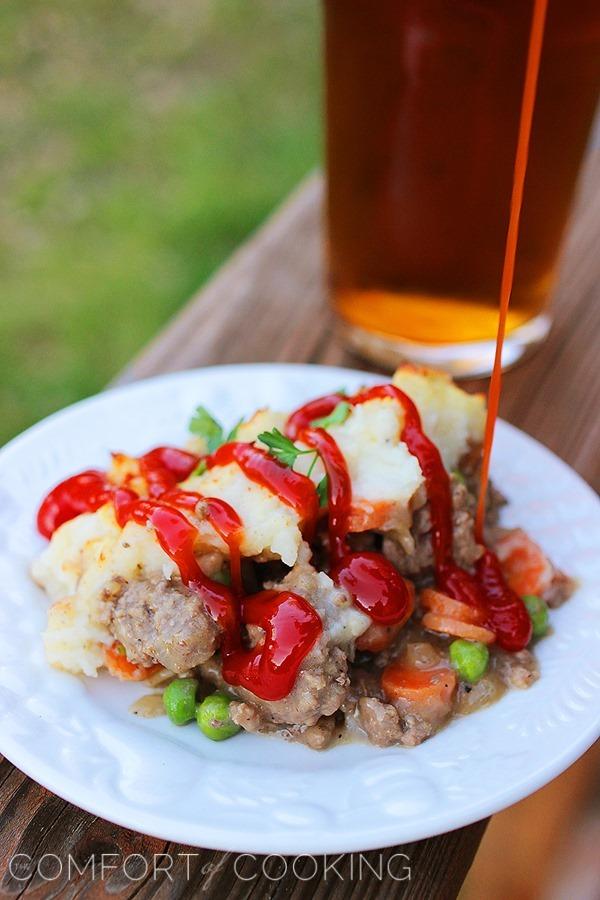 And, yeah… about this. Just make it happen. Trust me and do it. Ketchup + shepherd's pie = love.
You'll absolutely enjoy this as much as we do, and though it takes a little work, the taste is well worth it. It may even inspire some spoon-licking of your own! Try it sometime for yourself and some friends with man-sized appetites. You're gonna need them!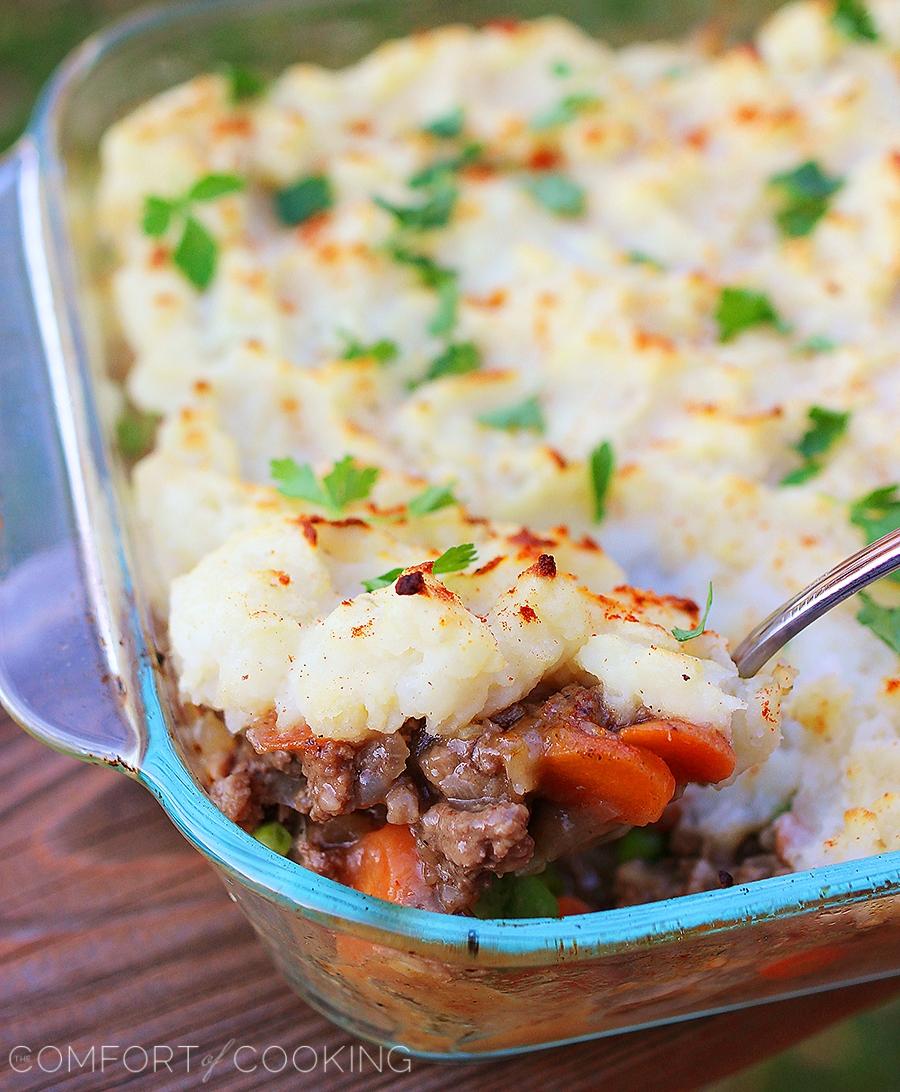 Shepherd's Pie
Ingredients
2 lbs. yellow potatoes, peeled and cubed
2 tablespoons sour cream or softened cream cheese
1/2 cup heavy cream or milk
Salt and freshly ground black pepper
1/2 teaspoon extra-virgin olive oil
1-3/4 pounds ground beef
1 carrot, peeled and chopped
1 onion, chopped
2 tablespoons butter
2 tablespoons all-purpose flour
1 cup beef stock or broth
2 teaspoons Worcestershire sauce
1/2 cup frozen peas
Pinch of sweet paprika
1/2 teaspoon chopped fresh parsley leaves
Instructions
Boil potatoes in salted water until tender, about 12 minutes. Drain potatoes and pour into a large bowl. Add sour cream, heavy cream, salt and pepper. Mash or blend with a hand mixer until smooth. Set aside.
Heat a large skillet over medium high heat. Add oil to hot pan with beef. Season with salt and pepper. Brown and crumble meat for 3 or 4 minutes. If the pan is fatty, spoon away some of the drippings. Add chopped carrot and onion to the meat. Cook 5 minutes, stirring frequently.
Stir in butter until melted. Add flour and stir until combined. Whisk in broth and Worcestershire sauce. Thicken gravy for 1 minute. Stir in peas.
Preheat broiler to high. Fill a small rectangular casserole with meat and vegetable mixture. Evenly spoon potatoes over meat. Sprinkle with paprika and broil 6 to 8 inches from the heat, until potatoes are evenly browned. Top with chopped parsley and serve.
Enjoy!