On a snowy winter day after school, dashing up my quarter-mile driveway with my backpack bouncing on my back, there were two distinct smells that I cherished coming home to: The thick, musky smell of the old wood stove crackling in my family's kitchen, and the sweet, tender smell of this lasagna bubbling in the oven.
In my small family of three, we left behind a few leftovers after every meal, but I don't recall seeing many traces, if any, after this lasagna made its debut. Served with a tomato salad and a fluffy piece or two of perfectly-done garlic bread, this lasagna is irresistibly yummy. Add a glass of your favorite wine, and dinner is on the table.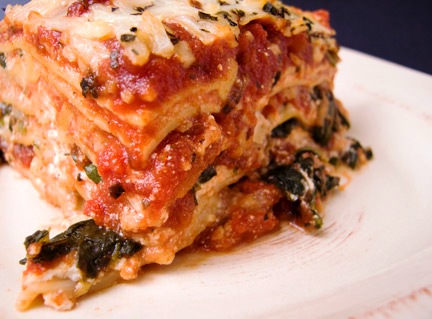 Classic Italian Lasagna
Ingredients
1

lb.

ground beef

1

tsp.

dried thyme

1

tsp.

crushed red pepper

1

tsp.

dried oregano

1/2

tsp.

garlic powder

1/4

tsp.

dried basil

Kosher salt and freshly ground pepper

1

egg

beaten

2-1/2

cups

shredded mozzarella cheese

1 15

oz.

container ricotta cheese

½

cup

freshly grated parmesan

¼

cup

chopped fresh parsley

5-6

leaves

of fresh basil

chopped

1 25-28

oz.

jar pasta sauce

12

lasagna noodles

uncooked
Instructions
Preheat oven to 350 degrees. Line a 13 x 9-inch baking dish with aluminum foil. Set aside.

Brown meat in a large skillet over medium-high heat. Add thyme, crushed red pepper, oregano, garlic powder and dried basil while still cooking. Meanwhile, mix egg, 1-1/4 cups mozzarella cheese, ricotta cheese,1/4 cup parmesan, parsley and basil until well blended. Set aside.

Drain beef, return to skillet. Stir in pasta sauce. Spread 1 cup of the sauce onto the bottom of the prepared baking dish. Top with layers of lasagna noodles, one-third of the ricotta cheese mixture, and 1 cup of the sauce. Repeat layers twice. Top with remaining 3 noodles and the remaining meat sauce. Sprinkle with remaining 1-1/4 cups mozzarella cheese and ¼ cup parmesan. Spray one side of aluminum foil with cooking spray (to avoid cheese sticking) and lightly cover dish.

Bake 45 minutes. Remove foil; bake an additional 15 minutes, or until heated through. Let stand 15 minutes before cutting to serve.

Enjoy!