Steamed Mussels in White Wine and Tomato Sauce
Every time I visit Boston, the one restaurant I must visit is Mother Anna's in the North End. For twelve bucks, you can be served the most mouthwatering, scrumptious bowl of saucy steamed mussels fit for a king, and alongside it a hunk of freshly baked Italian bread. Swoooon…. It's this dish that has remained my absolute favorite decadence on a cold winter day in New England, and I've finally learned to recreate it in my own home!
Steaming in a big pot with sautéed garlic, onions, my favorite white wine and a homemade tomato sauce, the aroma of these mussels was just heavenly. Plus, after steaming in the pot for just under 10 minutes, they were ready in a snap!
The same as I've always done at Mother Anna's, I devoured these delicious mussels and scooped up the fragrant, hearty tomato sauce with a hunk of soft Italian bread. It was such a tasty meal that I know you'd enjoy, too, and such a comfort to know that I could replicate one of my favorite Boston dishes in my own kitchen.
Craving more? Keep in touch on Facebook, Twitter, Pinterest and Instagram for new post updates and more. You can also contact me with any questions or inquiries!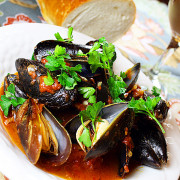 Steamed Mussels in White Wine and Tomato Sauce
Ingredients:
Mussels
2 garlic cloves, minced
1/4 teaspoon dried hot red pepper flakes
1 ½ tablespoons extra-virgin olive oil
1/2 cup dry white wine
2 cups tomato sauce (recipe below)
2 pounds mussels, scrubbed
Tomato sauce
3 tablespoons extra-virgin olive oil
1 medium onion, finely chopped
2 garlic cloves, finely chopped
1 (28- to 32-ounce) can whole tomatoes in juice
1 teaspoon salt, or to taste
1 teaspoon sugar (optional), or to taste
Directions:
Mussels
Cook garlic and red pepper flakes in oil in a large, heavy pot (I used a 5.5 quart Le Creuset) over moderately low heat, stirring, until garlic is pale golden, 1 to 2 minutes. Add wine and boil over high heat 2 minutes. Add tomato sauce and mussels and cook over moderately high heat, covered, stirring occasionally, until mussels just open wide, 6 to 8 minutes. (Discard any mussels that are unopened after 8 minutes.) Serve immediately.
Tomato sauce
Preheat oven to 325 degrees F.
Cook onions and garlic in oil in a 2- to 4-quart heavy ovenproof saucepan over moderately low heat, stirring, until softened, about 5 minutes.
Add tomatoes, including juice, and salt, then cover and put in the oven for 1 ½ to 2 hours, stirring and mashing tomatoes with a fork occasionally, until sauce is thickened and reduced to about 3 cups.
If sauce tastes too acidic, add sugar and cook 5 minutes more.
Enjoy!