Mom's Curried Butternut Squash Soup
Come fall and winter, there's nothing better than a big bowl of hot soup. After just one spoonful, you instantly feel warmed to the bone and "hugged" from within. Especially with my tiny, blonde, yoga-loving mother 3000 miles away, I could definitely use the feeling of her hug now and then.
Instead, though, I have her regular calls, emails and shared recipes to cling to when she's not in person for a real embrace. This butternut squash soup recipe was one she recently shared during one of our 30-minute "quick chats", and since I had been craving a hearty, cozy soup, I knew I had to make it right away. After all, if your mom says it's good, you KNOW it's good.
Not only was this butternut squash soup good, it was very simple and only required a handful of the most basic, fresh ingredients. Plus, no heavy cream required and only 1 tbsp. of butter, so it's not all that bad for you!
The aroma was something else: Fragrant, musky curry powder mixed with caramelized onions, butter and fresh ginger turned my little apartment into a sweet-smelling shangri-la. And, once the butternut squash joined the party, I could hardly help myself from dipping a finger right into the pot.
Topped with a swirl of sour cream, if you wish, or maybe some crispy cooked bacon and freshly grated Parmesan, this soup is one you'll want on your list in the oncoming colder months!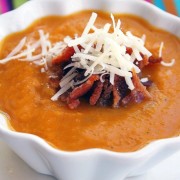 Curried Butternut Squash Soup
Ingredients:
1 tbsp. butter
1 cup chopped onions
1 tsp. curry powder
3 pounds butternut squash, peeled and cut into 1-1/2 in pieces (about 6 cups)
2 (14.5-oz.) cans chicken broth
2 cups water
3 tsp. grated ginger (Buy a fresh ginger root and grate it - it keeps great in the freezer!)
1/4 tsp fresh ground pepper
1/3 cup sour cream or plain yogurt
Directions:
Peel and cut squash. Melt butter in a deep soup pan set to medium heat. Caramelize onions. Stir in curry powder toward the end; cook 1 minute, until fragrant. Stir in squash, broth, water, ginger, salt, and pepper. Increase heat to high, boil, then reduce heat and simmer 20 minutes, until squash is tender.
Remove and puree squash mixture in batches, transfer back to large pot. Or, if you have an immersion blender, just blend right in the pot. Simmer for 20 minutes, adding more liquid to thin the soup, if necessary.
When serving, ladle out, then put a dollop of sour cream or plain yogurt right in the middle and swirl, amazing taste and eye appeal!
If desired, top with crispy cooked bacon and freshly grated Parmesan. Serve with salad and crusty bread.
Enjoy!