This tangy, sweet and salty beef roast makes for one mouthwatering meal on a bun, or served on top of fluffy mashed potatoes! It's our new slow cooker favorite.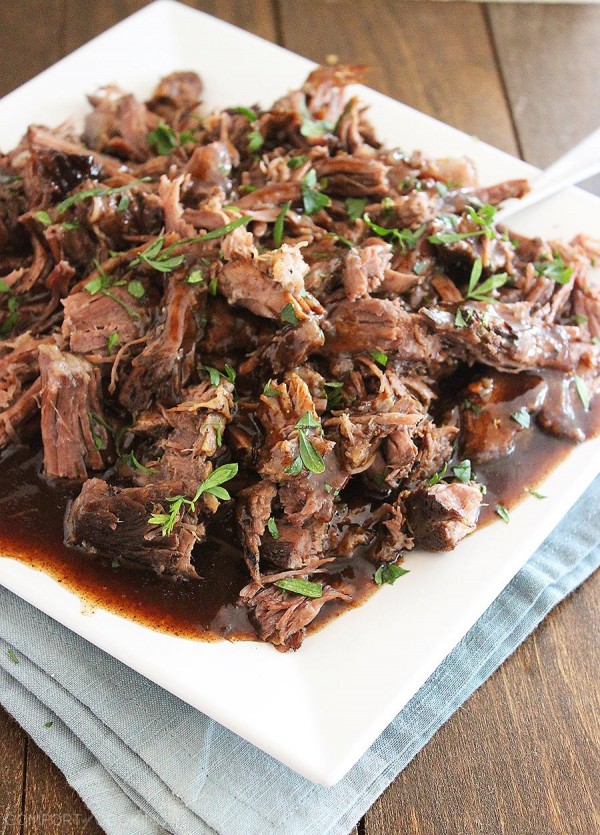 Can someone please scrape me up with a spatula? I think I've melted to the ground.
Texas is toasty this time of year, and it's got me avoiding the oven… except for the occasional batch of chocolate chip cookies (a new mama's gotta have her vices). Instead, I'm mixing up most dinners with my slow cooker, like this mouthwatering balsamic glazed roast beef.
Diet food? Er, no. Stick-to-yer-ribs scrumptious? You betcha.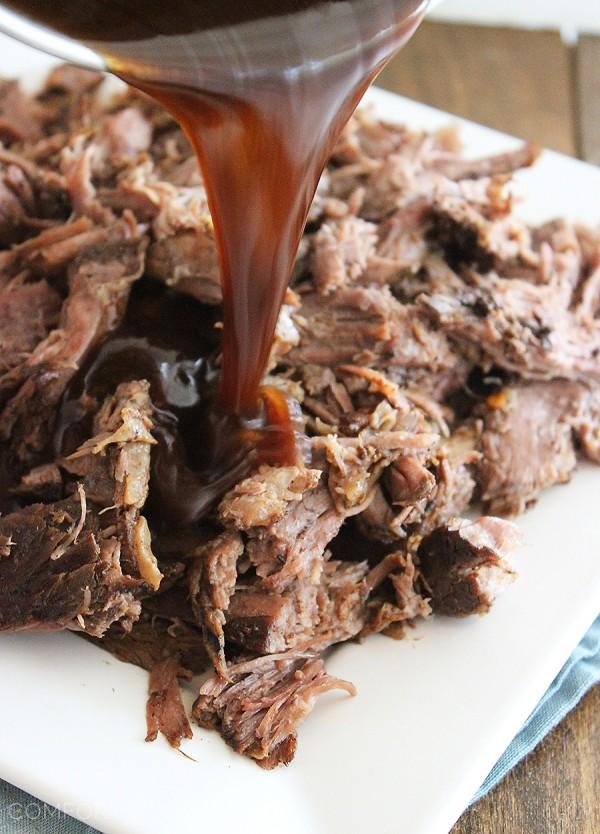 A mixture of beef broth, balsamic vinegar, soy sauce, honey and spices makes the roast tangy, sweet and salty all at once. The beef is tender and juicy, and the balsamic glaze is just the cherry on top. Served over fluffy mashed potatoes, every forkful is irresistibly good. With a frosty beer? Even better.
Cook the roast whole, then slap it onto a cutting board and shred it up. Remember you have people to feed (probably, if you're cooking this) and try not to eat as you go. Meanwhile, make your mash and bubble up your balsamic glaze by combining the cooking juices with soy, brown sugar, and a little salt and pepper. Drizzle it allll over the beef. Spoon your potatoes onto serving plates, heap the glazed beef on top, and dig in. Deeee-vine!
You're just gonna flip for this fabulous slow cooker meal – we sure did!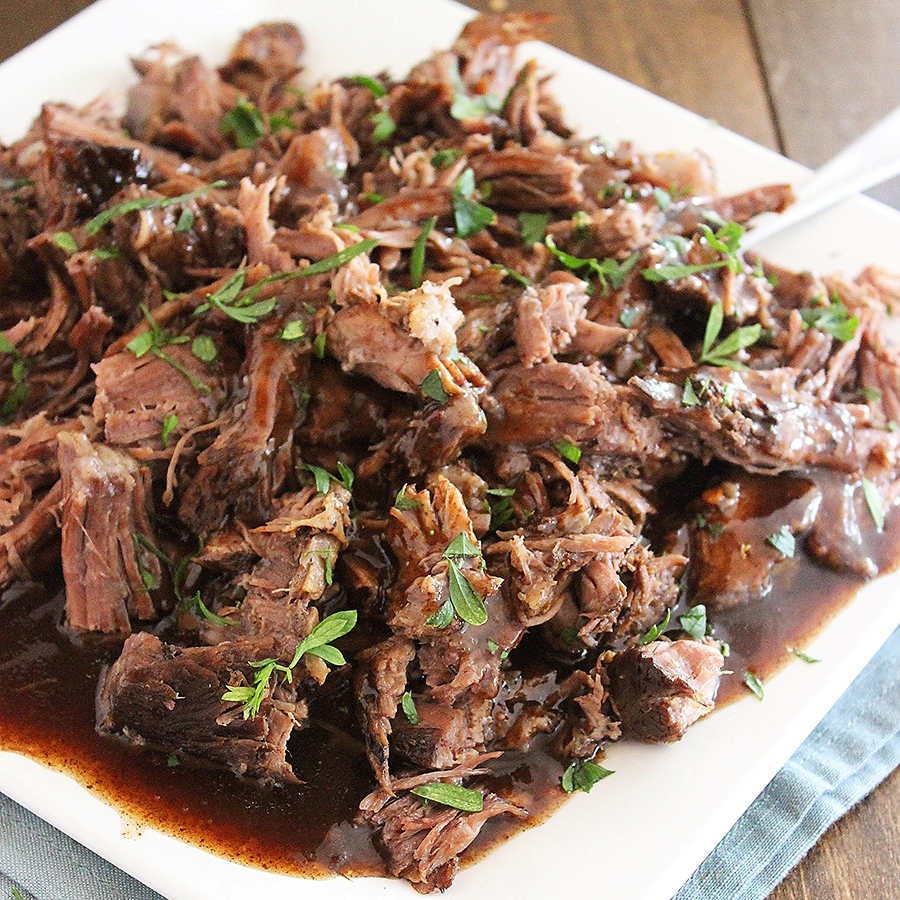 Slow Cooker Balsamic Glazed Roast Beef
Ingredients
For the roast:
1 3-4 pound boneless whole chuck or round roast
1 cup beef broth
1/3 cup balsamic vinegar
2 Tablespoons soy sauce
2 Tablespoons honey
1 teaspoon garlic powder
1/2 teaspoon red pepper flakes
1/4 teaspoon black pepper
For the glaze:
1 1/2 cups cooking liquid, from the roast, strained
2 tablespoons cornstarch + 2 tablespoons water
3-4 Tablespoons balsamic vinegar
1/4 cup brown sugar
1 Tablespoon soy sauce
Salt and pepper, to taste
Instructions
For the roast:
Place roast beef in a lightly greased slow cooker.
In a medium bowl, combine beef broth, balsamic vinegar, soy sauce, honey, garlic powder, red pepper flakes and black pepper. Pour over roast beef. Cover and cook on low for 4-6 hours, or until beef is tender.
Remove roast from slow cooker and slice or shred. Cover and keep warm.
For the glaze:
Remove 1 1/2 cups of liquid from the slow cooker and pour through a mesh strainer into a medium saucepan.
Stir together cornstarch and water in a small bowl. Whisk into saucepan, along with balsamic vinegar, brown sugar and soy sauce. Bring to a boil, whisking constantly, until mixture thickens. Season with salt and pepper, to taste. If desired, add additional water or cooking liquid for a thinner glaze.
Pour glaze over beef and serve.
Enjoy!