The perfect after-school (or work) snack! Just 5 ingredients + 5 minutes. Super easy, delicious and nutritious apple bites with peanut butter, granola and a chocolate drizzle. Kids and adults alike love these!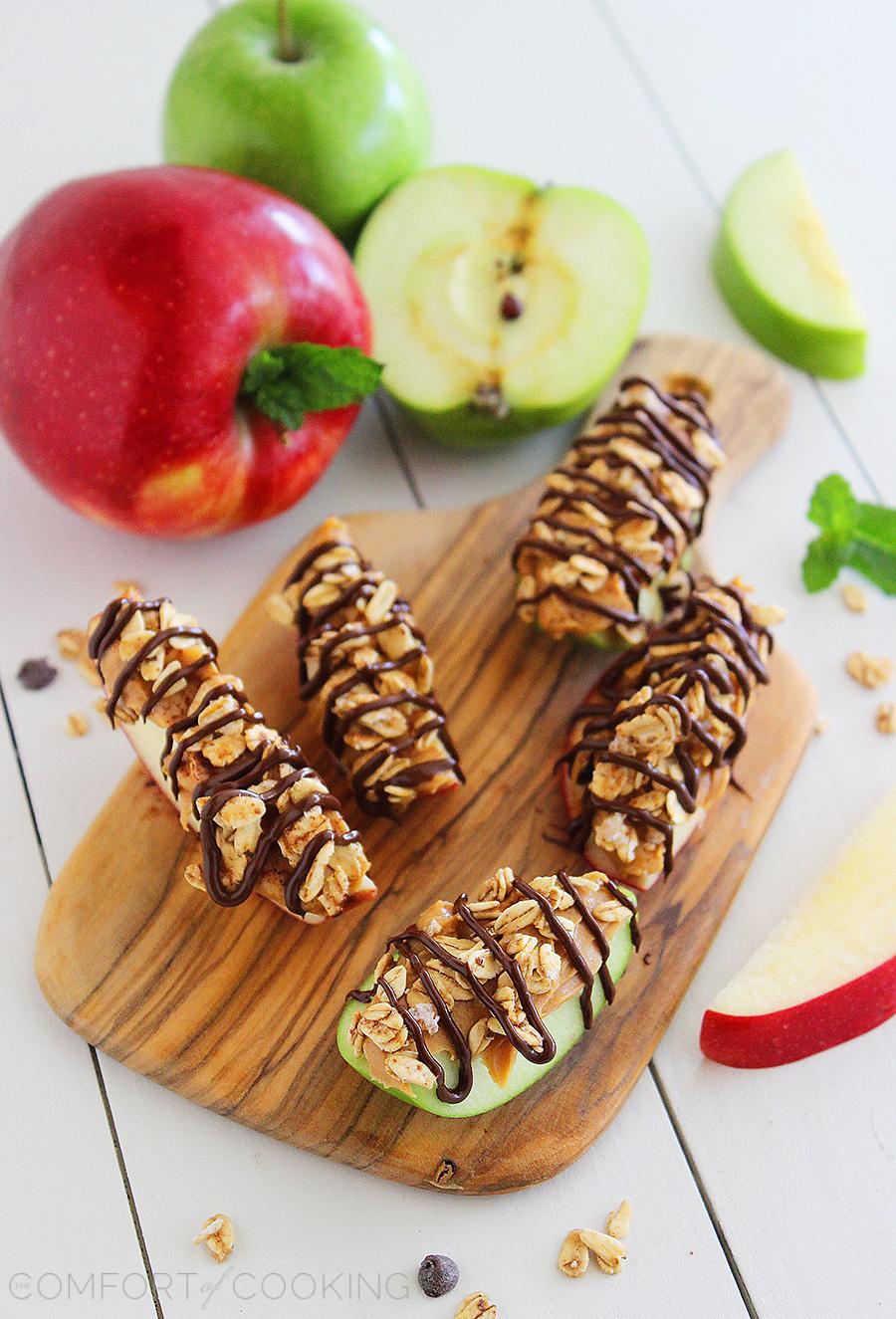 I am so excited for fall, y'all. Why my craving for cinnamon, cozy sweaters and crunchy leaves hits on the hottest day of the year, I'm not quite sure… But I think it has something to do with my feeling lately of "Oh-my-god-save-me-I'm-melting"! Yup, we're averaging in the 100's here in Austin and this lady ain't lovin' it. In protest, I've abandoned exercising, cooking and any clothes other than tanks, shorts and flops. We're in dire straits here, people.
Summer, you were fun, but I'm so over you. You've been hanging around since May-ish, and now it's time to pack your bags. Let's talk ripe apples and creamy peanut butter with a sprinkle of granola and a drizzle of dark chocolate. Healthy, delicious and perfect for smart fall snacking!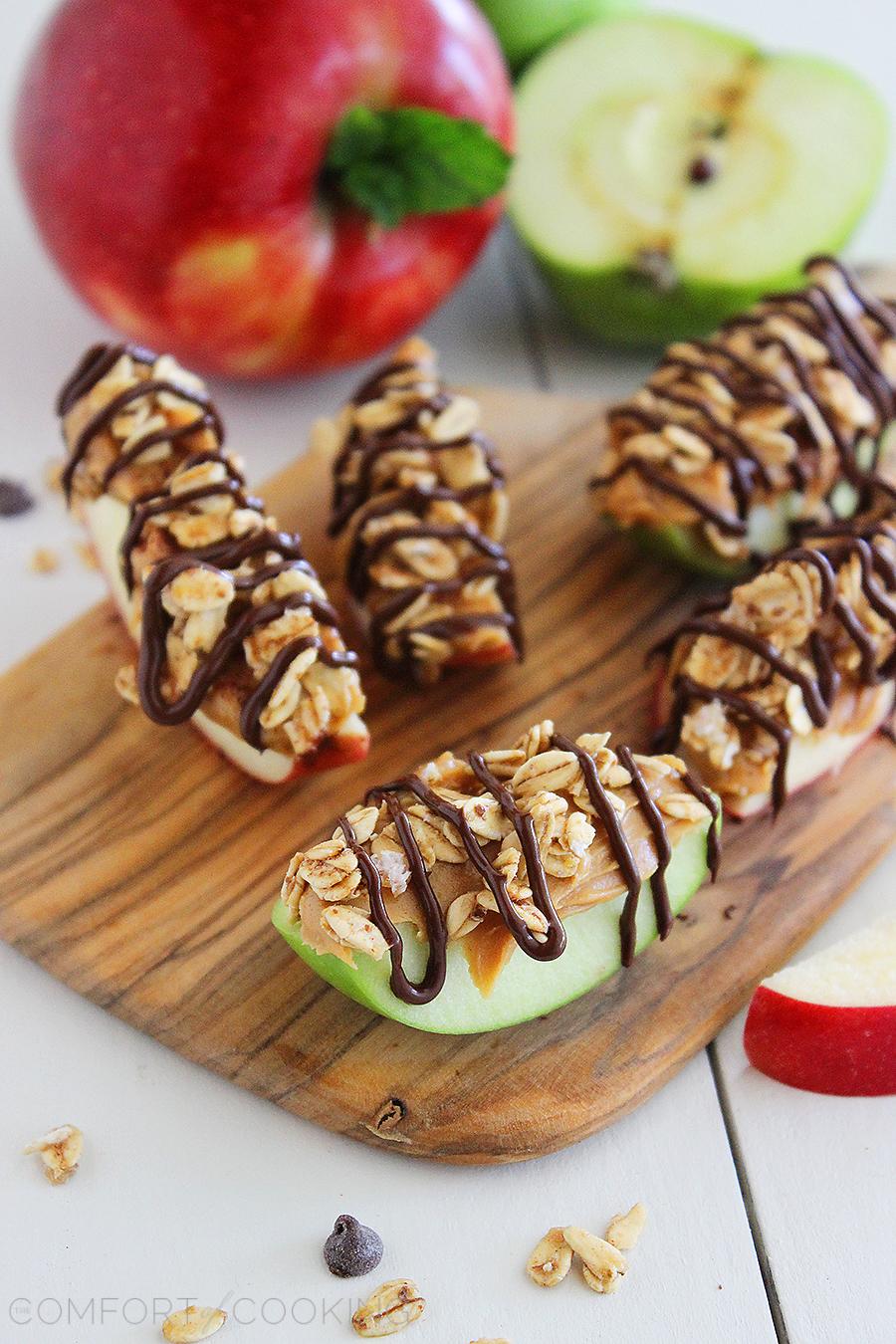 I have been absolutely nuts for these loaded little apple bites lately. They take about 10 minutes to make, are incredibly delicious, and pack a serious punch of protein. Fun to make and so yummy!
Just grab your favorite apples (I think these are best with a sweeter red apple), a tub of peanut butter, your favorite crunchy granola, and if you'd like, some semisweet chocolate chips. Slice 'em up, slather them with peanut butter, and go gaga with the granola. Drizzle melted chocolate over each bite for a lovely and even more delicious effect!
And while you're here, how about a fun fact – Did you know that apples contain no fat, sodium or cholesterol? They're also a great source of dietary fiber and give your immune system a big ole' boost. So, have an apple and say sayonara to nasty colds and flus!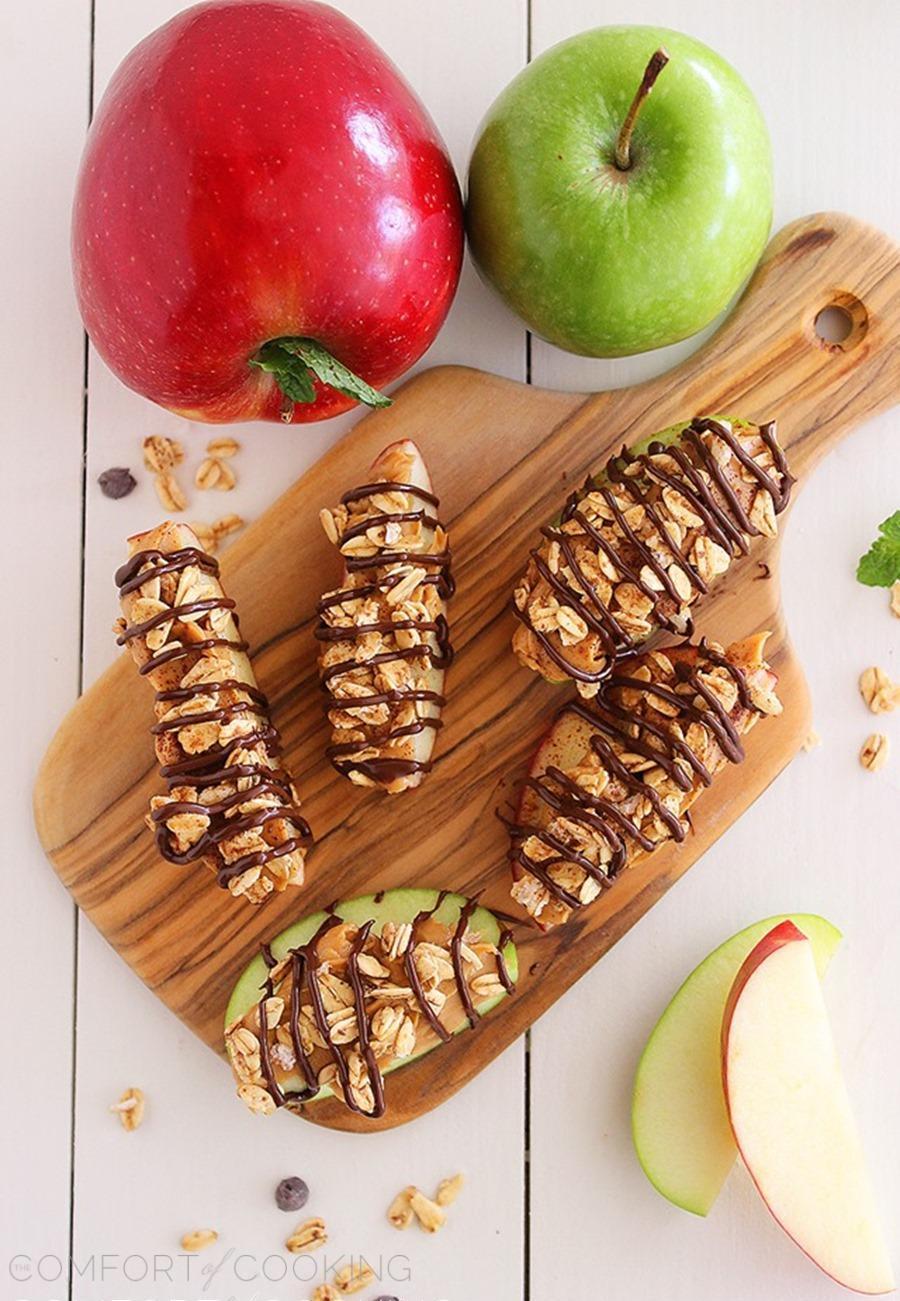 For after-school snacking or fall partying, these pretty and nutritious little bites will totally win you over! They have definitely been one of my go-to snacks lately, but of course, too much of a good thing doesn't make it a "good for ya'" thing any more. Moderation, y'all!
If your apple slices don't stay sitting upright, feel free to just coat the ends of the slices in peanut butter, granola and chocolate. It will give a fun "dipped" look and be just as delicious. Also, paint a little lemon juice on your slices if you're not serving the bites right away. No one likes brown apples!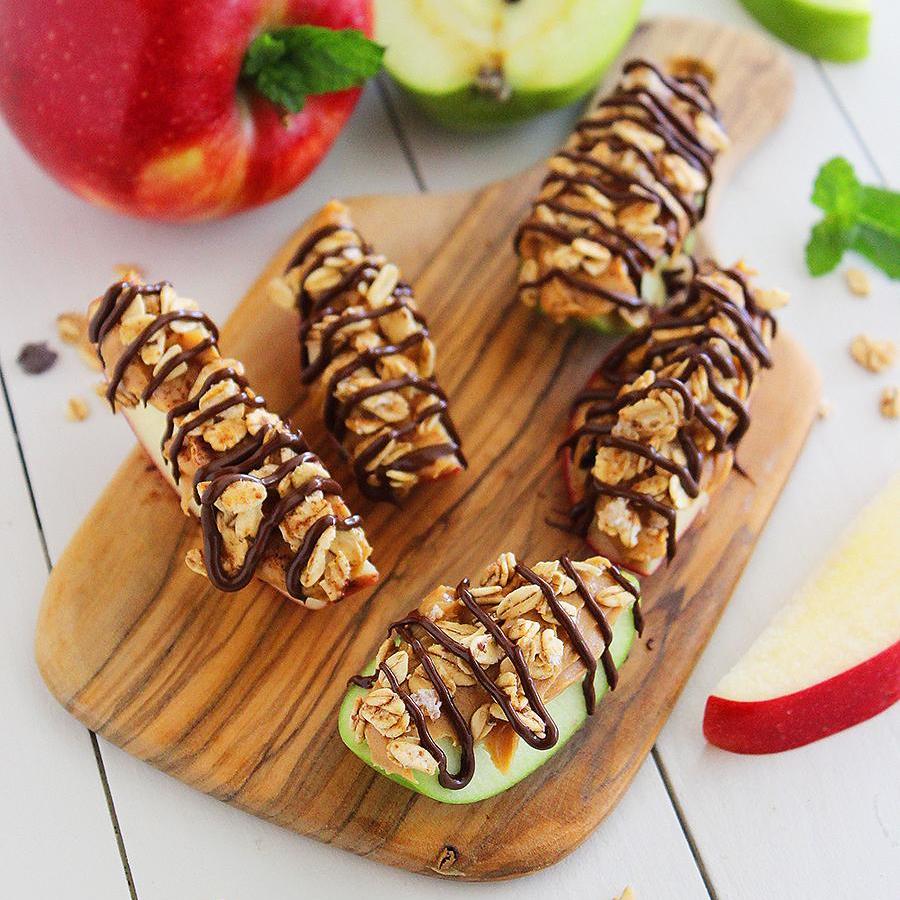 Chocolate-Peanut Butter Granola Apple Bites
Ingredients
2 apples, sliced into wedges
1/4 cup peanut butter
1/4 cup granola, your favorite
1/4 teaspoon ground cinnamon, for sprinkling
Semisweet chocolate chips, optional*
Instructions
Coat tops of apple wedges in peanut butter and sprinkle with granola and cinnamon.
Melt chocolate chips in the microwave, stirring in 30 second increments until melted. Be careful not to overheat.
Drizzle wedges with melted chocolate, set on a large platter and serve.