For the past week, whenever the temperature has been too much to handle and I just have to cool down, I haven't been grabbing a handheld fan or flipping on the air conditioning. Instead, I've been submerging my head in the frigid air of my freezer for a few minutes, and then grabbing a Tupperware full of this incredibly refreshing, icy cold strawberry granita.
Granita is a littie bit Popsicle, a little bit Italian ice, and a whole lotta delicious on a hot summer day. It's very simple to make, and you can play around with limitless flavors (See here for lemon and grape granita recipes and step-by-step photos). The only gadgets you need are a small food processor, plastic container and metal fork, which is good because I'm sure you, like me, don't have a lot of extra space in your kitchen for any more lumbering gadgets. I'm talkin' to you, ice cream maker.
All you need is something to do for two hours, in between scraping the sides of the container full of lush, icy strawberry decadence, and a bowl and spoon at the ready. Or, hey, just eat it from the container… that's fine, too.
I know you'll just love this fresh strawberry granita, whether you're serving it for friends or just sitting outside with a Tupperware in your lap and enjoying it all for yourself. This one will cool you to the core… no handfans or air conditioning necessary.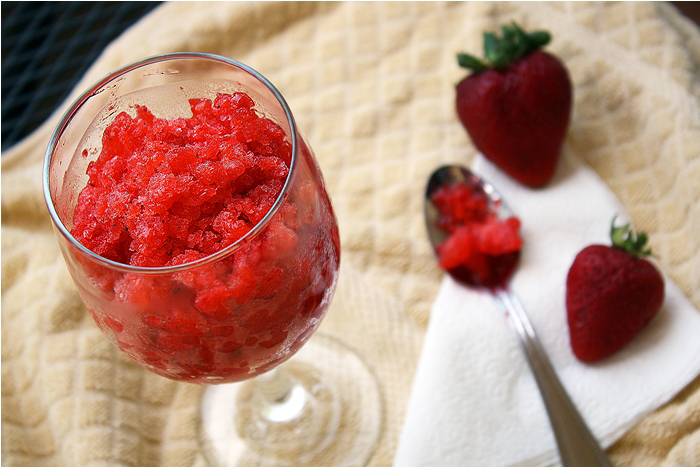 Strawberry Granita
Ingredients
1

cup

hot water

3/4

cup

sugar

2

tablespoons

fresh lemon juice

3

cups

sliced, hulled strawberries

plus additional berries for garnish
Instructions
Stir first 3 ingredients in a small bowl until sugar dissolves. Blend 3 cups strawberries in processor until smooth. Add sugar syrup and blend until combined.

Pour mixture into 13 x 9-inch nonstick metal baking pan. Freeze until icy around edges, about 30 minutes. Using fork, stir icy portions into middle of pan. Freeze until mixture is frozen, stirring edges into center every 30 minutes, about 2 hours. Using fork, scrape granita into flaky crystals. Cover tightly and freeze. Scrape granita into bowls. Garnish with berries and serve.

Enjoy!
Notes
Can be made 1 day ahead. Keep frozen.