Have you ever added a new ingredient or spice to a dish you've always loved, and found out that it's even better with the addition? Take, for example, roasted potatoes. Good with meatloaf, roast chicken, pork tenderloin… pretty much any meal!
Roasted potatoes have always been one of my most favorite side dishes. However, I needed to jazz them up a bit for our recent dinner party and decided to throw in some sweet, tender pearl onions. What a delicious difference!
This recipe is an incredibly easy and elegant take on a classic comfort food dish. I hope you'll give it a try!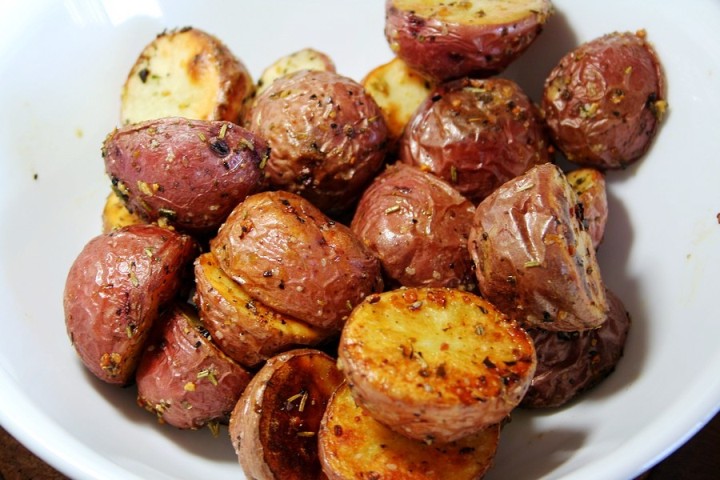 Herb Roasted Potatoes & Pearl Onions
Ingredients
2 pounds red potatoes, well-scrubbed and cut into quarters
1 package (10 ounces) pearl onions
2 tbsp. extra-virgin olive oil
2 tsp. dried basil
2 tsp. dried thyme
1 tsp. paprika
1 tsp. salt
1 tsp. dried rosemary
1 tsp. freshly ground black pepper
Instructions
Preheat oven to 450 degrees. Spray a cookie sheet with nonstick cooking spray.
Boil a pot of water (fill about 2 inches deep). Once boiling, add pearl onions and parboil for 5-6 minutes, or until skins begin to loosen. Drain water, fill pot with cold water and peel skins until you have a tender, translucent onion.
In a large mixing bowl, combine olive oil, basil, thyme, paprika, salt, rosemary and pepper. Add potatoes and onions. Toss with your hands to coat lightly with oil and seasonings. Transfer to the cookie sheet.
Bake 20 minutes, or until potatoes are browned and tender. Sprinkle with salt and pepper, and serve.
Enjoy!