Sizzle up this fresh, colorful Caprese Chicken on your grill or in your skillet. Served with garlic bread and salad, it's a scrumptious summer meal!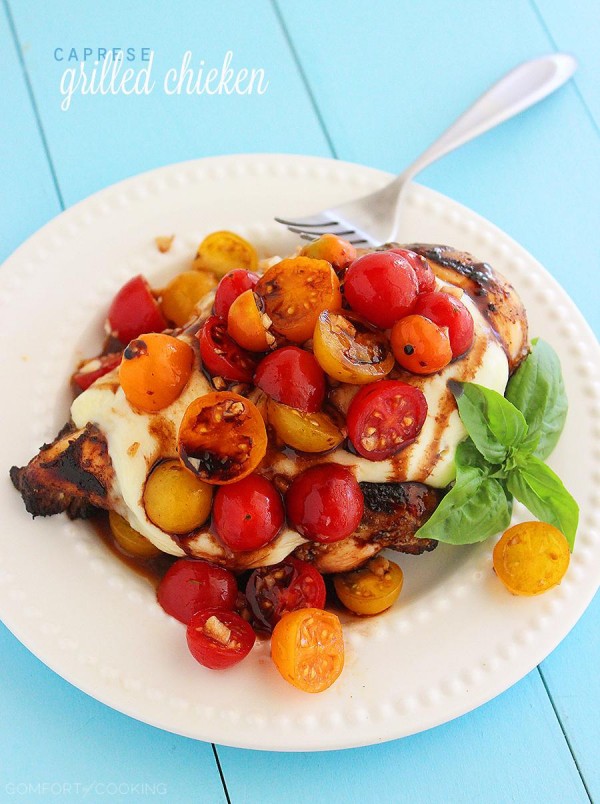 When the weather warms and fresh tomatoes are in abundance, I can't get enough caprese. The mixture of tangy balsamic vinegar with sweet tomatoes, salty soft mozzarella, garlic and olive oil is my favorite flavor combination ever. We're talking ever ever. And I eat a lot.
Served with a juicy hunk of grilled chicken, dinner doesn't come any easier. Add a big green salad, some garlic bread and a glass of wine, and honey… you're speakin' my language.
It's summer on a plate!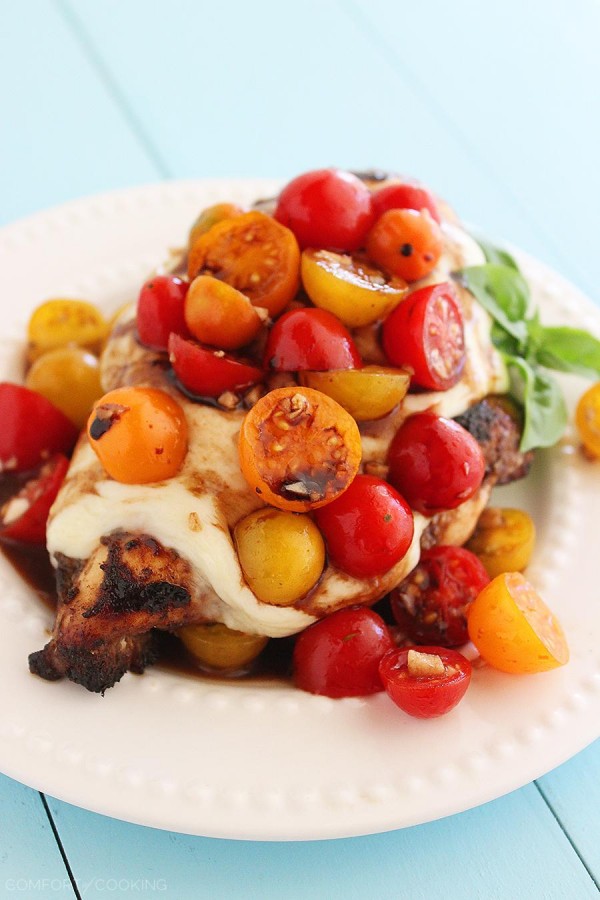 Basically, what I'm saying is, if you came over for dinner, this is what we'd eat. This meal is just as impressive for hungry guests as it is for weeknights that call for something fresh and colorful. And it's not bad to look at, either!
I like to marinade my chicken in a mixture of olive oil, vinegar and Italian seasonings, but use what you like. You could spice it up with red pepper flakes, go for a bit more fragrance with rosemary and thyme, add some citrusy brightness with lemon zest… Get creative with it!
Here in Austin, it's inconceivable to fire up your oven past June. So, we grill. But if you don't have a grill, you can bake the chicken or sizzle it up in a skillet. Just add your mozzarella during the last few minutes of cooking. That melty, gooey goodness is what MAKES this chicken, so go for the fresh mozz if you can. It provides the perfect pillowy bed for a pile of sweet, tangy tomatoes!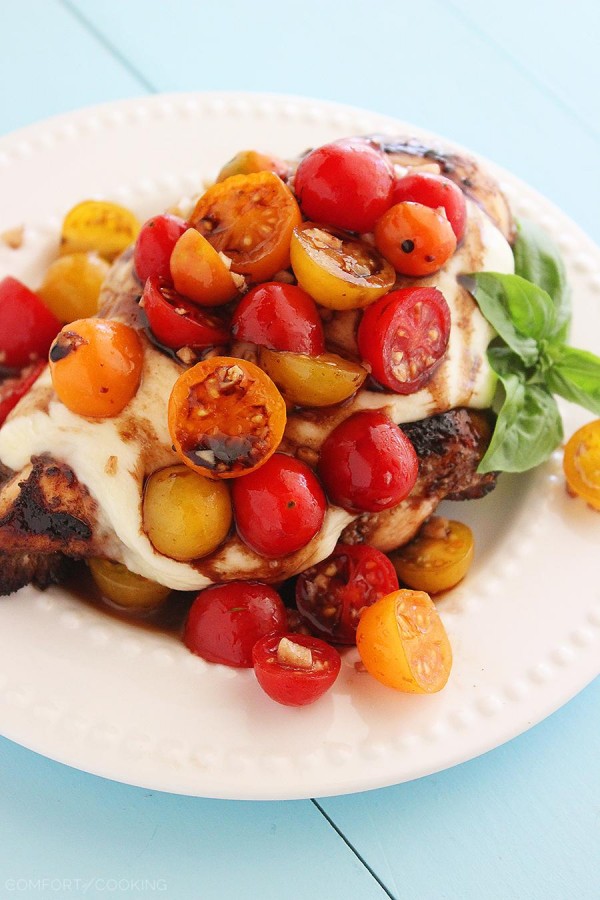 Craving more? Keep in touch on Facebook, Twitter, Pinterest and Instagram for new post updates and more. You can also check out my FAQ page, or contact me with any questions or inquiries!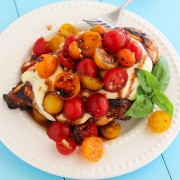 Caprese Grilled Chicken
Ingredients:
2 chicken breasts, halved horizontally
3 Tablespoons olive oil
2 Tablespoons balsamic vinegar
1/4 teaspoon garlic powder
1/4 teaspoon Italian seasoning
Salt and pepper, to taste
6 slices fresh mozzarella
2 cups cherry or grape tomatoes, halved
2 cloves garlic, minced
1/4 cup fresh basil, chopped
Directions:
Preheat your outdoor grill or grill pan to medium-high.
Coat chicken breasts with olive oil, balsamic vinegar, garlic powder, Italian seasoning, and salt and pepper. Grill chicken for about 15 minutes, flipping halfway through cooking time. Top chicken with 2 slices mozzarella each, cover grill, and allow chicken to cook through, about 5 minutes more.
In a medium bowl, combine tomatoes and minced garlic. Add a splash of olive oil and balsamic vinegar. Season with salt and pepper; toss to coat. Serve chicken, spoon tomato mixture over each portion, and sprinkle with fresh basil.
Enjoy! (This is great served with crusty bread and a salad!)