The beautiful city of Barcelona has been so good to us, but soon it's time to say "adéu" as the Catalonians do. We're off to the South of France tomorrow, where lots more good food, wine and special time spent with family await! My in-laws are renting a cozy, comfortable house in a small village known for its winemaking. I can't wait to stroll the café-lined cobblestone streets, read by the river, and stock up on fancy French spices and cocoa powders!
My favorite French dishes are those that highlight the natural, vibrant flavors of fruits and vegetables, like these baked Provençal tomatoes! Stuffed with homemade breadcrumbs, fresh herbs, and grated Gruyere (or Parmesan, if you prefer), these tomatoes practically melt in your mouth…
For a little French flavor in your life, make these pretty little Provençal tomatoes as an appetizer for party guests or an elegant side dish! They're sensationally easy and absolutely delicious on their own, or alongside a light summer pasta dish or grilled meat.
So, it's time for me to take a blogging breather for the next week. I'm off to soak up the sun, sip lots of smooth red wine, and enjoy seven days in the French countryside!
In the meantime, you can follow me on Facebook to see a few pictures from our adventures in Europe.
See you with a new post next Friday, June 15!
Craving more? Keep in touch on Facebook, Twitter, Pinterest and Instagram for new post updates and more. You can also check out my FAQ page, or contact me with any questions or inquiries!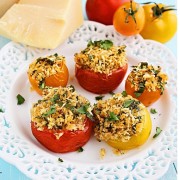 Baked Provençal Tomatoes
Yield: Makes 5-15 servings, depending on tomatoes used
Ingredients:
1 pint cherry or 5 medium-sized tomatoes
1 cup bread crumbs (homemade or panko)
6 fresh basil leaves, chopped
2 tablespoons chopped fresh flat-leaf parsley
2 cloves garlic, minced
1/2 teaspoon fresh thyme leaves
1/2 teaspoon kosher salt
Freshly ground black pepper, to taste
1/3 cup freshly grated Gruyère or Parmesan cheese
Extra-virgin olive oil
Directions:
Preheat the oven to 400 degrees F.
Cut an inch off the top and a little bit of the bottom of the tomatoes, so they stand upright. With a small spoon or melon baller, gently scoop out the inside of the tomatoes. Place the tomatoes in a shallow baking dish, and sprinkle with salt and pepper.
In a bowl, combine the bread crumbs, basil, parsley, garlic, thyme, and 1/2 teaspoon salt. Fill the tomatoes to the top with the bread crumb mixture. Drizzle a little olive oil over each.
Bake the tomatoes for 10-15 minutes, or until tender. Remove from oven and top with grated cheese.
Enjoy!