As I said in my last post, sweet breakfasts are kind of my thing – I've got to have at least a piece of fruit, and I hold pretty steadfast on that. But, as with most things in life, there's an exception. And you can bet your cinnamon buns that frittatas are that exception.
Ooo, cinnamon buns. WAIT! I will not be distracted.
Frittatas are so easy to put together, and they're my number one favorite savory way to enjoy a weekend breakfast. Whatever varied chopped vegetables or meat I have leftover from making weeknight dinners, it all goes in. They're super adaptable, darn delicious and so cute made mini that you just want to squeeze their little eggy cheeks. Come here, frittata!
For these mini frittatas made in muffin tins, I used shredded zucchini and small diced tomatoes and onions. Topped with a fluffy sprinkling of asiago and fresh basil, I think you could agree they're just about the best thing to welcome you into the weekend.
Feel free to get creative with your fillings – mostly any vegetable or meat cut small will do. For vegetables, try spinach, potatoes, bell peppers, squash, mushrooms, peas or asparagus. For meat, leftover cooked chicken, pork or ham would be delish!
Whatever you way you make 'em, there's no denying that these mini frittatas would be the hit of your breakfast or brunch table. Try them for yourself some weekend and I know you'll enjoy them just as much as I did!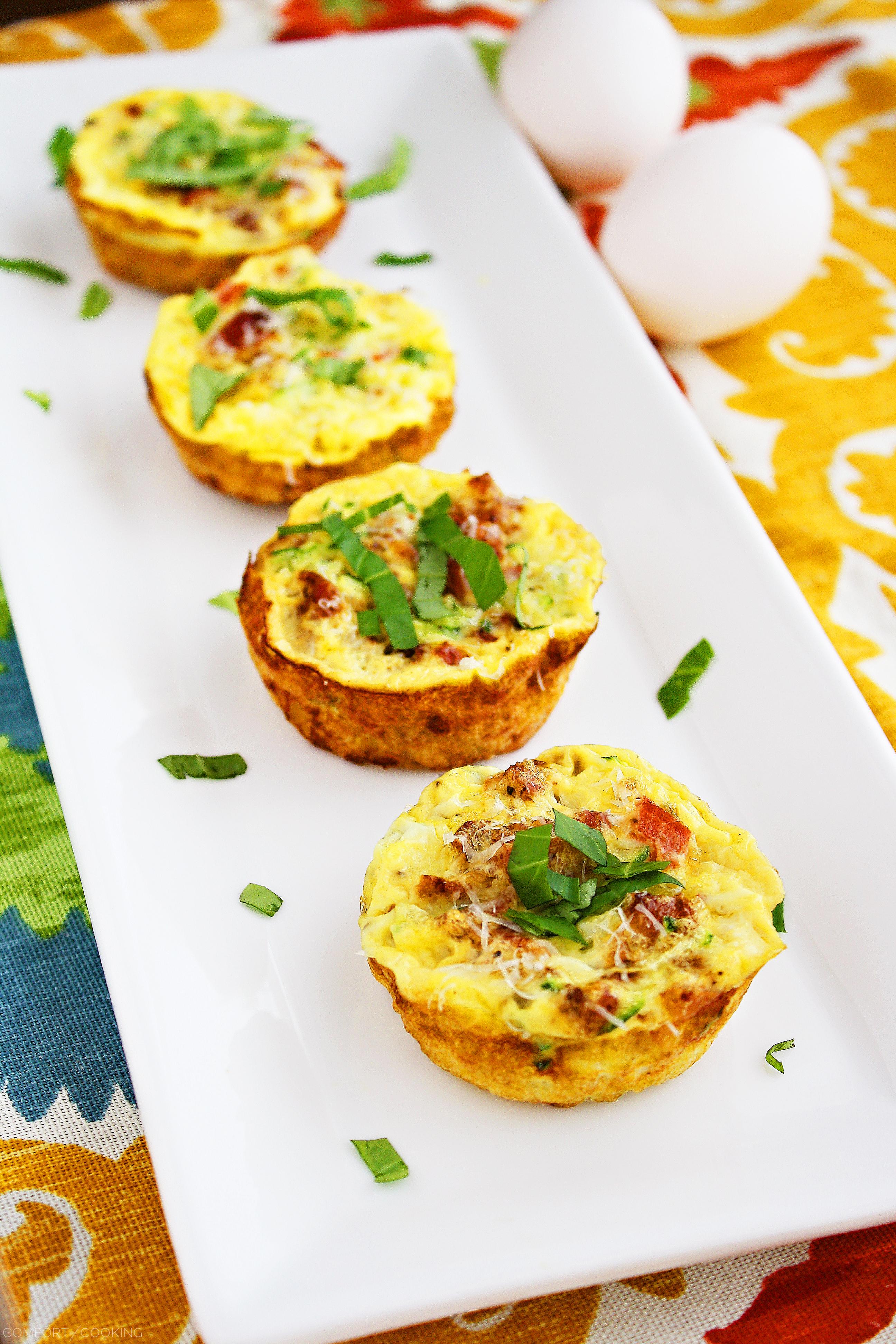 Mini Vegetable and Bacon Frittatas
Ingredients
2

eggs

4

egg whites

or 3 additional whole eggs, if you prefer

1/2

teaspoon

kosher salt

1/4

teaspoon

freshly ground pepper

1/4

teaspoon

garlic powder

3

slices

bacon

1/8

cup

small diced onion

1/4

cup

small diced tomato

seeds removed

1/4

cup

shredded or small diced zucchini

1/4

cup

finely grated cheese

I used asiago, but use any hard cheese you prefer

4

leaves

fresh basil

torn
Instructions
Preheat oven to 350 degrees F.

In a medium bowl, beat together egg and egg whites/whole eggs. Add salt, pepper and garlic powder.

Coat 6 cups of a muffin tin with cooking spray and set aside.

In a frying pan set to medium high heat, cook bacon for 4 minutes per side. Place strips on a paper towel lined cutting board. Let bacon cool then chop into small pieces.

Divide chopped bacon, onion, tomato and zucchini between the muffin tins. Top each muffin cup with the beaten eggs.

Bake for 15-20 minutes, until a toothpick inserted into the center comes out clean.

Remove pan from oven and top frittatas with grated cheese and basil. Let cool for about 5 minutes before running a small knife alongside each frittata to release it from the pan. Serve warm.

Enjoy!
Notes
Tip: Keep refrigerated for up to 4 days. To reheat two at a time, microwave on high for 30 seconds.