The holidays allow plenty of opportunities to get creative with delicious dinners, decadent desserts and stunning sides. But, sometimes we all forget that the little bites you set out before the main course are just as important.
These cinnamon roasted almonds with a touch of cayenne pepper for a little kick of spice make both a impressive and tasty snack and a thoughtful homemade gift for the holidays!
It's as simple as this: Toss some whole almonds in a mixture of egg whites and water, spread them out on a big baking pan, and sprinkle with sugar, salt, cinnamon and cayenne. After the almonds bake for about an hour, let cool. Then, just package them pretty in a re-sealable glass jar with a little ribbon, and voila! A sweet (and a little spicy) gift from your kitchen that everyone will love munching on!
Craving more? Keep in touch on Facebook, Twitter, Pinterest and Instagram for new post updates and more. You can also check out my FAQ page, or contact me with any questions or inquiries!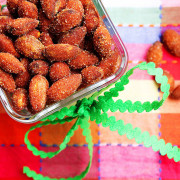 Spicy Cinnamon Roasted Almonds
Yield: About 16 servings (4 cups)
Ingredients:
1 egg white
1 teaspoon cold water
4 cups whole almonds
1/2 cup white sugar
1/4 teaspoon salt
¼ teaspoon cayenne pepper
1/2 teaspoon ground cinnamon
Directions:
Preheat oven to 250 degrees F. Lightly grease a large baking sheet.
Lightly beat the egg white; add water, and beat until frothy but not stiff. Add the nuts, and stir until well coated. Mix the sugar, salt, cayenne and cinnamon, and sprinkle over the nuts. Toss to coat, and spread evenly on the prepared pan.
Bake for 1 hour in the preheated oven, stirring occasionally, until golden. Allow to cool, then store nuts in airtight containers.
Enjoy!