This spicy-sweet, colorful pepper jelly is perfect on a toasted baguette with goat cheese, or slathered onto hot or cold sandwiches. Or, dollop it on top of frittatas and pizzas. Pack a jar for your next picnic, and give as gifts to family and friends!

This is a sponsored post written by me on behalf of Kraft Heinz. As always, all opinions are my own.


Hands down, I give it to bell peppers for the best summer veggie. They are so incredibly versatile, and are delicious raw, grilled, roasted or sizzled in a skillet! I use them year round, but they are particularly at their peak this time of year. That's why I love the idea of canning them for use months down the line, when I'm craving a sandwich with a little kick, or need a quick appetizer for last-minute company. The wonders that a toasted baguette, spreadable cheese and a dollop of hot pepper jelly can do! This gorgeously golden, veggie-filled spread makes a unique and delicious addition to any party, any time of year.
For this quick and easy vegetable recipe, you only need 5 ingredients and about 20 minutes, start to finish. Talk about an easy addition to your refrigerator condiments! Once you taste how perfectly tangy, spicy and sweet this hot pepper jelly spread is, you will reach for it for all of your appetizers, sandwiches and pizzas. You could also mix a few dollops with olive oil and garlic for a delicious meat, chicken or fish marinade. So simple, yet so versatile!
Some of my other favorite, super colorful summer veggie recipes? This Mango Slaw with Roasted Garlic Lime Dressing. So vibrant and citrusy! And you know I cannot resist a good Italian Caprese Salad! I live off of fresh summer flavors like these during the hot Texas summers.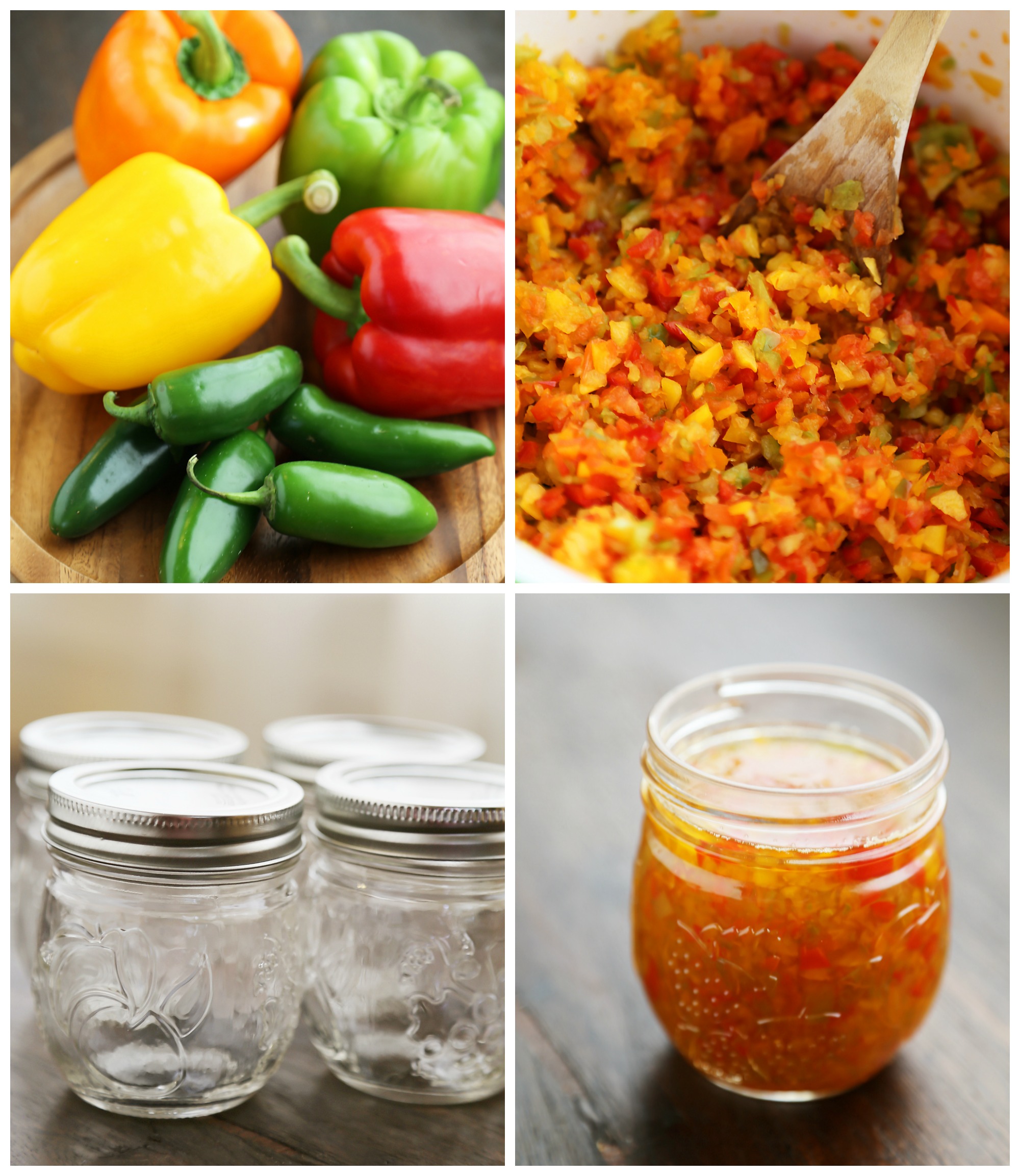 The steps to your own Hot Pepper Jelly are simple and quick. Just grab four of the best bell peppers you can find. I chose green, yellow, red, and orange for color variety. They should be firm and glossy, with a healthy stem, no bruises. Then, find some fresh jalapenos. While you're grocery shopping, might as well pick up a baguette and your favorite spreadable cheese (goat cheese, cream cheese, and Boursin are all good options) to enjoy with your jelly!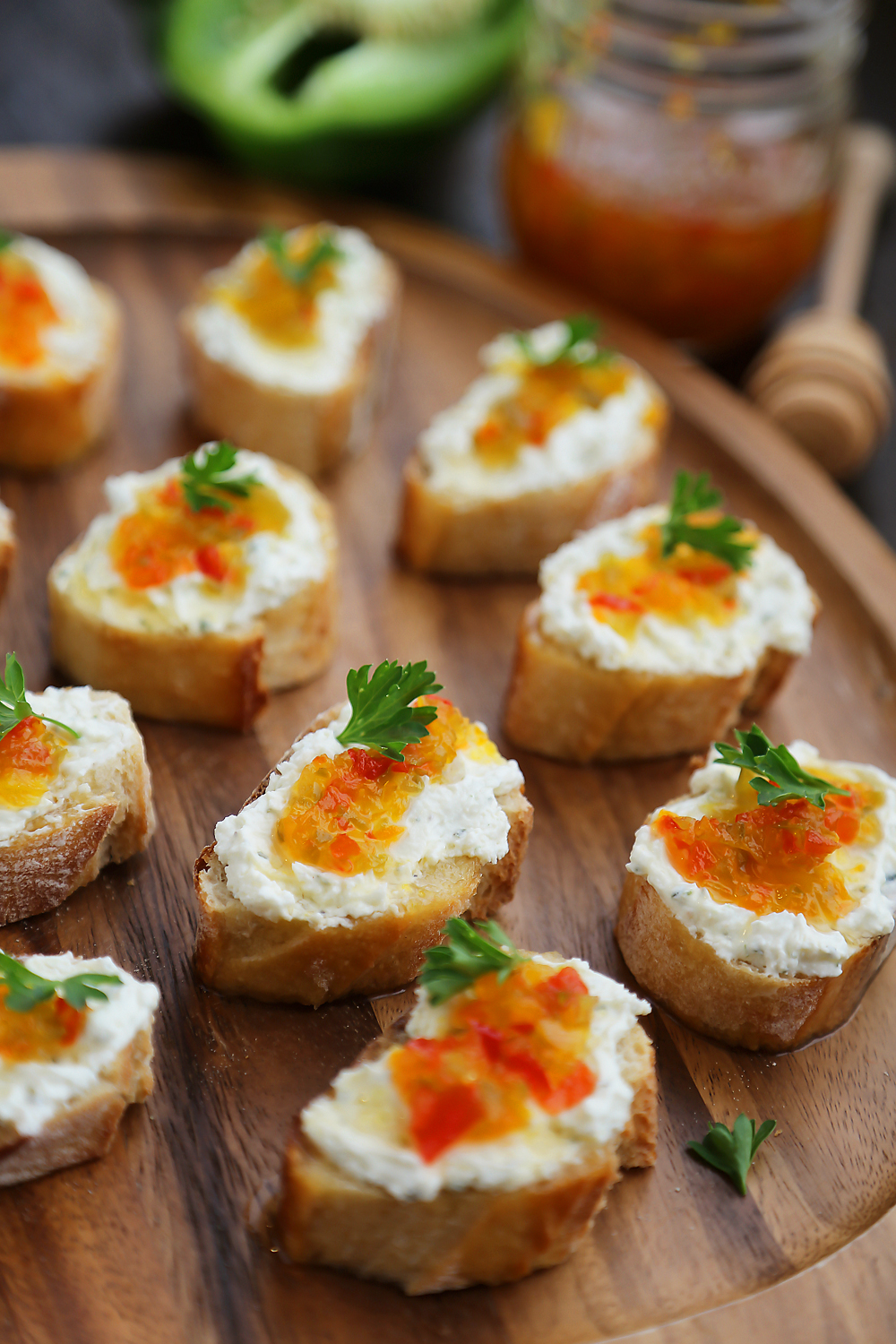 Now comes the fun part – creating your homemade hot pepper jelly! Roughly chop your peppers then place into a large, heavy bottomed pot. Cover with sugar and pour in a couple cups of apple cider vinegar. Heinz® Apple Cider Vinegar is really great in this recipe, because its mildness adds just the right amount of tang to the crisp, sweet bell peppers and spicy jalapenos. I love using their all-natural vinegar for preserving my peppers to perfection. It is made from sun-ripened corn, sweet apples and the finest grapes. This vinegar has been my longtime favorite for many years, and for many uses!
Once your peppers have begun to boil in the mixture, add your powdered pectin. The pectin will help the mixture set to a jelly-like consistency once it cools completely. Pour the peppers and liquid into your sterilized jars (instructions are included in the recipe), and let cool to room temperature on your countertop before refrigerating and using as a spread.
When it is ready, the options are endless! Spread it on your favorite frittata recipe, hot and cold sandwiches, crostini, pizzas, and mix with olive oil for a meat marinade. You cannot go wrong with this scrumptious, simple combination of tangy, spicy-sweet flavor in a convenient little jar. You can even give as host gifts for a party, wrapped up with some nice cheese and crackers, or pack a jar for your next picnic.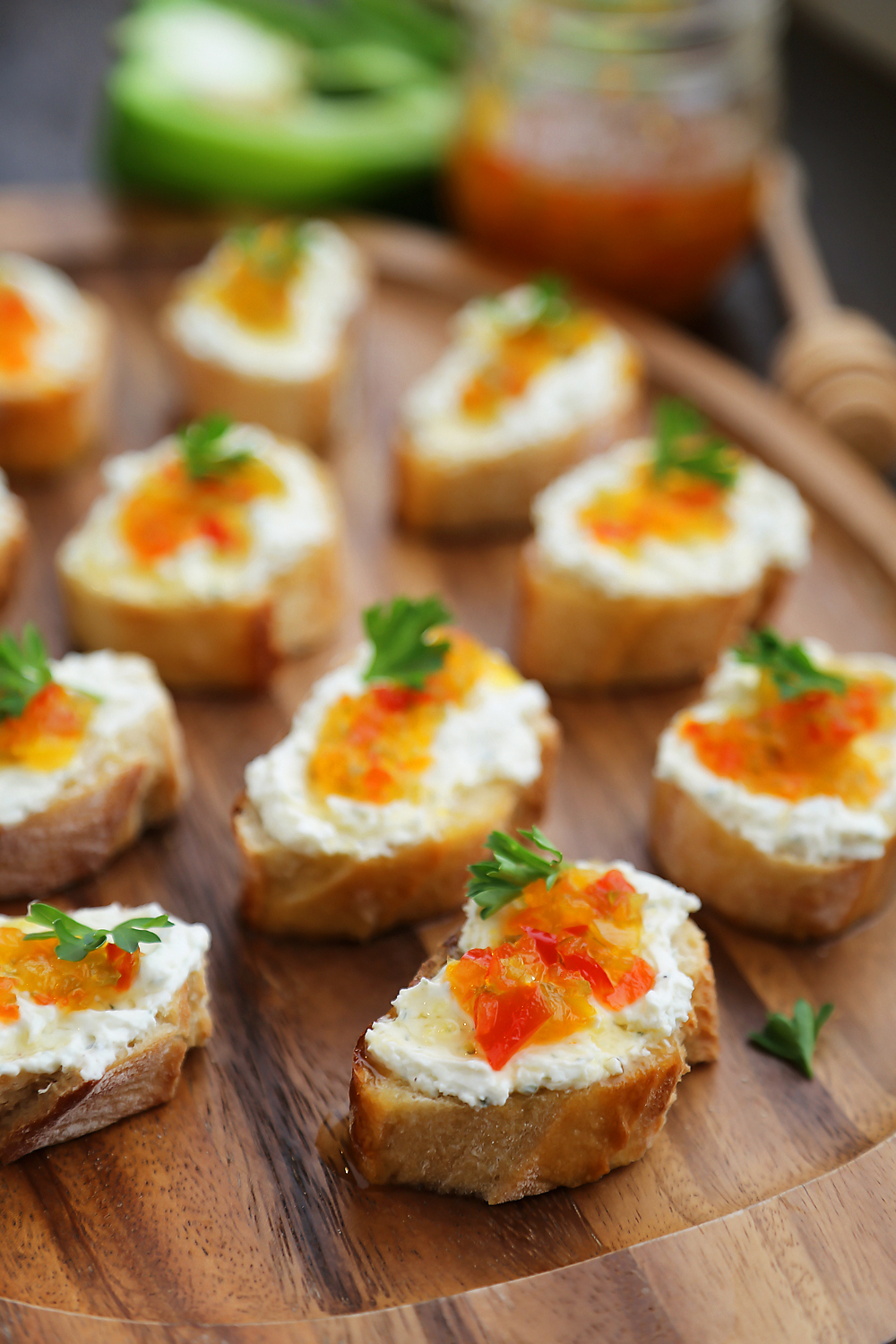 Click here for the full recipe: Quick & Easy Hot Pepper Jelly
For more delicious, easy recipes using Heinz Vinegar for pickling and canning, click here.