While it's safe to say – and I hate admitting this – that my fruitful, fragrant basil plant is sometimes left unattended and forgotten, I cannot say the same about tomatoes. We can't have enough tomatoes in this house. They go so fast! Now, I just get tomatoes from the grocery store, so you'd think I'd have more appreciation for a homegrown herb as lovely as basil, but no. I have a "black thumb", as my husband calls it, and I'm hoping that when we one day have a house and garden, the thumb won't follow.
When my basil plant is in good shape, though (plump, apple green leaves), my most favorite dish to make is a simple caprese salad with a homemade balsamic vinegar and olive oil dressing. The dressing can also be used for any simple salad like spinach, romaine, arugula, etc., and the presentation speaks volumes more than the work you put into it, which is always a plus! The fun about caprese salad is that you can either make a tall, impressive individual serving, or if you're serving to a large crowd, a tray of servings with one tomato, one chunk of mozzarella, and one basil leaf, which is preferable if you have picky eaters on your hands.
The only particular thing about this recipe is the mozzarella – Make sure that when you buy it, it is resting in water! When it is packed this way, it retains a lot of moisture and tastes SO much better than the vacuum-sealed variety.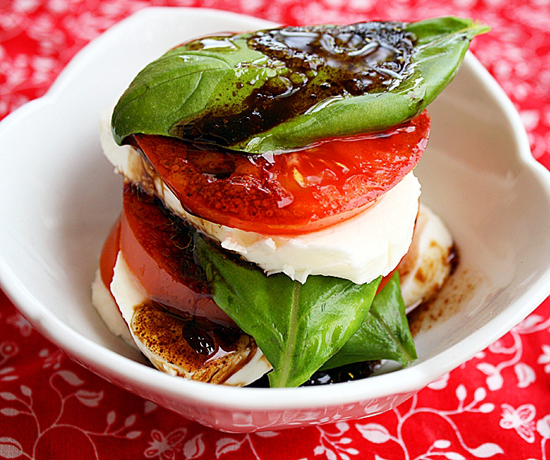 Caprese Salad with Balsamic Dressing
Ingredients
For the salad:
3

vine-ripe tomatoes

sliced 1/4-inch thick

1

pound

fresh mozzarella

sliced 1/4-inch thick

10 to 15

fresh basil leaves
For the dressing:
5

tbsp.

extra-virgin olive oil

4

tbsp.

balsamic vinegar

1

tbsp.

grated parmesan cheese

1

tsp.

crushed red pepper spice

1

tsp.

salt

1/2

tsp.

freshly ground pepper
Instructions
In a small mixing bowl, combine all of the ingredients and mix. Drizzle over the top of individual caprese salads, or serve in a small serving bowl with ladle.