The cutest googly-eyed Rice Krispie Monsters! ❤️💛💚💜💙 Quick & easy snacks made with just 3 ingredients in 10 minutes. These funny little bites are perfect for your Halloween festivities, or cozy nights on the couch. 👀 Super spooky, delicious and simple for kids to make, too!  👀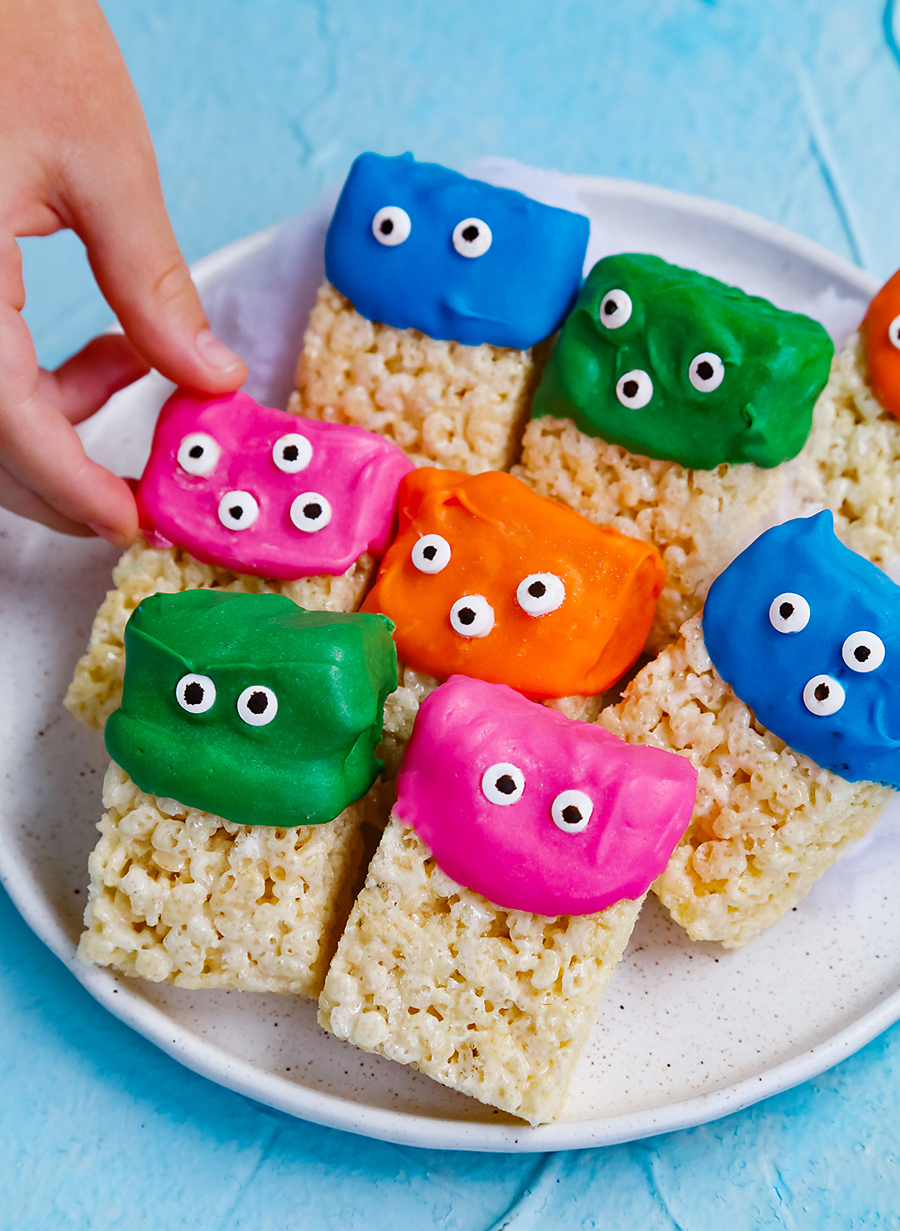 Monstrously quick and easy is the best way to describe these multicolored Halloween sweets! ❤️💛💚💜💙 Guys, I am totally obsessed. To say the kids in my house approved is a HUGE understatement. They gobbled these up instantly, after helping dip them and dot with candy eyes. We all loved picking our favorite colors and flipping on a spooky movie with our sweets.
For a holiday party, after school treat, or Halloween nights at home, there is nothing more melt-in-your-mouth good.  👀 All eyes will be on these cute, colorful Monster Rice Krispie Treats!
To keep these monster treats quick, I used store-bought Rice Krispies treats, but you can use this homemade recipe if you prefer. I also have a recipe for Pumpkin Spice Rice Krispie Treats that would work, too! 🎃
I used candy melts for dipping the treats, which is a candy coating that melts VERY smooth. However, if you can't find candy melts at Wal-Mart, Amazon, or your craft store (such as Michael's), white chocolate will do in a pinch. Grab a good amount, so that you can dye a few separate bowls different colors. For these little guys, I used pink, blue, orange and green. You can find candy eyes at all the same locations mentioned above. Some grocery store baking aisles will also carry them.
You will love these cute monster treats! They bring out more than few smiles in anyone lucky to enjoy them. And lucky for you, they are completely fuss-free and no-bake!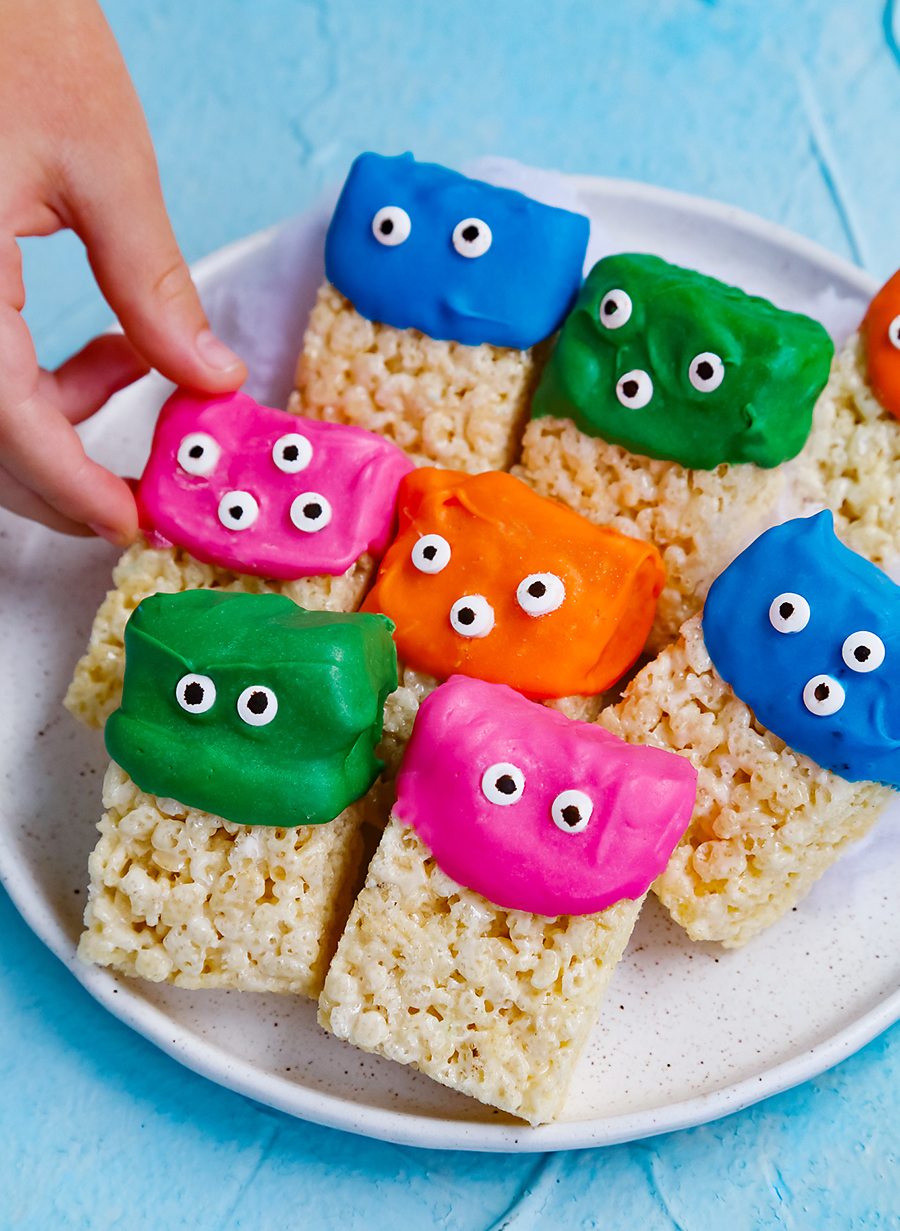 Rice Krispie Monsters
Ingredients
10 to 15

Rice Krispies Treats

unwrapped

Variety of

candy melts (I used green, pink, blue, orange)*

30 to 40

candy eyeballs*
Instructions
Place unwrapped Rice Krispies treats on a large baking sheet or platter.

One at a time, melt candy melts in a microwave-safe bowl.

Immediately dip one end of the Rice Krispies treats in the melted coating. Smooth out with a spoon, if necessary. Top each with 2-4 candy eyeballs.

Repeat with remaining treats. Set on the sheet/platter.

If possible, refrigerate before serving to harden up the candy coating.
Notes
If the candy is too thick for dipping your treats, you can thin out the melted mixture with a bit of neutral oil (such as vegetable or canola oil), or melted butter.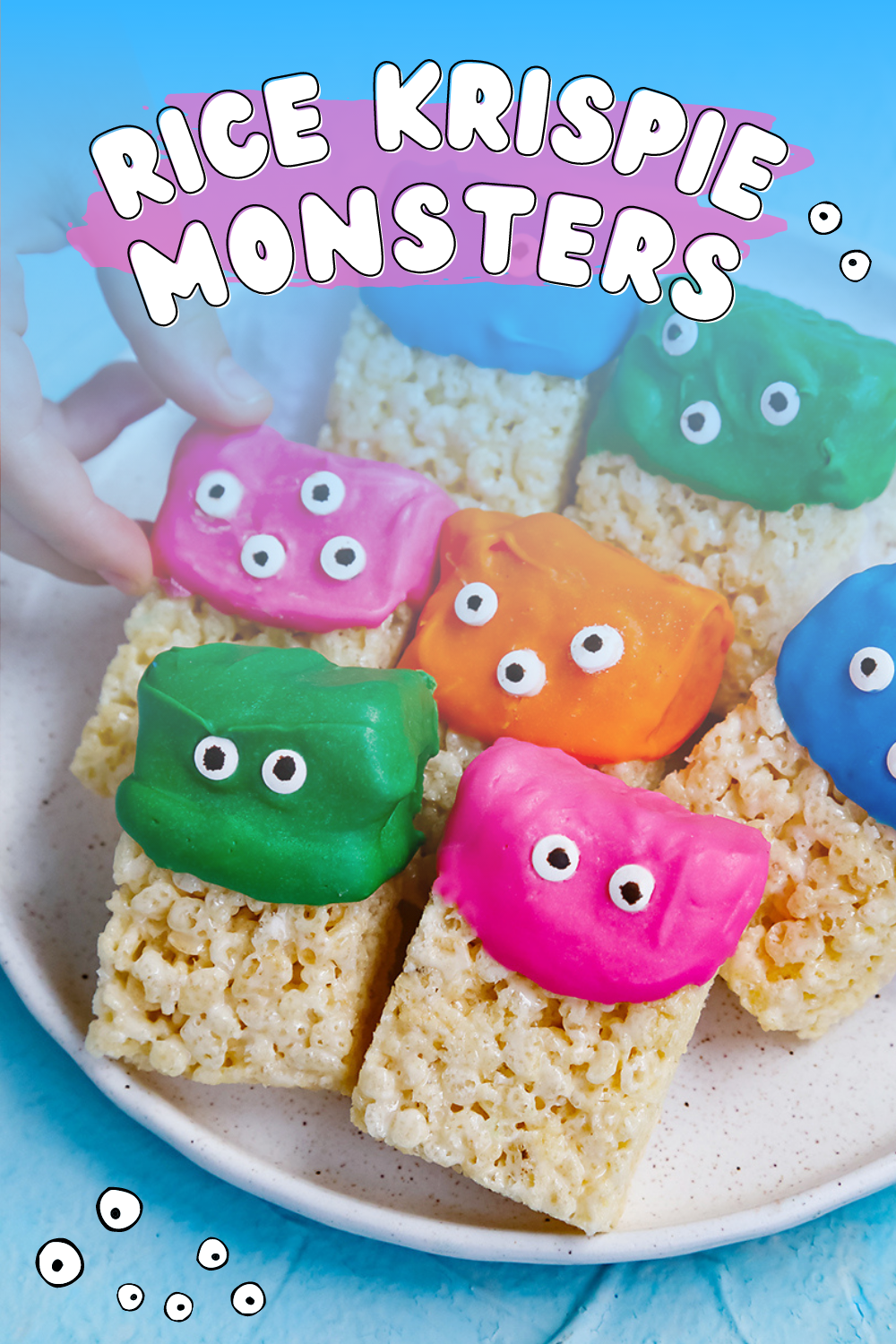 Want to receive our latest recipes straight to your email inbox? Click here to subscribe!