Soft, citrusy-sweet sugar cookies are the perfect use for clementines, lemons, oranges, or any of your favorite citrus fruits. Bake a batch of buttery sugar cookies with a clementine kick for a unique and scrumptious anytime treat!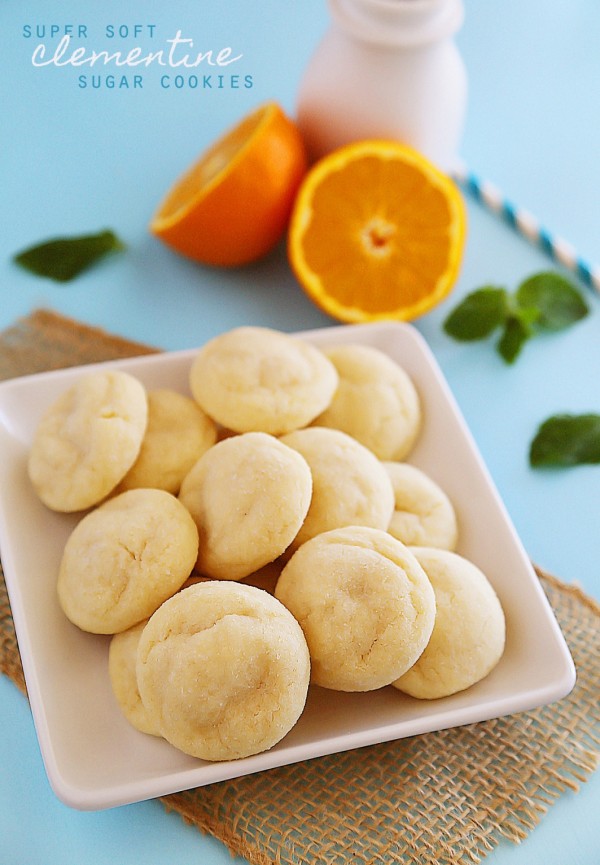 When I was pregnant last winter, I was clementine CRAY-ZAY. Well… let's be honest, really addicted to all citrus in general. It was a problem.
Routine trips to the grocery store with a list consisting of bread, milk and Nutella (of course) would find me heaving 5-lb. bags of oranges, lemons and clementines into my cart. Plus a few melon-sized grapefruit. You know, in case I got snacky.
This sweet 'n sour addiction didn't subside until long after our little lady came into the picture. But, I'm happy to say, citrus and I are at a better place now. A healthier place. A cookie-er place.
Wait, I think that's a contradiction. Is it? Let's go with "no."
Onto the cookies!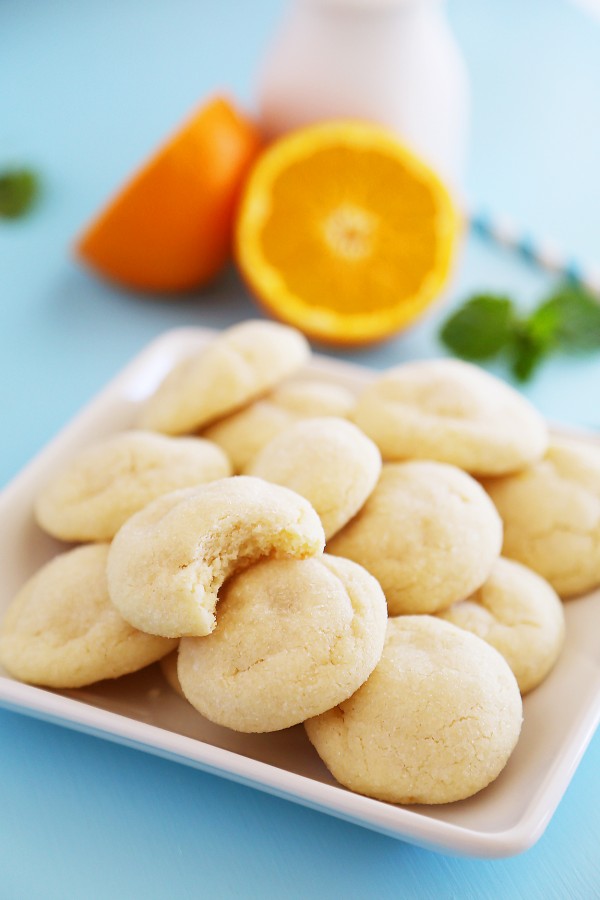 These soft, chewy sugar cookies with a sweet citrusy flavors are not only easy, they're absolutely delicious. Such a unique treat to bring to a party table any time of year, too! You can use any citrus you prefer – you just need the zest and juice. Why not try a luscious lemon sugar cookie? Or a gorgeous coral-hued grapefruit batch? Oranges and limes will work, too!
They come together so quickly, sparkle with sugar and bake up buttery golden. These cookies also make a large batch and will remain soft for days. Keep some for yourself, and give some more away to a friend, neighbor, or someone who could use a smile!
---
To celebrate my special fellow mama friend, citrus addict and blogger extraordinaire, Caroline of Chocolate and Carrots, I contributed these cookies to her virtual baby shower.
SURPRISE, CAROLINE!
We are wishing you a wonderful (and hopefully easy) last few weeks of pregnancy and looking forward to seeing your new addition soon! Sending love, hugs and cookies. Lots and lots of cookies.
Check out all of the other talented bloggers below who contributed citrus-themed goodies for Caroline!
Craving more? Keep in touch on Facebook, Twitter, Pinterest and Instagram for new post updates and more. You can also check out my FAQ page, or contact me with any questions or inquiries!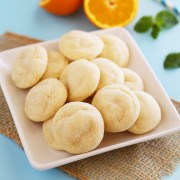 Super Soft Clementine Sugar Cookies
Yield: Makes approx. 3 dozen cookies
Ingredients:
2 3/4 cups all-purpose flour
1 teaspoon baking soda
1/2 teaspoon baking powder
1/2 teaspoon salt
1 1/2 cups granulated sugar, plus more for rolling
1 cup (2 sticks) unsalted butter, softened
1 large egg
1/2 teaspoon orange extract*
1/2 teaspoon clementine zest, from 1-2 clementines
2 Tablespoons clementine juice*, from 1-2 clementines
Directions:
Preheat oven to 350 degrees F. Line 2 large baking sheets with parchment paper.
In a medium bowl, whisk flour, baking soda, baking powder and salt.
In a separate large bowl, or the bowl of your stand mixer fitted with the paddle attachment, beat butter and sugar until smooth and creamy. Mix in egg, extract, zest and juice until well combined. Gradually stir in flour mixture until well combined.
Roll dough into 1-inch balls, then roll in granulated sugar. Place on baking sheet about 1 1/2 inches apart.
Bake for 8-10 minutes, or until cookies are lightly browned around edges. Let cool on baking sheet for 1-2 minutes before removing to a wire rack to cool completely.
Enjoy!
TIPS
You can swap the orange extract for lemon, vanilla or any other flavored extract.
You can substitute the clementine juice with 2 Tbsp. orange juice.