Hello, foodie friends! Happy (almost) Thanksgiving to you!
I'm sure your holiday plans are probably already firmly decided, but until Monday night, ours were up in the air. My husband, Mark, and I were planning on making this little 3-pound turkey breast for ourselves and making the best of a holiday that, if we had a choice, would be spent in the company of far-away family. But then, I got an unexpected and incredibly sweet call from our good friends, inviting us to Thanksgiving dinner with their family who is visiting from the East Coast.
I'm elated and looking forward to their feast, to say the least. However, I still wanted to learn how to properly cook a turkey breast, and what better time than right before Thanksgiving to try?
I scoured multiple sources for the perfect recipe, and I couldn't find one easier and more highly rated that this Oven-Roasted Turkey Breast from Betty Crocker. Though our 3-pound turkey breast was a little smaller than what was called for, we lessened the time a little, and it still turned out perfectly juicy, crispy and full of flavor. The aroma of the butter, wine and herb mixture was mouthwatering, too, and it just warmed up our whole home on that chilly night.
Also included in this easy recipe is an amazing homemade gravy made from the pan drippings of the roasted turkey. Poured on top of the tender breast meat, it was absolutely to-die-for delicious!
I hope you have a wonderful Thanksgiving holiday, whether spent in the company of a crowd or just one loved one. Give thanks for and celebrate the people around you, not just on Thanksgiving but always, and stuff yourselves silly!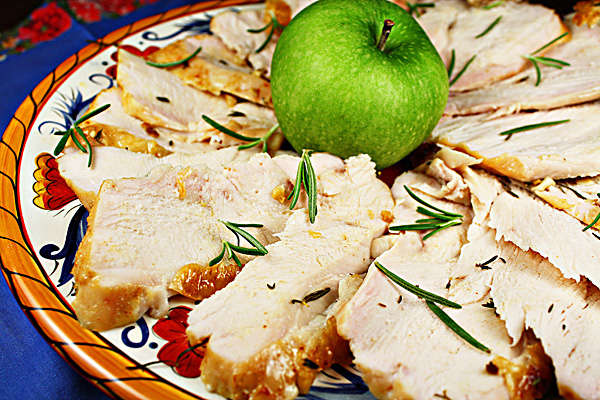 Oven-Roasted Turkey Breast with Pan Gravy
Ingredients
1

whole turkey breast

4 1/2 to 5 pounds, thawed if frozen

1/2

cup

1 stick butter, melted

1/4

cup

dry white wine or chicken broth

2

tablespoons

chopped fresh thyme leaves or 1 1/2 teaspoons dried thyme leaves

1

teaspoon

salt

1

teaspoon

paprika

3

cloves

garlic

finely chopped

2

teaspoons

cornstarch

2

tablespoons

cold water
Instructions
Heat oven to 325 degrees F.

Place turkey, skin side up, on rack in large roasting pan. Insert ovenproof meat thermometer so tip is in thickest part of breast and does not touch bone. Roast uncovered 1 hour.

Mix butter, wine, thyme, salt, paprika and garlic. Brush turkey with half of the butter mixture. Roast 30 minutes; brush with remaining butter mixture. Roast about 1 hour longer, or until thermometer reads 165ºF.

Remove turkey from oven and let stand 10 minutes for easier carving.

Meanwhile, pour pan drippings into measuring cup; skim fat from drippings. Add enough water to drippings to measure 2 cups. Heat drippings to boil in a 1-quart saucepan. Mix cornstarch and 2 tablespoons cold water; stir into drippings. Boil and stir 1 minute. Serve with turkey.

Enjoy!