Warm up with a hot cup of this quick 'n easy Mexican hot chocolate, made with cinnamon, vanilla and a kick of chili powder!
What's something that really makes you feel like winter has arrived? Is it the fluffy white snow, or a family tradition? Could it be a sentimental smell, song or favorite comfort food?  For me, it's the first evening I wrap up in a blanket by the fire and clutch a cup of hot cocoa. Yes indeedy, that combination just warms me to the bone!
Slllurrrrppp!
Simmered with a cinnamon stick, vanilla extract, and a touch of chili powder, this hot chocolate is amazingly fragrant and delicious with a dollop of whipped cream! Try this tasty spin on the traditional mug 'o love for yourself!
Craving more? Keep in touch on Facebook, Twitter, Pinterest and Instagram for new post updates and more. You can also check out my FAQ page, or contact me with any questions or inquiries!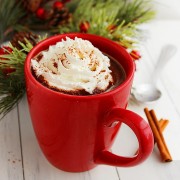 Mexican Hot Chocolate
Yield: Serves 3 (1 cup each)
Ingredients:
3 cups milk (any kind)
3 Tablespoons semisweet chocolate chips
1/4 tsp. vanilla extract
1 cinnamon stick
1/4 tsp. chili powder, optional
Directions:
In a medium saucepan over medium heat, combine milk, chocolate, vanilla and cinnamon stick. Simmer for 5 minutes, stirring gently.
Remove from heat. If desired, add chili powder to increase spice.
Pour into 3 cups to serve immediately, or set over low heat, stirring occasionally.
Enjoy!
TIP
When serving this to guests, I also provided bowls of cinnamon sticks and mini marshmallows for each guest to add to their cup.