Though these coming months will only make for my second Texas summer, I can already tell we're in for a hot one! Our early spring days have been heating up and I've been slipping on my favorite sundresses and spending a bit less time over the stove lately. It's time like these where I live for simple, quick weeknight meals that combine flavorful protein, veggies and starch all in one!
With a handful of my favorite spring vegetables, asparagus and peas, a fresh lemon and a few more basic ingredients, this meal was easy yet absolutely delicious!
Use whatever small pasta you like, however I recommend whole wheat rotini. Whole wheat pastas contain significantly more fiber and protein than refined flour varieties, yet still maintain a smooth yet chewy texture. They also hold up well to bold, hearty sauces like my Basic Marinara or Bolognese Sauce!
The buttery lemon cream sauce with fresh garlic and a slight kick from the red pepper flakes complimented the flavors wonderfully, and the whole meal was a scrumptious success! Serve it on its own, or with a salad and garlic bread, or any variety of meat or seafood. Whatever way you dish it you'll definitely enjoy it as much as we did!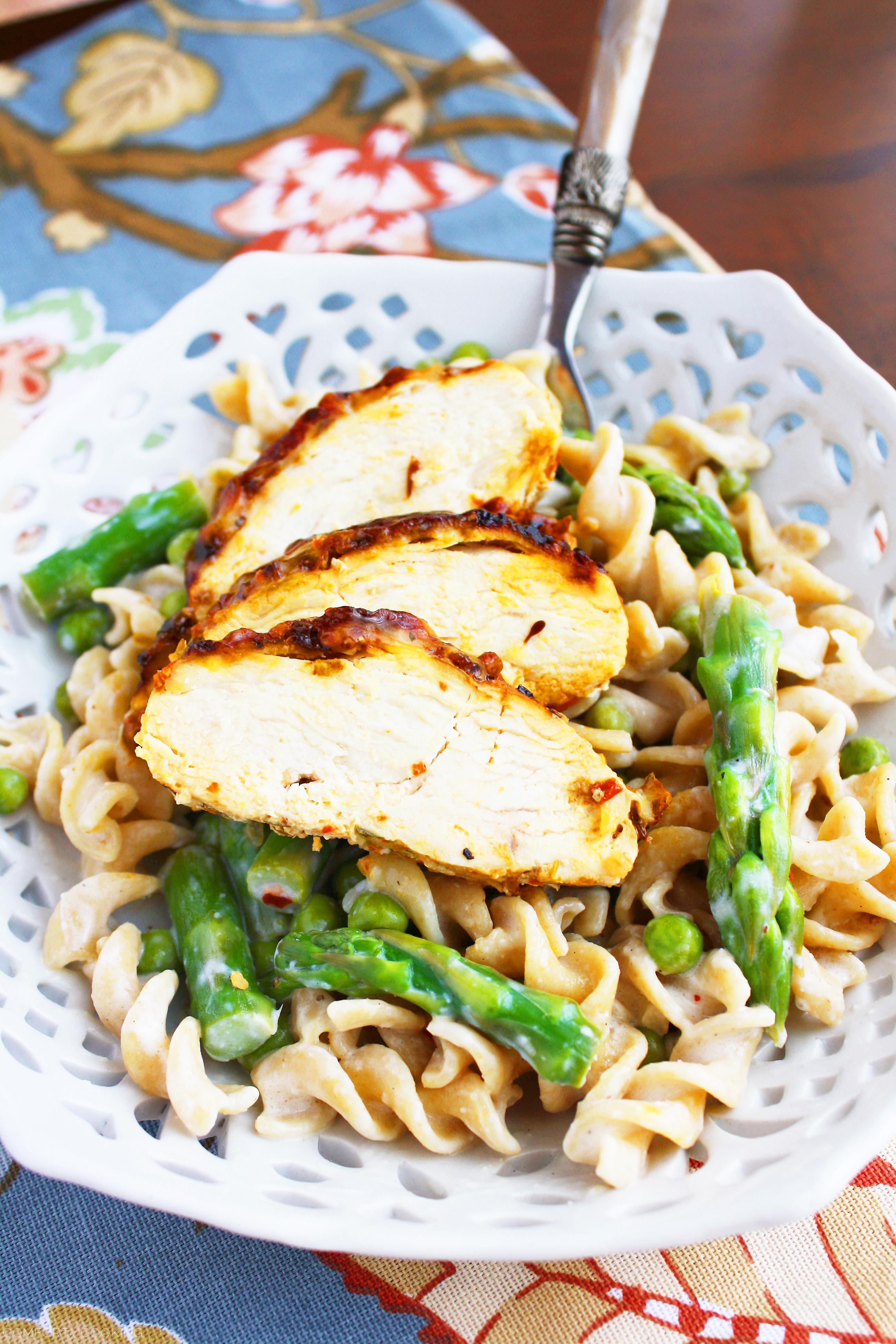 Chicken Pasta with Lemon Cream Sauce
Ingredients
1

lb.

boneless

skinless chicken breasts

8

ounces

uncooked rotini

1 3/4

cups

1 1/2-inch slices asparagus (about 1/2 pound)

1

cup

frozen green peas

thawed

1

tablespoon

butter

1

garlic clove

minced

1

cup

chicken or vegetable broth

1

teaspoon

cornstarch

1/3

cup

heavy cream

3

tablespoons

fresh lemon juice

about 1 lemon

1/2

teaspoon

salt

1/4

teaspoon

freshly ground black pepper

Dash of crushed red pepper flakes
Instructions
Preheat oven to 350 degrees. Place chicken on a baking sheet and bake for 30 minutes, or until fully cooked and juices run clear. Tent with foil and set aside.

Cook pasta according to package directions, omitting salt and/or olive oil. Add asparagus during last 2 minutes of cooking time.

Place peas in a colander. Drain pasta mixture over peas; set aside.

Melt butter in a skillet over medium-high heat. Add garlic to pan; sauté 1 minute. Combine broth and cornstarch in a small bowl; stir until well blended. Add broth mixture to pan; bring to a boil. Cook 1 minute or until thick, stirring constantly. Remove from heat. Stir in cream, juice, salt, 1/4 teaspoon black pepper, and red pepper flakes. Add pasta mixture to broth mixture; toss gently to coat.

Slice chicken and serve immediately with pasta.

Enjoy!