Truffles are one of my favorite holiday desserts to make, since they're so simple and always an attractive two-bite treat for party guests craving something sweet yet small.
Here's a tasty and different spin on truffles that you may have never seen before – s'mores! A mixture of butter, heavy cream and milk chocolate swirl together to create a velvety chocolate center for the truffle, and once hardened they easily roll into shape. While shaping the truffles, simply pop a mini marshmallow in the middle, then roll the truffles in crushed graham crackers. Voila! This classic campfire treat has been given a mouthwateringly easy, elegant makeover in no time.
As a sinful little sweet for dinner guests, a fancy nibble to bring to a holiday party, or just to keep for yourself, I know you will enjoy these s'mores truffles just as much as I have!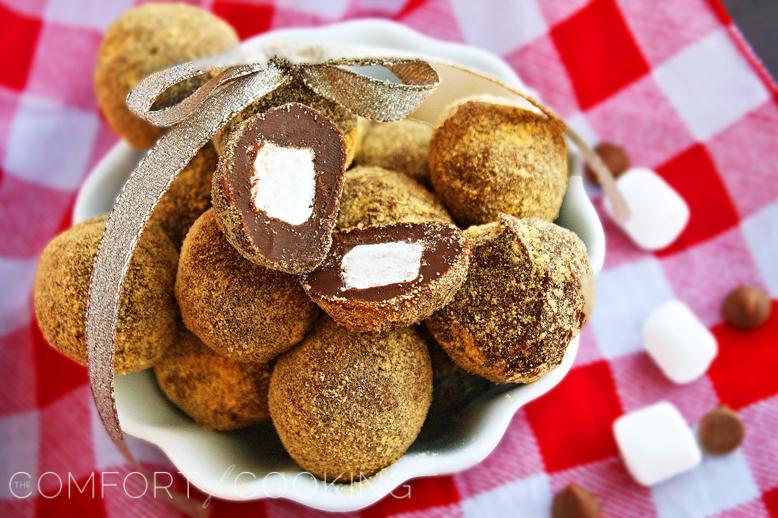 S'mores Truffles
Ingredients
2

tablespoons

unsalted butter

1/2

cup

heavy cream

2

cups

12 oz. milk chocolate chips

24

mini marshmallows

1

cup

finely crushed graham crackers
Instructions
Melt butter in a medium sized saucepan over medium heat; whisk in cream and bring to a boil. Remove pan from heat and stir in chocolate chips until melted and smooth. Chill saucepan in refrigerator for 1 hour, or until chocolate is solid and able to be rolled.

Roll chocolate into 24 balls, stuffing a mini marshmallow into the center of each.*

Chill truffles a few minutes before rolling in graham cracker crumbs. Chill for a few minutes again so they solidify more.

Enjoy!
Notes
Tip: I found the easiest way to do this was to roll the chocolate into balls with cold, damp hands, then make a small dent in the ball with your thumb and place the marshmallow inside. Then, fold the ball of chocolate over the marshmallow and continue to roll in your hands until smooth across.