A few times per week, I'll make something for dinner that we've never had before, but when I want to go back to the basics and taste something comfortable and familiar, it doesn't get much better than spaghetti and meatballs.
As it turns out, until last week I hadn't actually made spaghetti and meatballs in YEARS, because my previous attempts were a flop.
I know, how can you mess up meatballs? Well, if your head was in the clouds and you didn't add an egg or two to the mixture, the chances are high that you won't succeed. That, combined with rolling them around in a pan on the stovetop is just asking for trouble. (That is, until I actually learn how to do meatballs on a stovetop pan without undercooking them.)
But, it seems I've finally learned the error of my ways. These meatballs turned out A-MAZING. The Mediterranean flavor comes from the lemon zest and parsley, and though it's a unique addition, it only enhances the familiar flavor of this classic Italian dish.
This is one scrumptious meat-a-ball!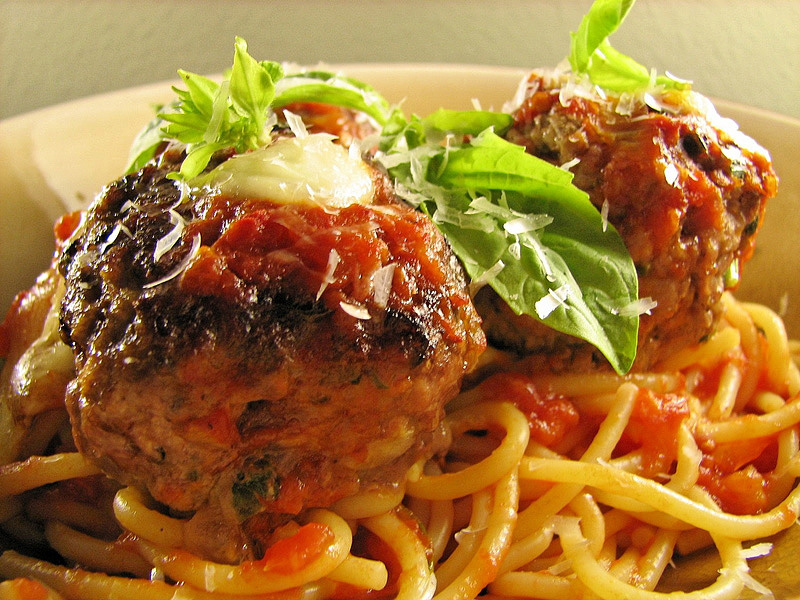 Mediterranean Spaghetti and Meatballs
Ingredients
For the sauce:
2

tbsp.

olive oil

1

large yellow onion

chopped

4

cloves

garlic

minced

1

28 oz. can tomato puree

1

28 oz. can tomato sauce

2

tsp.

dried parsley

1

tsp.

dried basil

1/2

tsp.

dried oregano

2

tsp.

salt

2

tbsp.

sugar

1/2

cup

of water

or more
For the meatballs:
1

pound

ground beef

½

cup

bread crumbs

2

eggs

½

cup

Parmesan cheese

¼

cup

minced onion

1

tbsp.

minced garlic

1

tbsp.

lemon zest

¼

cup

parsley

Salt and pepper
For serving:
Spaghetti

cooked according to package

Shredded Parmesan cheese

Fresh basil

chopped
Instructions
Preheat oven to 350 degrees.

To make the sauce, heat olive oil in a large pot or Dutch oven over medium heat. Add the onion to the pot and saute until tender, 5-8 minutes. Add the garlic and saute until fragrant, stirring, about 1 minute. Add the tomato puree, tomato sauce, parsley, basil, oregano, salt and sugar. Add water to thin the sauce out to your desired consistency. Bring to a boil, then lower the heat to a simmer. Let simmer for at least 2 hours.

To make the meatballs, in a medium mixing bowl combine all ingredients and mix thoroughly with your hands. Form the mixture into equal-sized meatballs and place onto a baking sheet lined with aluminum foil. Bake for 20 minutes, or until cooked through.

Transfer spaghetti to serving dishes. Top each serving with sauce and meatballs. Garnish with shredded Parmesan and fresh basil, if desired.

Enjoy!