I make mashed potatoes, roasted potatoes and even grilled potatoes all the time, but for some reason I can only count on one hand the times I've baked them. However, hasselbeck potatoes provide a taste that's like a cross between them all!
Crispy on the outside, soft on the inside, these potatoes were a cinch to whip up as a weeknight side dish, and so very tasty. All this recipe takes is a little olive oil combined with salt, pepper, paprika and some minced garlic, and some Parmesan and chives to top it off. The olive oil mixture coats each layer of the potato, which infuses it with flavor and a heavenly aroma that is just irresistible. After these beauties bake for about 45 minutes, it's time to bust out the butter, sour cream, Parmesan and chives… or whatever else you can dream up!
Thanks to this recipe from Marla at Family Fresh Cooking, I can now add these fancy-shmancy yet super simple baked potatoes to my weeknight meals, and you can, too! These may not look like any potato you've ever eaten, but they have the same hearty flavor and warm, comforting aroma as the classic… just with a little more flair!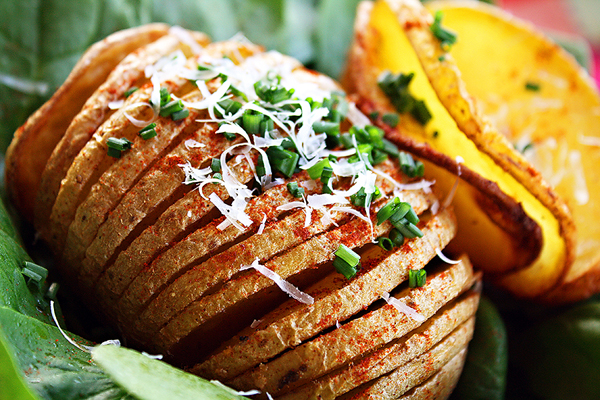 Parmesan Hasselback Baked Potatoes
Yield:
4 servings (1 potato each)
Ingredients
4 medium potatoes, cleaned (I used Yukon Gold)
4 cloves garlic, minced
3 tablespoons olive oil
pinch of salt
pinch of black pepper
pinch of paprika
1/4 cup grated Parmesan, Plus additional for sprinkling, as a garnish
For serving:
chopped chives
sour cream, optional
butter, optional
Instructions
Preheat oven to 425˚F with rack in the middle of the oven. Lay potatoes flat on cutting board and starting from one end of the potato, make slits about 3-4mm apart. Cut to about 1/4 inch from the base of the potato. Be careful not to slice all the way through. The potato will fan out a bit as it bakes.
Combine olive oil, garlic, salt, pepper and paprika in a small bowl. Carefully brush each slit of the potatoes with the olive oil mixture, using a pastry brush. Rub potatoes with residual oil. Arrange potatoes on baking sheet and bake for about 40-45 minutes. The inside should be cooked through and the outside of the potato should be a bit crispy.
Garnish with additional salt, paprika, pepper, Parmesan and chives. Serve with sour cream and/or butter, if desired.
Enjoy!