Okay, time for a confession: I have a major "mom" purse. Yup, it's large, in-charge and full of pretty much everything you and I both would need to stay alive on a deserted island for at least a week. Nope, not a mom – just prepared for incidentals.
Along with the Advil, WetOnes and tissues are, of course, a plentiful supply of granola bars. I absolutely love granola bars, but I especially love that when I'm on-the-go and craving a snack, I can grab one, gobble it up and feel nourished right away.
However, though I've been subsisting off of the boxes of Chewy store-bought bars for years and like them quite a bit, I've never had granola bars quite like these…
Armed with a can of pumpkin puree and lots of ideas, this recipe from Two Peas and Their Pod was my first choice, and I'm definitely glad I chose it!
I'm no expert baker, but you don't have to be to make homemade granola bars. All it took was a few wet ingredients (in this case, pumpkin, applesauce and honey), old-fashioned oats,  spices, and chocolate chips for extra sweetness and texture. Mix 'em together, press it all into a pan and bake!
I know you will enjoy these just as much as I have been. They're so simple to make, even our outdoorsy friend Chris, who's currently traveling the country in his RV could make them in his 20-square-foot kitchen (Hey, Chris! Make these now, you hear me?).
The pumpkin, applesauce and honey are so flavorful when mixed with the chewy oats, and the vanilla, chocolate chips and spices really make the whole thing like a delicious little autumn baked good you can keep in your pocket!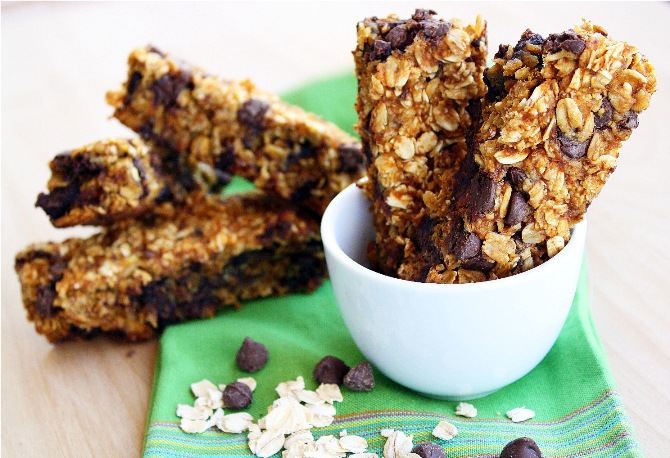 Pumpkin Chocolate Chip Granola Bars
Ingredients
3 1/4

cups

old fashioned oats

1/2

teaspoon

pumpkin pie spice

1/2

teaspoon

cinnamon

1/4

teaspoon

nutmeg

1/2

teaspoon

salt

¾

cup

brown sugar

½

cup

pumpkin puree

¼

cup

applesauce

¼

cup

honey

1

teaspoon

vanilla extract

1

cup

chocolate chips
Instructions
Preheat oven to 350 degrees F. Spray an 8 x 8 baking pan with cooking spray and set aside.

In a large bowl, whisk oats, spices, and salt together. Set aside.

In a medium bowl, whisk brown sugar, pumpkin, applesauce, honey, and vanilla extract until smooth. Pour over oats and stir well, until all of the oats are moist. Stir in chocolate chips.

Evenly press oat mixture into prepared pan. Bake for 35-40 minutes, or until golden brown. The pumpkin keeps the bars moist, so make sure they are golden and set -you don't want them to be under-baked.

Remove from oven and let cool completely. Using a sharp knife, cut into bars.

Enjoy!