For the past five days, all day, every day, I've been eating out. Terrible, I know. But, my in-laws are in town, and because that's what they like to do and we love them, we do it. There are worse things in the world than pointing to a menu, having food brought to you, leaving some cash and then having all the dishes taken away, but as you know, I really adore cooking in my small space at home. I love the sweet, savory and tangy aromas and the sounds of pots clanging and vents whirring and the feeling of setting a finished dish down in front of others and gobbling it up together. I love it, yet I haven't done it in FIVE. DAYS.
I needed a fix, STAT!
Well, I got my fix one sunny, slow morning, when we didn't have any early morning committments with Mark's parents, and made these muffins for breakfast. Breakfast, after all, has been the one meal that we have been able to quickly grab at home before a day full of running around and seeing the sights, so I wanted to make it special. And what a yummy breakfast these muffins made!
Bananas are my favorite fruit to bake with because they have such natural sweetness. There's never any need for much sugar when using them in a recipe, which allows you to keep these muffins and other banana recipes pretty healthy. That is, before you slather on butter or cream cheese…
Much like my Walnut Banana Bread, but without nuts and not quite as rich, this muffin is a morning treat to savor and get your day started right. The banana flavor is rich and warm, and the streusel topping is totally decadent but not too over-the-top for breakfast. I think you'll really enjoy making these muffins, and especially biting into them, if, like me, this is your first banana crumb muffin experience!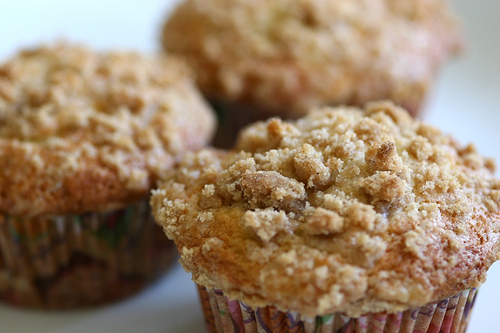 Banana Crumb Muffins
Ingredients
1/3

cup

canola oil

3/4

cup

granulated sugar

3

bananas

mashed

1

tsp.

vanilla extract

1

large egg

1-1/2

cups

all-purpose flour

1

tsp.

baking soda

1

tsp.

baking powder

1/2

tsp.

kosher salt

1/4

tsp.

cinnamon
For the crumb topping:
1/3

cup

packed brown sugar

2

tbsp.

all-purpose flour

½ tsp. ground cinnamon

½ tsp. ground nutmeg

1

tbsp.

butter
Instructions
Preheat oven to 375 degrees. Lightly grease 12 muffin cups, or line with muffin papers.

In a large bowl, beat together oil and sugar. Beat in bananas, vanilla and egg. Add flour, baking soda, baking powder, salt and cinnamon. Mix together just until moistened. Spoon batter into prepared muffin cups.

In a small bowl, mix together brown sugar, 2 tbsp. flour, cinnamon and nutmeg. Cut in 1 tablespoon butter until mixture resembles coarse cornmeal. Sprinkle topping over muffins.

Bake in preheated oven for 18 to 20 minutes, until a toothpick inserted into center of a muffin comes out clean.

Enjoy!